April 21, 2016
Accounting firms fortify Ryan Center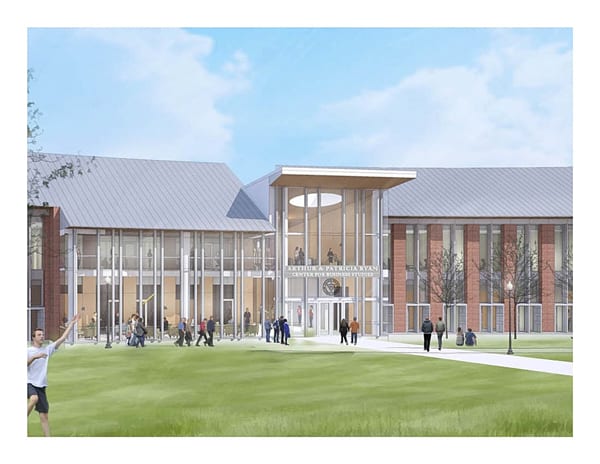 Alumni and PC parents employed by three major accounting firms, and the firms themselves, have committed $1.6 million toward construction of the Arthur and Patricia Ryan Center for Business Studies, the new home for the Providence College School of Business (PCSB).
Deloitte, KPMG LLP, and PricewaterhouseCoopers (PwC) LLP completed alumni and parent corporate naming campaigns for the business center. Each campaign included gifts from alumni and parents working for the firms and significant matching gifts from the firms.
The Deloitte campaign raised $301,500, which will be used to name a large classroom in the business center. About 33 percent of the alumni and parent employees made commitments to the campaign, which was led by Susan M. Esper '91 & '19P, a PC trustee; Stephen E. Gallucci '89, vice chair of the PCSB Business Advisory Council; Dawn Crouch '91; and Sarah Digirolamo '08.
The PwC campaign, led by John R. Formica, Jr. '81 & '19P and supported by a committee including Nicholas Sirianni '05, Katelyn Kelly '09, Matt Bruckerhoff '12, Annie Montemarano '12, and Ann Ulett, among others, raised $524,880 to name the student lounge on the upper level of the center's atrium. More than 50 percent of the alumni and parent employees — 73 donors — made commitments.
The KPMG campaign raised $1.1 million to name a 125-seat auditorium and toward other designations. All of the firm's PC alumni partners contributed generously to the campaign, which also was supported by 40 percent of the employees who were asked to donate. The campaign was led by Patrick J. Canning '81 and Joseph Gencarella '85 and included support from the KPMG Foundation.