January 31, 2014
Inner-city students come to PC to learn college readiness skills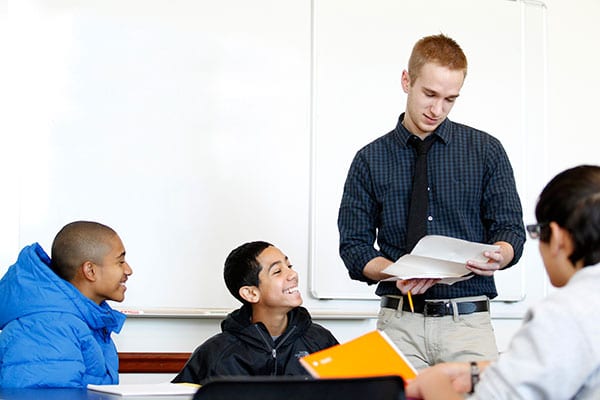 Every Saturday morning, 90 students from urban middle schools and high schools in the Providence area are bused to Harkins Hall, where they are taught college readiness skills by six student-teachers from Providence College.
The program, which began in September, is part of a three-year agreement between PC and The College Crusade of Rhode Island, a nonprofit organization that helps reduce dropout rates and increase classroom success for students in Providence, Pawtucket, Central Falls, Woonsocket, and Cranston.
For 10 Saturday mornings in the fall semester and 10 in the spring, the inner-city students spend three hours in college classrooms working on critical thinking, writing, public speaking, and computer research skills. Their student-teachers from PC, who are paid through a grant from United Way of Rhode Island, include a graduate student, a School of Continuing Education student, and four undergraduates — a senior and three juniors.
Peter J. Proulx '13, who is studying for a master's degree in urban teaching, teaches eighth-graders in a program called "The Write Stuff."
"It's a literacy program that teaches the basics of argumentative writing," said Proulx. "The kids are great. At the beginning, it was a matter of getting to know them, and getting a feel for how they learn best. You realize that it's taking up their Saturday morning, so you try to make it as fun as you possibly can."
Proulx said the experience is valuable because it's his first time teaching students from urban schools. His previous student-teaching experience was in suburban Lincoln, R.I.
Through the program, "Our students get more experience working with urban youth, and the urban youth get college readiness skills, so it's a win-win," said Dr. Brian M. McCadden, dean of the School of Professional Studies. "It's a nice community partnership."