March 20, 2019
Starting up on top: PC brings home honors at first BIGEAST Startup Challenge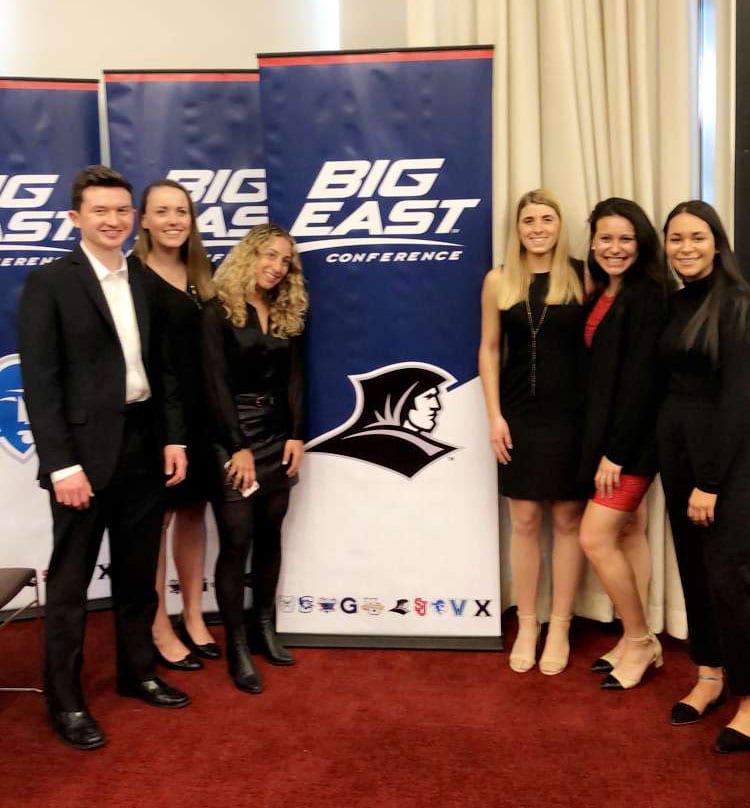 A team representing Providence College tied for third place in the inaugural BIG EAST Conference Startup Challenge on March 16.
During the challenge, held at St. John's University's Manhattan campus, teams of student entrepreneurs from all 10 BIG EAST schools presented ideas for innovations and products to a panel of judges made up of BIG EAST alumni.
PC's team made a pitch for their startup, WeCycle, a mobile app that helps college students cut down on unnecessary costs by lending, renting, or purchasing in an online, campus-specific marketplace.
The members of the team were:
· Hannah Araujo '21 (Stoughton, Mass.)
· Arianna Arroyo '20 (Berwyn, Ill.)
· Ashley Gigon '22 (Westfield, N.J.)
· Steph Gilet '21 (Chelmsford, Mass.)
· Daniel Keating '20 (Wayland, Mass.)
· Emily Tabeek '19 (Quincy, Mass.)
Ashley Gigon '22, who is enrolled in PC's 3+2 engineering program, said she became interested in the startup challenge because of her business and innovation minor, which has given her opportunities to connect her major with business fields.
At the challenge, "I was able to get a glimpse of the business and entrepreneur world, while at the same time connecting the creativity of the competition with my engineering background," she said.
The competition "intrigued me because it is unlike anything that I have ever accomplished, and my team and I had come up with a very creative and beneficial idea that allows students — and their parents — to save money, which all of us in this expensive world need," Gigon said.
The team members were directed by Eric Sung, associate professor of photography and director of the business and innovation minor program, as well as Mohammad Raissi, a visiting professor in the Department of Economics, and Megan A. Chang, assistant professor of voice and diction in the Department of Theatre, Dance, and Film.
The teams were judged on the market need, value proposition, feasibility, and presentation of the product.
"To be honest, I can't believe it didn't win," competition judge Rick Stravato '89 & '20P, a senior vice president at PIMCO, said after the event. "I was talking to the judges and even the BIG EAST commissioner, who all were talking about what a great idea that was for all of the kids' old college things that they don't want to just throw away or lug back home."
With their third-place finish, PC's team received an honorarium of $1,000 to pursue their startup. The students were also recognized at the BIG EAST Men's Basketball Tournament Championship game, March 17 at Madison Square Garden.