February 08, 2018
A Chaplain's Thought: Latino Sisters and Brothers and Others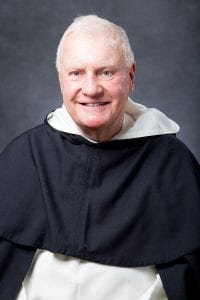 By Rev. James F. Quigley, O.P. '60
Associate Chaplain
National Alumni Association
Many years ago a group of Providence College students volunteered during the summer to serve migrant agricultural workers in South Carolina. The migrant workers, women and men and sometimes children, spent long, hot hours picking first tomatoes and then later in the summer, peaches. The wages were minimal, the living conditions dehumanizing at times.
Providence students would collect clothing, and sometimes food, and distribute them late in the day when the workers were back in camp. Often we would celebrate the Eucharist for those who wished to attend. As most of the workers came from Mexico they came to Mass. These migrants were and have been the backbone for American agriculture. They were and are, in fact, the only ones willing to do this kind of work.
During 52 years of priesthood I have had the opportunity to minister at times to Latino brothers and sisters in Peru, inner-city Chicago and the South Bronx, and with those migrant farm workers in South Carolina. More recently an assignment brought me into contact with DACA (Dreamers) seminarians preparing for the Catholic priesthood in dioceses in the United States. These communities have taught me much about kindness and generosity in the face of hardship, faith and hope in the face of suffering, love and friendship in the face of indifference.
Immigration is a hot topic in our country today. There are many factors at play in the issue, e.g. national security, the legal system, the economy, a partisan dysfunctional government, racism, fear, justice, and the American Dream. What can get forgotten is that we are dealing with living women and men, children and elderly, families, the poor, and the sick. The language hurled at these people can at times be fratricidal. My Irish grandparents met the same rejection as did Italians, Polish, Jewish, African Americans, and so many others. At Christmas this year, Pope Francis made the statement to the Vatican diplomatic corps advising that we "abandon the familiar rhetoric and start from the essential consideration that we are dealing, above all, with persons."
The gospel of Jesus Christ encourages us to respect and esteem human life from conception to natural death. In between, we care for each other and especially anyone in need. We try to see others as the image of God, as brothers and sisters in Christ. And then, with reason and intelligence and a sense of social justice, we decide how best to concretely live the gospel as persons and as a nation. That is the ethos of Providence College.
###