November 12, 2018
A Chaplain's Thoughts: Hope
By Rev. James F. Quigley, O.P. '60
Associate Chaplain
PC National Alumni Association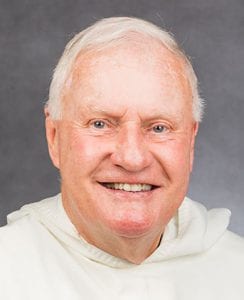 Loyal Chicago Cubs baseball fans are women and men of hope. They hoped for a World Series win for 108 years. Finally, in 2016, in the 10th inning of the seventh and final game of the World Series, the Cubs scored two runs to win the series.
Cubs fans never gave up hope. They endured defeat after defeat but never stopped hoping.
Christian hope is directed to eternal happiness for those who follow Jesus. It is given to us by God, by grace, a supernatural virtue, and it can get us through everything. When I hope, I believe that God is at work to redeem all things, regardless of how things happen to be turning out for me today.
What is hope? Hope is a graceful character trait. According to Dante, St. James is the apostle of hope. In The Divine Comedy, St. James questions Dante: Does he have hope in his heart? What does hope mean? What benefits would he get from hope? In Western art, the symbol for hope is the anchor. St. Thomas Aquinas tells us that hope allows a woman or man to go after a good thing even when it is not easy. The late Vaclav Havel, former president of the Czech Republic and a playwright, claims: "… hope is not the conviction that something will turn out well. Rather, it is the certainty that something makes sense regardless of how it turns out."
The night before He died, Jesus gathered His disciples to celebrate the Last Supper. At that meal, we see communion and what destroys communion: deception, betrayal, violence, cowardice. Jesus freely embraced those things. His resurrection is a triumph over them. On that awful Thursday night, Jesus gave us the Eucharist, the extravagant sacrament of hope for abundant life. At a time when everything looked hopeless, Jesus gave us himself.
We need to be people of hope, to live with hope. At times we may wonder where we are headed. The future may seem unsure and, at times, confusing, frightening, threatening. That is when we need hope.