October 25, 2014
A la (Tricycle) Cart with David Cass '04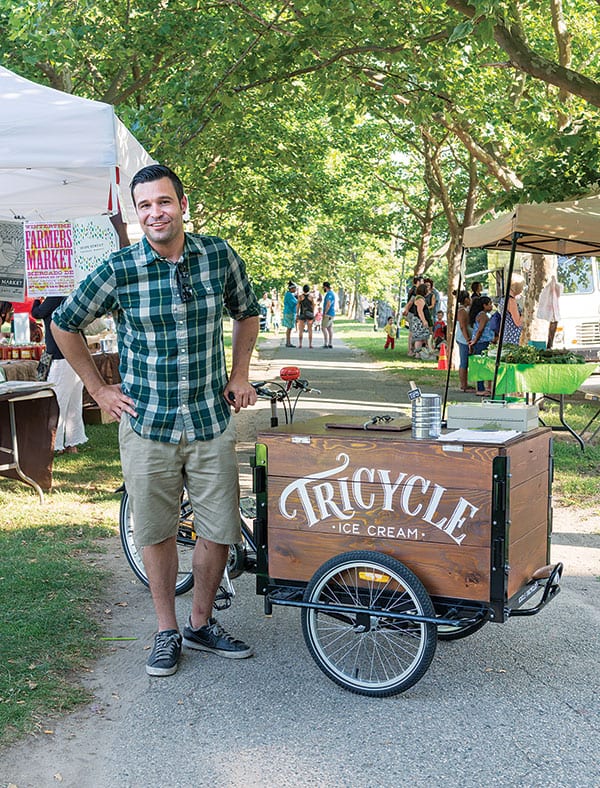 By Liz F. Kay
Tricycle Ice Cream is the second business David Cass '04 has started.
While he was majoring in English literature and psychology, Cass worked for a pedicab company in Newport, R.I. Then, in 2010, he started his own business, Pirate Pedicab, while teaching at the Metropolitan Regional Career and Technical Center, a regional vocational high school in Providence.
Now, Cass has teamed up with ice cream maker Giovanni Salvador to found Tricycle Ice Cream, which sells ice cream sandwiches from its tricycle cart at farmer's markets and events.
The ice cream sandwich hasn't really been explored, Cass said. "You could really do anything with it — any combination of cookies and ice cream," he said.
The two use local, seasonal ingredients, such as strawberries from Schartner Farms in Exeter, R.I., for strawberry ice cream on vanilla shortbread cookies. Other combinations include bourbon vanilla ice cream with espresso cookies made with coffee from New Harvest Coffee Roasters in Pawtucket, R.I.