May 18, 2018
A monumental degree of success for first Friar Foundations Program graduates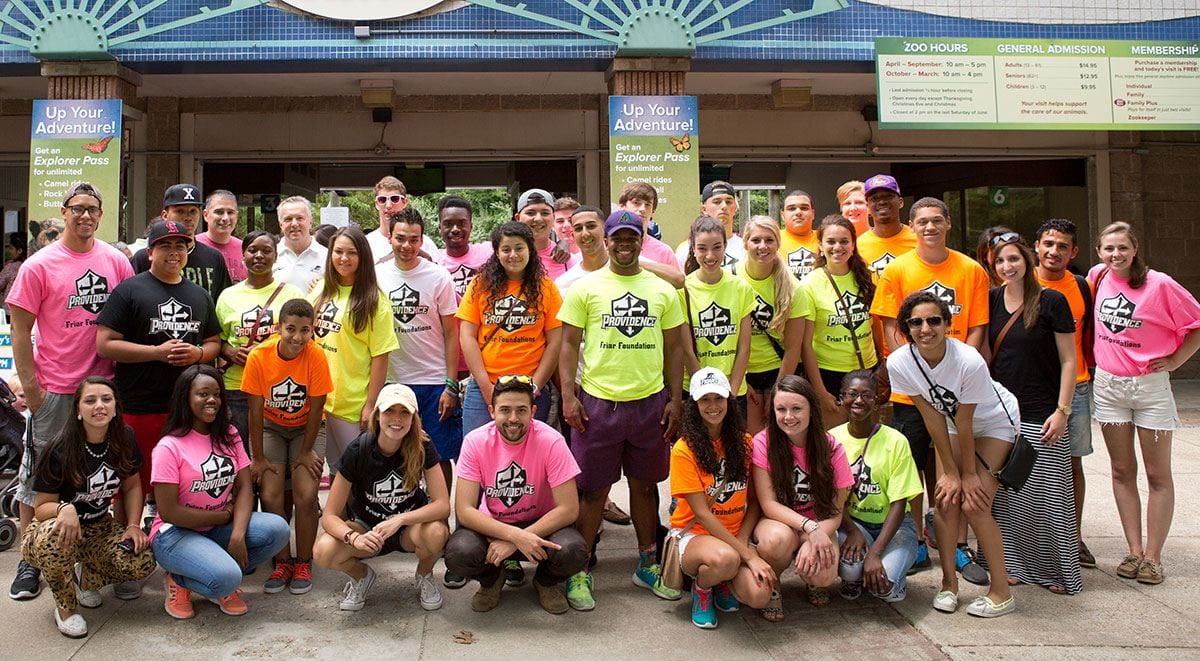 By Charles C. Joyce
Of the more than 1,100 students who will take part in Providence College's One Hundredth Commencement Exercises on Sunday, May 20, none may be more proud than a group of 20 who spent five weeks together on campus the summer before their college adventure began.
Pioneers in an unpredictable journey, these 20 students quickly leaned on each other and their student mentors, persevered, learned to believe in themselves, and, over time, blossomed. Four years later, they will be the first graduates of the Friar Foundations Program — diplomas in hand and futures filled with hope.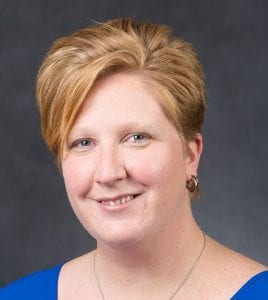 "For some of them, to graduate from PC was not a foregone conclusion. It was a pie-in-the-sky idea, and here they've done it. In a lot of cases, it's incredible," said Kaitlyn M. O'Malley, associate director for student-athlete success in the Office of Academic Services and the director of the Friar Foundations Program.
In keeping with the College's mission, the program was founded to ease the transition from high school to college for approximately 25 accepted students who might benefit from a jumpstart to their college career. The summer bridge program addresses several of the issues students face when transitioning, including academic responsibility and social assimilation.
Students, many of whom are the first in their family to attend college, live on campus for five weeks in July and August before the start of the formal academic year later in August. They take credit-bearing courses totaling six credits, attend skills-building workshops, participate in field trips and service opportunities, and get to know fellow students and the campus.
Including members of the Class of 2018, 86 of the 96 students who have enrolled in the program in its first four years continue to study at PC. More than 100 program graduates, current and former mentors, administrators, staff, faculty, and friends recently gathered at a reception to celebrate the accomplishments of the first class and the program overall.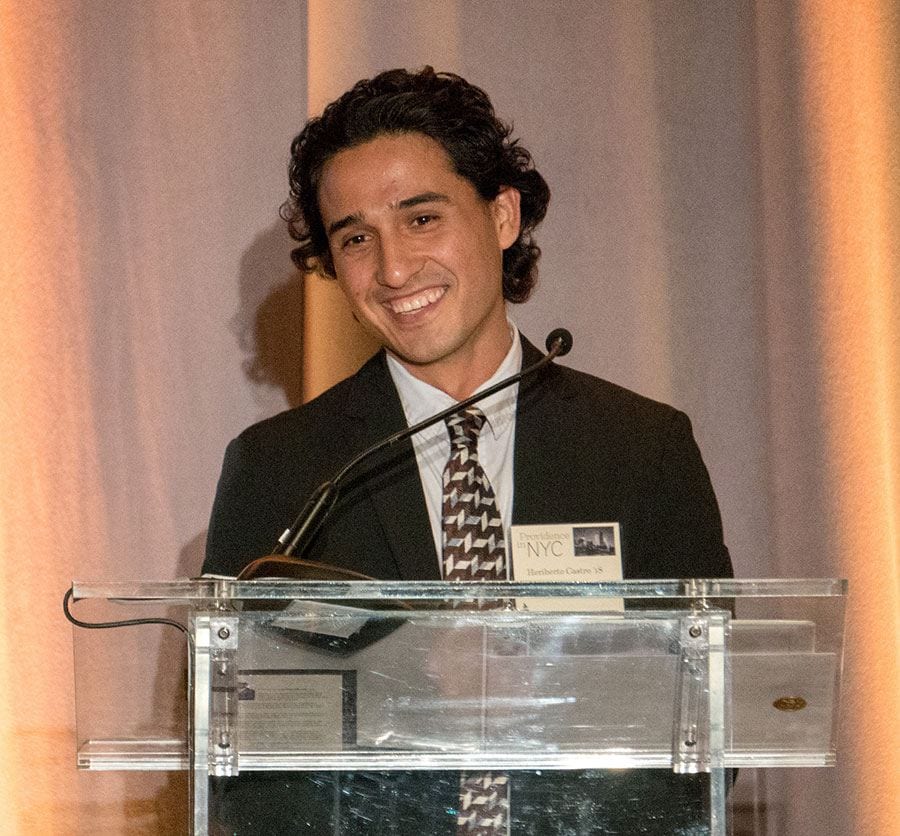 The first graduates-to-be of the program say it not only was a foundational anchor, but it helped them develop in multiple ways — with many finding their academic passion and becoming mentors and leaders in student clubs and organizations.
"Friar Foundations helps make a great education possible for young people who would otherwise not be able to have this opportunity," said Heriberto "Eddie" Castro '18 (Brooklyn, N.Y.) in remarks to alumni, benefactors, and other friends of PC at a recent scholarship dinner in New York City. A quantitative economics major and an Italian language minor, Castro became a resident assistant/mentor for Friar Foundations.
"My experience with Friar Foundations was very important … it helped me with the transition to college," said Castro. "I am very thankful for everyone who believes in this wonderful program."
Castro said one of the first bits of advice he would give mentees was to get as much out of their Development of Western Civilization courses as they could because they "will open your world." DWC introduced him to the great philosophers, theologians, historians, writers, and artists of the Western world, said Castro.
Another founding-year participant who is graduating this year, Jarely Paulino Díaz '18 (Lawrence, Mass.), expressed appreciation for the many people who influenced her.
"It was through this program that I met two of my best friends and roommates," said Paulino, who majored in public and community service studies and minored in Italian. "I also met my Friar Foundations mentor and role model, Eric Rivera (Class of 2016), who, after the first summer, continued to mentor me and helped me get into different leadership positions and even grad school. I would not be the person I am today, with the experience I have, if it wasn't for the people, especially Eric, being in my life, whom I met through the program."
A native of the Dominican Republic, Paulino was a resident assistant for three years. She also was a Friar Foundations mentor for two years, a Board of Multicultural Student Affairs Outreach Committee member for three years, a mentor to multicultural students and a coordinator for the Horizons program, and a member of the Dirigo Leadership Honor Society. She was inducted into the Gamma Kappa Alpha National Italian Honor Society this academic year.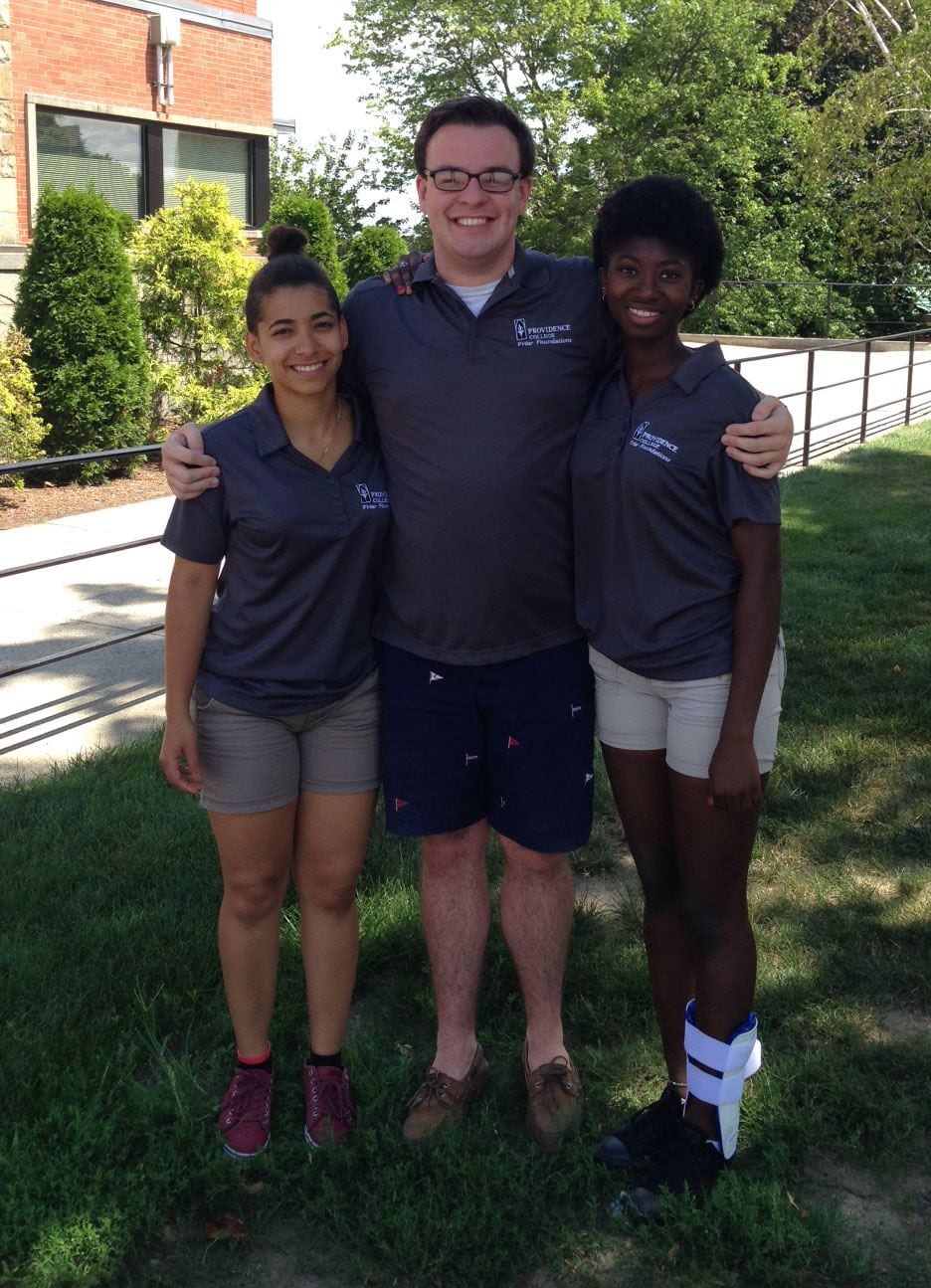 Paulino, who plans to attend graduate school, said her goal after graduation is to continue working with college students or high school students who are transitioning to college. She expressed a desire to work with first-generation students.
A close friend of Paulino's, Amie Mbye '18 (Pawtucket, R.I.), said joining Friar Foundations in her first year was pivotal in many ways. When she returned to campus for the start of fall classes, she already had six credits and knew more than 20 members of her class.
"Being a participant of the program made it so much easier to transition into college, especially since we established connections with some administrators, faculty, and staff, who could assist us in whatever we needed while we were here at PC," said Mbye, who double majored in global studies and economics while also taking minors in Spanish and Latin American studies.
Mbye returned the following two summers as a Friar Foundations mentor. During her PC career, she also was an orientation leader for a year, a mentor for Horizons, and served as the secretary of the Board of Multicultural Student Affairs her senior year.
A member of the Dirigo Leadership Honor Society, Mbye was inducted into the Omicron Delta Epsilon International Economics Honor Society this academic year. She will receive the Sister Thea Bowman Award at the Academic Awards Ceremony on Saturday, May 19. It is awarded annually to a graduating senior who serves PC and the community while also showing openness and respect for others regardless of race, creed, or social status.
Mbye, who was born in the United States to parents who are natives of Gambia, plans to begin work on a master's degree in global affairs at George Mason University in Virginia this fall. She hopes one day to return to Gambia, where she lived for five years, to work in a position that empowers women in that West African nation socially and economically.
"I hope for the Friar Foundations Program to continue flourishing and making an impact in the lives of those involved in it way beyond the time we leave PC," she said.
Read more about Friar Foundation participants Jarely Paulino Díaz '18, Amie Mbye '18, and Jeffrey Vasquez '18 in this Providence College Magazine story.