December 13, 2018
Third week of Advent and a Prayer for Christmas 2018
A Chaplain's Thought
By Rev. James F. Quigley, O.P. '60, Associate Chaplain, National Alumni Association
Dear God: 
I've always liked Christmas. I like the sounds, the smells, the trees and decorations, the traditions. But it is so easy to be distracted from the real message that you give us in this season. So: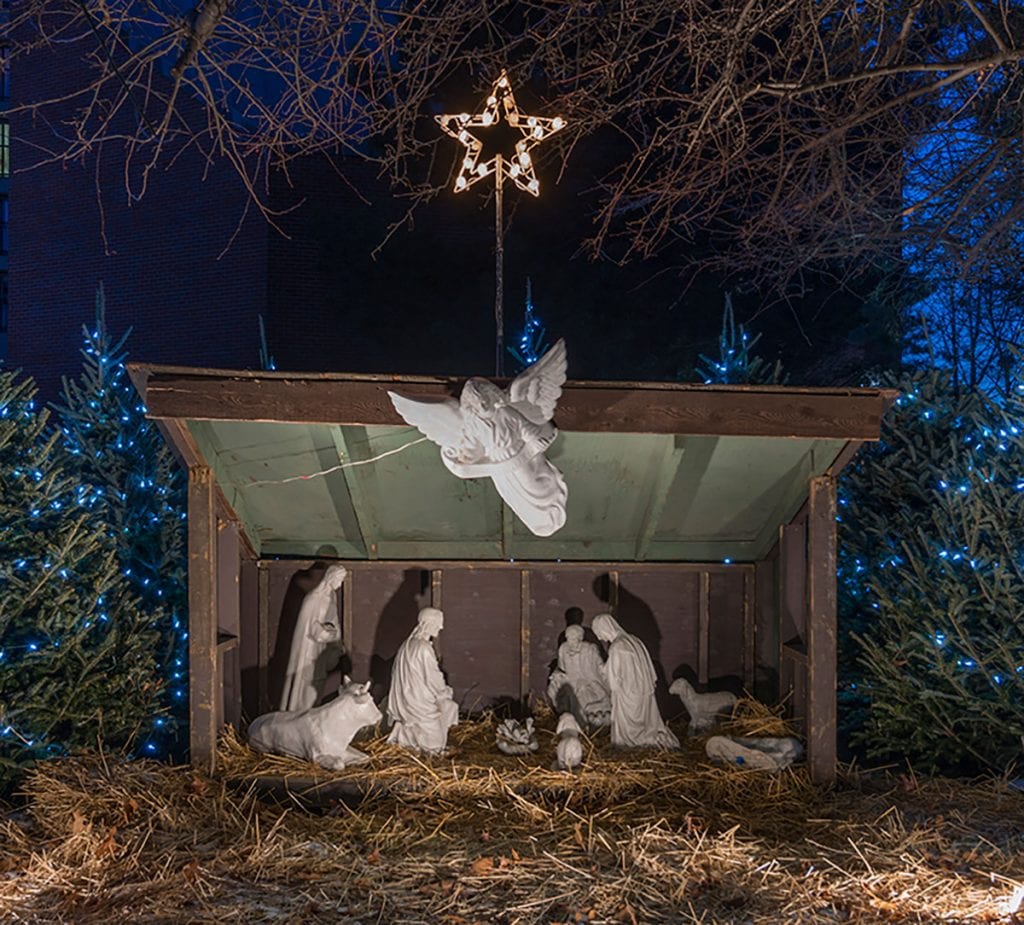 Help us this Christmas to listen to You speaking in our hearts. You give us the gift of your Son, Jesus Christ, to rescue us from self-centeredness, from vanity, from using other people, from just not caring enough about those in need. Let the Christ child teach us compassion. 
Help us this Christmas to be grateful for all the blessings we have received — family, friends, a Providence College education, opportunities, and so many other gifts. Thank you especially for the gift of faith in you — Father, Son, and Holy Spirit; in the still-living Lord Jesus Christ; in Mary, His mother and our mother; and in St. Joseph, that quiet hero. Who would we be without faith? Let the Christ child teach us gratitude. 
Help us this Christmas to be forgiving people. Christ entered history to do just that. He showed us how to forgive the hurts, the wounds, the unfairness we may have experienced. As He was nailed to a cross He said, "Father, forgive them for they know not what they do." Let the Christ child teach us forgiveness. 
Help us this Christmas to be women and men of hope. Christ at the Last Supper faced betrayal, dissolution of community, deceit, torture, and death. On that night, He gave us the sacrament of hope; He gave us Himself; He gave us the Eucharist because He would never leave us. Let the Christ child teach us to hope. 
Help us this Christmas to be brave. A secular culture that discounts religion and the Catholic vision, horrendous scandals in the Church, and spiritual indifference challenge a believer to put faith into practice. It costs to be Catholic. Let the Christ child teach us courage to put Him at the center of our personal and family lives. 
Friends, Christmas is God's sign of affection for us. No matter what your personal situation may be, never doubt that God loves you, accepts you, will never walk away. Through the baby born that day, God embraced the world and embraced each one of us … never to let go. That is "the good news of great joy for all the world — on this day a Savior is born who is Christ, the Lord." 
Happy, holy Christmas.   
EDITOR'S NOTE: Father Quigley suggests that family and friends who gather to celebrate Christmas consider reading Luke's Gospel account of Jesus's birth at the dinner table or another appropriate location or moment. 
The Birth of Jesus
(Luke 2: 1-20)  
In those days a decree went out from Caesar Augustus that the whole world should be enrolled. This was the first enrollment, when Quirinius was governor of Syria. So all went to be enrolled, each to his own town.  
And Joseph too went up from Galilee from the town of Nazareth to Judea, to the city of David that is called Bethlehem, because he was of the house and family of David, to be enrolled with Mary, his betrothed, who was with child.  
While they were there, the time came for her to have her child, and she gave birth to her firstborn son. She wrapped him in swaddling clothes and laid him in a manger, because there was no room for them in the inn.  
Now there were shepherds in that region living in the fields and keeping the night watch over their flock. The angel of the Lord appeared to them and the glory of the Lord shone around them, and they were struck with great fear.  
The angel said to them, "Do not be afraid; for behold, I proclaim to you good news of great joy that will be for all the people. For today in the city of David a savior has been born for you who is Messiah and Lord. And this will be a sign for you: you will find an infant wrapped in swaddling clothes and lying in a manger."  
And suddenly there was a multitude of the heavenly host with the angel, praising God and saying: "Glory to God in the highest and on earth peace to those on whom his favor rests."  
When the angels went away from them to heaven, the shepherds said to one another, "Let us go, then, to Bethlehem to see this thing that has taken place, which the Lord has made known to us."  
So they went in haste and found Mary and Joseph, and the infant lying in the manger. When they saw this, they made known the message that had been told them about this child. All who heard it were amazed by what had been told them by the shepherds. And Mary kept all these things, reflecting on them in her heart.   
Then the shepherds returned, glorifying and praising God for all they had heard and seen, just as it had been told to them.  
###