November 06, 2017
A wedding surprise — for two couples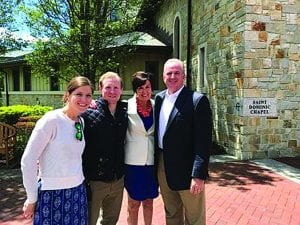 A dose of nostalgia and a postcard united two PC couples more than a generation apart.
It started on Feb. 18, 2017, the day of the wedding of David J. '08 & '10G and Maggie M. (Nokes) Dombroski '12, and came full circle on Reunion Weekend 2017 when the Dombroskis met Jeffrey C. '82 and Ann M. (Flaherty) Wendth '82.
The Wendths, on a visit to Boston that winter Saturday, stopped by the Omni Parker House to show their children the ballroom where their wedding reception took place 33 years before. When they arrived at the room — the same place where the Dombroskis were celebrating their wedding reception — they looked in and saw a Providence College banner on a table. Delighted, the Wendths then left a message with the Dombroskis on a "Greetings from Boston" postcard the couple used for guests to sign instead of a guestbook. When the Dombroskis, who were married at Saint Cecilia Church in Boston, were reading the postcards a few weeks later, they were thrilled to see the note from the Wendths.
The story took on greater impact at reunion, when the couples — not realizing the other was going to be there — met for the first time. In another case of Friar fortune, Maggie was walking to the bookstore and ran into Susan (Dupre) Madigan '82, whom David and she had met at a First Holy Communion in May. Susan was accompanied by two friends, the Wendths. David ended up meeting the Wendths a day later after Mass in St. Dominic Chapel.
"Learning that someone is also a Friar means so much to a PC graduate. You form an immediate bond with those persons, even if you've only met through a postcard," said Maggie.
Maggie is the assistant director of the Expect Miracles Foundation, and David is senior program specialist with the U.S. Department of Agriculture. They live in Boston. Ann Wendth is the director of institutional advancement and marketing and communications at the Albany Academies schools, while Jeff is an associate partner/IBM Global Business Services with IBM Corp. They live in Slingerlands, N.Y.