October 20, 2022
Abortion after Dobbs: PC community gathers for respectful dialogue

By Vicki-Ann Downing '21G and Michael Hagan '15, '19G
"With Mutual Respect: Discussions on Contemporary Challenges," a presidential initiative announced this fall by College President Rev. Kenneth R. Sicard, O.P. '78, '82G, began in September with a panel discussion about abortion in the United States.
More than 500 Providence College community members — including more than 300 students — gathered in Slavin Center '64 Hall, with overflow seating in McPhail's, to hear both sides of the issue. The discussion was held in light of Dobbs v. Jackson Women's Health Organization, the U.S. Supreme Court ruling in June that overturned Roe v. Wade (1973) and Planned Parenthood v. Casey (1992) and eliminated the federally protected right to abortion.
"As a Catholic, Dominican college grounded in the liberal arts and committed to pursuing truth, we have an obligation to explore and discuss issues that are uncomfortable and controversial, and to do so in a thoughtful and respectful manner," Father Sicard said in his introduction. "Disputation of this type has been a hallmark of Dominican education since the 13th century."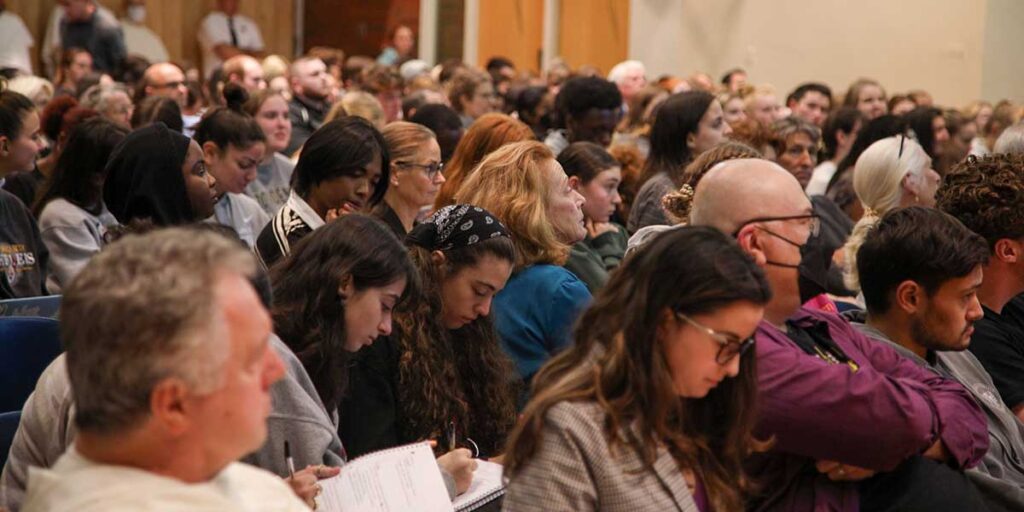 Father Sicard described how the timing of the Dobbs decision made it difficult for the college to facilitate discussion in the ruling's immediate wake. He resolved then that the college facilitate dialogue on the issue when students returned in the fall. The event was the product of months of planning and discussion.
"Note that these sessions will not be debates where one side wins, but rather a mutually respectful presentation of different perspectives," Father Sicard added.
The panel was moderated by Rick Battistoni, Ph.D., professor of political science and of public and community service studies, who was in his first year of college when Roe v. Wade was decided. He encouraged the audience and the panelists, in poet Langston Hughes's words, to "listen eloquently to all that is said," and refrain from interrupting the proceedings with applause or commentary.
Four faculty members — two pro-life, two pro-choice — participated in the panel. Presenting pro-life positions were Holly Taylor Coolman, Ph.D., assistant professor of theology, and Sandra Toenies Keating, Ph.D., professor of theology. Pro-choice positions were presented by Abigail Brooks, Ph.D., associate professor of sociology and of women's and gender studies, and Vance Morgan, Ph.D., professor of philosophy.
Each panelist presented prepared opening remarks on how they arrived at their current positions in the abortion debate. After, they were invited to respond to their co-panelists's remarks — specifically what from their remarks they would like to engage with more deeply and where common ground could be found between pro-life and pro-choice positions.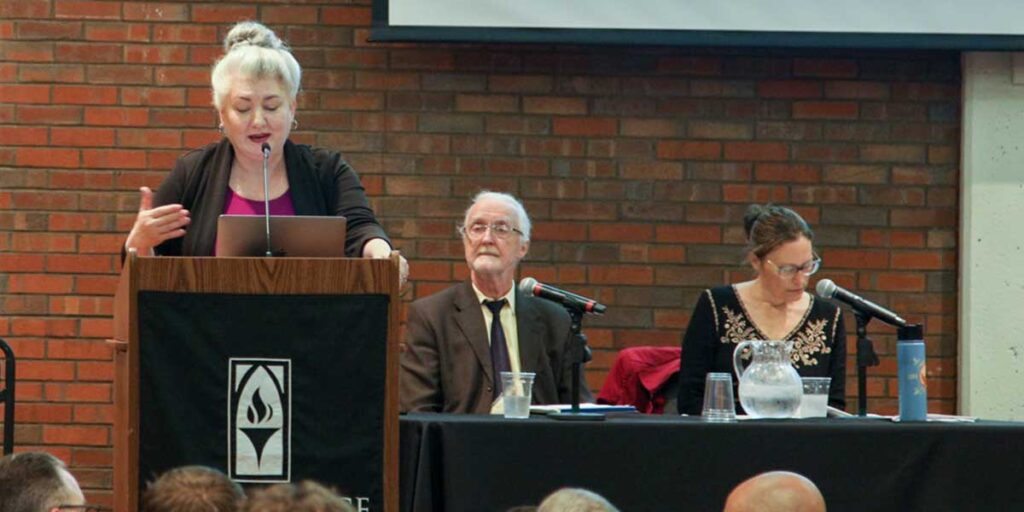 Students were able to submit questions to the panelists using a QR code. One asked the pro-choice advocates if there should be any legal restrictions, such as gestational limits, on abortion at all. One asked the pro-life advocates if there are any circumstances, such as pregnancies resulting from rape or incest, in which abortion should be legal.
At the close of the discussion, the professors said they appreciated the attentiveness of the audience and the opportunity to discuss a difficult topic from multiple perspectives. They were asked a final question: "How do you think we can encourage the kind of dialogue and discussion we're witnessing tonight … at a time when our communities seem so polarized?"
"The first step is really trying to be conscious about listening to one another more carefully," Coolman said. "At Providence College, we have to intentionally build a place where we trust that we are for one another in a way that is deeper than agreement or disagreement."
"I would encourage all those here on the panel, all of you students and faculty, don't be afraid to do what we're attempting to do here this evening — listen to positions that you are absolutely sure are dead wrong," Morgan said. "I always remind my students that Thomas Aquinas always chose to organize his discussions by giving the opposition the best shot first.
"Do the work to understand how an intelligent person of good faith could believe differently than me, and imagine that that is actually possible, and then have those conversations."
Watch the discussion
holly taylor coolman in our sunday visitor
More Providence College news