February 12, 2020
Accountancy professor's $500,000 gift adds new computer lab to business school
By Vicki-Ann Downing
When students in the Data Applications in Business course study in the new second-floor computer laboratory in the Arthur F. and Patricia Ryan Center for Business Studies, they can thank their instructor for more than her teaching.
Faith E. Lamprey, a member of the full-time practitioner faculty since 2013, also paid for their classroom.
Lamprey's gift of $500,000 to Providence College created a second computer laboratory in the School of Business with 40 computers, eight flat screens, and a central pod for the instructor. It also established the Professor Faith E. Lamprey Endowed Data Analytics Learning Coaches Fund for the business school and bolstered PC's Transitions Program for multicultural and first-generation students.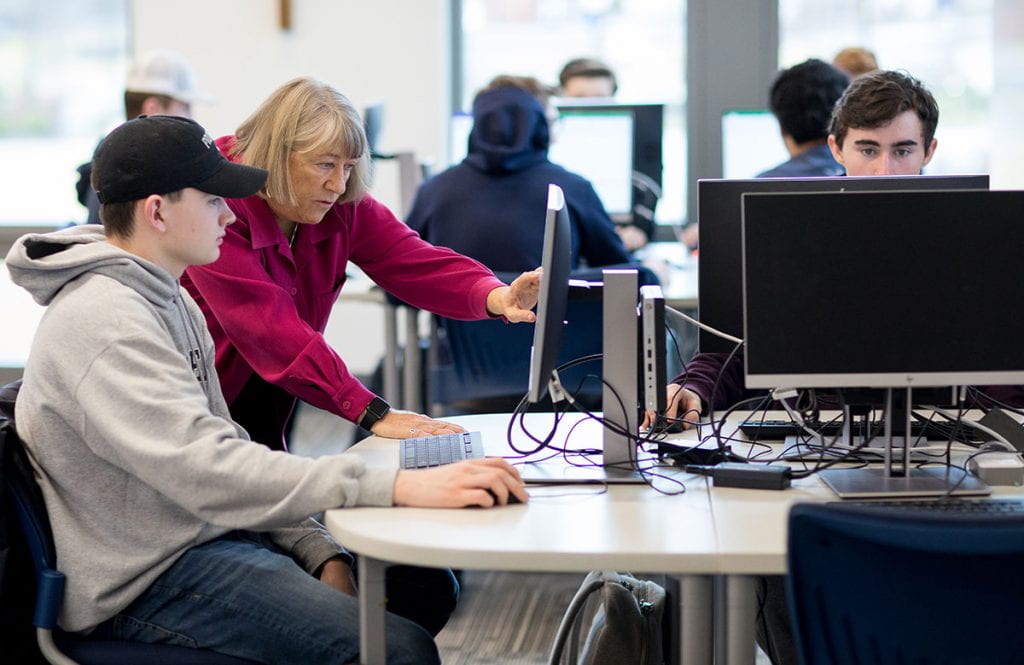 The gift came about after Lamprey sold her computer consulting company, Aurora Technologies, in 2018.
"I wanted to do something major because I love teaching here," said Lamprey, who began at PC as an adjunct instructor in 2006. "I love the College, I love the faculty in the business school, and I love the students."
Computers were still a futuristic concept when Lamprey left her home in New Jersey to study at Elmira College in upstate New York in the early 1970s. She majored in economics and in computer science but was most interested in computer programming. After graduation, she studied for an MBA at the University of Rhode Island, where she concentrated in management science, the study of data analytics. She was one of few women in the field at the time.
Her first job was as a computer auditor and consultant at Arthur Young & Co. in Providence, now part of Ernst & Young, one of the Big Four accounting firms. Lamprey accompanied auditors on site visits and got her first look at how businesses operated. After that, she worked writing application programs for Daly & Wolcott, a software company located in Rhode Island that is now part of Infor. Over the course of 13 years, she rose to vice president there before being laid off in 1995.
Lamprey responded to the job loss by starting a business of her own in her home. She named the company Aurora Technologies, after the goddess of dawn who brings up the sun, because the firm brought light to business problems. It specialized in Electronic Data Interchange, a process by which a company's business documents are made electronic, in a proprietary format, for sharing computer-to-computer.
"There weren't enough hours in the day, so I hired some part-time help, and before I knew it I was up to 16 people, totally incorporated, and offering a full menu of benefits that included a 401(k)," Lamprey said.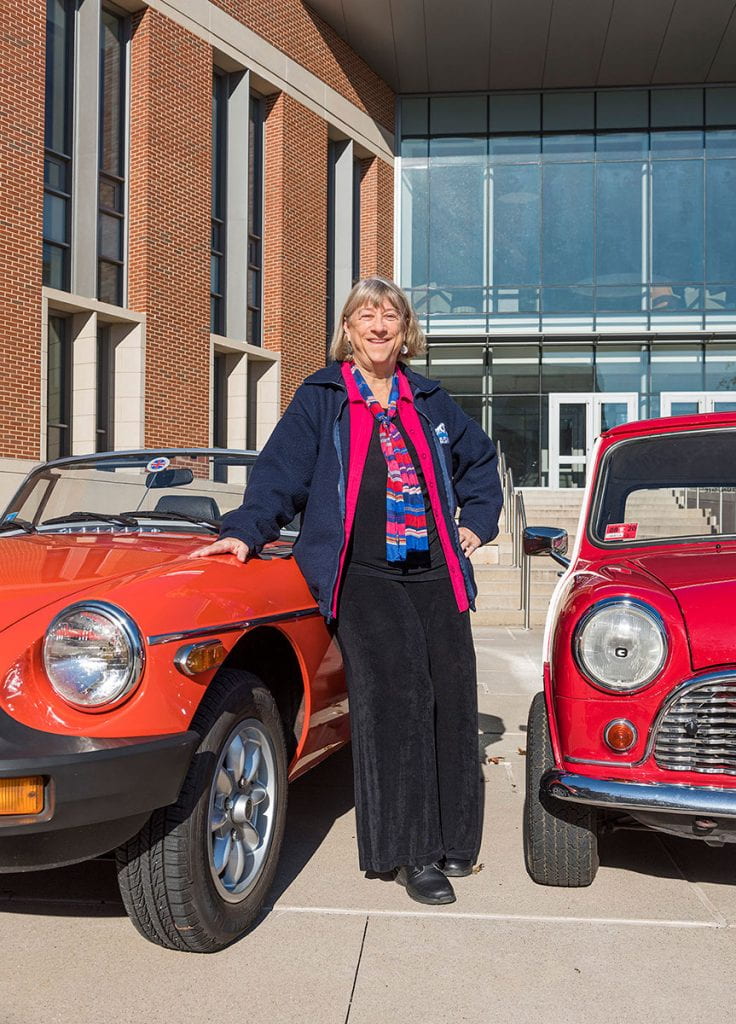 While her business was becoming established, Lamprey brought in additional revenue by teaching part time at Rhode Island College, Bryant University, and New England Institute of Technology.
Most of Lamprey's first employees were women, many with young children, who wanted to work part-time on flexible schedules. Working from home and having part-time hours were rare opportunities 25 years ago. Some of the women she hired initially remained with her for decades.
Through her business, Lamprey got to know the owners of other small EDI companies across the country. With her encouragement, in 2011 they formed the Aurora EDI Alliance, which allowed them to pool expenses and work together on projects. Eventually, she sold her company to a business in the alliance that has retained her employees and continues to satisfy her customers.
Lamprey teaches six sections of Data Applications in Business, a required course for all business majors at PC. Through her teaching, she was aware that the College needed an additional computer lab, made possible by her gift. At the suggestion of Dr. Sylvia Maxfield, dean of the business school, the gift also will be used to establish a Data Analytics Fellows Program for students who will serve as mentors to business school students and faculty.
In addition, $50,000 of Lamprey's gift was designated to support the Transitions Program, a pre-orientation summer program for multicultural and first-generation students entering PC. She was inspired after hearing a presentation in 2018 by Dr. Bernice A. King, daughter of Rev. Dr. Martin Luther King, Jr., during the College's first MLK Convocation.
Lamprey reached out to Ralph Tavares '01, then director of multicultural student success, who invited her to meet a group of MLK scholars. She later taught a financial literacy session for the program. The students signed a framed picture for her that reads, "Fight the Good Fight." It now hangs in her office.
At Elmira, her alma mater, Lamprey donated $50,000 to endow a scholarship for women interested in studying accounting or technology.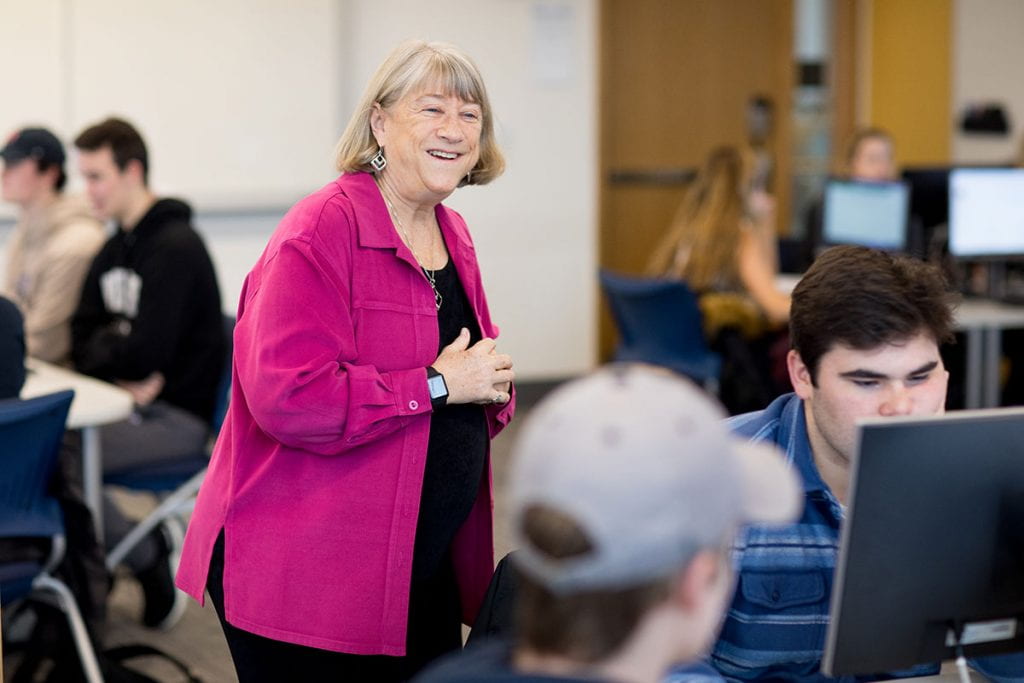 "My knowledge of these two disciplines always opened doors for me," Lamprey said in an interview marking that gift and her 45th reunion. "Pay equity will only be realized when there are more women in professional positions in the accounting and technology fields enabling their voices to carry more weight."
When she isn't teaching, Lamprey and her partner, Bruce Vild, publish British Marque Car Club News, a monthly newspaper mailed to more than 3,000 paid subscribers in the United States and Canada. Lamprey became an enthusiast of British cars after buying her vermillion red 1980 MGB new from a dealership in Seekonk, Mass.
Lamprey and Vild also own a red-and-white 1967 Austin Mini. They drive Minis as their everyday vehicles. Hers is a 2019 Mini Clubman that even carried their Christmas tree home from the lot in December.
"They are great cars," Lamprey said.