October 29, 2018
Alumni, staff, and students team up to turn basketball courts into public art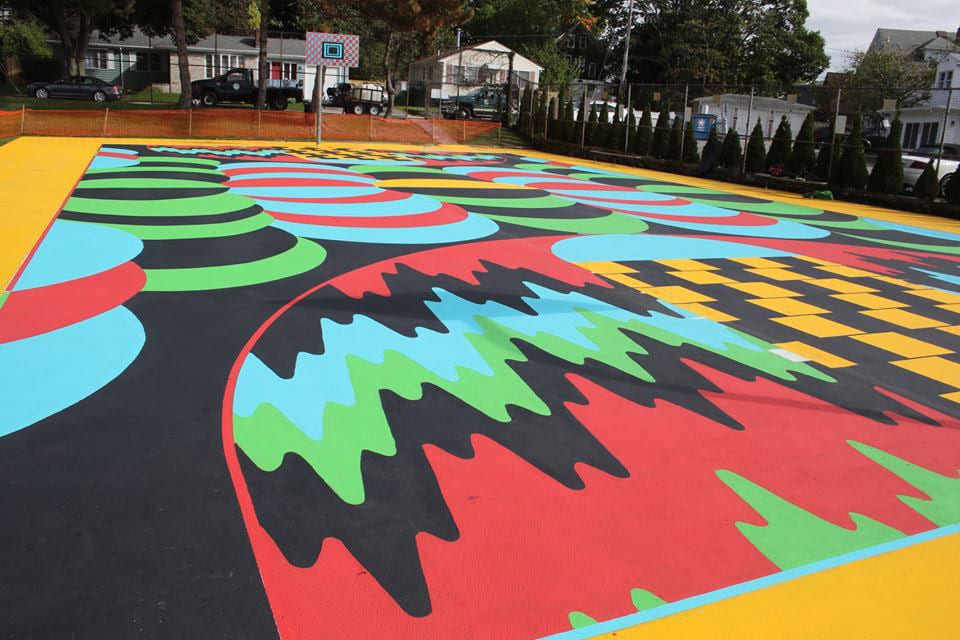 By Vicki-Ann Downing
Basketball courts at a Providence park have been transformed into a public art installation thanks to a team of alumni, staff, and students from Providence College.
Bold and vibrant patterns of color — the design of Providence mixed-media artist Jim Drain — now decorate the surface of adjacent basketball courts at Fargnoli Park on Smith Street, a short walk from PC's campus. The project was accomplished with $45,000 in contributions from Friends of Friars Basketball, $15,000 from Providence College Galleries, and the labor of 130 volunteers, including PC students.
"The basketball court is a great bridge between the College and the community," said Chris Carter '11 & '14G, president of Friends of Friars Basketball. "It makes a big statement. It's a rare concept to be able to renovate a court in artistic fashion. And if it's unique enough to get kids to go outside and play more often, that alone is a worthwhile endeavor on our part."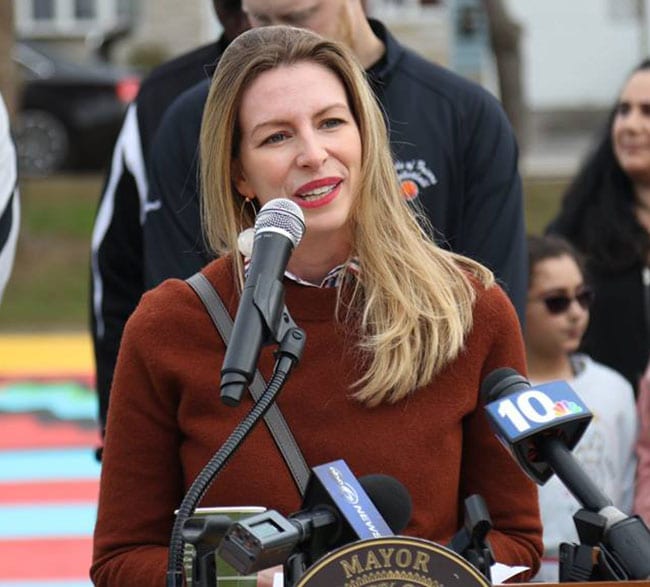 Jamilee Lacy, director and curator of PC Galleries, commissioned Drain, whose work is included in the permanent collections of the Whitney Museum of Art in New York, the Museum of Contemporary Art in Los Angeles, and the Rhode Island School of Design Museum in Providence. In Lacy's vision, the basketball courts, which cover 4,300 square feet, would become a public work of art, a "floor mural."
Drain's design incorporates the history and culture of the Elmhurst and Smith Hill neighborhoods, Lacy said. The wavy pattern mimics Ikat, a fabric-dying technique that originated in Indonesia and South America and is popular in Afro-Latino culture. Black and yellow checks to be painted along the courts' border suggest tile used to frame murals in Italy.
In addition to the new paint, the Friends of Friar Basketball paid to have the courts resurfaced during the summer. The asphalt was badly damaged and sinking, Lacy said. Through John Sweeney, PC's senior vice president for finance and business/CEO, two sets of bleachers, no longer needed after a renovation project at the College, were donated. New rims, backboards, and fencing were purchased and installed.
The hope is that the basketball courts will come to define the neighborhood for young people who play there, said Eric "Pete" Peterson '86, a member of Friends of Friars Basketball.
Peterson, who played soccer at PC, developed the idea for the project with Harold Starks '86, a former basketball player who is coordinator of student-athlete mentoring and athletic alumni events at the College. Peterson remembers hearing Stark reminisce about the neighborhood court in Harlem where he grew up playing basketball.
"We all had courts that we played on when we were kids that were our own home courts," said Peterson. "We wanted to make the Fargnoli courts a source of pride for every child growing up in the area and for their parents. It is their own home court, a safe place to have their children play."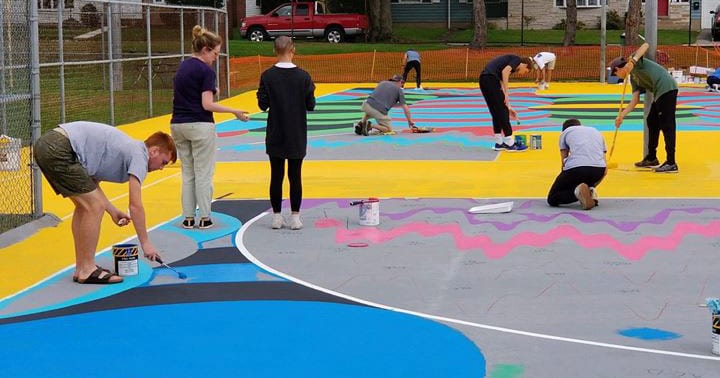 Friends of Friars Basketball was founded by Starks and Domenic Coletta '78 as a way to connect former players to the College and the community. Each summer, the group hosts a golf tournament to raise money for Thanksgiving meals at Sojourner House, a residence for women who have experienced domestic abuse. On Martin Luther King Day, the group volunteers to serve dinner at Mary House at St. Patrick's Church on Smith Hill. They gather for an annual summer barbecue at the home of Ed Cooley, men's basketball head coach, and his wife, Nurys.
Peterson connected the group with Project Backboard, a national nonprofit that turns basketball courts into works of art to increase public park usage, improve safety, and promote social interaction. He had met the organization's founder, Dan Peterson, who attended basketball camps run by Tim Welsh, the former PC men's basketball coach.
"I read about what he was doing to bring large-scale art into inner-city basketball courts and I thought it was really cool," Peterson said. "I called him and we chatted. You know, everybody is so busy in this world. But every person I spoke with about this project jumped aboard immediately and made time to help. It's the most inclusive thing I have ever been involved with."
Peterson contacted Lacy, who pledged the support of PC Galleries and found the artist.
"Usually the Project Backboard design is a geometric abstraction," said Lacy. "I wanted to use the opportunity to innovate. Jim Drain's design is geometric in a locally- and globally-inspired way. It is colorful and dynamic, like a video or computer game. The outcome blends a traditional, low-tech environment with visuals that today's kids find stimulating."
"We wanted the art to be significant," said Peterson. "Art sparks your imagination. It gives you a feeling of warmth, security, and unconditional love. What if we could have all those things on a resurfaced basketball court, and a kid could pick them up without even knowing it?"
Wendy Nilsson, superintendent of the Providence Department of Parks and Recreation, also was an enthusiastic supporter. After considering four playgrounds, she helped the group choose Fargnoli Park, in part because of its proximity to campus and because Friends of Fargnoli Park is an active organization of park supporters.
The project should have taken 18 months, but the group decided to fast-track it. Three representatives from Project Backboard came to Fargnoli Park in October. They provided brushes and mixed the tinted traffic paint. Drain drew his design on the court surface so volunteers, who included Friends of Friars Basketball and PC students, could paint each section with a designated color. Jenna Lavallee '16 was hired to be the on-site project manager. In all, volunteers contributed 750 hours to make the project a success.
The courts were completed in time for the formal dedication on Oct. 14, but the organizers hope it is just the beginning. They would love to accomplish similar work at all 35 public basketball courts in the city. To accomplish it, Friends of Friars Basketball formed a subgroup, My HomeCourt, which includes public and private partners. Among its members are Peterson's wife, Theresa (Cairns) Peterson '89, Nurys Cooley, and Deb Weinrich, who runs a communications firm in the Providence area.
"Maybe a business would want to adopt a court," said Peterson. "What if we had 35 businesses, with each of them funding the rehabilitation and the artwork, and Parks and Recreation provided the maintenance?"
Lacy, who is looking for funding through grants, already has local and international artists in mind for future projects.
"At PC Galleries, we focus on art as scholarship and innovation," said Lacy. "We want to serve as a liaison between the arts community and the campus. It's wonderful that My HomeCourt enables us to do our work outside the gallery walls."