November 04, 2019
Asher Schofield '96 and Erin Piorek Schofield '96 stock Frog & Toad with creativity and community
By Ealish Brawley '14
A walk through one of their Providence gift shops on Hope or Westminster streets offers a glimpse into the lives of Asher Schofield '96 and Erin Piorek Schofield '96.
Frog & Toad's shelves are stocked with creativity and community. There are Samuel L. Jackson air fresheners, trophies for the recently potty trained, and comical, sarcastic greeting cards for every occasion. There are works of art crafted by local artists and Rhode Island-themed souvenirs to please residents and visitors alike.
"I love curating and bringing together beautiful and interesting things," said Erin.
Similarly, Asher has used his artistic skills in designing and producing original products, such as greeting cards, stickers, and T-shirts, through the couple's Frog & Toad Press.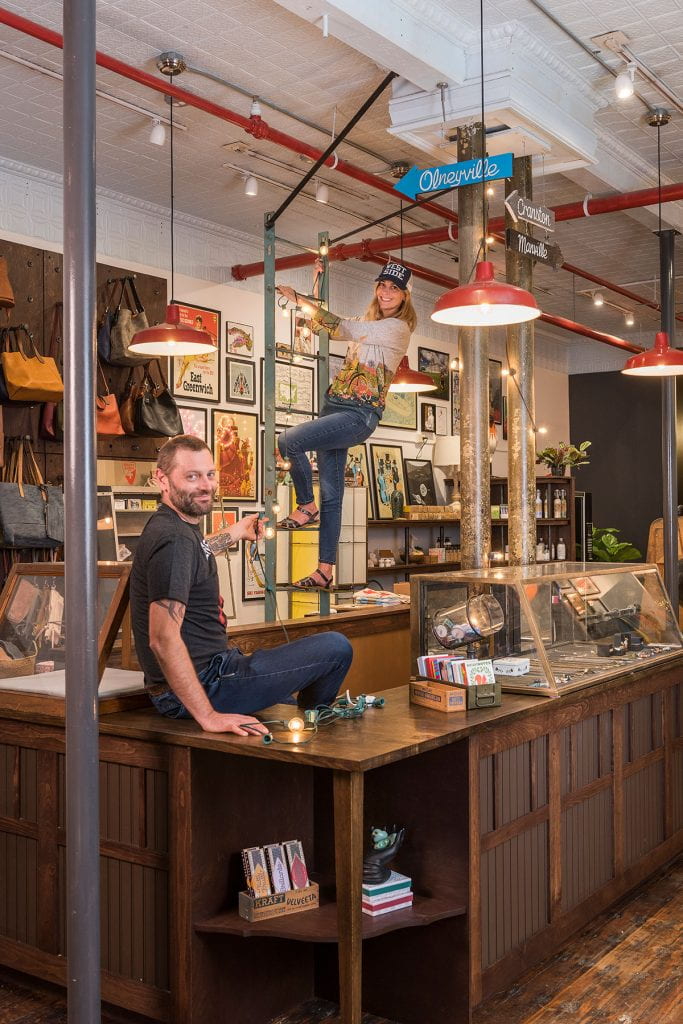 Asher and Erin, who hail from New Hampshire and Connecticut, respectively, fell in love with Rhode Island during their undergraduate years. They drank from the fountain outside of The Providence Athenaeum, knowing that legend says those who do so will never leave the state. Asher says Rhode Islanders "love ourselves in a tongue-in-cheek way. We are small, idiosyncratic, and weird."
Frog & Toad Press celebrates this eccentricity in many of its designs, such as its "Bristol, Rhode Island … Party Like It's 1776" postcard and "You Can Go to Hell, I'm Going to Pawtucket" bumper sticker.
Agreeing on a name for their store was easy, the couple said. Both shared a childhood fondness for Arnold Lobel's Frog and Toad books. As adults, they wanted the books' quirky style and positive message to guide the ethos of their store.
"There is something just so cool about two amphibians in slacks and blazers with no shirts underneath," Asher explained of Frog & Toad's clothing choices. Their character and charm were just as important to the Schofields. "Frog and Toad are really good citizens and friends, they appreciate each other's idiosyncrasies, and they always keep their sense of humor," said Erin.
Asher and Erin's friendship began their first day at PC. Asher took a giant handful of M&Ms during an orientation ice-breaker game before learning classmates had to share one fact about themselves for each piece of candy. Erin couldn't help but laugh as he struggled to come up with dozens of interesting details about himself. A shared sense of humor continues to nurture their relationship as well as direct their business.
Both said balancing their studies and involvement at PC prepared them for their many roles as small business owners. Asher was a double major in English and studio art, hosted his own radio show on WDOM-FM, worked on the senior class video, and presented an art thesis exhibition. Erin was an English major with minors in women's studies and Italian, wrote for The Cowl, and was a member of Student Congress.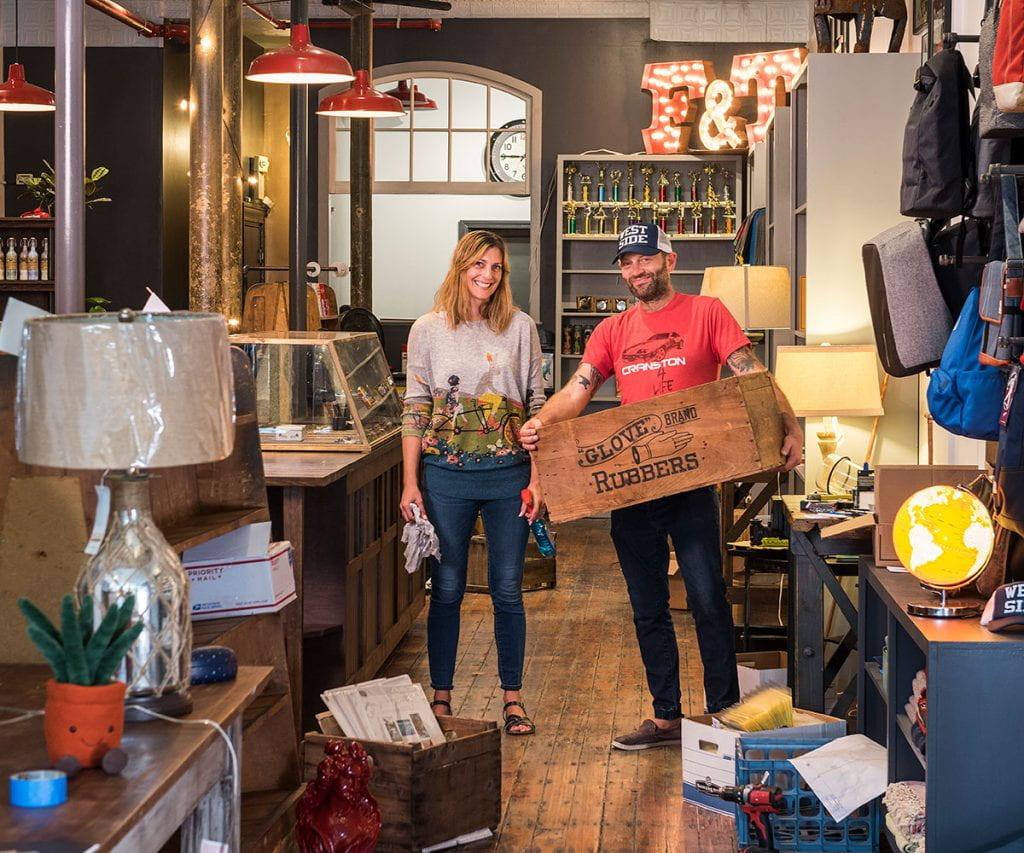 Before becoming small business owners, the Schofields worked in their areas of study. Erin was a writer and a copy editor for Providence Business News and then Rhode Island Monthly. Asher worked for a graphic design company in Pawtucket. While writing a column, "Women in Business," Erin said she felt "a fire to be an entrepreneur." Asher supported this dream wholeheartedly.
In 2001, Erin's dream began to take shape. Asher and she found an appropriate location on Hope Street on Providence's East Side. They outfitted the interior with furniture from their apartment and a simple drawer for a cash register. Asher believes the investment of their own time and capital pushed them to succeed.
"We were accountable only to ourselves," he said. "We found the will to make it work."
At first, Asher continued as a graphic designer while Erin worked at the store, gradually building up the merchandise. They continued with this arrangement for three years, until Asher joined her full time. Their roles shifted again as they started their family; Asher took on additional responsibilities at the store so that Erin could take care of their children. As their business continued to grow, the couple began to consider expanding in Providence. In 2018, they opened a second shop not far from downtown on Westminster Street.
The Schofields' dedication to growing their business is matched by their commitment to support the Rhode Island community. Their mission is maintaining the American tradition of the independent and locally owned Main Street. Asher co-founded the Hope Street Merchants Association, which encourages people to shop local. The association hosts both an annual Spring Block Party and a Holiday Stroll.
Asher coordinated a public art initiative, adding four original sculptures to Hope Street, as well as planting trees and decorating benches and bus shelters. HopeWorks, a program he founded with Hope High School in which students are matched with small businesses, has provided many Providence teens with employment experience. Erin's interest in education and her desire to advocate for their three daughters led her to campaign —successfully — for chairperson of the Bristol-Warren Regional School Committee.
The Schofields' community engagement is not just local. They organized a donation drive after Hurricane Sandy in 2012 and brought the collected items to a distribution point in New Jersey. The response was far greater than they imagined, and they collected enough goods to fill two U-Hauls. "Everyone wanted to help, and no one knew how," Erin said. "We just gave them an avenue to help."
They also supported residents in Flint, Mich., by designing "Stand Up for Flint" patches and donating all proceeds to those affected by contaminated drinking water.
"Community engagement is one of our core principles," said Asher. "We have an obligation to work with and improve our community. We can all make our small world a better place, make things a little nicer in our own small way."