January 30, 2019
At MLK Convocation, Rev. Tutu urges students to keep working toward a beloved community
By Vicki-Ann Downing
Rev. Nontombi Naomi Tutu, a human rights activist and the daughter of South African anti-apartheid leader Archbishop Desmond Tutu, spoke about the importance of individual actions in building a beloved community during the second annual Rev. Dr. Martin Luther King Jr. Convocation at Providence College on Thursday, Jan. 24.
"How are you in those times that the world is not looking?" asked Rev. Tutu. "How you do anything speaks of how you do everything. What you do in any situation speaks of who you are. How you live in the world tells the world who is the God you believe in."
Rev. Tutu was the featured speaker during the College's second annual Rev. Dr. Martin Luther King Jr. Convocation Week, which featured programs to advance Dr. King's vision of a "beloved community." In 2018, the College hosted Rev. Bernice A. King, the daughter of Rev. King and director of the Martin Luther King Jr. Center for Nonviolent Social Change.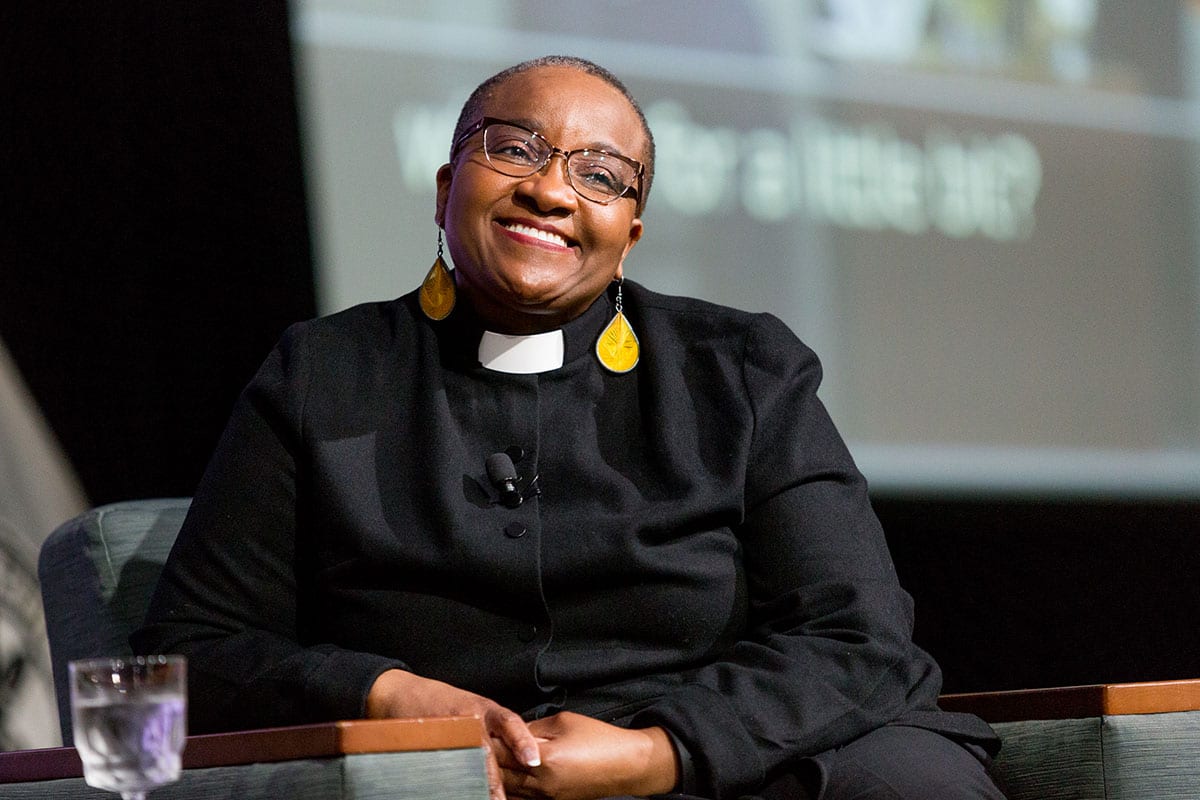 This year's events included a candlelight vigil in St. Dominic Chapel, a student celebration in Slavin Center '64 Hall, and a discussion with Dr. Comfort Ateh, associate professor of education, and Maco L. Fanieul, a member of the adjunct faculty in black studies. Nikole Hannah-Jones, a writer for The New York Times Magazine, also spoke about racial segregation in American society as part of The Humanities Forum.
About 650 people attended Rev. Tutu's presentation in the Peterson Recreation Center. College President Rev. Brian J. Shanley, O.P. '80 noted that the convocation was taking place during a day of torrential rain and sweeping wind that felt "biblical," which was fitting because both Archbishop Tutu and Dr. King were men of faith, trained as theologians.
Father Shanley said Archbishop Tutu and Dr. King shared a belief that one God "has created every single individual, and that we are all of equal dignity in the sight of God. Human diversity mirrors the creator's generosity and artistic sense. God created people to look different. That difference is part of the beauty of God's creation."
Both men believed that through the solidarity of the human family, "we are all responsible for each other as brothers and sisters," Father Shanley said. "They believed that the poor and the marginalized have a privileged claim upon the consciences of believers and the resources of the state. Finally, they believed that racial reconciliation is a divine gift and a divine promise, only partially realized in our community, and trusting in its fulfillment in God's good time.
"These central theological truths animate the work that Dr. King did and that Desmond Tutu did, and they should be values that we can embrace on our campus in our own efforts to turn this campus, which is not yet, into a true beloved community," Father Shanley said.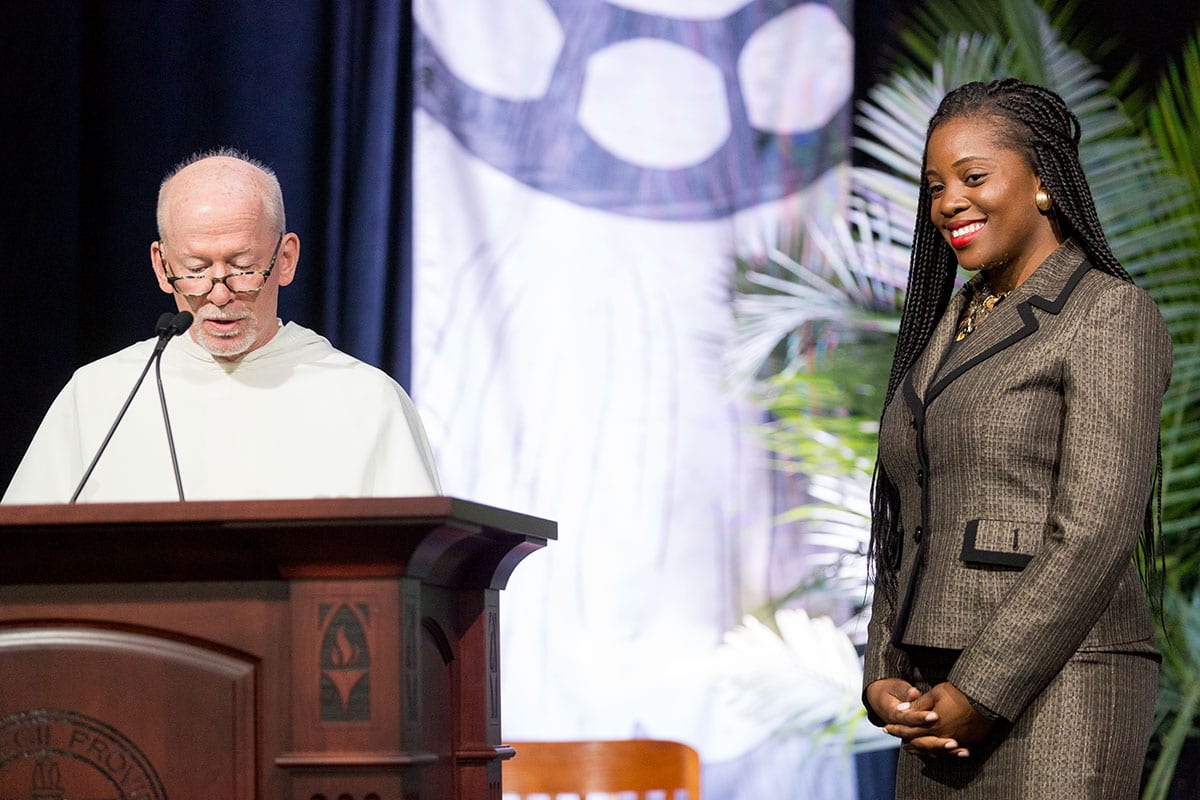 The week's events were planned by the College's MLK Convocation Committee, which was chaired by Ralph E. Tavares '01, director of multicultural student success and assistant dean of undergraduate students. As part of the convocation, Tavares announced the presentation of the Martin Luther King Jr. Vision Award to Jillian Rose '04, director of community engagement, diversity, and research at the Hospital for Special Surgery in New York City.
Rose majored in social work and in health policy and management at PC and earned advanced degrees from George Washington University and Columbia University. Her advocacy on behalf of marginalized patients was recognized with the Distinguished Educator Award from the Association of Rheumatology Health Professionals in 2018.
Jillian Rose '04 on the Providence College Podcast
Rev. Tutu was introduced by Marvin Taveras '19 (Lynn, Mass.), a public and community service studies major. Tavares is president of the Organization of Latin American Students, PC's chapter of NAACP, and the STEP team, and a member of the Board of Multicultural Student Affairs and the Motherland Dance Team. He has undertaken five independent studies and co-taught courses in dialogue, communication, facilitation, and community engagement.
Taveras, a Martin Luther King Jr. scholar, said he has realized through his studies "what it means to be a leader and how I can leave my mark here at Providence College and beyond." He challenged students to share what they learned during the convocation week with someone who did not attend.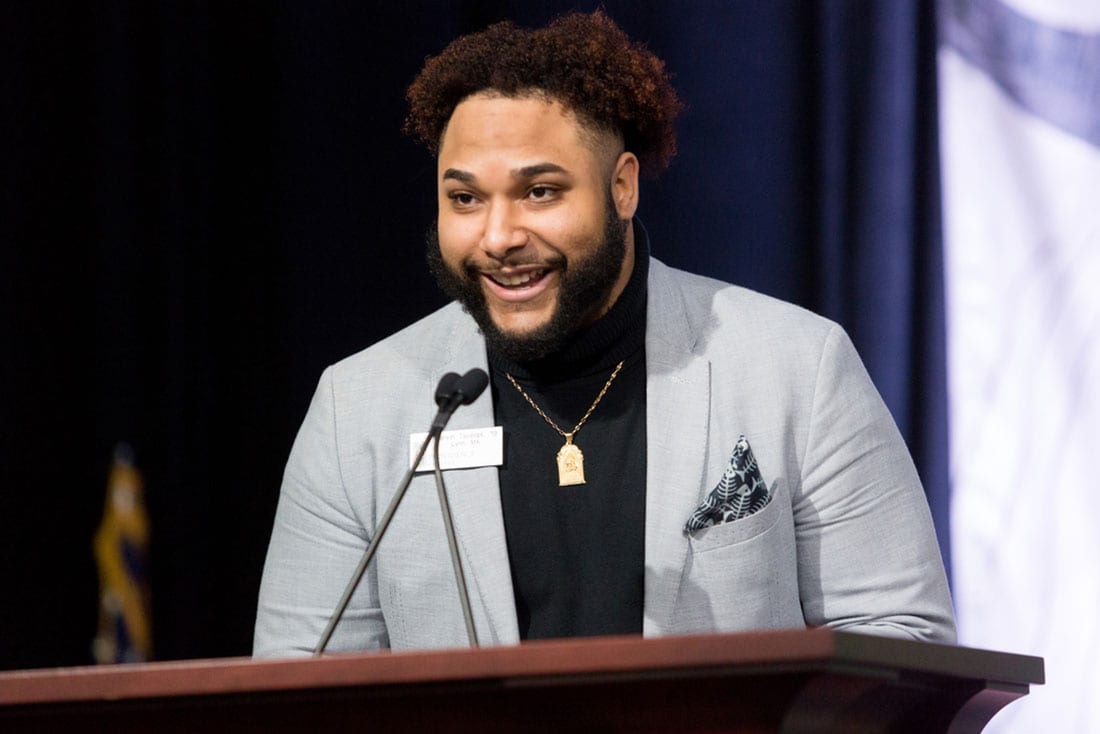 Rev. Tutu grew up in racially segregated South Africa, as did Trevor Noah, author of Born a Crime, the Common Reading selection for the College community for the 2018-19 academic year. Rev. Tutu was the fourth child and third daughter born to Archbishop Tutu and his wife, Leah Nomalizo Tutu. She was educated in Swaziland and England, earned a bachelor's degree in economics and French from Berea College in Kansas and a master's degree in international economic development from the University of Kentucky, and has studied toward a doctorate at the London School of Economics.
Rev. Tutu said she believes courageous leaders show their true characters at times when no one is watching them.
"When we say we are on the road to a beloved community, there is something that is called for from us every day in our lives," Rev. Tutu said. "Every day we are being asked to make choices that maybe nobody else notices, but we know that we are being asked to make." It is a challenging journey, she added.
"We can only be on the road any given time for maybe a couple of minutes a day," Rev. Tutu said. "We make a choice to believe in a world that cares about everyone, but at times, we can only win that struggle for five minutes at a time."
Once, on a trip home to South Africa, she was stopped at a roadblock. As the young soldier searched her rental car, she saw fear on his face, and so made the decision to begin an ordinary conversation with him.
"For those few minutes, I had allowed myself to see a young, frightened man, and not simply a white South African soldier," Rev. Tutu said. "And I believe for those few minutes he allowed himself to see a young woman, not simply a potential terrorist. For five minutes, each of us changed our perspective on the other."
It didn't last beyond the moment, Rev. Tutu said, and she has no idea where that soldier is now. But the encounter made her reflect upon those she thought about as "other."
"Sometimes that is all that the courage to change is — to stop for five minutes, for 10 minutes, for half an hour, for an afternoon, for a day, for a week, for a month, to stop the tape that we have in our heads that tells us what we know about the other," Rev. Tutu said.
"To stop and think about the things that our family, our community, our school, our teachers, our friends, have told us about our place in the world and the place of those others in the world. To stop and have the courage to think: Is there another story that I am not hearing? Is there possibly another story that would also make sense in this world?"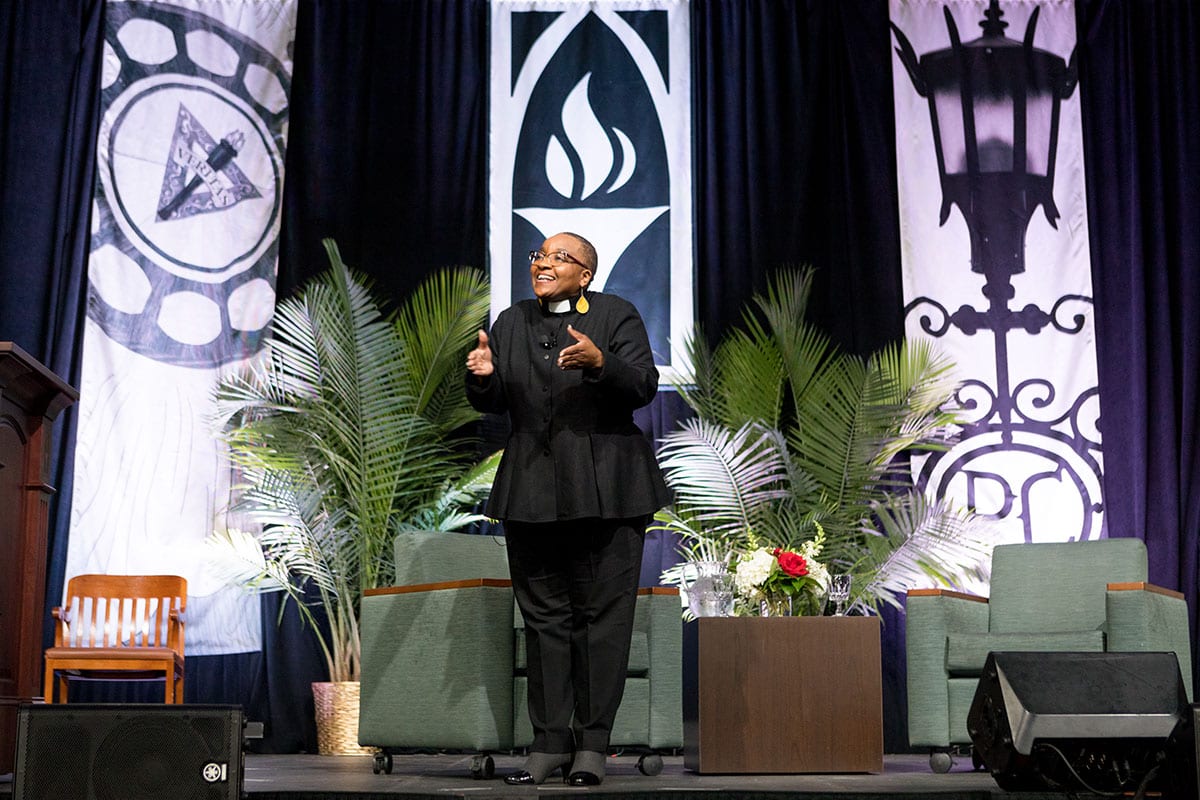 Rev. Tutu said some of her biggest heroes are the white South Africans who had the courage to reconsider what they had been taught about the role of black people in their country. One is Rev. Beyers Naudé, who became an outspoken opponent of apartheid after talking with South African refugees while studying in the Netherlands. They were the first black people he met who were not his parents' servants or gardeners, or the custodians of his church, she said.
"When we have the courage to question all the things that we think we know, we open the door a little bit for ourselves to experience a taste of the beloved community," Rev. Tutu said.
When Nelson Mandela was imprisoned on Robben Island, his guards were told to steel themselves for an encounter with evil. Instead, they met a man "who was steeped in his own dignity as a human being, who completely refused to be demeaned or diminished," and who refused to demean or diminish them, Tutu said. He asked about their families, their dreams and aspirations, and helped one secure a college scholarship for his son.
"He gave those guards the courage to ask questions" about what they had been told, Tutu said.
Dr. King also believed in the dignity of all human beings, and so he "refused to give back hate for hate," Rev. Tutu said. "He refused to demean and diminish even those who demeaned and diminished him."
"How you are in the world, how you treat others, gives them either the encouragement to ask questions about what they know … or else can help them stay entrenched in their ideas, in their lack of knowledge."
Podcast: Rev. Tutu's address at MLK Convocation
Archbishop Tutu, who was awarded the Nobel Peace Prize in 1984 and chosen by Mandela to head South Africa's Truth and Reconciliation Commission, never stopped trying to get the South African government to negotiate with black leaders, Rev. Tutu said.
"He would say to us, truly, that we can spend the rest of our lives speaking to those who believe the same way that we do, and that won't change the world at all. The only thing that truly will change is if we keep showing those whom we know as other that we are leaving the door open. We are leaving the door open for you to come in and be with us part of a beloved community."
It might be easier to pretend you don't hear when friends or family say things that are hateful, Rev. Tutu said.
"But if you say you believe in a beloved community, your silence, your acquiescence, your unwillingness to be a trouble maker, won't bother them, but it will stay in your heart. Because in the whole world, there is only one person that you are with constantly, and that is yourself. On this road to a beloved community, I ask you to hold on to the courage to change yourself, the courage to open the door for others to change, and the courage to speak up for what you know is right."
MLK Convocation Week 2019
More MLK Convocation Week photos