May 07, 2020
Awarded a Fulbright to Indonesia, Nicole Gottlieb '20 instead chooses to teach in Uganda
By Vicki-Ann Downing
Not many new teachers have choices as wide-ranging as Nicole Gottlieb '20. The elementary and special education major was awarded a Fulbright English Teaching Assistantship to Indonesia, but has turned it down to teach full-time in Uganda.

Gottlieb will work as a special education teacher at International School of Uganda, which is located on a 33-acre campus on the outskirts of Kampala, about three miles from Lake Victoria. It is a private school serving children ages 2½ to 19 from 60 countries, including Uganda. She will teach in the primary grades.

"I've never been to Uganda, but I did a lot of research when I was considering my options, and I'm always open to travel anywhere in the world," Gottlieb said. "The more I learned, the more I was drawn to it. Uganda is right on the equator, so it has warm weather, but it has high elevations, so the climate is temperate. It's very lush. There's a decent amount of intermittent rain that accompanies the sunshine, and there is wonderful wildlife. You can see gorillas."

In accepting the job offer, Gottlieb will enter the realm of international teaching. International schools are present in 120 countries. They follow a standard curriculum that meets global standards, such as the International Baccalaureate or Cambridge Assessment International Education, and they recruit certified teachers at large international job fairs in major cities around the world.

Gottlieb participated in an invitation-only recruitment fair sponsored by Search Associates in Cambridge, Mass., in January. Most international schools require at least two years of teaching experience after college, so she hoped for a paid internship. But after in-person and online interviews with recruiters, she received offers to teach at schools in Uganda, Ghana, and China, and was a finalist for schools in Qatar and Morocco.

Gottlieb said she was attractive to employers because of her degree in special education, an integral part of the elementary education major at PC.

"Special education in international schools has been developing only recently," Gottlieb said. "The curriculum is rigorous. In the past, schools would turn down students with special learning needs because they didn't have the resources to support them. That's shifted now and schools are seeking teachers with a background in special education."

Her professors are impressed by Gottlieb's willingness to explore teaching opportunities outside the United States. She already is familiar with international living. She spent a year of her childhood and all her summers in France; journeyed through Thailand and East Africa with her sister, also an international teacher; and taught in Florence, Italy, through PC's study abroad program.

"These multi-national, multi-lingual experiences come across in Nicole's open-mindedness, flexibility, and her passionate commitment to teaching internationally upon graduation," said Dr. Laura Hauerwas, professor of education, who taught Gottlieb's special education methods class.

Gottlieb's adviser, Dr. Lynne Ryan, professor of education, described her as "a risk taker."

"She has had a multitude of experiences where she is the linguistic outsider, from going to school as a 6-year-old in France to being a teacher of English as a foreign language in Tuscany, Italy, to backpacking in Thailand and Ethiopia," Ryan said. "She has looked at these experiences as a way to learn and grow in her cultural understandings."

The opportunity to be a cultural ambassador for the United States through the Fulbright Program appealed to Gottlieb. Working with Dr. Darra Mulderry, director of national and international fellowships through PC's Center for Engaged Learning, she applied for one of only 35 slots to teach English in Indonesia and was notified of her selection in March. With Dylan Black '20 and Jack Murphy '20, she was one of three PC students offered Fulbrights this year.
"I was intrigued by the island lifestyle on Indonesia, and the East Asian culture interests me," Gottlieb said. "And I know the weather would be beautiful, and of course, there's great seafood."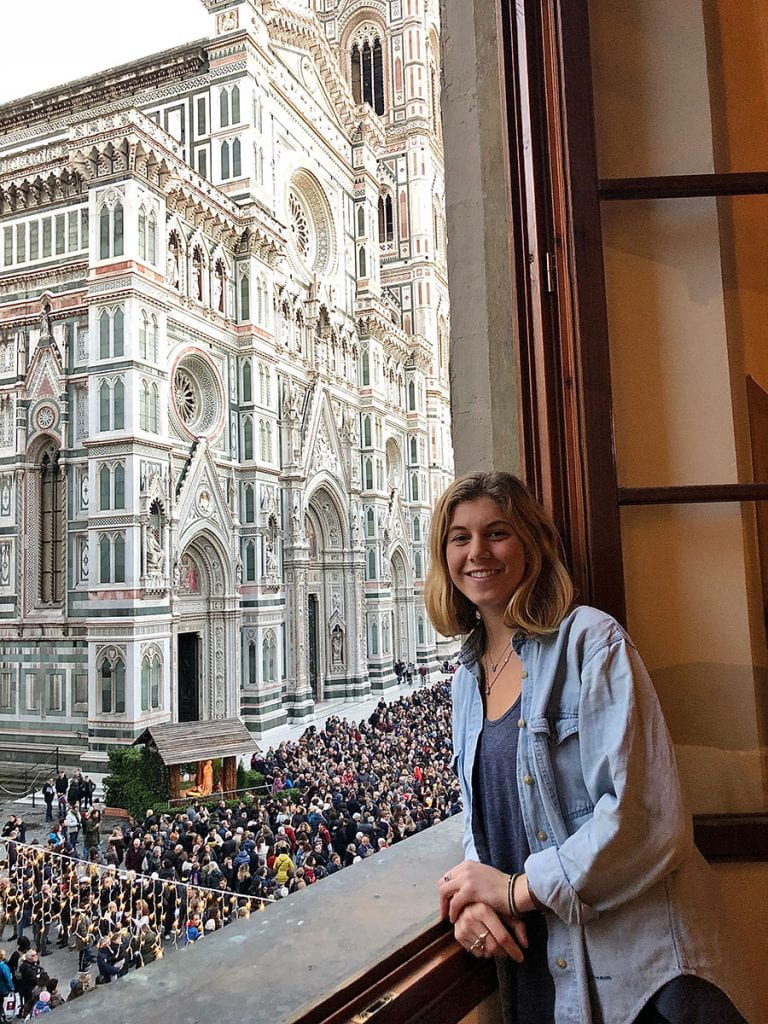 Gottlieb felt prepared to teach in Indonesia because of her semester in Florence with PC's Diversity in Education Program, where she taught English as a Foreign Language to fourth graders and connected with an Italian family through Florence University's Italian Family Club. She described the experience as "incredibly challenging, and rare, because a lot of education programs don't include study abroad."

In the end, she chose international teaching because of the opportunity to teach an international curriculum "at a school in which the first learning principle is inclusion."

"The opportunity to work with tremendous international mentorship and to focus on providing inclusive instruction to students with learning differences persuaded me," Gottlieb said.

Gottlieb grew up on Nantucket, an island off the coast of Cape Cod, with her parents, sister, and two brothers. Her father, who spent his childhood in France because of his father's employment, brought the family to that country for vacations. When Gottlieb was 6, her parents decided to live for a year in the village of Venasque and enrolled her in a local school with French children.

"Immersion in a French village made me bilingual," she wrote in her Fulbright application. "I remember rapidly absorbing vocabulary while sitting in the cantine (cafeteria). Words like pot a eau gained meaning when my classmate passed me the water pitcher … My initial struggle to become bilingual has made me a sensitive teacher to learners of second languages, and has helped ignite my passion for international education and travel."

The family returned to the village each summer. Because children in France are in school through July, Gottlieb spent the final two months each year in a French school. Once she started high school, she remained on Nantucket to work with children at a summer camp. During senior year in her public high school, she decided to study to become a teacher.

PC appealed to her because of its dual degree program in elementary education and special education and because of the opportunity to study abroad even as an education major. She did not consider attending college in Europe.

"My French friends were pursuing that and I knew what it looked like," Gottlieb said. "It is a different experience. All of them moved into their own apartments in a city. College in the States is a nice transition period in which you're living independently but with the support that comes with living on a college campus."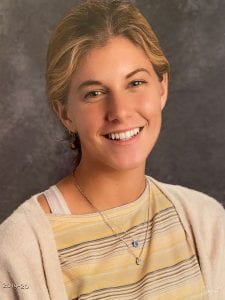 Gottlieb is a member of the Liberal Arts Honors Program. Her favorite Development of Western Civilization course was World War II, The Human Experience, with Dr. Richard J. Grace '62 & '17Hon., professor emeritus of history. She participated in the honors program's spring break trip to Peru in 2019 and was vice president of PC's club swim team.

Before the pandemic closed schools, Gottlieb was a student-teacher at Oakland Beach Elementary School in Warwick.

"What stands out when I think of Nicole is the thoughtful and insightful conversations that we have had about students with whom she is working," Hauerwas said. "She is always very positive and holds high expectations for each one. She exhibits great analytic skills reflecting on what she noticed about her students' response to her instruction and reviewing her own performance objectively. Her ability to debate different teaching approaches, consult the professional literature, and articulate her pedagogical reasoning is well beyond the majority of her peers."

Ryan said Gottlieb has always gone "above and beyond. She extended her online student-teaching with her primary class well beyond the completion date. She makes us all proud and is such a wonderful role model for our PC teacher candidates."

During her first year at PC, Gottlieb used her winter break to visit her sister, who was teaching at a public school in Thailand. When school ended in May, she went back for another visit. Last year, her sister began teaching at an international school in Angola, so Gottlieb visited there and traveled throughout Ethiopia and Kenya. She fell in love with sub-Saharan Africa.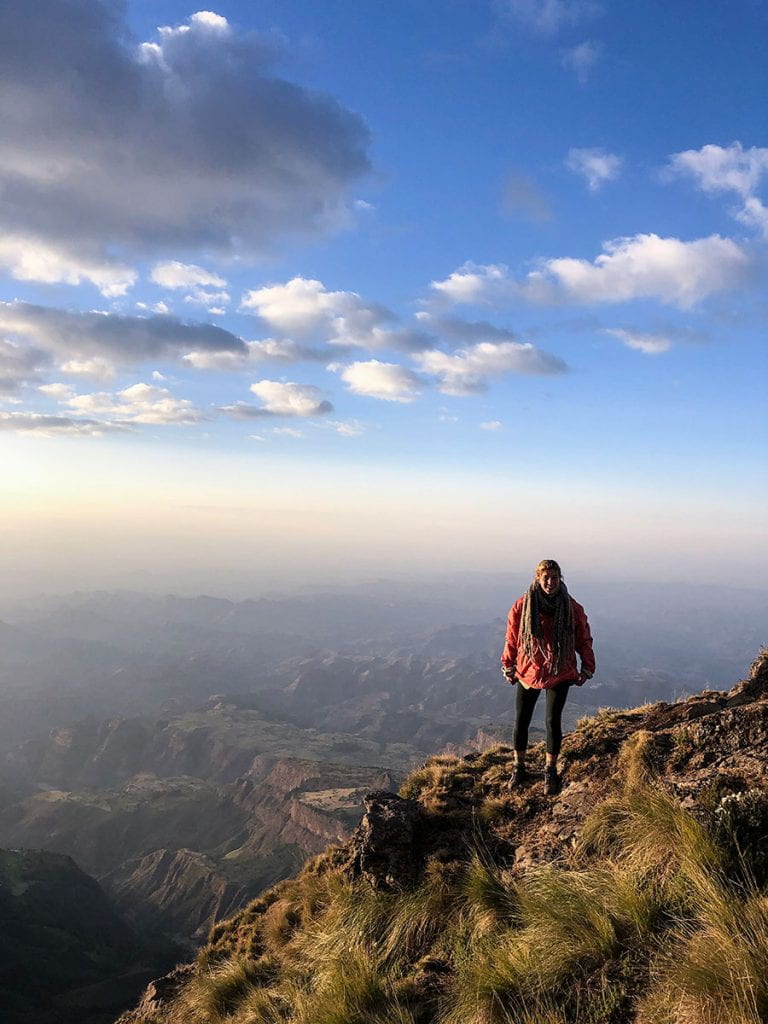 "Travel changes your perspective," Gottlieb said. "It gives you a better understanding of the world at large, how people live differently, and how they are so unique and wonderful in their own way. Traveling to other continents, you see a part of the world that is different than your own. I just love learning from different cultures and broadening my perspective."

She is scheduled to arrive in Uganda on Aug. 1 for new staff orientation. If the pandemic delays travel or the start of school, she will teach remotely until travel restrictions are relaxed. She has a two-year contract and expects that when it is complete, she will either extend it or seek a position at a school in another country.

"In the international teaching world, once you get your foot in the door at one school, your network expands as you form mutual connections with colleagues from all over the world," Gottlieb said. "The international teaching world is interconnected. A lot of teachers stay in international teaching and move from one country to another. The heads of schools are former teachers who have moved up. It's a connected community and I was drawn to that and wanted to be a part of it. I couldn't imagine closing a door to that world."
Please consider a gift to The Fund for Providence College to make it possible for all students to continue to experience the value of a PC education.
support emergency student need