January 19, 2018
Bernice A. King brings MLK's hope for a 'beloved community' to Providence College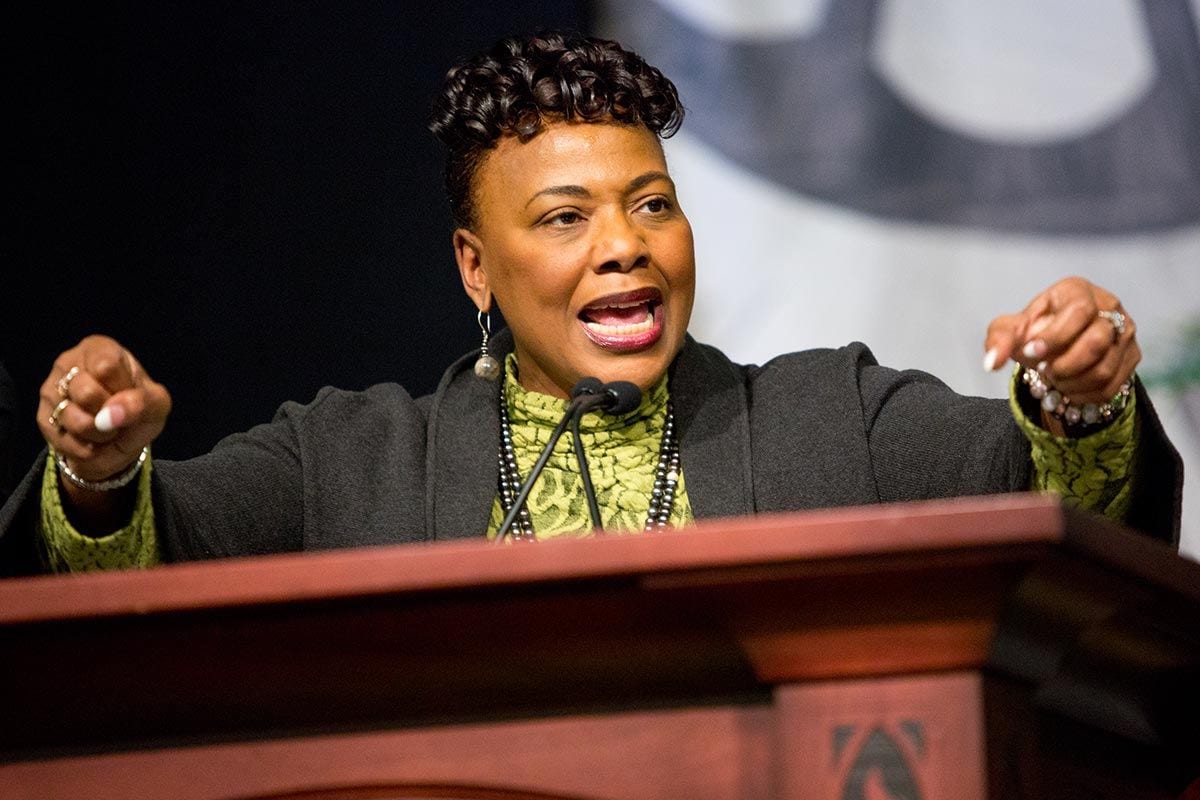 By Vicki-Ann Downing
Dr. Bernice A. King, daughter of Rev. Dr. Martin Luther King, Jr., brought her father's message of love, non-violence, and hope for a "beloved community" to 1,200 people who attended the Rev. Dr. Martin Luther King, Jr. Convocation in the Peterson Recreation Center at Providence College on Thursday, Jan. 18, 2018.
King is the chief executive officer of The King Center, also known as the Martin Luther King, Jr. Center for Nonviolent Social Change, which was established in Atlanta by her mother, Coretta Scott King, following her father's assassination in 1968. An ordained minister and an attorney, she is a graduate of Spelman College and holds both a master of divinity degree and a doctor of law degree from Emory University.
King was introduced by Phionna-Cayola Claude '18 (Dedham, Mass.), a psychology major who is the first student of color to be elected president of Student Congress. Claude said King embodies the College's motto, Veritas, or truth, which is symbolized by a torch. King is "the living example of the torch her father once carried," Claude said.
King began by inviting the PC community to join The King Center in events commemorating the 50th anniversary of Dr. King's assassination. Between Jan. 15, his 89th birthday, and the anniversary of his death on April 4, people are encouraged to engage in 50 acts of kindness or service, especially toward those of another race. At a March for Humanity on April 9 in Atlanta, "we will pause and really acknowledge and think about how we are members of one human race, a humanity," King said.
Her father's goal was not simply to move people to act, King said. It was about changing people's hearts, policies, systems, and institutions.
"My father was holistically concerned about the human soul," said King.
Even in Dr. King's vision of a beloved community, there is no such thing as an absence of conflict, King said. But everyone can agree to embrace non-violence, "not only as a tactic to be used in a social movement, but as a way of life, a way of engaging each other in society, and thinking about how we create policy," she said.
"At the core of it is unconditional love. It is woven into the very fabric of our religious tradition that people, all people, every person, is created in the imago Dei, the image of God. Souls have infinite worth and infinite value. We must respect the personhood of individuals. … When I approach anything that separates and divides us, I look at you not as an enemy, not as an adversary, not as a stranger, but I look at you through the eyes of God and treat you as a brother or sister."
In today's climate, we focus more on personalities than on issues and problems, King said. If we disagree with someone on several points, we simply shut them down.
"The issues have been here before (President) Trump," King said. "They started when America was founded. That's why God sent Martin Luther King, Jr. to this nation — to take us back to the principles of our founding documents and remind us of what we ought to be."
Her father was sustained by the knowledge that God is not "some detached entity, but very much involved in human endeavor," King said. Dr. King's followers had hope because they knew they were not alone, and they believed "God is on the side of justice."
In the practice of non-violence, the goal is not to win a victory over another person but to win the person over, which requires a different heart and attitude, King said.
Dr. King understood that he was "a vessel in a struggle," King said. "He was being used to advance humanity. That's why he could endure suffering, attacks on his reputation. … He was drawing from a spiritual well of resources that brought to bear a realm we don't even understand. The spiritual realm is just as real as me looking at you right here."
"He understood that a force greater than humankind is operating all the time," said King. "You can turn the other cheek, show people another side. You don't have to retaliate or take revenge. You can face your adversary in a spirit of love and expose the ugliness of violence and injustice."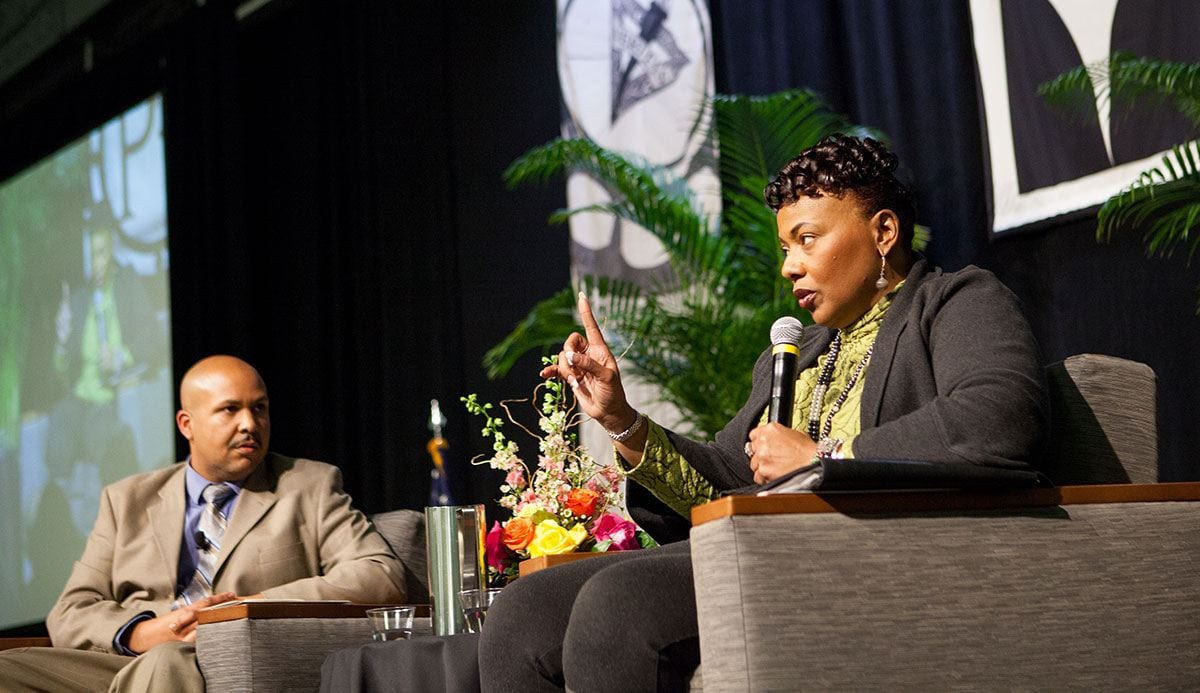 Ralph E. Tavares '01, assistant dean of undergraduate studies and director of multicultural student success, led a question-and-answer session with King, who offered encouragement to student leaders, including Fartun Abdulle '19 (Lawrence, Mass.) and Adriel Antoine '18 (Randolph, Mass.), working to improve the campus community.
King said she has hope for the future because young people today are "woke" — socially aware. For years, young people had to be prodded to work on social issues, and "no social movement ever succeeded without young people."
King told the students to remember that Dr. King "never tried to take on too much at one time." In his day, there were issues with voting rights, police brutality, economic inequality, and fair housing. People had grown discouraged and accepting of the status quo.
He did not try to tackle all the problems but took on what was "realistically achievable." In 1956, that was the Montgomery Bus Boycott. Black residents, inspired by Rosa Parks and led by Dr. King, refused protested segregated seating by refusing to ride city buses. Eventually, the U.S. Supreme Court ordered the city to integrate its buses, and that victory gave people hope, King said.
Organization and education are keys to the struggle, King said. Students should realize that not everyone is "supposed to be on the front line." There are roles for everyone, from organizing carpools to passing out flyers — and it's OK to take a break once in a while.
Non-violence is a discipline that must be learned and practiced, King said. It begins with the realization that one can speak without attacking and denigrating another, because "you have to guard against becoming the thing you are fighting against."
"I'm going to take the high ground. I'm not going to disregard the person in total. I'm going to disregard what they said," King said. "You have to wear big shoes and hear a lot of whacked-out stuff. Mean-spirited and evil people are (people who are) hurting. If you recognize that, it gives you a whole different perspective."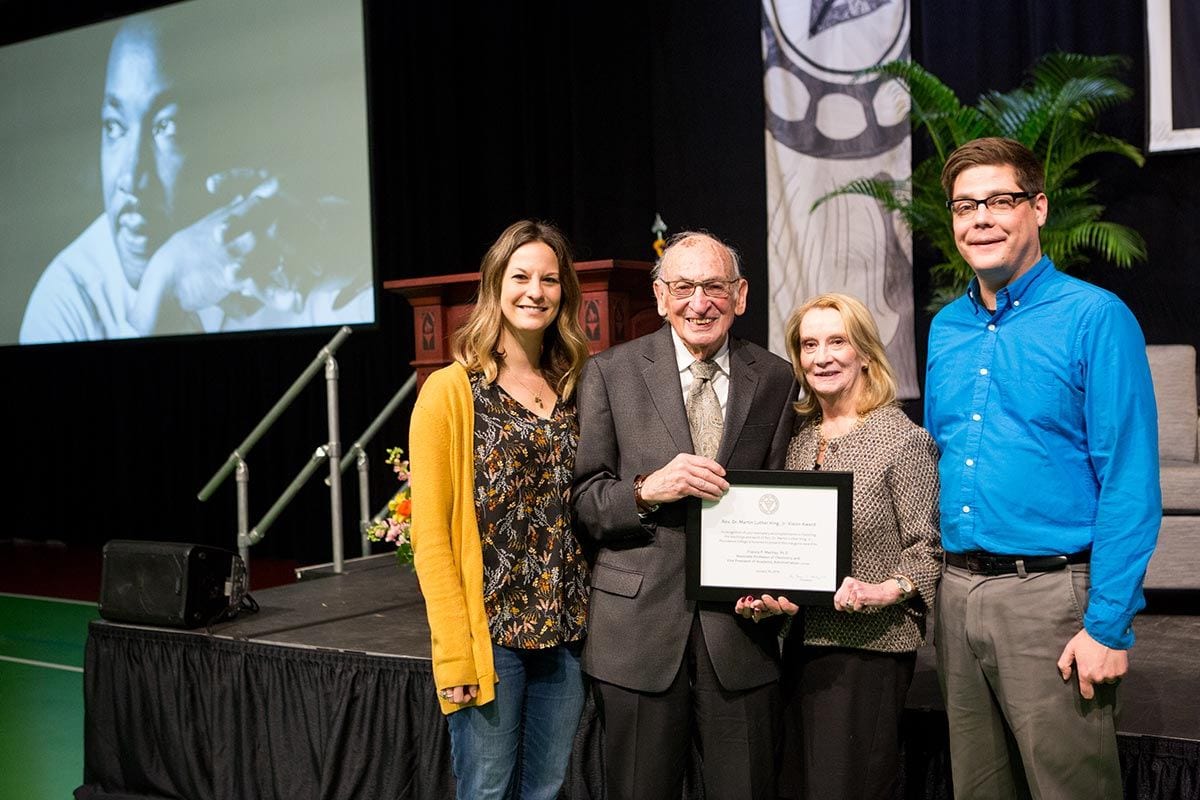 Dr. Francis P. MacKay, a founder of the MLK Scholarship Program at PC, holds the MLK Vision Award, accompanied by his wife, director of parent programs at PC, and their family.
The convocation opened with an invocation by Rev. Dominic M. Verner, O.P., assistant chaplain, who read a prayer from Dr. King: "Thou Eternal God, out of whose absolute power and infinite intelligence the whole universe has come into being, we humbly confess that we have not loved thee with our hearts, souls and minds, and we have not loved our neighbors as Christ loved us … Forgive us for what we could have been but failed to be."
College President Rev. Brian J. Shanley, O.P. '80 presented the first MLK Vision Award to the founders of the MLK Scholarship Program at PC. Within days of Dr. King's assassination in 1968, Dr. Francis P. MacKay, associate professor of chemistry, and Dr. René M. Fortin '55, professor of English, began soliciting contributions from faculty to establish a scholarship for black students. They were joined by Dr. Mark N. Rerick, professor of chemistry, and in less than one month, had enough money to award four scholarships in the fall.
Eight more scholarships were established by the College administration thanks to Rev. Robert A. Morris, O.P. '46 & '82Hon., vice president for institutional development, who on March 21, 1968, had proposed that the College establish a pilot scholarship program for black students. Father Morris became the first director of the MLK Scholarship Program. Father Shanley said 700 scholarships have been awarded in the past five decades, including 105 to students now attending PC.
MacKay, who also served as a senior vice president at PC, attended the convocation to accept the award, which was presented posthumously to Dr. Fortin, Dr. Rerick, and Father Morris.
Tavares, who was an MLK scholar, praised their vision.
"There is no doubt that I am here today because Pat MacKay and his colleagues were inspired to establish the MLK Scholarship Program," Tavares said. "I am part of a generation of people who had more opportunities than those who came before me, because of selflessness, dedication, justice, and love. That's what Dr. King taught us among many things. Love."
The convocation was the highlight of a week-long series of events at PC commemorating the teaching of Dr. King. They included a visit to campus by middle and high school students for storytelling and activities, an evening of student performances and artistic presentations, a candlelight vigil in St. Dominic Chapel, and a faculty panel discussion, "Creating Community: Making MLK's Dream a Present-Day Reality."