January 05, 2018
Bernice King to present keynote address at MLK Convocation at Providence College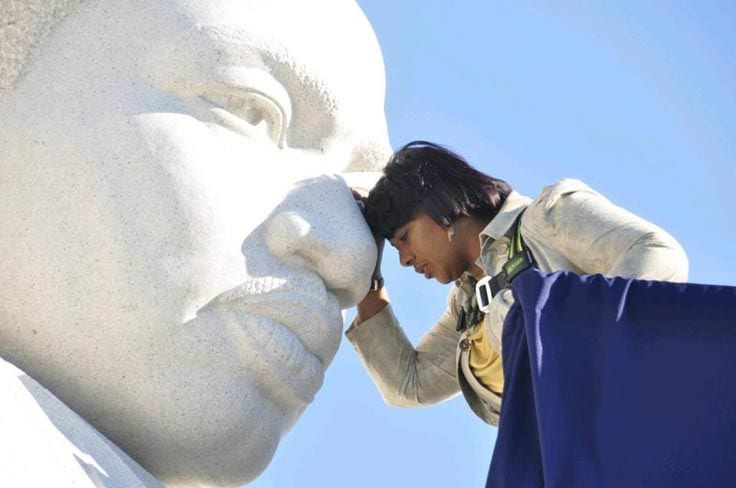 By Vicki-Ann Downing
Bernice A. King, a nationally known orator and the youngest daughter of the late Rev. Dr. Martin Luther King, Jr. and Coretta Scott King, will present the keynote address at the Rev. Dr. Martin Luther King, Jr., Convocation at Providence College on Thursday, Jan. 18, at 4 p.m. in the Peterson Recreation Center.
King, an ordained minister and an advocate for nonviolence, is the chief executive officer of The King Center, also known as the Martin Luther King, Jr. Center for Nonviolent Social Change, which was established in 1968 in Atlanta, Ga., by Coretta Scott King following her husband's assassination. Bernice King is a graduate of Spelman College and holds a master of divinity degree and a doctorate of law from Emory University. She is a member of the Georgia bar, a published author, and a trained mediator.
The convocation will feature the presentation of the first MLK Vision Award to four faculty and administrators who founded PC's Martin Luther King Scholarship Program in 1968 to honor Dr. King's legacy by providing opportunities for black students to attend PC. Faculty contributed a portion of their salaries to the fund by payroll deduction. Eventually, the College matched their efforts and raised additional money. The program marks its 50th anniversary this year.
The MLK Vision Award will be presented to Dr. Francis P. MacKay, retired associate professor of chemistry and former vice president for academic administration, and posthumously to Dr. Rene M. Fortin '55, professor of English; Dr. Mark Rerick, professor of chemistry; and Rev. Robert A. Morris, O.P. '46 & '82Hon., former executive vice president and the first director of the MLK Scholarship Program.
The Bernice King presentation and the MLK Vision Award will highlight a week-long series of events at PC marking MLK Convocation Week, Jan. 15-19. Committee Chair Ralph E. Tavares '01, assistant dean of undergraduate studies and director of multicultural student success, said the theme is Dr. King's "vision of a beloved community."
At a time when the nation is divided about its politics, it's important to reflect on Dr. King's message of "hope and unity and community," Tavares said. "We have our differences, but we are still a community."
Participants will have the opportunity to reflect on topics of race, religion, social class, gender, sexual orientation, and community. Programs are intended to enhance the diversity of learning at the College and help to develop a more globally literate academic community.
MLK Convocation Week events will include:
• Monday, Jan. 15: Students from middle and high schools in the community will visit campus to join PC students in storytelling and activities.
• Tuesday, Jan. 16: "Strength of Our Roots," a program to be held from 5-8 p.m. in Slavin Center '64 Hall, will feature student performers, local artists and vendors, and cuisine from African, Caribbean, and black American culture to showcase the beauty of diversity at PC.
• Wednesday, Jan. 17: A candlelight vigil in St. Dominic Chapel from 7-8:30 p.m. will celebrate the life and legacy of Dr. King. A collaboration of the Office of Mission and Ministry, the Office of the Dean of Undergraduate and Graduate Studies, and the Multicultural Scholarship Program, the event will include songs, poetry, reflections, music, and the traditional reading of Dr. King's "I Have a Dream" speech.
• Friday, Jan. 19: The Humanities Forum will host a faculty panel discussion, "Creating Community: Making MLK's Dream a Present-Day Reality," from 3-5:30 p.m. in The Center at Moore Hall.