April 19, 2017
Black and White Buzz, Spring 2017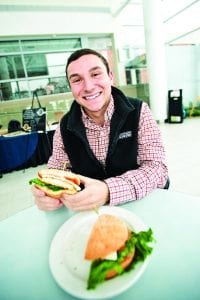 Giving never tasted so good! At A Night in Black & White in April 2016, Matthew Pavia '15 bid $2,000 for the right to create a sandwich to be sold for a year in the Alumni Hall Food Court. The Pavia, which debuted in September, is a breaded chicken sandwich on a ciabatta roll with buffalo sauce, mozzarella cheese, bacon, and lettuce. Pavia's donation benefitted the Angel Fund, which helps students with unexpected financial need. He is an associate at Bain Capital in Boston.
---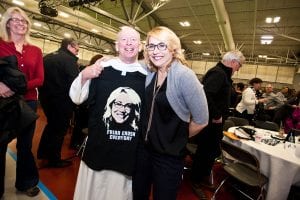 Rap artist Drake created a social media stir in November when he appeared at a Toronto Raptors' NBA game with a T-shirt idolizing Friar basketball great and ESPN basketball analyst Doris Burke '87, '92G, & '05Hon. The shirt with her image proclaimed her as his "Woman Crush Every Day," and Drake even invited Burke to dinner.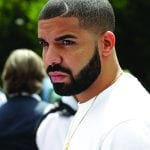 In response, the College created T-shirts with Burke's image and describing Drake as the "Friar Crush Everyday." The shirts were given away at Burke's talk on Alumni & Family Weekend in February. Here, she joins College President Rev. Brian J. Shanley, O.P. '80.
---
The 2016-17 Friars' men's basketball team enjoyed a lineage dating back to the program's last NCAA Final Four appearance in 1987. The sons of Billy Donovan '87 and Ryan Ford '89 held positions with the Friars — Bryan Donovan '20 as a guard and Drew Ford '20 as a manager. And, in this Friar-crazed place, it's no surprise their mothers are alums as well — Christine D'Auria Donovan '86 and Pamela Ford '90.
---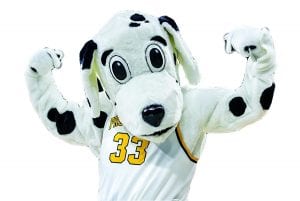 We invite you to meet an addition to the Department of Athletics' mascot staff — Huxley, named after the avenue that split the campus for decades and so dubbed after a fan vote on Twitter. Huxley joins Friar Dom at athletics contests and other campus events and first appeared at PC's men's basketball game against St. John's on Jan. 25. Huxley revives the Dalmatian mascot tradition that waned for a few years but which dates to 1935. Read more about PC's mascot history in the Spring 2015 issue of Providence College Magazine.
---
The CASE Award insignia on the inside front cover recognizes Providence College Magazine as a Bronze Award recipient in the District 1 Excellence Awards Competition of CASE — the Council for the Advancement and Support of Education. The winning Fall 2015 and Spring 2016 issues were judged on design, photography, writing, and overall magazine. District 1 encompasses colleges and universities in New England and northeast Canada.