May 14, 2014
Bryce Cotton '14, the student, drives to the finish of his academic career
Following stints with Utah, Phoenix, and Memphis in the NBA, Bryce Cotton '14 is playing for the Perth Wildcats in the National Basketball League in Australia. He was the league's MVP in 2018 after a standout season in which he averaged 19.4 points per game and shot a league-high 84 three-pointers at 44.9 percent.
By Vicki-Ann Downing
Bryce Cotton '14, two suitcases in hand, arrived at Providence College three days before the start of his freshman year, the final student admitted to the Class of 2014 thanks to the last-minute offer of a basketball scholarship.
Four years later, he leaves with a BIG EAST Tournament Championship, an NCAA Tournament appearance, the possibility of the NBA draft in June — and just as important to him, a bachelor's degree in sociology and a 3.1 grade point average.
"I want to thank Providence College for taking a chance on me and giving me a scholarship," said Cotton, who is from Tucson, Ariz. "It allowed me to see another side of life. I was able to be with people who have noble ambitions, people who want to be doctors and lawyers. I had always been driven. I knew this is where I belonged, because I was around people who think like me."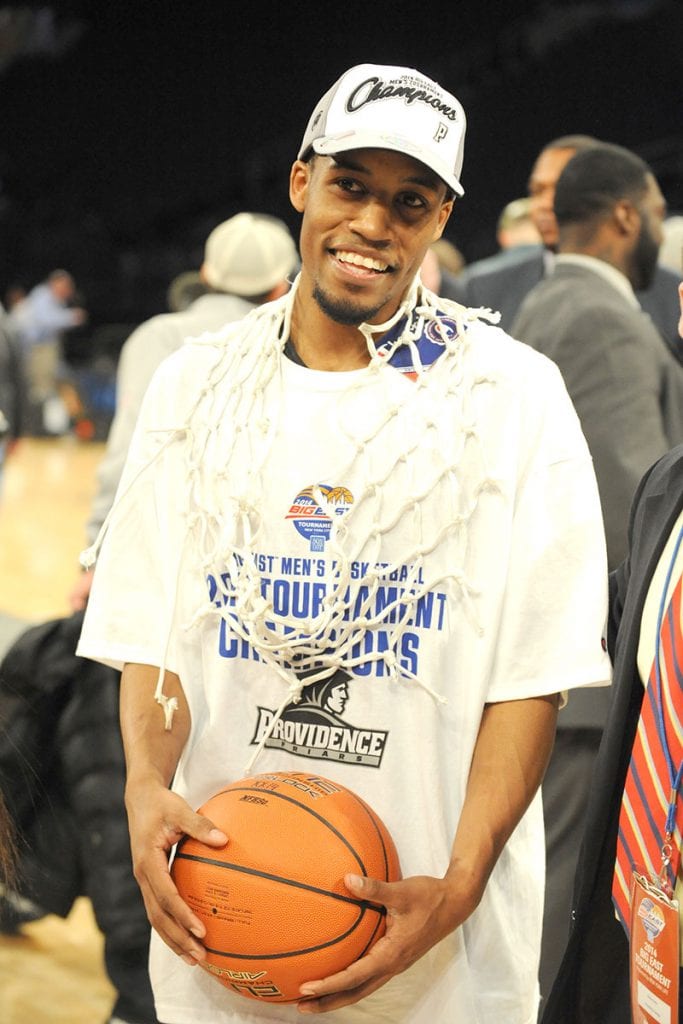 Cotton's success on the basketball court, especially his twirling, leaping, second-half scoring rush in the NCAA Tournament game against North Carolina in March, made him familiar as a basketball player beyond Rhode Island. Less well known, though, is Bryce Cotton the student — a good and proud one.
"He's been such an exciting player on the court, but he's remarkable in so many other ways as well," said Dr. Margaret K. Reid, associate professor of English. "Bryce is smart — really, really smart. In class, he is inquisitive and insightful. He's a terrific writer, and he thinks things through from multiple perspectives. He has a rare maturity and self-discipline which serve him well in athletics, but also in all of his other pursuits."
Cotton enjoyed the College's Development of Western Civilization Program (DWC) because of his love of history, particularly ancient history. He also loved to write. He decided to major in sociology after exploring his options freshman and sophomore year.
"I've always liked sociology," Cotton said. "You learn to study people, why people do things, why as a society we do things. I've always been good at reading people, so I thought why not get a degree in it. After two years, I knew, 'This is the one for me. It fits how I am, and there's only one math class.'"
His senior capstone was a 20-page paper and a 45-minute presentation critiquing In Search of Respect: Selling Crack in El Barrio, a book by Phillipe Bourgeois.
A student-athlete playing Division I basketball has a grueling schedule. Cotton's first class was at 9:30 a.m. each day. Practice was from 1-4 p.m., followed by a review of game films. After that, it was time for dinner. By the time he'd get back to his residence hall, it would be 8 p.m. most nights. Fortunately, he's able to make do with exactly seven hours of sleep — but some days were more challenging than others.
"After a game in Chicago, we got into Providence at 2:30 a.m., unloaded stuff until 3 a.m., and I was up at 8:30 for class," said Cotton. "And that wasn't the only day I had like that. That's when you really have to dig deep and say, 'What are my priorities?'"
Cotton understands priorities. He grew up on the north side of Tucson in a neighborhood where "going to college, playing Division I sports, that stuff is nonexistent," he said. "A lot of people I grew up with are in jail, doing a lot of crazy stuff."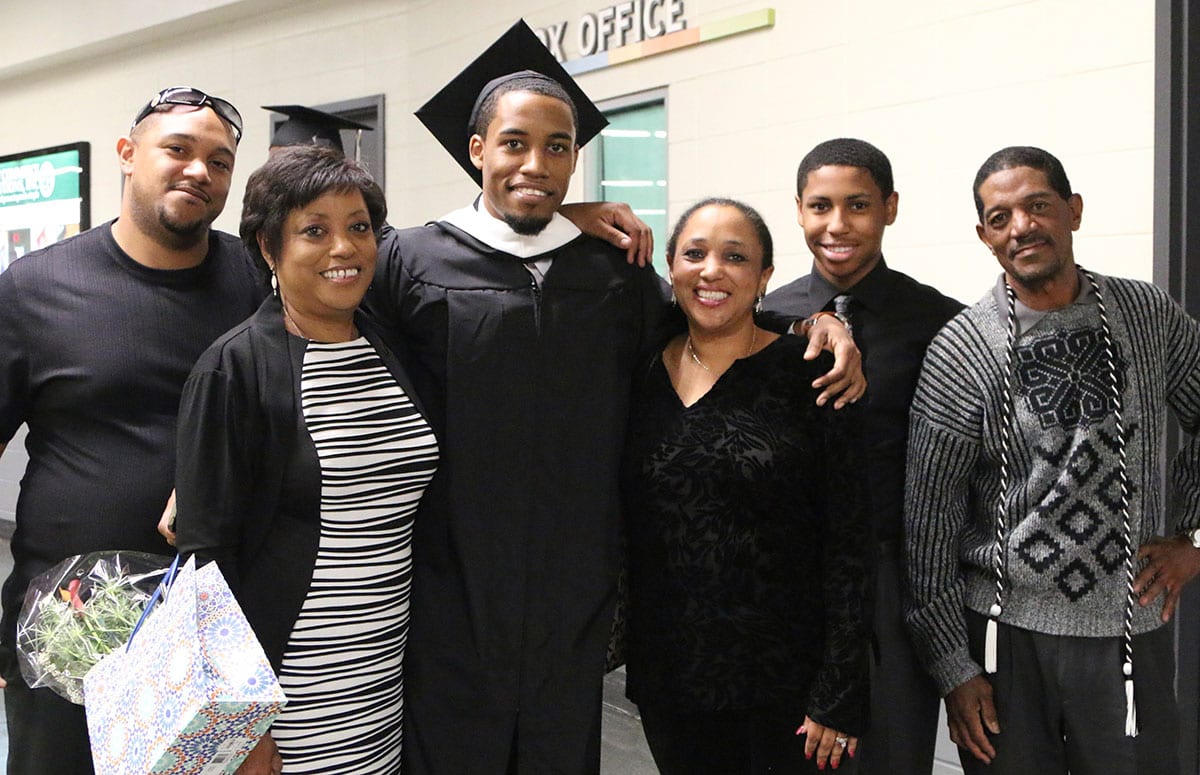 In his family, only an aunt has a college degree. So when Providence called and offered him a basketball scholarship, "I was the first thing smoking out of Tucson. With two big suitcases," said Cotton.
He had never been to Rhode Island before, but "you can be surprised what you can do when you don't have a choice." When things got difficult, he would tell himself, "What would you be doing if you weren't here?"
"If they didn't offer me a scholarship I don't know where I'd be," Cotton said.
The basketball team's success ignited a fan base that hadn't had much to cheer about in recent years. Suddenly, the players were engaged by classmates in discussions about basketball and recognized everywhere they went. A few days ago, after breakfast with his fiancé at Newport Creamery on Smith Street near campus, Cotton said a stranger picked up the tab, saying, "Thanks for a great season."
"As a player, you notice those things – the community or school coming together," said Cotton. "It gives you the motivation to do better. It gives you all the reason in the world to never stop striving."
Cotton credits his drive to his mother, Yvonne Cotton, "the strongest woman I know." His mother and his grandmother instilled a deep faith in him. He belongs to a church at home and, though he's not Catholic, he attended Masses at PC. When Cotton and his mother look back on his successes, "we think, that's God written all over it. And to be at a Christian school as well, of all the places I could have gone, it's amazing."
Statistics show how Cotton developed as a player at PC. Did he change as a person as well?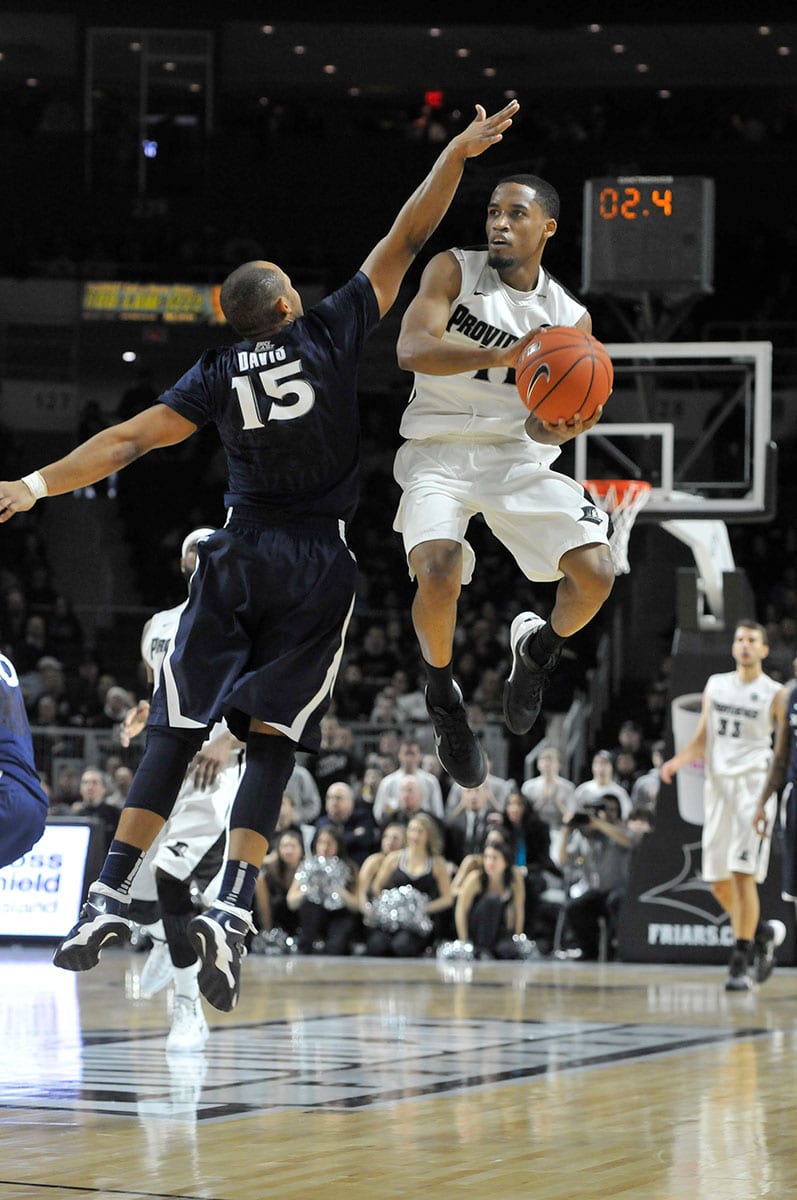 "I've definitely changed a lot," said Cotton. "I've grown up in so many ways. I've matured in my way of thinking. My fiancé helped me become such a better person. When you get to know someone really well then you see the world from a different perspective. I think God put her in my life for a reason."
Cotton and Simone Tubman '14 (North Providence, R.I.), will marry on July 27 at the Cranston (R.I.) Country Club. They met the first day of freshman year in DWC class and became study partners. A sociology and political science major, she is bound for law school.
"I'm just so happy to be graduating from here," said Cotton. "I'm glad I ended up coming to Providence. It showed me a different side of life and a different perspective, finally getting out of Tucson, Ariz., and going to a prestigious school like this. It helped me realize the opportunity I had and to capitalize on every opportunity I've been given."
His mother will be at commencement, along with his brother, stepfather, aunt, and her son. Afterward, Cotton will remain in Providence to continue working out with God Shammgod '15SCE, undergraduate student assistant coach, in preparation for the NBA draft. He would like to see how far basketball can take him, and after that, perhaps work as a basketball analyst or in public relations.
Reid believes he will be successful.
"Like so many others, I am eager to see him have his chance to play basketball at the next level, but I'm just as eager to see what comes after that for him," said Reid. "His future possibilities are boundless, given his abilities.
"Bryce Cotton is going to lead a distinguished life because of the depth of his character and the quality of his mind. He is a person of genuine depth and wisdom who has a tremendous amount to offer to the world. He is as remarkable for his humility, his intelligence, and his depth of character as he is for his extraordinary athletic achievements. He is absolutely a genuine treasure as a student and as a human being."