May 18, 2017
Business student Nicholas Hunsaker '17 brought lessons in sustainability to an orphanage in Haiti
By Vicki-Ann Downing
While Nicholas Hunsaker '17 (Guilford, Conn.) was studying management at the Providence College School of Business, an orphanage in Haiti was becoming self-sustaining with the addition of honey-producing bee hives, a chicken coop, a hen house, and a pig sty — all thanks to his efforts.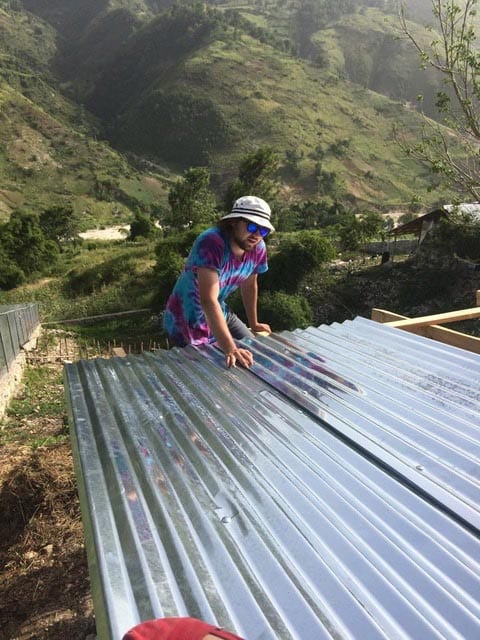 It began during the summer of 2014, at the end of his first year at PC, when Hunsaker chaperoned a trip to Haiti with his parish youth group, St. George Church in Guilford. Each day featured a different immersion experience for the travelers.
Hunsaker was struck by the extreme beauty and need at La Maison L'Arc-en-Ciel — Rainbow House — an orphanage in Kenscoff, about 45 minutes southeast of Port-au-Prince. The facility was founded in 1996 by Danielle Reid Pénette, a Canadian whose husband, Robert, an accountant, was born in Haiti. It provides shelter, medical and psychological care, and education and vocational training for children infected with HIV/AIDS. It was one of the first facilities in Haiti to accept infected youngsters and started an outreach program to destigmatize the disease.
"It was eight acres on the side of a mountain — untapped potential," said Hunsaker. "Danielle was looking to start a sustainability project. She needed outside help. I didn't have experience building sustainable farms in rural Haiti, but I knew I could find a network of experts who did."
"I saw great potential in Danielle and the children," said Hunsaker. "They connect with each other."
Hunsaker had a chance to return to Haiti with his church's Haiti Ministry in January 2015. He paid particular attention to the needs at La Maison L'Arc-en-Ciel. There was no electricity. Rain was the only source of water, meaning crops died in the dry season. Goats and other livestock, raised for their meat, were endangered by disease and a lack of pens. There were books, but no way for the children to use them, or for the community to borrow them.
When he returned to PC to begin the second semester of his sophomore year, Hunsaker found inspiration from his Development of Western Civilization colloquium, Sustainability: Balancing Profits, People, and the Planet, taught by Dr. Michael L. Kraten, associate professor of accountancy, and William Patenaude '11G, a special lecturer in theology who writes about ecology from a Catholic perspective.
Hunsaker paired with a finance major, Connor Bubolo '17 (Cortlandt Manor, N.Y.), to develop a business plan that would make La Maison L'Arc-en-Ciel self-sustaining with better agricultural methods, protective structures for livestock, improved irrigation and water storage, and the addition of bee hives, solar energy, and composting initiatives.
It was a great class project, but Hunsaker took it a step further. In June 2015, he returned to Haiti for a 12-day working trip with a group that included Bubolo, Bubolo's father, students from other colleges, and a team of volunteers from his church.
"We built goat pens, began a livestock project, organized a common library, and bought bee hives and equipment for keeping bees," said Hunsaker. "We had a difficult time finding a beekeeper. There was a language barrier and no apiaries in the region."
There are always challenges in Haiti, the poorest country in the western hemisphere.
"It's one of the hardest climates in which to run an orphanage in the world," said Hunsaker.
After, Pénette wrote a letter of thanks to the College acknowledging the help she received from Hunsaker and Bubolo: "This chain of friendship and brotherhood, committed in spite of the distance and the barriers, linguistic as well as cultural, is a testimony of Christian faith and altruism which honor the institution which they attend," Pénette wrote.
After his return to the United States, Hunsaker described the trip over lunch with Patenaude, who wrote about it on his blog, catholicecology.net.
"As the visitors hammered, dug, built, and taught … there was another kind of sustainability project taking place," said Patenaude. "This was the unseen kind at the heart of Pope Francis' eco-encyclical, Laudato Si'. As the hot days came and went, relationships grew even if language barriers persisted. No matter. Soon the only languages needed were those of smiles, embraces, and laughter. These broke barriers and built trust and camaraderie."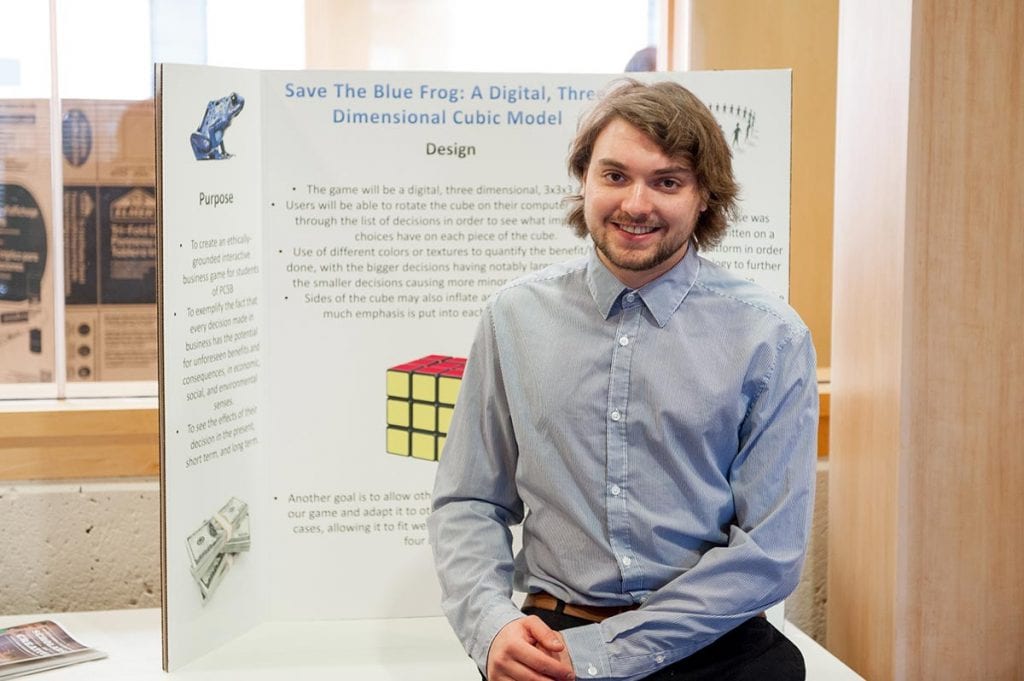 As much as the group accomplished, Hunsaker knew there was more to do. Despite donations from international charities, Penétte was struggling to keep the facility operating. Hunsaker wanted to form a nonprofit to pay for more sustainability projects that could become a source of income for the orphanage. Working bee hives, for example, produced honey that the orphanage could sell. More chickens and goats, properly housed, were a source of food for the children, but also could be sold to make money.
Patenaude introduced Hunsaker to Peter Arpin, executive vice president of Arpin International Group, the moving company headquartered in West Warwick, R.I., that has adopted sustainability as its mission. Hunsaker became a regular guest on Peter Arpin's Renewable Now radio program to discuss "the business side of green."
And under the umbrella of the Arpin Charitable Foundation, Hunsaker co-founded Honey for Haiti, a nonprofit that sells locally-sourced Connecticut honey, organic beeswax, essential oil candles, and custom tie-dyed T-shirts, with every dollar supporting the orphanage in Haiti. It has raised more than $21,000 since June 2016, all of which is dedicated to sustainability projects.
Meanwhile, as a business student during his junior and senior years, Hunsaker continued to find ways to integrate his course work with La Maison L'Arc-en-Ciel.
As a junior, Hunsaker held a Business Education Innovation Fellowship with finance professor Dr. Cary Collins, the Michael A. Ruane Chair in Business Innovation and director of PC's Business Innovation Center. Through the fellowship, he worked with Kraten to develop a computer game to teach Kraten's Save the Blue Frog curriculum, which Kraten uses in accountancy and Development of Western Civilization courses to encourage students to integrate ethics and morality with business.
During his senior year, Hunsaker worked with Kraten to develop an Integrated Reporting Framework, an interdisciplinary model that social entrepreneurs use to address social and environmental concerns while meeting practical business needs. In his research project, he referenced Kraten's Save the Blue Frog curriculum, and used Honey for Haiti as a model for a sustainable agricultural development for non-profits.
He also undertook an independent study, "Nonprofit Management in the Field of Sustainable Development," with Dr. tom king, assistant professor of management. He took king's course, Organizational Theory, in which students, in the role of an organization working toward a common goal, raise money for a charity. Throughout the semester, the students raised $2,600 for Honey for Haiti.
PC's Office of Orientation, Transitions, and Leadership honored Hunsaker's efforts in Haiti at its student awards ceremony in the spring. Honey for Haiti was named the most successful fundraiser, and Hunsaker was named Service Leader of the Year. He also founded the Sustainable Development Club on campus and received a professional certificate in sustainable value from the Rhode Island Society of Certified Public Accountants.
At the Academic Awards Ceremony on May 20, Hunsaker will receive the Robert J. Auclair Management Entrepreneurship Award for excellence in the development of a business plan.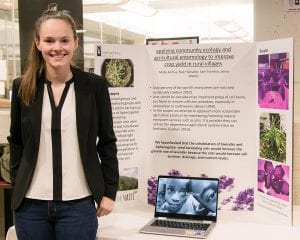 After graduation, Hunsaker will remain in Providence to continue his work with Honey for Haiti as he pursues a career in sustainable development for nonprofits. His work on campus will be taken over by Molly Andrus '19 (Guilford, Conn.), a global studies major who first traveled to Haiti on the parish youth group trip two years ago.
"I think it was fate that I ended up at PC, because I was able to team up with Nick, and I've been able to integrate my studies with the project," said Andrus.
Andrus and Hunsaker worked last semester with Dr. James Waters, assistant professor of biology, to research how ants can improve soil in environments with little rainfall but high humidity, growing lavender as a test case. The research could help the developing world, including Haiti.
Hunsaker said the sustainable development business model he adopted for his work on behalf of La Maison L'Arc-en-Ciel has a broader application and can be replicated by other organizations in Haiti. Anyone who would like to become involved in Honey for Haiti can email him at HoneyforHaiti@gmail.com or visit www.HoneyforHaiti.org.
Meanwhile, good work continues at La Maison L'Arc-en-Ciel, where Penétte prepares more than 40 children, ages 2-19, to live successfully on their own as adults one day.
"The experiences I've had during my time at PC, both inside and outside the classroom, have changed my perspective on life," said Hunsaker, a first-generation college student. "I've been able to develop interdisciplinary skills that can be used for the benefit of others. All it takes is finding a cause you can be passionate about. From there, anything is possible."