January 30, 2018
Calabria Plaza lights the way to Providence College's second century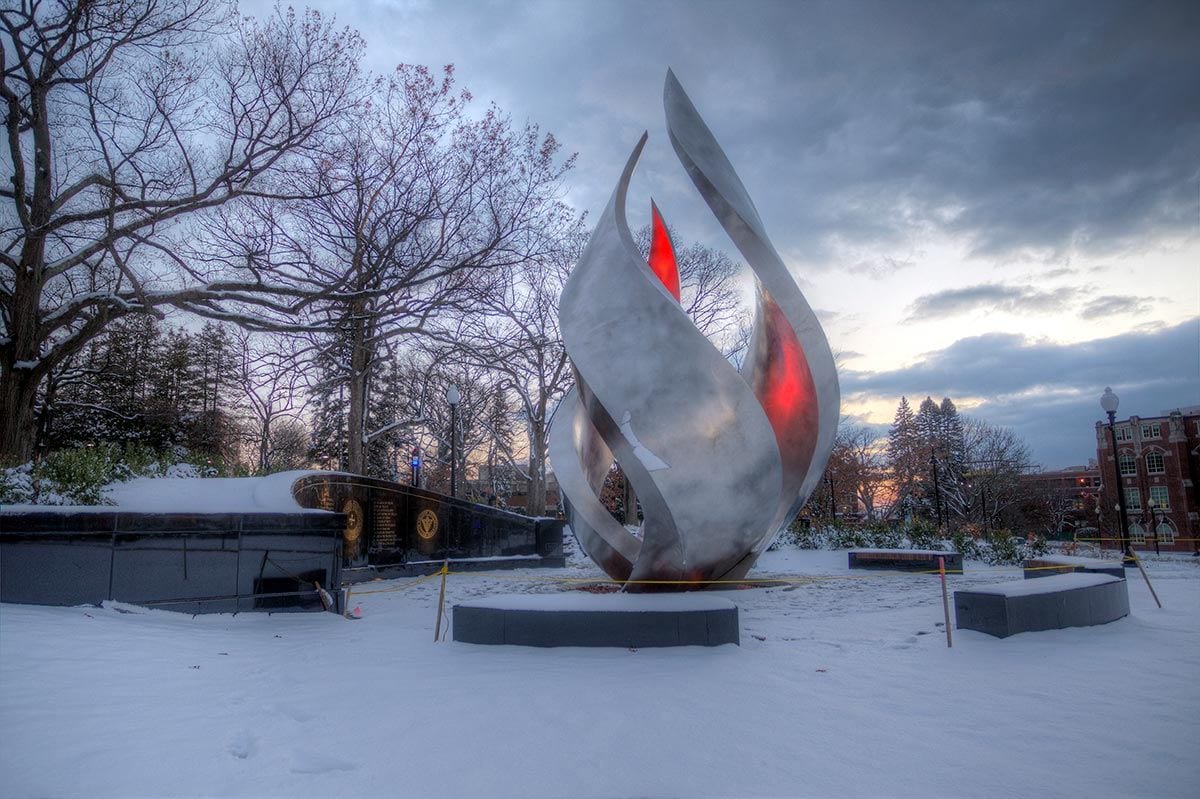 By Vicki-Ann Downing
The Calabria Plaza, the newest addition to the campus landscape, features a stainless-steel flame that rises 33 feet above the Slavin Center lawn. Illuminated at night, it is a physical representation of the Providence College motto, Veritas — Truth — symbolized by a torch.
The plaza was a gift from Joseph M. Calabria '65 and his wife, Sugar. They are longtime philanthropic supporters of PC athletics, but this gift has different meaning.
"It's special," said Joseph Calabria. "We wanted to do something more to remind people what the College is all about — the search for Veritas."
The black granite plaza was completed in December. It includes benches for reflection and a polished wall on which are engraved the names of the Dominican saints, the College's Alma Mater, and the Dominican and College seals. The cornerstones are engraved "1917" and "2017," the year of the College's founding and its centennial, to indicate PC's transition to its second century.
The flame's height represents the number of years Jesus lived on earth before his crucifixion. Its three tongues of flame represent the Trinity. The back wall is 7 feet high, a significant number throughout Scripture.
The pattern of stones on the plaza base calls to mind the halo of St. Dominic, which the Calabrias learned about from Rev. Richard A. McAlister, O.P., professor emeritus of art, while viewing the work of Very Rev. Thomas McGlynn, O.P. '77Hon., the late Dominican sculptor whose collection is housed at the College.
Religious symbolism was important to the Calabrias, who wanted the plaza and flame to be symbols for light and truth, the College's Catholic and Dominican identity.
"It's a place where students can come to sit and consider truth, to think about why they have been brought here in life, and a spot where alumni can think back on their experiences at PC and consider the value they got from the education here," said Calabria, who is a member of the PC Board of Trustees.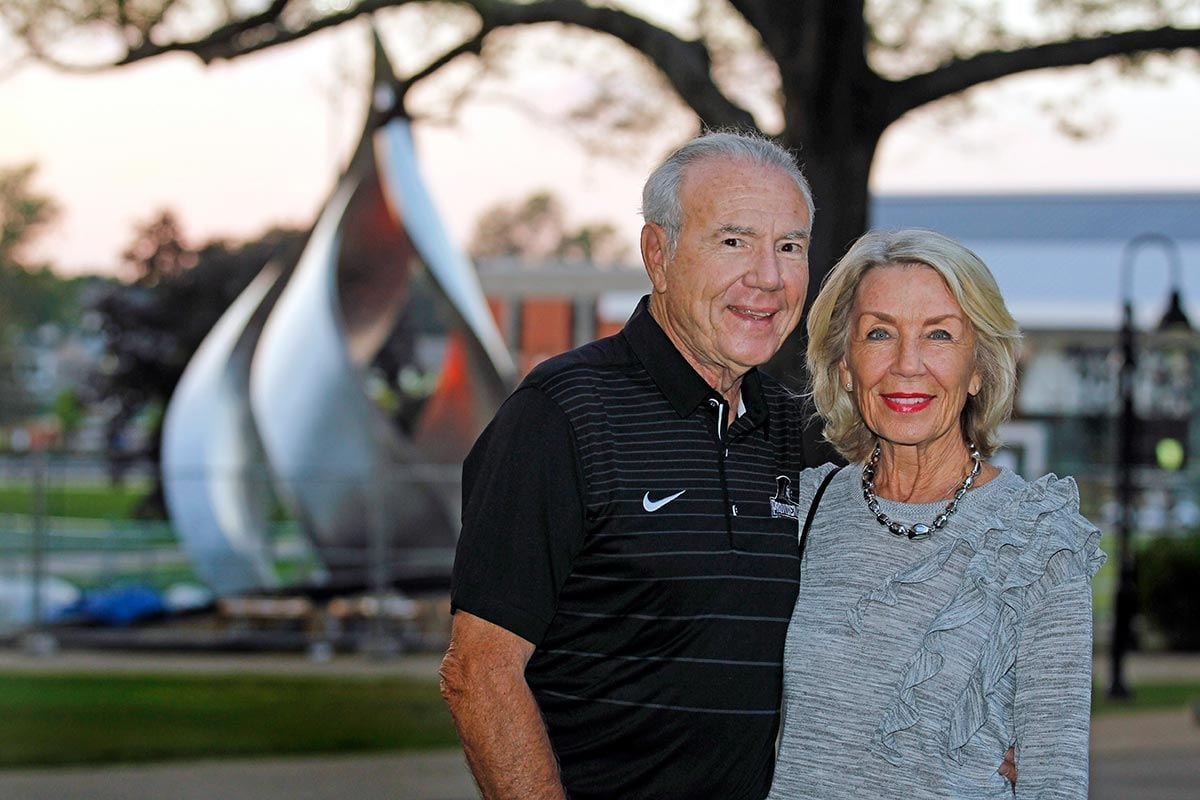 The Calabrias live in Boulder, Colo., where they own a business, CounterTrade Products, Inc., which sells IT products and services and employs 60 people. Several years ago, during one of their regular visits to PC, the couple realized that while the torch symbol is represented in classrooms and buildings, there was no actual torch on campus.
"We talked about putting a flame up. That's how it started," said Calabria. "We considered a three-sided pyramid with a real flame. Then we decided we wanted something more modern, to bring the College into its next century. We moved the inscription from the pyramid to the wall."
The College asked Stephen Forneris '90, an architect who designed the Ruane Friar Development Center being built near Alumni Hall, to provide ideas. He produced sketches and created replicas of the proposed flame with a 3D printer.
Forneris' design was modified by sculptor Brian Hanlon, of Hanlon Sculpture Studios in Toms River, N.J., who also is working on the Ruane Friar Development Center. Hanlon is creating statues of Friar basketball coaches Dave Gavitt '89Hon. and Joe Mullaney '65Hon. & '98Hon. for the center, which will include a basketball practice facility and a new Center for Career Education and Professional Development.
Hanlon selected a foundry in China to manufacture the flame. When complete, it was shipped in three pieces across the Pacific Ocean to Long Beach, Calif., then transported to Providence by truck. The flame was assembled in eight hours on a Saturday in September with the help of two 60-ton cranes, then hoisted onto its base and anchored by 31 bolts. It weighs 18,000 pounds — nine tons — and measures 18 feet at its widest point.
The engraved black granite for the plaza wall was manufactured in China, too. The plaza was designed by SLAM Collaborative, with structural work by Michael Ludvik. The lighting, which includes glass stones at the flame's base that resemble embers, was by HLB Lighting Design in Boston.
The plaza's slogan, "The Search for Veritas Begins Here," is engraved in the wall. It was suggested by Steven R. Napolillo '98, senior executive associate athletic director for external relations.
"The donors hope the sculpture reminds students about the importance of education and the Dominican pursuit of truth through knowledge," said Forneris, whose daughter, Sophia Forneris '18, is a PC student. "I can think of no better time to reinforce this message."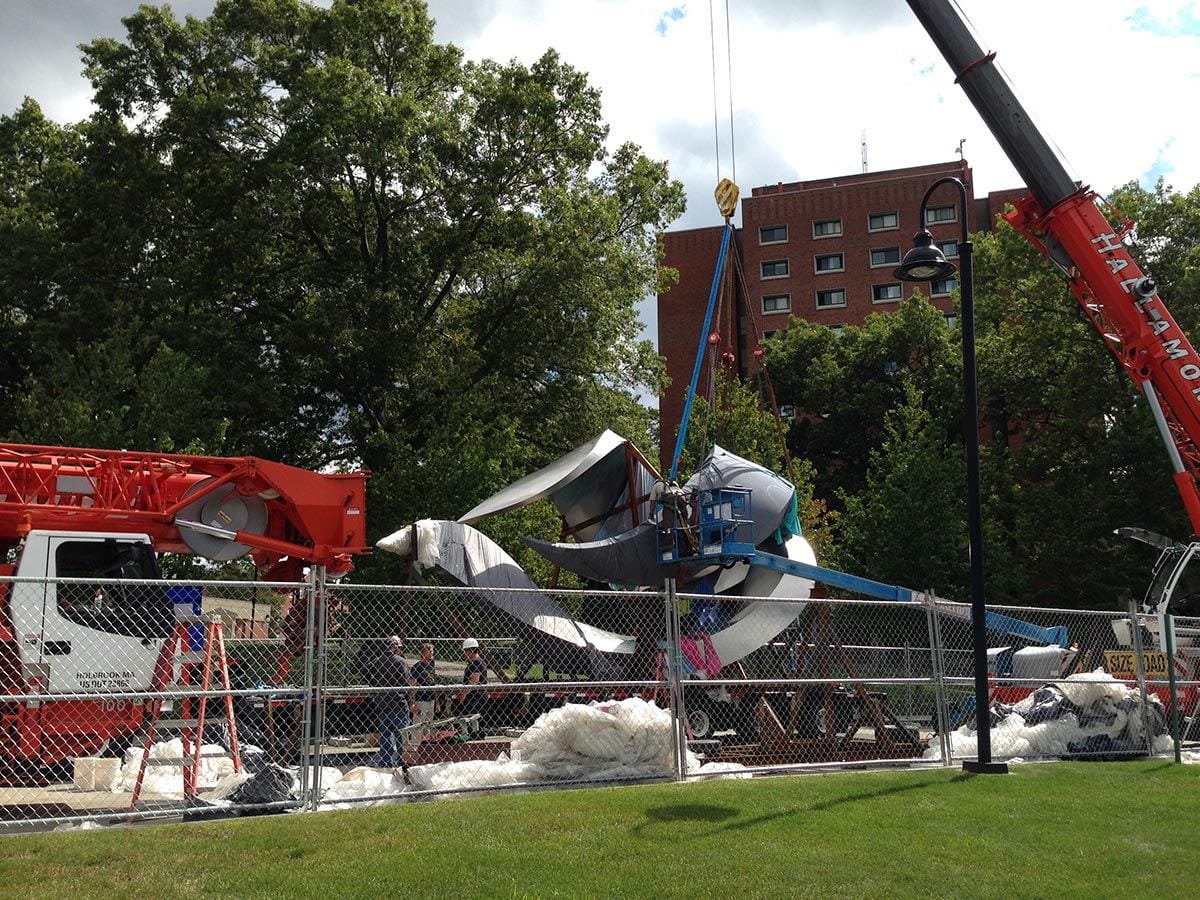 Calabria grew up in Reading, Pa., the grandson of Italian immigrants. He first heard about Providence College in 1961 while watching the men's basketball team win the National Invitational Tournament. After seeing the College mentioned again in a college brochure, he visited campus, liked what he saw, and submitted his application. He majored in physics.
"I wanted to create jobs and own my own business," said Calabria. "I work now so that I can contribute to causes I believe in. If I didn't work, I couldn't do that."
Throughout his college years, Calabria's family struggled financially. During his senior year, his father was laid off from his factory job as a needle straightener. It wasn't an unusual circumstance for a PC student at the time. What kept students in school?
"The Dominicans and their teaching," Calabria said. "We were all first- and second-generation immigrants and we had no money, but the Dominicans taught us for free. Also, I had a tremendous drive to make it in the world. I came to college to figure out how to create jobs, not to get a job. And while I had low grades and no money, I completed school."
After graduation, at his mother's urging, Calabria applied for a job at IBM in his hometown. He didn't want to accept the position, but his mother told him, "'Giuseppe! Apple pie, motherhood, the American flag, and IBM — you have to work there!" So he did.
It wasn't long before Calabria was able to start his own business. From 1977-1983, the family lived in Connecticut, close enough to campus to attend athletics events with their children — one of whom, Sharon Calabria Norwell '93, chose to attend PC, too.
Calabria is pleased with the finished plaza.
"I really think it's meant for the campus," he said.
Sugar Calabria described it as "a dream come true."
"Whenever I would step on campus, it always felt like I was receiving a big hug," she said. "Now it's not just a big hug, it's a big, warm hug."
John M. Sweeney, senior vice president of finance and business and chief financial officer, said the plaza "is meant as a place to remember as well as to inspire."
"The Calabria family wanted to create a dynamic symbol to inspire the Providence College community and honor all of the Dominican friars who have served us," Sweeney said. "Joe and Sugar have been very generous to Providence College over the years and felt this was a lasting way to recognize the important role the College and the Dominicans have had in their lives."