April 19, 2023
Calling her shots: Cayleigh Griffin '14 makes her way onto the sports broadcasting stage
By Brendan McGair '03
If you want to be successful in professional sports, you need drive, confidence, and a relentless work ethic.
This isn't just true of athletes. It's also reflected in pros on the sidelines, like Cayleigh Griffin '14, whose dedication has propelled her ascendant career in broadcasting through seven NBA seasons. Griffin is the pre- and post-game host for the Cleveland Cavaliers and a feature reporter with Bally Sports Ohio, the television flagship of the NBA team. Her previous roles with the BIG EAST Conference, San Antonio Spurs, and Houston Rockets, along with the Houston Astros in Major League Baseball, have contributed to her respected status in a competitive field.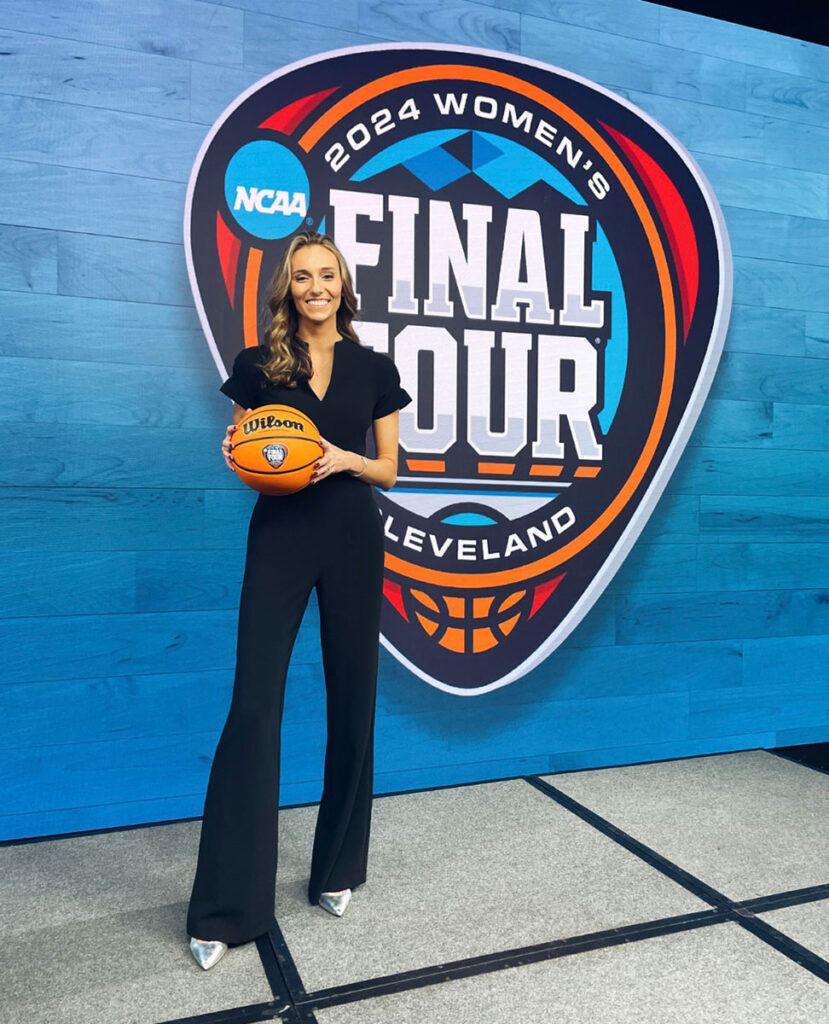 "Cayleigh is a rising star in the sports media landscape," said NBA analyst Doris Burke '87, '92G, '05Hon. "Her commitment to the work and her unflinching spirit in the face of a highly competitive industry has and will continue to serve her well. Cayleigh has an innate ability to connect with the athletes and teams she covers. I can't wait to watch her ongoing journey unfold."
Griffin reached out to Burke for advice while still a PC student and now considers the veteran sportscaster a confidant.
"She helped set me up for success to ultimately break into the NBA," said Griffin.
Griffin's dream of becoming a broadcaster began when she was 17, playing basketball at Trinity Catholic High School in Stamford, Connecticut. She was recruited by Division II colleges, but as much as she loved the game, wanted a different experience in college. She had visited PC often to play in tournaments and loved the campus, where her mother, Dorothy Tolan Griffin '83, played basketball for the Friars.
Griffin is proof that you don't need to study sports communication to become a successful broadcaster. She majored in humanities at PC, which gave her the freedom to choose courses that would fall under a traditional communication major, especially English classes, and minored in film. She spent a semester of her junior year abroad in Sydney, Australia, taking communication courses and holding a full-time internship. She also gained experience through PCTV, serving on the Intramural Athletics Board, and working for recreation sports.
One of her favorite memories as a student — basketball star Bryce Cotton '14 holding a sign reading "2014 BIG EAST Tournament Champions" — is still the screensaver on her cell phone.
As a novice broadcaster, Griffin learned that saying "yes" when an opportunity arose was just as important as polishing on-air delivery. She understood the value of soaking up as much experience as possible, whether securing internships as a student with NBC and FOX Sports or spending her weekends on Long Island calling high school basketball and volleyball games.
"I wanted to put myself in a position to be a qualified candidate when I graduated from PC," said Griffin.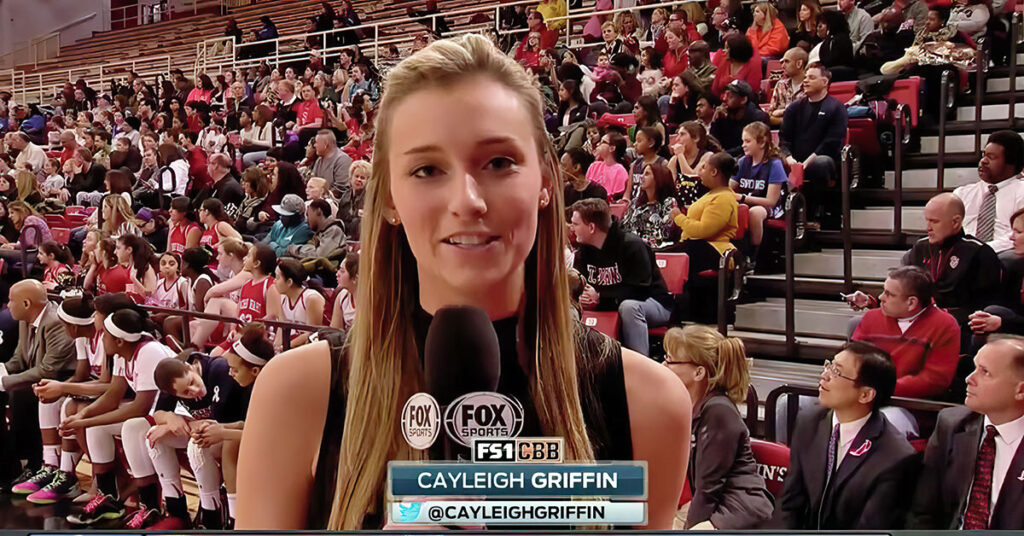 Griffin joined the BIG EAST as a digital assistant/on-air correspondent in October 2014, only months after graduation. Her role coincided with the conference's launch of a digital network. Such uncharted territory was perfect for Griffin — the chance to edit and shoot with the promise of more opportunities to come.
Griffin's time with the BIG EAST Digital Network coincided with that of John Fanta, now a college sports play-by-play broadcaster at FOX Sports. Fanta parlayed his time with the conference into becoming a respected commentator, host, and reporter across multiple media platforms and outlets. He saw Griffin's potential and believed it was only a matter a time before she struck it big.
"Cayleigh ushered in a new wave of BIG EAST basketball coverage and is the original correspondent in this great conference," Fanta said. "Her passion and drive really inspired me. Beyond the tremendous work Cayleigh has done in the field, she's an even better human being.
"When I think of Friartown, I think of people who are passionate and care for one another. Cayleigh Griffin embodies the spirit of Providence College. It's a pleasure to call her a colleague and friend, and I still believe she's only getting started. We will be watching her on our TVs for a long time because she's that good, does her homework, and genuinely cares about her work and the people around her," Fanta said.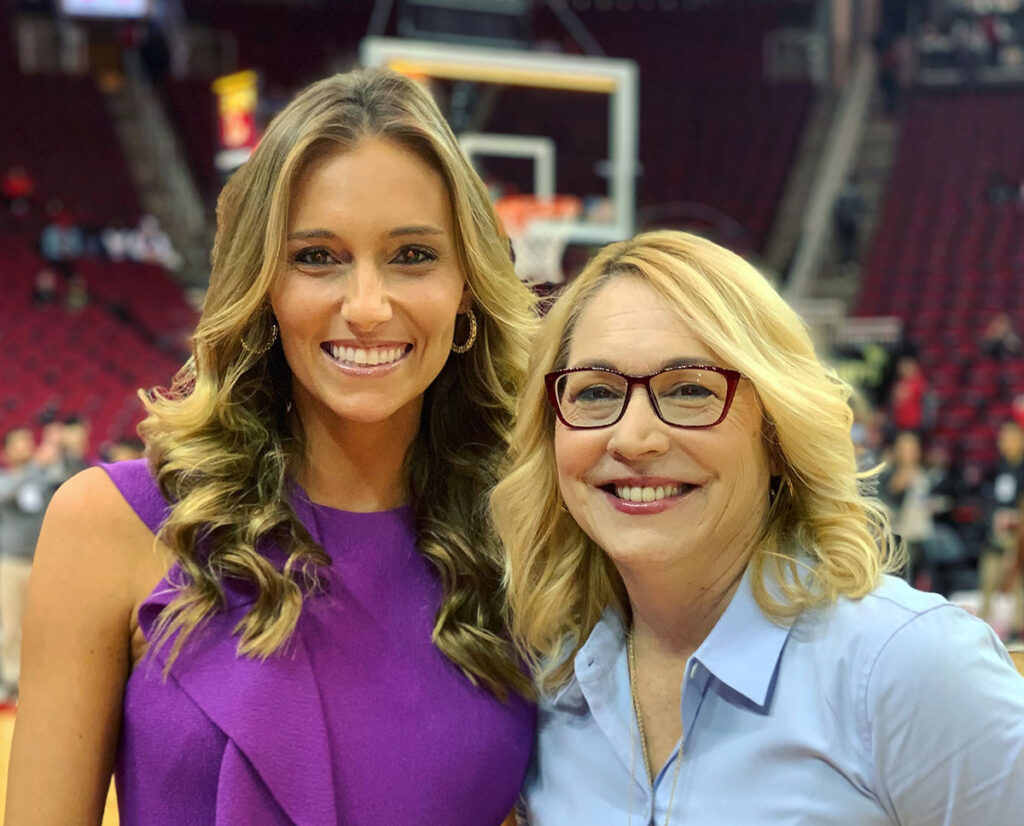 After two years with the BIG EAST, and with guidance from Burke, Griffin joined the San Antonio Spurs as a team/digital reporter. Then, right before the 2018 NBA Draft, the Spurs informed Griffin that her position had been eliminated.
"That was an eye-opening experience on how quickly things things can change," said Griffin, who moved back to Stamford to consider her next opportunity.
By the start of the 2018-2019 season, Griffin was back with an NBA franchise, this time in Cleveland as a host/digital reporter at FOX Sports Ohio. Her varied experiences in broadcasting enabled her to fulfill a variety of roles, from live in-game segments to contributing to pre- and postgame shows.
After one season with the Cavaliers, Griffin packed her bags — this time by her own choosing — and headed to Houston to work for AT&T SportsNet. Griffin served as sideline reporter and pre- and post-game host for the Houston Rockets for three seasons. She traveled with the team for the first season, worked remotely in the Houston studios during the NBA bubble and COVID-19 season, and returned to travel for the third season. She also worked as a pre- and post-game host and fill-in field reporter for the Houston Astros during their championship season.
"Those three years were so instrumental to my growth in the industry, covering two professional sports teams in two professional sports leagues. I was privileged to cover some of the greatest athletes in their respective crafts," Griffin said.
Griffin chose to return to Cleveland in October 2022 to be the pre- and post-game host for the Cavaliers. She pursued the full-time hosting gig to round out her experience — an approach she'd recommend to any aspiring broadcaster.
"Versatility in the industry is so important, and I didn't want to be viewed as only a sideline reporter. I encourage those looking to break in to expand their horizons and not limit themselves to just one role," Griffin said.
The opportunity in Cleveland has opened other doors as well. She works as a host with Tipico Sportsbook and as an analyst calling games in college basketball and in the NBA's developmental G-League.
As for what's next, Griffin is hoping for a playoff run by the Cavaliers and is excited about new opportunities, while also planning her wedding in August 2023.
Griffin is now able to share words of wisdom with aspiring broadcasters.
"No dream is too big. If you put in the work, they'll find you. Build genuine relationships. And when you're having a tough
day, be sure to reflect on how far you've come. It's something I have to remind myself," she said.
Brendan McGair '03 is a freelance writer from Cranston, Rhode Island.
More from the Spring 2023 magazine
More Providence College news