March 23, 2017
Chants encounter: Unexpected connections help Joan Miller '18 solve mysteries of Stravinsky's discordant church music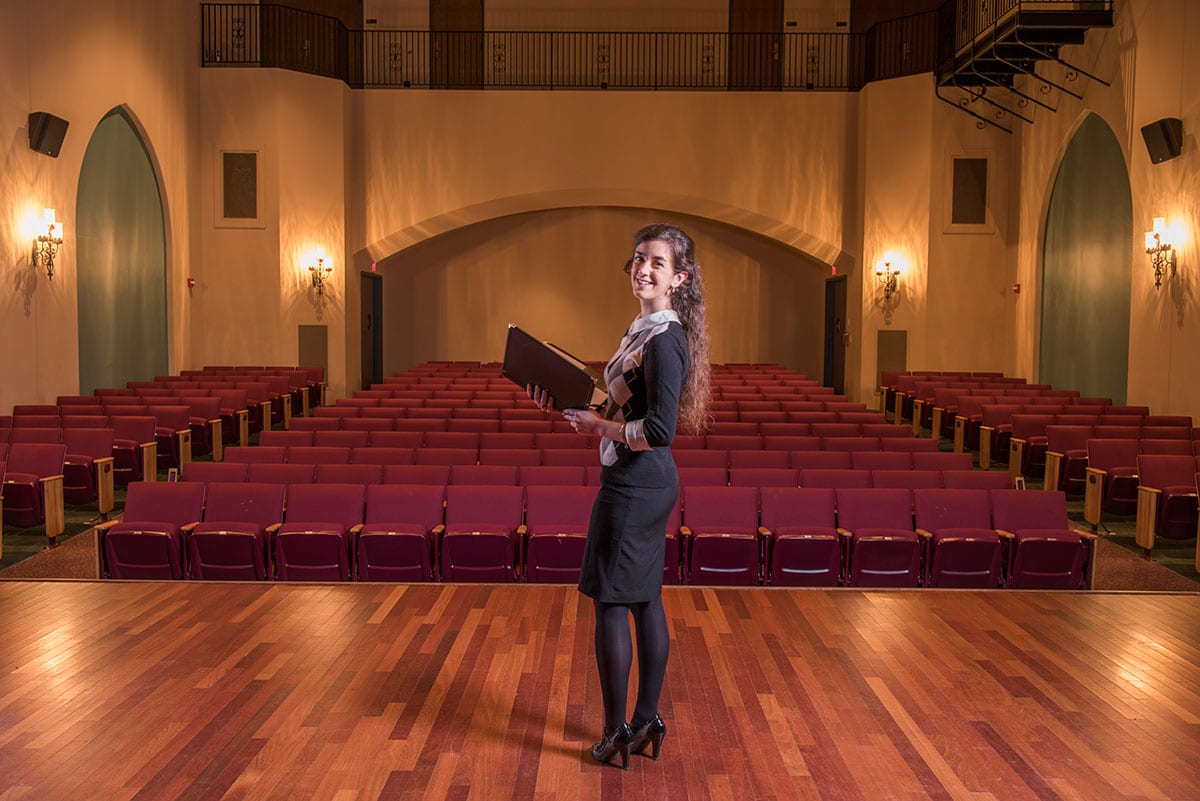 By Vicki-Ann Downing
Editor's Update: Joan Miller '18 will enter UMass Amherst to study for a master's degree in music with a concentration in choral conducting. She received a teaching assistant position to cover the cost of her tuition. At the Academic Awards Ceremony, Miller received the Reverend Leo S. Cannon, O.P. Award for excellent musicianship. She also graduated with the highest academic rank in both music and art history.  
On a beautiful July afternoon in Upstate New York, 250 miles from Providence College, Joan Miller '18 (Oakdale, Conn.) found the expert who helped solve her research puzzle.
Miller, who is majoring in both music performance and art history, was awarded $4,000 from Providence College's Veritas Research Fund to spend the summer analyzing the impact of Russian Orthodox chant on the compositions of 20th century composer Igor Stravinsky.
Miller traveled to libraries and musical archives at Brown University, the Boston Symphony Orchestra, Yale University, and the Eastman School of Music at the University of Rochester in New York. In Cooperstown, outside a café and market, she met Nicholas Kotar, a Russian hymnographer, musician, translator, and fantasy author, who was able to describe in detail the history of Russian chant music, which Stravinksy would have heard as a child.
"He explained that, unlike other traditions, Russian Orthodox liturgical practices stemmed solely from Russian folk music and the influence of the Byzantine church," said Miller. "It was my 'Oh, I get it!' moment."
Kotar's explanations helped Miller understand the discordant notes present in two Stravinsky compositions written as Catholic church music, Symphony of Psalms and Mass. She encountered the pieces for the first time when she was a high school student singing with the Eastern Connecticut Symphony Orchestra and Chorus.
"Stravinsky uses a lot of chords from folk music," said Miller. "You can hear the sounds. It's very distinctive. There are fifths stacked on top of each other. They don't sound harmonious. It brings a primal, primitive quality to the music."
Stravinsky wrote Symphony of Psalms between the world wars and Mass after World War II, when he was dismayed at the state of the world and wondering how such catastrophes could have occurred, Miller said.