September 12, 2019
Chemists buoyed by NSF funding for updated spectrometer
By Nick Wesman '20G
A new instrument in the Department of Chemistry and Biochemistry won't just excite the nuclei within molecules; it's raised a good bit of excitement among professors and students, as well.
The department recently secured grant funding from the National Science Foundation (NSF) that will allow for the acquisition of a new nuclear magnetic resonance (NMR) spectrometer, greatly enhancing faculty and students' research.
According to Dr. Seann P. Mulcahy, associate professor of chemistry and principal investigator on the grant application, research in chemistry often involves the creation of new molecules. Chemists, therefore, need a way to "see" how the atoms that compose these molecules are arranged.
"We can't really see molecules, so we have to determine structures using indirect means," he said.
An NMR spectrometer is one of those means. A sample molecule is placed in the spectrometer, which is essentially a "giant magnet," Mulcahy said. A radiofrequency pulse then "excites" some of the nuclei in the sample. This process is measured by the instrument and helps scientists determine the sample's properties.
For Alexandra Chaparro '22 (Casa Grande, Ariz.), a student of Dr. Maria E. Carroll, assistant professor of chemistry, NMR spectroscopy is vital to her research in creating molecules potentially used for alternative fuel sources.
"It is imperative that my lab is able to characterize and identify the (molecular samples) that we produce using NMR," Chaparro said. "It is one of the best tests to determine if we actually can make our desired product."
"The data collected with the NMR spectrometer will provide one line of evidence for the identification of our products, which is necessary to publish our research in peer-reviewed journals," Carroll added.
The chemistry and biochemistry department currently has an NMR spectrometer, but the model is about 20 years old and its window of usefulness is closing.
"It's like everybody else has an iPhone X and we're still using a flip phone," said Mulcahy.
Newer models are also far more sensitive. Experimental samples must now be left in the instrument overnight in order to collect data, Mulcahy noted. Updated hardware on the new spectrometer will greatly reduce that waiting period. With the new instrument, students and faculty will no longer have to manually adjust the magnet's field since this will be automated, cutting down on experiment preparation time. In the teaching laboratory, students will submit a sample in the lab and "by the time they get home, in their dorm room, they'll have a set of data," he explained.
Most significantly, the pace at which the new instrument operates will provide students and faculty with more opportunities for research and interpretation of results. In a field dependent on experimentation, quicker results equal a quicker turnaround to prepare your next experiment. And because research in the Department of Chemistry and Biochemistry relies heavily on student-teacher interactions, expedited results allow for more opportunities to collaborate on shared research goals.
"Replacing this dated machine with the newer one is going to allow our lab to run a test more quickly, more precisely, and more often than ever before," Chaparro summarized.
New spectrometers generally run north of $400,000. The NSF grant will contribute $288,300 toward the purchase. Complementary support from PC and the Rhode Island IDeA Network of Biomedical Research Excellence, based out of the University of Rhode Island, will cover the rest. Faculty and students at Rhode Island College and Bryant University will also have access to the instrument.
The effort to secure new instrumentation like the NMR spectrometer is indicative of PC's commitment to the sciences and maintaining the chemistry and biochemistry department's standing among peers, Mulcahy said. The new instrument fits in with the larger transformation of the College's Science Complex, he said.
Mulcahy noted that the NSF looks for strong institutional support when scoring grant applications. And the faculty and students in the sciences know they have the backing of the College; their work is an extension of the Dominican traditions of study and inquiry, he said.
"The sciences are part of this enterprise of trying to understand who we are as human beings," Mulcahy explained. "We study chemistry so that we better understand ourselves. I think being up-to-date, being current, and learning about chemical matter help us understand the human condition."
"I think that's something that's very Dominican."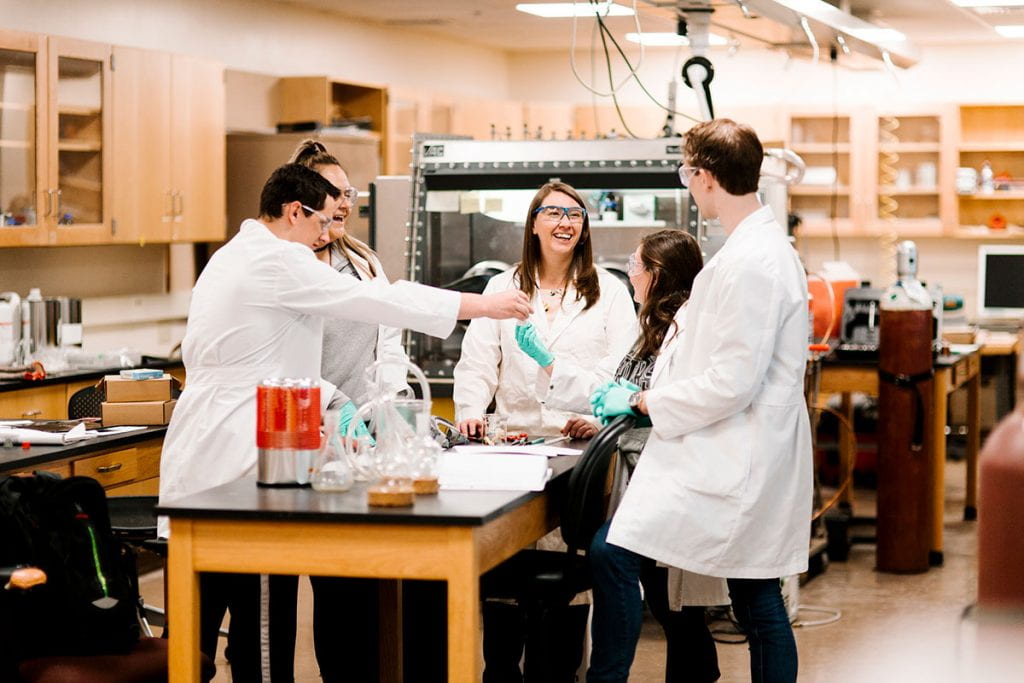 According to Mulcahy, applying for the NSF grant was the department's way of contributing to the Science Complex renovations and to thank the College for its continued support of the multi-year project.
The department has yet to decide which specific spectrometer to purchase, but Mulcahy expects the new instrument to be in place and operational in Albertus Magnus Hall next year.
"Acquisition of this new instrument means that students gain hands-on experience with state-of-the-art technology … while also getting personalized mentorship with a faculty member," Carroll said.
The increased engagement with professors and current research tools and the methods it will provide will only benefit students' preparation for the next steps on their academic and professional journeys, Chaparro said.
The new spectrometer will be "pivotal in cultivating a competitive and top-notch environment in which my peers and I can continue to contribute to the great legacy of Providence College scientists," she said.