August 25, 2022
Class of 2026, largest in Providence College history, arrives for new academic year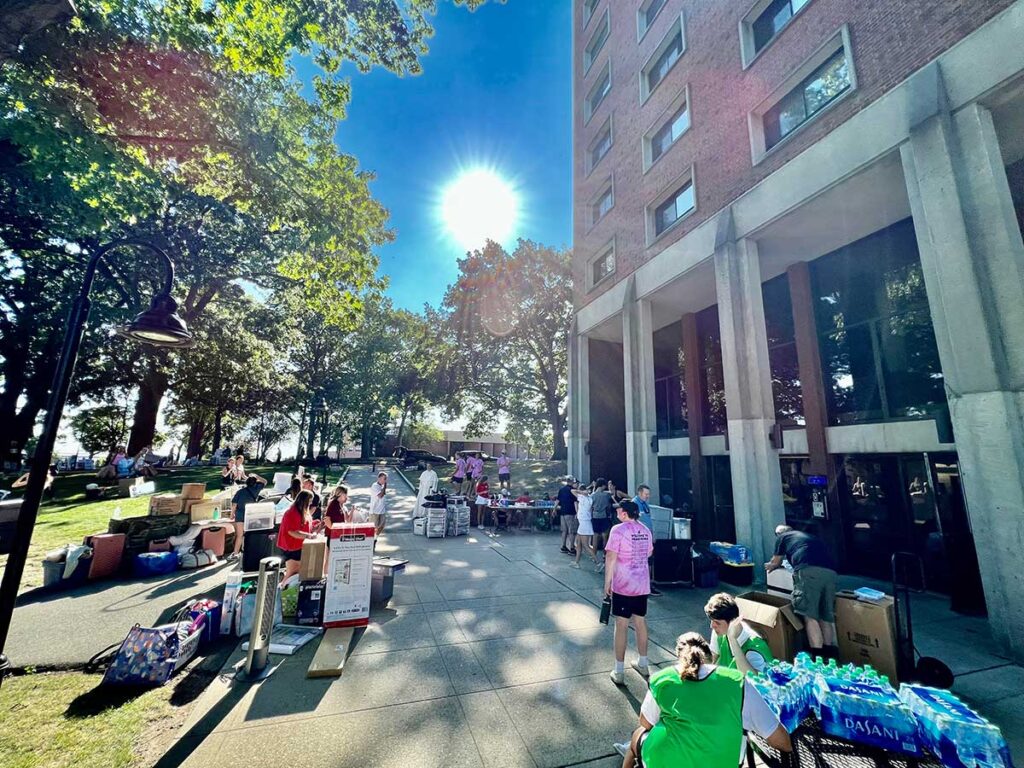 By Vicki-Ann Downing
Providence College welcomed the Class of 2026, the largest class in its history, on Thursday, Aug. 25, for several days of orientation before the start of the new academic year.
The class is 1,163 members strong, with students from 34 states, Washington, D.C., Puerto Rico, and 17 countries — Canada, China, Czech Republic, France, Germany, Iceland, Indonesia, Ireland, Italy, New Zealand, South Africa, Spain, Sweden, Trinidad and Tobago, Ukraine, United Kingdom, and Vietnam.
There are 625 women and 538 men. The class includes 211 students with a parent or sibling who graduated from PC and 121 students whose parents never attended college. There are 174 students in the Honors Program and 99 student-athletes.
Nineteen percent of the students have not decided on a major. Among those who have, the most popular are finance, marketing, biology, management, and psychology.
Volunteers from student organizations assisted with the move into the first-year residence halls — Meagher, McDermott, St. Joseph, McVinney, Guzman, and Raymond. Students and families were welcomed with refreshments provided by the Office of Alumni Relations.
The Welcome Mass for New Families took place at 3 p.m. in Peterson Recreation Center and was celebrated by College President Rev. Kenneth R. Sicard, O.P. '78, '82G.
"God in his providence has led each of you to the college named after him, and he will be with you every step of the journey," Father Sicard said.
Sophomores, juniors, and seniors moved into campus residence halls on Sunday, Aug. 28, in time for the start of classes on Monday, Aug. 29.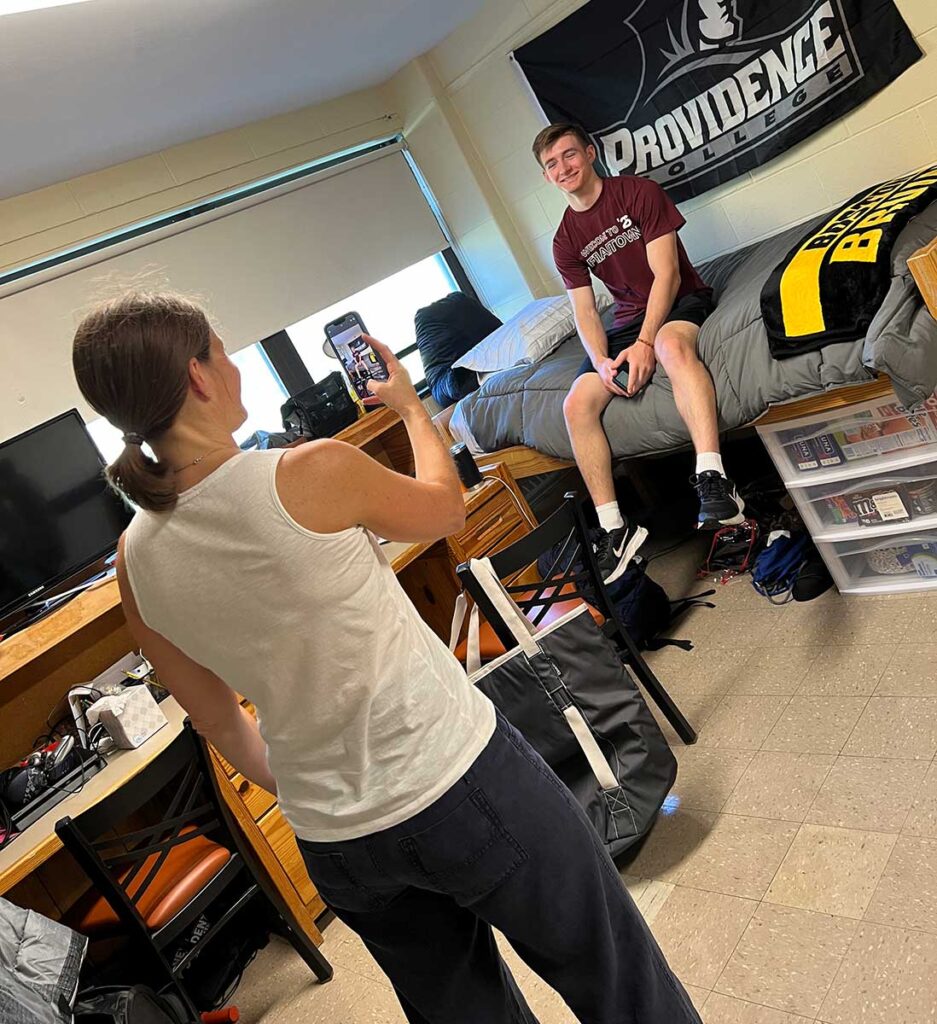 move-in and mass photos
forever a friar photos
first day of college photos
New faculty welcomed at convocation
New faculty members were welcomed at Academic Convocation on Wednesday, Aug. 31, at 3 p.m. in Peterson Recreation Center. There are 20 new tenure-track and practitioner professors:
Sarah Ahmed, Ph.D., Health Sciences, Women's and Gender Studies
Maria S. Bose, Ph.D., Global Studies
Michael Chou, Ph.D., Mathematics and Computer Science
Adelaide Clark, Ph.D., Chemistry and Biochemistry
Rebecca Babcock Fenerci, Ph.D., Psychology
Emily L. Gentes, Ph.D., Psychology
Tomer Hamami, Ph.D., Economics
Noah Hammond, Ph.D., Engineering and Physics
Sara Hassani, Ph.D., Political Science, Women's and Gender Studies
Martin Hellwig, Ph.D., Mathematics and Computer Science
Samuel F. Murray, Ph.D., Philosophy
William C. Longo, Ph.D., Music
Ana Claudia Sao Bernardo, Ph.D., Global Studies
Ileana Soto Reyes, Ph.D., Biology
Charles A. Speicher, DBA, Accountancy
Nicholas Tarantino, Ph.D., Psychology
Virginia Thomas, Ph.D., Art and Art History, Women's and Gender Studies
Rev. Dominic Verner, O.P., Ph.D., Theology
Michael A. Wahl, Ph.D. '12, Theology
Jason Willwerscheid, Ph.D., Mathematics and Computer Science
In addition, there are 14 new visiting and adjunct professors and a new post-doctoral teaching fellow, Elizabeth Jacob, who will teach in the Department of History and Classics. Friar Sixto Castro, O.P., Ph.D., is the Rev. Robert J. Randall Chair in Christian Culture for 2022-2023.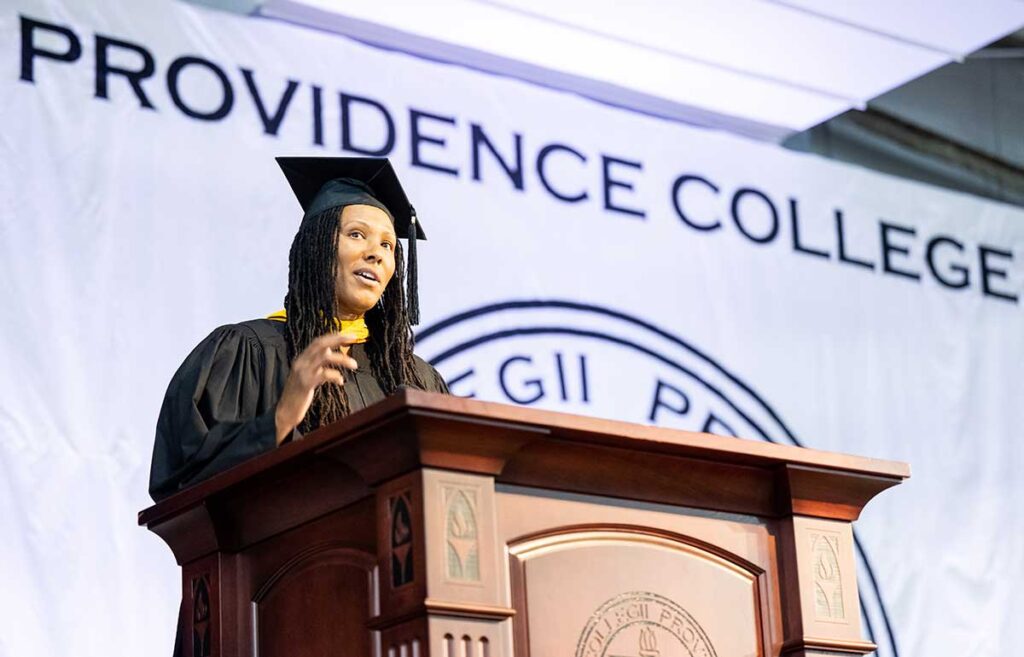 Mental health advocate is keynote speaker
The keynote speaker at Academic Convocation was Chamique Holdsclaw, a basketball standout in the WNBA and at the University of Tennessee and with the gold-medal team from the Sydney Olympic Games. Since then, Holdsclaw has dedicated her life's work to mental health and wellness activism. She gave a presentation to PC student-athletes in 2018 as part of the "You're Never Alone in Friartown" mental health initiative.
Holdsclaw discussed her first year at the University of Tennessee and how out of place she felt in Knoxville after growing up in Queens. She told her coach, Pat Summit, that she thought she should transfer.
"She told me to give it time," Holdsclaw said. "'You'll find a sisterhood here.' And I did. Family is not just blood. It's the people who show up and show out for you."
Though she was in the top of her class at Christ The King High School, Holdsclaw quickly realized she didn't have the time management skills to succeed in college, where she was tired from 6 a.m. basketball practices. After her first semester, her GPA was just 2.5
"My coach told me, 'If this was the best you could do, I'd accept that. But I know you. I know you're not applying yourself. I know you're not using your resources.' So I started using my resources. I went to study hall and office hours. I worked with a tutor. I asked for help learning better time management strategies."
The Lady Volunteers won the NCAA Tournament in Holdsclaw's first year, making her a campus celebrity, along with football player Peyton Manning. But in her sophomore year, the basketball team began losing games and Holdsclaw felt the pressure. She realized she was living on autopilot, sleeping a lot and not engaging with classes or friends. She was reluctant to seek help because she felt it was her responsibility, as team captain, to handle everything well. Finally, after speaking with a friend, she went to her coach, who arranged for her to have counseling off campus, where she felt more comfortable being vulnerable.
Holdsclaw urged students in the Class of 2026 to take care of their own mental health.
"You have to take care of each other," Holdsclaw said. "This is an exciting time, right? Protect it at all cost. If you see something that you know is not right, speak up. Speak up. Because you could be assisting someone, saving a life. You just never know."
"As you go through this journey, I pray that you do great things, but I need you to make sure you're OK, too," Holdsclaw said. "We all need help sometimes. Make sure you take the steps you need."
Edmund Dain, Ph.D., professor of philosophy and winner of the Joseph R. Accinno Faculty Teaching Award, the college's top teaching honor, also addressed the students.
"There's really only one thing you're here to learn, only one thing your professors are going to be interested in teaching you: to think for yourselves," Dain said. "Never let anyone make up your mind for you. Reason, reflect, criticize, and — only then — make up your own mind."
Father Sicard welcomed the new class and shared his plans for a new presidential series, "With Mutual Respect: Discussions on Contemporary Challenges." It will include dialogues among PC faculty members who will present arguments on opposing sides of controversial contemporary issues.
"As a Catholic, Dominican college grounded in the liberal arts and committed to veritas, we have an obligation to explore and discuss issues that are uncomfortable, and to do in a thoughtful and respectful manner," Father Sicard said. "Disputation of this type has been a hallmark of Dominican higher education since the 13th century."
Autumn Tangney '23 (Fairhaven, Mass.), a double major in health policy and management and political science, told students that the phrase "Friar family" represents a real community. She encouraged them to explore Providence, read Development of Western Civilization texts from the perspective of a historical thinker, and to attend events their friends are not going to, in order to make new ones.
"Treat others exactly as you would like to be treated, never say no to joining an intramural team, and attend events your friends aren't going to — you'll meet new ones," Tangney said. "If you're ever debating calling a family member — call them!"
Dominic DaSilva '24 (Bristol, R.I.) sang the National Anthem and Liliana Massa '25 (Waltham, Mass.) sang the Providence College Alma Mater. The music was performed by Providence College Symphonic Winds.
Starting early with service
More than 200 students in the Class of 2026 began the academic year early, moving to campus on Saturday, Aug. 21, for several days of service prior to orientation.
Urban Action, a tradition for more than three decades, had 82 students and 23 leaders, they participated in a neighborhood cleanup and helped out at Times2 STEM Academy and Robert F. Kennedy Elementary School. The group also will coordinate service projects during the academic year.
Faith Works, a service immersion program of Campus Ministry that allows students to learn about the city from the perspective of Catholic social service agencies, had 50 students and 16 student leaders.
Transitions, an opportunity for multicultural and first-generation students of color to preview campus, network with faculty and staff, and meet new friends, had 56 participants who were guided by 17 dream coaches.
On Wednesday, Aug. 24, all three groups took part in service projects at Times2 STEM Academy, Bishop McVinney School, St. Augustine School, St. Pius V School, and Nuestro Mundo Public Charter School.
More Providence College news