May 20, 2017
Class Oration by top student Victoria Timmel '17
Victoria Timmel '17 (Smithtown, N.Y.) shared the distinction of highest GPA with Lauren Berolini '17 (Bridgewater, Mass.) and Jack Ricci '17 (Providence, R.I.). She presented the Class Oration at the Academic Awards Ceremony on Saturday, May 20, in Peterson Recreation Center. Here are her remarks:
Providence College: a small Catholic liberal arts institution in Rhode Island with just about 4,000 undergraduate students. The place where I gained confidence not just in my academic abilities, but in the kind of reputation I want to uphold and the person I want to be.The place where I learned to be comfortable with myself but also realized the importance of stepping out of my comfort zone. The place where professors pushed me to my limits but were also there to catch me when I stumbled. The place where people opened their arms to me and took me in as I was, the place that became my home.
Honestly, in my junior year of high school, if someone asked me where I was going to college, I had yet to even consider PC. But I thank God that I did.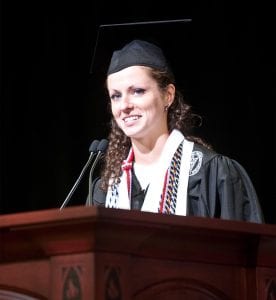 When my parents dropped me off at McVinney my freshman year, I was scared that I would somehow manage to mess up and do the whole "college" thing entirely wrong. Luckily, I realized the value and emphasis placed on community here at PC, not just with the students but also my professors and other faculty members that have been by my side and hoped for my success along the way. At the end of the tours I gave as a member of the Friars Club, I would always say, "Hands down, the best thing about PC is the people."
I think this is something that is quite unique to Providence College — students here genuinely want to see each other succeed. There's never been a time when I've struggled to find someone who wasn't willing to help me with my homework or look over a paper idea, or to hold a door open for me when I'm still 100 feet away. Everyone here works together and views each other as equals, which I think speaks to the quality and respect we have for the education and opportunities we have been given at PC.
This sense of family and togetherness applies not only academically, but also to social life on campus. The extracurricular events here are endless and we've been able to participate in just about anything we're passionate about, in activities as widespread as scuba diving club to creating your own radio show to inner-tube water polo. Something that has made this all possible is the size of the school — small enough that you can catch up with several friends when walking in between classes, and big enough that I've made relationships with people for the first time just this semester. Though we're a small school, we've made a great name for ourselves both academically and athletically, as we've all witnessed multiple BIG EAST championships as well as our men's hockey team winning the national championship. We're all proud to be Friars.
College flies by in the blink of an eye. One minute you're that timid little freshman looking to find friends to eat in the dining hall with, and before you know it you're filling out applications for full-time jobs. A day like today provides a perfect opportunity to reflect back on who you were four years ago. Think about how much you've accomplished that you never would have expected. Think about how your aspirations might have been altered or changed entirely. Think about what your next step might be, and how much closer you are now to reaching your final goals.
I think it's important to recognize that none of us could be sitting in these seats today had we gone it alone, and today's a greater day than any to show our appreciation. I'd like to thank Father Nic and our research lab for teaching me more about yeast than I ever thought possible and for welcoming me into a group of people that really appreciate hard work and one another. I'd like to thank all the intramural teams that took me on even though they knew I wouldn't contribute one thing athletically to the team. I'd like to thank Friars Club, the best huggers on campus and the most supportive second family I could've asked for. I'd like to thank my freshman year roommate for putting up with me when I would wake her up all the time after staying up late studying. I'd like to thank my parents for sticking with me through it all and for always being my biggest source of encouragement and love. And I'd like to thank my classmates and peers for being so approachable and kind. No matter where we all end up, I'm blessed to have made lifelong friends that I know I can turn to at any stage in our futures, which Providence College has prepared us well for.
A small school with a massive heart, and I'll forever be grateful. Go Friars.