February 26, 2015
In Memoriam: Community partner Francis H. Smith '07P, '13P, and '16P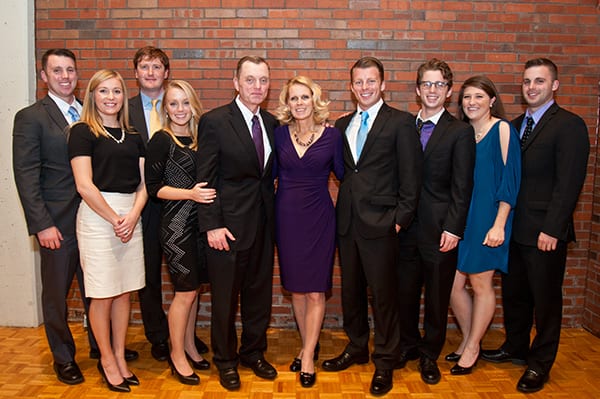 Providence College lost a great friend and community partner with the death on Tuesday, Feb. 24, of Francis H. Smith, 56, former executive director of the Smith Hill Community Development Corp (CDC). Mr. Smith was the father of five, including Matthew Henry Smith '16; John Henry Smith '13, an MBA student at PC; and Emily Florence Smith '07.
"Francis Smith was a bellwether of the Smith Hill community for many years," said College President Rev. Brian J. Shanley, O.P. '80. "His tireless work with the Smith Hill Community Development Corporation to make more and better affordable housing available to area residents was his passion, and Providence College was happy to partner with him and with the CDC to help achieve that vision.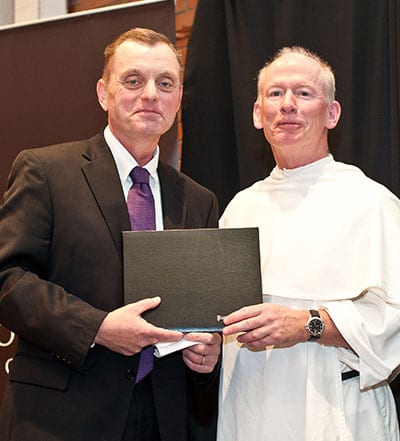 "Francis was also a devoted husband and a loving father, and was proud that several of his children were students and graduates of Providence College. We join his family and friends in mourning his loss, and we pray to God for his eternal rest and peace."
In October 2014, when PC's Feinstein Institute for Public Service celebrated its 20th anniversary, Mr. Smith was one of three people inducted into its Hall of Heroes, honored for his efforts to provide affordable housing in the Smith Hill neighborhood located near the College.
In accepting the award, Mr. Smith said, "I believe the Feinstein Institute is a great example of how individuals with common visions can learn from past leaders and each other to accomplish much good for the larger community."
During Mr. Smith's time as executive director, the relationship between the College and the Smith Hill CDC strengthened. In November 2013, PC opened a 1,000-square-foot community annex on Douglas Avenue adjacent to the Smith Hill CDC headquarters. Called the Smith Hill Annex, it provides a space where neighbors in the community and students and faculty from PC can gather for programs and discussions.
The College expanded on the concept in early 2014 when it opened the Common Grounds Café in another storefront in the same location. It serves beverages, breakfast, and sandwiches and is staffed by PC students and neighborhood residents.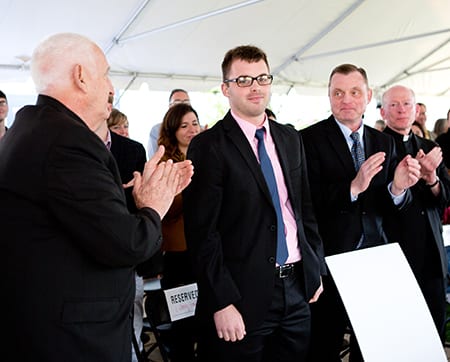 In May 2014, the College gave a three-year grant of $750,000 to the Smith Hill CDC to support safe and affordable housing along Douglas Avenue and Admiral Street, gateways to the PC campus. The contribution, which did not come from student tuition dollars or the school's operating funds, represented the largest gift in the CDC's 22-year history.
At a ceremony announcing the event, Mr. Smith described the College as the CDC's "most vital private partner." The event also featured the screening of a documentary, Restoring Smith Hill, which John Henry Smith '13 created as a PC student. The film aired last year on Rhode Island PBS.
Mr. Smith was born in Providence and raised in Smithfield, a son of the late Robert E. and Thelma M. (Cathers) Smith. He graduated from LaSalle Academy, Rhode Island College, and Suffolk University, where he earned a master's degree in public administration.
He also is survived by his wife, Mary Ellen (Pare) Smith; sons Patrick Henry Smith and Benjamin Henry Smith; sisters Madonna M. Smith and Roberta M. Bloomer; and several nieces and nephews.
A Mass of Christian Burial will be celebrated in St. Augustine Church, 639 Mount Pleasant Ave., Providence, on Saturday, Feb. 28, at 11 a.m. Burial will follow in Saint Francis Cemetery, Pawtucket. Visiting hours are Friday, Feb. 27, from 4-8 p.m. in the Russell J. Boyle & Son Funeral Home, 331 Smith St., Providence. Donations may be made to the Smith Hill Community Development Corporation, 231 Douglas Ave., Providence, 02908.
— Vicki-Ann Downing