January 11, 2017
Rev. John S. Peterson, O.P. '57 embodied PC, Dominican Order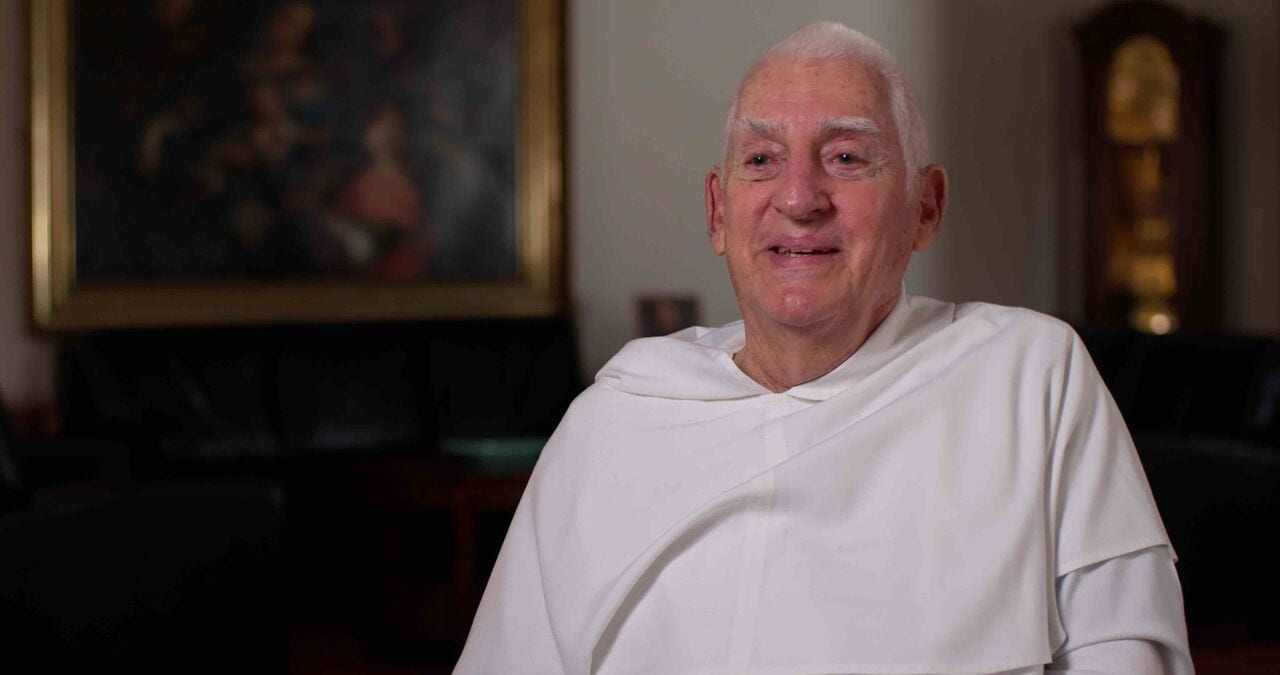 By CHARLES C. JOYCE
Rev. John S. Peterson, O.P. '57, whose pastoral hand touched every corner of the Providence College community for more than five decades, died on Wednesday, Jan. 11, at the Priory of St. Thomas Aquinas on campus. He was 81.
One of the most visible and revered Dominicans in the College's 100-year history, Father Peterson served his alma mater for 52 years. For the past 10½ years, he endeared himself to legions of graduates as the national chaplain of the National Alumni Association. In that role, he directed a chaplaincy team that also composed Rev. J. Stuart McPhail, O.P. '61 and Rev. James F. Quigley, O.P. '60.
Father Peterson began service at PC in 1964 as assistant bursar/assistant treasurer and as a theology instructor. Among his numerous contributions, he was the founder of the Office of Student Financial Aid and served as its first director. He also was College treasurer and assistant dean of admission.
A member of the Dominican Province of St. Joseph, Father Peterson was a priest for 54 years. He entered the Dominican Order in 1955 and was ordained on June 14, 1962, at St. Dominic Church in Washington, D.C. He was the brother of the late Rev. Thomas R. Peterson, O.P. '51, who served as the College's ninth president from 1971-1985.
A native of Newark, N.J., who grew up in a Dominican-run parish, Father Peterson was known as much for his warmth and humility as he was for his extraordinary commitment to Providence College. He served and supported the College and its varied constituencies with conviction, vision, and sensitivity, no matter where his responsibilities and conscience carried him.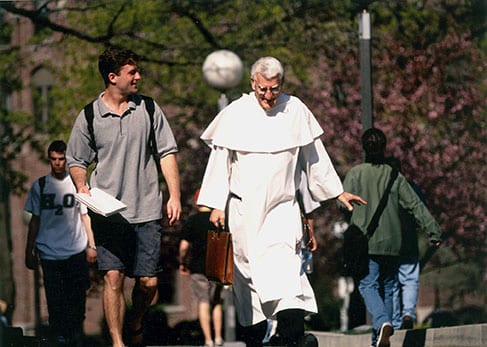 His reach was far, extending to the highest administrative offices, and was seen and felt across campus. On the business side, he worked in the treasurer's, financial aid, bursar's, admission, and residence life offices, as well as in the School of Continuing Education. He taught theology for more than 20 years.
At various times, he served as the director of the work-study program and the pre-ecclesiastical program, moderator of the Figure Skating Club, and was a devoted fan of Friars' men's ice hockey.
His dearest responsibility, however, was likely his last contribution as the spiritual leader of the alumni association, where his ministerial efforts were unequaled, according to alumni and colleagues in the Office of Institutional Advancement.
"If you had to put a face on PC and the Dominican Community, you couldn't find a better one than Father John Peterson," said College historian Dr. Richard J. Grace '62, professor emeritus of history.
"Even though he had prominent roles, he was never self-important about those things," he added. "He was a humble man with a great sense of humor … just a good person."
Grace said he was gratified to have had the opportunity to spend two hours chatting with Father Peterson about the College's history one day last summer under a gazebo at a health care facility in Cumberland, R.I. "It was a most pleasant time," punctuated by Father's anecdotes and lighthearted comments.
"He had a good bag of stories to tell people, and they were always good-natured stories. He had a way of engaging people without being lengthy," said Grace.
Another member of the College community who was enamored with Father Peterson's storytelling was Nancy M. Eagan '83, senior associate dean of admission, an office in which he worked from 1994-2006.
Father Peterson "seldom was at a loss to share a story or a quote" to illustrate a point, said Eagan. Oftentimes, his stories would be accompanied by "spot on" impersonations, she noted, recalling he was particularly adept at mimicking Henry Kissinger.
Eagan, whose PC roommate, Ginny Peterson '83, was Father Peterson's niece, said her colleagues and she valued his good nature, humor, and counsel. He embodied the most precious of Dominican ideals, she said, including the patience to make others see God's plan in the face of personal challenges and the ability to point out "the good and special qualities we all possess … and help us to see those qualities in ourselves and others."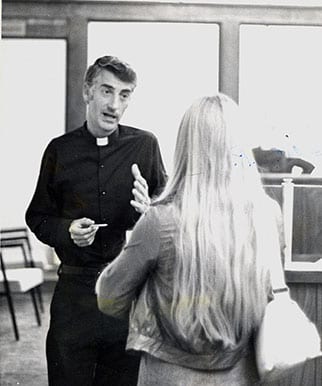 While his position in admission was a new direction at that point of his career — following five years of serving the Province of St. Joseph — Father Peterson embraced his role as assistant dean. For many years, he coordinated the highly successful Alumni/ae Admission Associates Program, a national outreach to prospective students.
His purpose as a dean was quite clear to Father Peterson, who said in 1996: "Each student has a pulse, and I try to find that. At PC, a student applicant is much more than a Social Security number or a computer printout page. We prize the personal and familial dimension beyond all telling."
Father Peterson's supervisor and Dominican brother, Rev. R. Gabriel Pivarnik, O.P., vice president for mission and ministry, recalled that he was one of the first members of the Dominican Community to reach out to him when he joined the College community in August 2006.
"He never had anything but a kind word for me," said Father Pivarnik. "After I arrived, he pointed out to me what my gifts were for our community, and after I gave my first homily in the priory chapel, he came right up to me and complimented me."
While there was a "generational divide" between the two, Father Peterson had a special gift in the way he connected with people in conversation, said Father Pivarnik. "The way he looked at you … you knew he was looking at you. He was always present with you, not looking or thinking beyond.," he said.
And when it came to preaching and the use of language, Father Peterson was both eloquent and precise.
"He took his preaching very seriously," said Father Pivarnik. "He would craft his preaching. There was never a misplaced word — in the way he talked to you, preached, and wrote.
"Sometimes you would wonder, 'Where is he going with this? I know he has a point.' Your mind would be wrapped up. He was brilliant about the way he preached. He always created a scene and brought you into the story."
The value and dignity of the person that Father Peterson embraced was perhaps his hallmark quality. The College community is filled with members who have their "Father John" stories and memories about his genuine sensitivity to others experiencing joys or, more telling, tragedy, such as a terminal illness or death.
Longtime alumni/development administrator Joseph P. Brum '68, retired special assistant to the president for development projects, said Father Peterson attended thousands of wakes, funerals, and weddings over the years, including when he served as alumni chaplain. He recalled Father Peterson's visits to his mother-in-law before she passed away, and what a pillar of support he was for the family.
"Father John would walk in unannounced … that's the kind of thing he did. It was a very humble and quiet ministry, between him and the people to whom he was ministering," said Brum.
Guyde A. Lombari, Jr. '81G, who worked at PC from 1978-2008, first in business operations, then as controller, and later as Department of Athletics' ticket manager, said he was beset with cancer three times during his service at PC, and Father Peterson was there for him each time. He particularly recalled his second bout of ill health, in 1987, when, among other things, he endured 30 days in the hospital. Father Peterson visited or called him nearly every day and would console and offer prayers and support to his wife and son, said Lombari.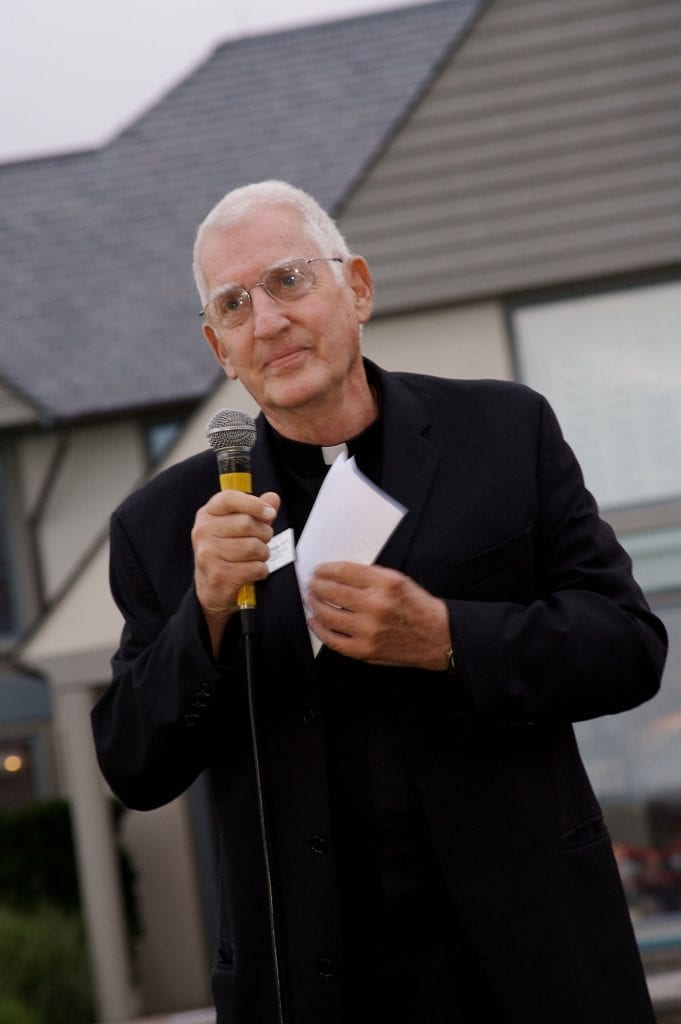 "He offered so much encouragement," said Lombari, who drove Father Peterson to his haircut appointments during the last year. "'You are going to beat this,' he'd say. He was always there for me. It was great spiritual support."
Father Peterson supported her family tremendously through difficult times in recent years, including the death of her husband, said Fay A. Rozovsky, J.D., M.P.H. '73 & '08Hon. She drew close to Father Peterson when she served as president of the NAA Board of Governors (now Council) from 2010-2012, as the two would attend alumni programs and even funerals together.
"It was pastoral care the likes of which no one else could imagine," she said.
Her husband, Lorne E. Rozovsky, was stricken with pancreatic cancer in 2012 and was sick for approximately 15 months before dying in 2013. Father Peterson called him regularly during that period. Mr. Rozovsky was so touched that, in the last week of his life, he spoke with his rabbi and asked permission for Father Peterson to be a eulogist at his memorial service in a reform synagogue in Connecticut.
"To this day, people have said to me 'I have never heard something so heartfelt,'" said Rozovsky, who noted that the day before her husband died, Father Peterson and Rev. Mark D. Nowel, O.P., PC dean of undergraduate and graduate studies, visited him to pray over him. "In the Jewish faith, that was a very special gift," she said. She added that Father Peterson continued to check on her well-being after her husband's death.
Last March, when Rozovsky and her sons, Aaron '08 and Joshua '06SCE, visited Father Peterson in Rhode Island, Aaron, who is a rabbinical student, had Father "grinning from ear to ear" when he offered a Hebrew prayer for his well-being similar to a Catholic benediction.
"We think of him as one very special person and how lucky we've been to have had him in our lives," she said.
Father Peterson's life was celebrated at a Mass of Christian Burial in St. Dominic Chapel on campus on Wednesday, Jan. 18. The principal celebrant was Very Rev. Kenneth R. Letoile, O.P. '70, prior provincial of the Dominican Province of St. Joseph and chair of the Providence College Corporation. Concelebrants included approximately 20 Dominican Friars of the Priory of St. Thomas Aquinas, as well as visiting Dominican Friars and visiting clergy. Committal followed in the Dominican Friars' Cemetery on campus.
To read Father Peterson's obituary, go to www.boyleandsonfuneralhome.com 
In lieu of flowers, donations in Father Peterson's memory may be made to Providence College, Office of Institutional Advancement, 1 Cunningham Square, Providence, RI  02918, for the Fr. John S. Peterson, O.P., Scholarship Fund, which was established in 2005.