February 01, 2019
College mourns the death of Dr. Kenneth R. Walker, Sr. '57 & '83Hon.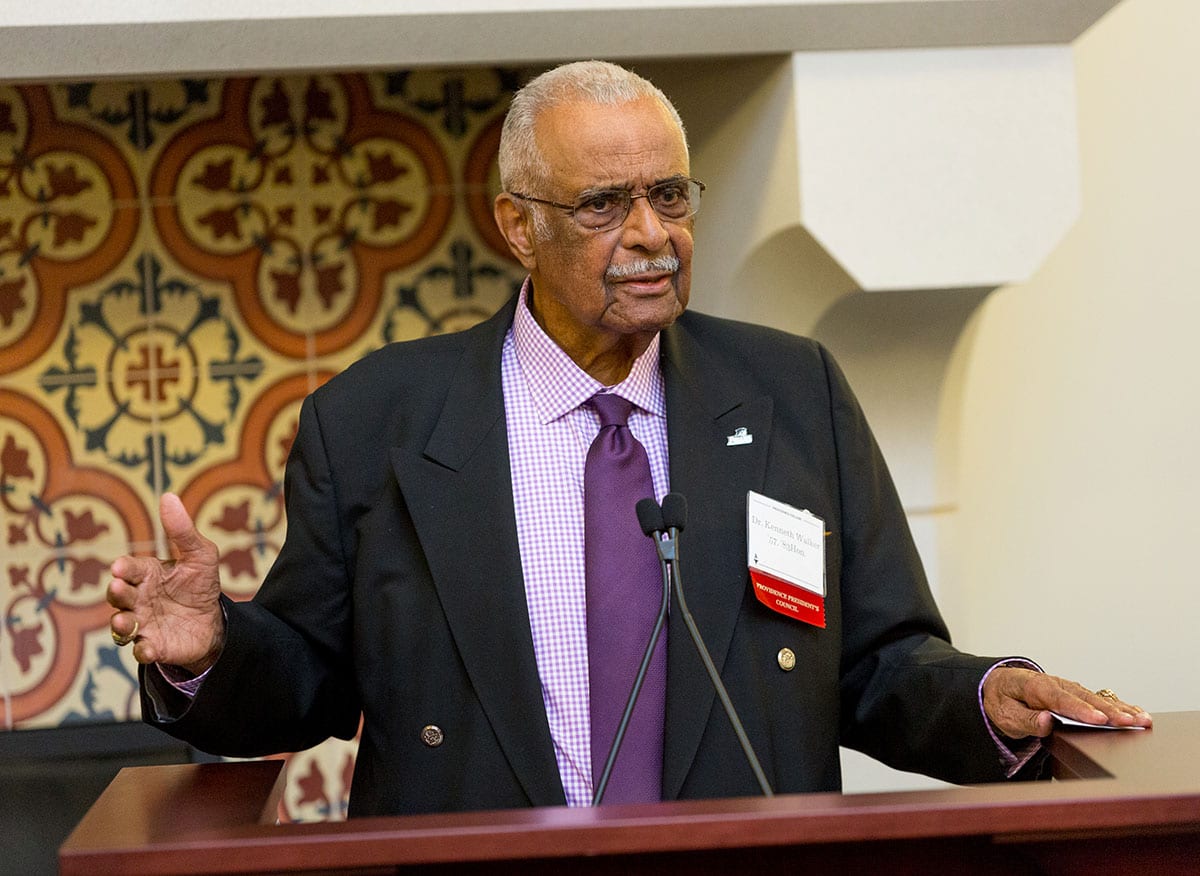 Dr. Kenneth R. Walker, Sr. '57 & '83Hon., a counselor, mentor, and friend to legions of people at Providence College and the community, died on Jan. 30 at Philip Hulitar Inpatient Center in Providence.   
Dr. Walker, who grew up in East Providence, graduated from PC as an education major and went on to dedicate his life to urban education. He earned master's and doctoral degrees in education from Rhode Island College and Boston University, respectively. He was a teacher, coach, guidance counselor, and administrator in the East Providence public school system. He later became a professor of secondary education at Rhode Island College and taught graduate education courses at Johnson & Wales University.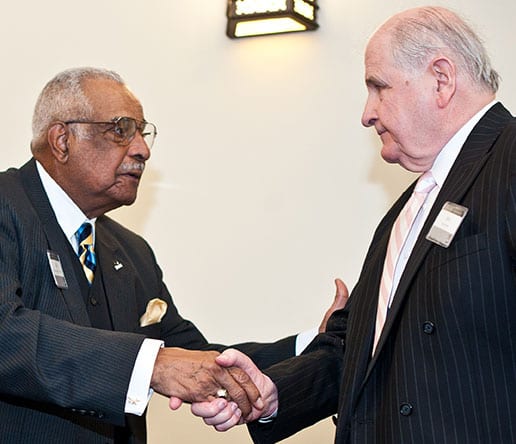 Among his many community contributions and accomplishments, Dr. Walker was perhaps best known for his dedicated service on the Rhode Island Parole Board. He served the board for more than 35 years, including six as chair, earning a reputation for his compassion and sense of fairness, particularly for the circumstances of youths and young adults.  
At PC, Dr. Walker served as a member of the Providence President's Council for more than 20 years. A former NCAA and Rhode Island Interscholastic League basketball official, he was a mentor to the Friars' men's basketball team. He oftentimes traveled with the team and most recently attended games in Maryland and Connecticut in November.   
Dr. Walker also frequently attended alumni and College events, and was honored by his alma mater several times. He received an honorary doctor of social science degree in 1983 and was presented with the National Alumni Association's Exemplary Citizenship Award in 1993.    
In 2008, longtime friend John Murphy, the founder of Home Loan Investment Bank, FSB, in Warwick, R.I., honored Dr. Walker by establishing the Dr. Kenneth Walker '57 Family Scholarship Fund. The gesture was made in gratitude for the thousands of people Dr. Walker inspired in the various facets of his life, especially urban youths. The fund provides financial support for African-American students who major in education at PC.  
President Rev. Brian J. Shanley, O.P. '80 said the entire College community mourns Dr. Walker's death, making special note of his President's Council service and his way of embodying the scholarship fund for minority students that Murphy created.   
"But I suspect he is most remembered and revered on our campus for his work as a mentor to countless faculty, staff, and students over the years," said Father Shanley. "As was his way, this work was quiet, behind the scenes, and without fanfare. But it was powerful, and he made a significant difference for the better in the lives of so many people at Providence College. We extend our deepest sympathies to Dr. Walker's family, as well as our sincere gratitude for a life well-lived, full of generosity and a willingness to share his knowledge to make the world a better place."  
Dr. Walker is survived by his wife, Gail B. (Smith) Walker; two daughters, Leanne Walker-Beard and Michele Walker-Angell; a son, Kenneth R. Walker, Jr.; six grandchildren; a sister, Arline Walker; and a brother, Frank R. Walker, III.  
A funeral service for Dr. Walker will be held on Wednesday, Feb. 6, at 11 a.m. at the Faith Christian Center, 95 Sagamore Road, Seekonk, Mass. Calling hours are respectfully omitted. 
Gifts in his memory may be made to the Dr. Kenneth Walker '57 Family Scholarship Fund, in care of Providence College, Office of Institutional Advancement, 1 Cunningham Square, Providence, RI 02918.
For more on Dr. Walker's life: https://www.wrwatsonfuneralhome.com/obituary/dr-kenneth-r-walker-sr/