May 20, 2012
2012 Commencement Address by Viola Davis '12Hon.
Academy Award nominee Viola Davis, the actress with Rhode Island roots who has won critical acclaim for her portrayals on the screen and stage, presented the Commencement Address at Providence College's Ninety-Fourth Commencement Exercises on Sunday, May 20. Her address begins at 2:55 in the video above.
Awarding-Winning Actress Viola Davis Inspires Graduates to 'Go Out and Live!'
The acclaimed actress Viola Davis, renowned for her ability to convey deep emotion with a simple look, brought her dramatic flair to a new stage, inspiring graduates of Providence College to discover their "authentic selves" and never stop seeking their purpose.
Davis, a native of Central Falls, R.I., was awarded an honorary doctor of fine arts degree by the College during its Ninety-Fourth Commencement Exercises on May 20. She said she would have given a different Commencement Address 10 years ago, before she married, became a mother, and endured the death of her father.
"I would've made a lot of stuff up and been very self-congratulatory," said Davis. "Thank God this is not 10 years ago."
Flashbulbs popped around the Dunkin' Donuts Center as College President Rev. Brian J. Shanley, O.P. '80 introduced Davis, calling her "an inspiring role model for those who seek to overcome adversity" through perseverance, hope, and faith.
"Your passion and talent have carried you from the humblest of beginnings to hard-earned success and fame," said Dr. Hugh F. Lena, provost and senior vice president for academic affairs. "Known for your rare talent and uncommon perseverance, you have thrived in the most competitive and demanding environments, earning widespread accolades and universal respect."
A metaphor for life
Davis, who was nominated for an Academy Award for her performance in the 2011 movie The Help, spoke about a conversation she once had with a friend who lamented that no one ever said how difficult life really was — that only 2-year-olds and 80-year-old billionaires were "really happy."
Davis said that idea "marinated in my head" until it reminded her of a famous scene in the movie The Exorcist, in which the mother of a teenage girl possessed by a demon finds two words scratched on her daughter's stomach: "Help me."
Davis, who has won Screen Actors Guild, Tony, and Drama Desk awards, called those words "a metaphor for life."
"I'm going to hit you with something really deep," Davis told the graduates. "Your authentic self is trapped under the most negative forces of this world."
Those negative forces, also a kind of "demonic possession," include everyone else's expectations and desires, other people's definitions of success, the quest for money and possessions, and the notion of entitlement without responsibility, Davis said.
The two most important days in one's life are "the day you were born, and the day you discover why you were born," she said.
"Sometimes in life, you will veer off course, but all the while, the purpose of your life, that which you were divinely made for, will be right in front of you," Davis said.
"Being who you are"
When she was young, Davis said she had no vision of the person she would eventually be — of the 38-year-old woman being married for the first time, the 42-year-old woman at the bedside of her dying father, or the 46-year-old mother of a 2-year-old child. "Yet here I am," she said.
"The privilege of a life is being who you are," said Davis. "And as for the demons, you exorcise them."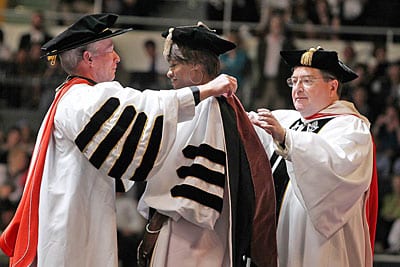 When people ask their purpose in life, Davis said she tells them, "You know." And to those who say they know their purpose, she advises: "Jump!"
Reminding the audience, "Hey, you asked an actor to give your commencement speech," Davis closed with dramatic flair, relaying the "eternal message" of Topsy Washington, a character in George C. Wolfe's play The Colored Museum.
In the play, Topsy imagines a fancy party in New York City, "somewhere between 125th Street and infinity," where "Nat Turner sips champagne out of Eartha Kitt's slipper" and "Angela Davis and Aunt Jemima are in the kitchen talking about South Africa."
Through the monologue, Topsy decides to put her rage about the past behind her, so she can "go about the business of being me," expressing herself through her speech, her walk, her hair, her God, and her smile.
"Don't try to define me," Davis quoted from the play. "I'm not the person I was 10 years ago, or 10 minutes ago. I'm all of that and then some."
"To the 1,200 heroes of Providence College, your commencement brings a call to adventure," said Davis. "So I say, 'Go out and live!'"
Importance of faith
In an interview before commencement, Davis said it was an honor to return to Rhode Island for the PC commencement. During the week, she also will receive honors from Trinity Repertory Co., where she began her acting career, and Brown University. Davis is a graduate of Rhode Island College and The Juilliard School.
"It's a feeling that my life has come full circle," Davis said. "The geeky girl from Central Falls who could never get a date, with an Afro like a triangle, always out of place … it's every girl's dream: to leave a geek and come back a little bit of a princess."
Davis also spoke about making time for faith in her life. With her husband, actor Julius Tennon, she attends a non-denominational church near their home in Los Angeles.
"I remind myself when I've overwhelmed that I have God to turn to, that he can relieve the worry and the anxiety," Davis said. "And every time I pray, which I do often, my worry is relieved. I'm reminded that all of my needs are absolutely taken care of."
— Vicki-Ann Downing