January 21, 2022
Daughters of MLK and Malcolm X speak at fifth annual MLK Convocation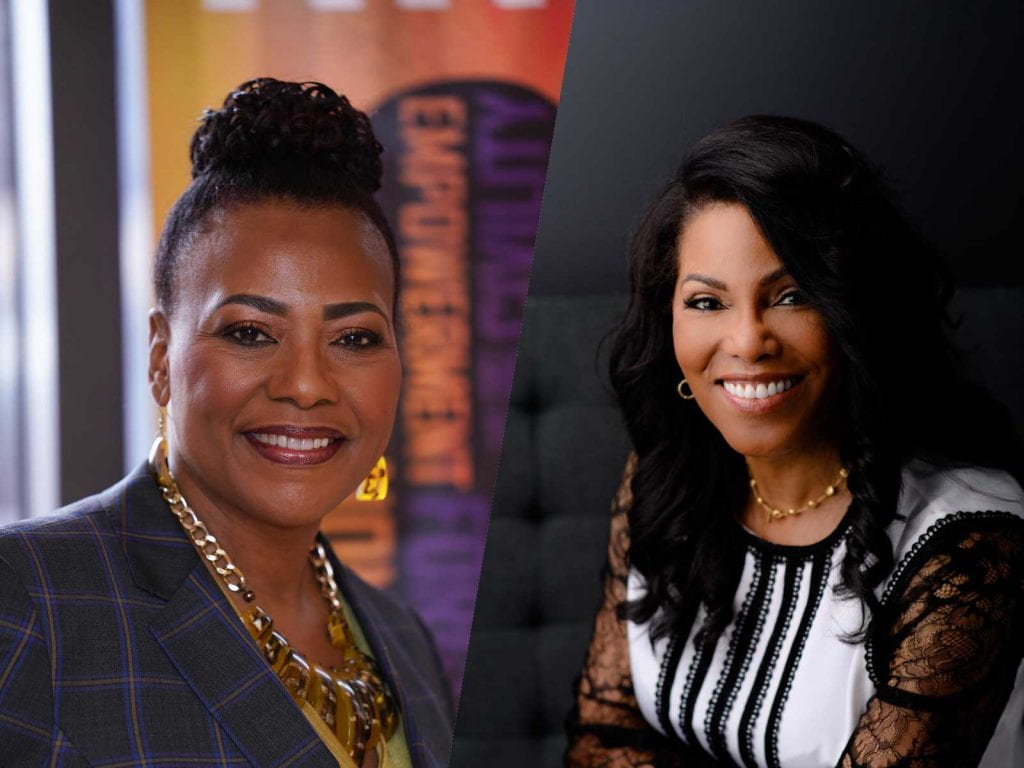 By Michael Hagan '15, '19G
Dr. Bernice A. King and Professor Ilyasah Shabazz, daughters of iconic civil rights movement leaders Rev. Dr. Martin Luther King, Jr. and Malcolm X, addressed the Providence College community at the college's fifth annual Rev. Dr. Martin Luther King, Jr. Convocation on Thursday, January 20, 2022.
Held in a virtual format due to the nationwide surge in COVID-19 infections, the event featured introductory remarks by Dr. Sean F. Reid, provost and senior vice president for academic affairs, and Rev. Kenneth R. Sicard, O.P. '78, '82G, college president. Pamela Tremblay, director of service immersion and social justice in campus ministry, offered an invocation, and Dr. Wanda S. Ingram '75, senior associate dean of undergraduate studies and co-architect of the college's MLK Convocation Month, introduced King and Shabazz. Ingram and Brittney S. Smith '23 (Brockton, Mass.), a marketing major, Black studies minor, and MLK Scholar, moderated a discussion with the two guests.
King is an ordained minister and CEO of the Martin Luther King, Jr. Center for Nonviolent Social Change, where she leads the Nonviolence365 training initiative to advance her father's approach of radical nonviolence, described by Dr. King as "a courageous confrontation of evil by love." Shabazz is an award-winning writer, educator, and producer and co-chair of the Malcolm X & Dr. Betty Shabazz Memorial and Educational Center. She teaches at John Jay College of Criminal Justice in New York City.
Brittney S. Smith '23 (Brockton, Mass.) asks, "When did you come to realize who your father was and what did that mean to you?"
King and Shabazz were both children when their fathers were assassinated. At 5 years old, King was asleep when her father was murdered in 1968 in Memphis, Tenn., where he traveled to support Black city sanitation workers on strike. The 2-year-old Shabazz was present with her mother and sisters when her father was assassinated in New York City in 1965, though she has no recollection of the events. The women were raised by their mothers, Coretta Scott King and Dr. Betty Shabazz.
MLK Convocation at PC celebrates Dr. King's vision, work, and legacy, but speakers in recent years have spoken to the legacies of other titans of movements for civil and human rights. Ndaba Mandela spoke in 2020 about his grandfather, Nelson Mandela, father of post-Apartheid South Africa. Rev. Nontombi Naomi Tutu spoke in 2019 of the Christian witness of her father, Archbishop Desmond Tutu, against the Apartheid regime. Last year, NBA Hall of Famer and all-time points leader Kareem Abdul Jabbar spoke of his own career and activism, for which President Barack Obama awarded him the Presidential Medal of Freedom in 2016.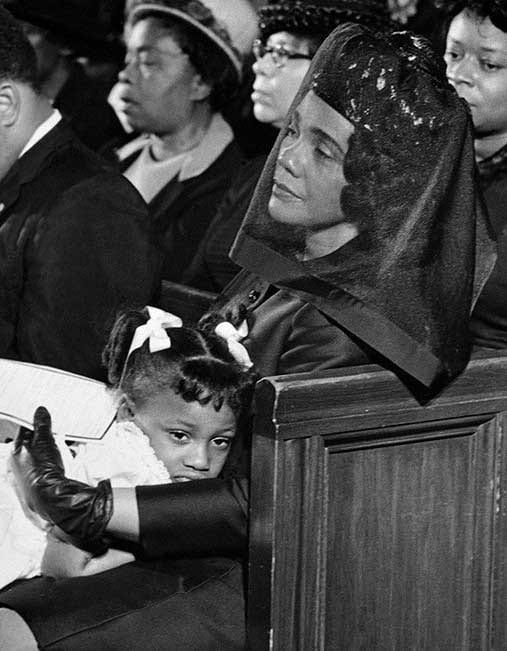 This year's program was unique in its focus on King and Shabazz's mothers, widows who carried on their murdered husbands' work and helped to cement their legacies through scholarship, activism, and the establishment of foundations. It took place during the college's year-long celebration of the arrival of the first class to include female undergraduates 50 years ago.
For Coretta Scott King and Dr. Betty Shabazz, sustaining the movement was vital, but family was paramount. Both had to explain the assassinations of their husbands to their young children. Both protected their families from the society's intrusive eyes, creating what Ilyasah Shabazz described as "a bubble of love … insulated from the harsh negativity of the world." King described how her mother taught her not to hate the person who murdered her father, a difficult lesson for a child violently robbed of a parent.
King and Shabazz described the unique pressures of growing up as the daughters of civil rights icons. "When I went to college, people were absolutely surprised that I was Malcolm X's daughter," said Shabazz. "They had so many expectations. You know, I likely was not who they envision their hero Malcolm's daughter to be." Distraught, Shabazz turned to her sister, who told her, "You don't have to pass a test to be Malcolm X's daughter. Whoever you are is fine."
Dr. Wanda S. Ingram '75 asks, "What were some of the important lessons you learned from your mothers that have shaped who you are today?"
Asked what they wish people knew about their fathers, both women pointed to underappreciated aspects of their fathers' politics and vision.
"A lot of people don't even know that my father worked a lot toward economic equity and justice," said King. In the era of the civil rights movement, the war on poverty, and the war in Vietnam, Dr. King fought "the triple evils of poverty, racism, and militarism."
Shabazz described her father's vision of internationalized struggle for human and civil rights, which bolstered a sense of pan-Africanism that informs Shabazz's work as an educator.
Asked about the perception that their fathers disagreed in their approaches to activism, Shabazz offered a comparison: "When we learn about George Washington and Thomas Jefferson, we learn about the significant contributions of each. They're not pitted against one another … Our fathers were never enemies. They had philosophical differences." King said, "I recall the picture of Ilyasah's father and my father, that picture we see a lot on social media. I appreciate it because it shows a common bond between the two men. You don't see angst. You see them both smiling … They are not opposites. They were brothers in a struggle."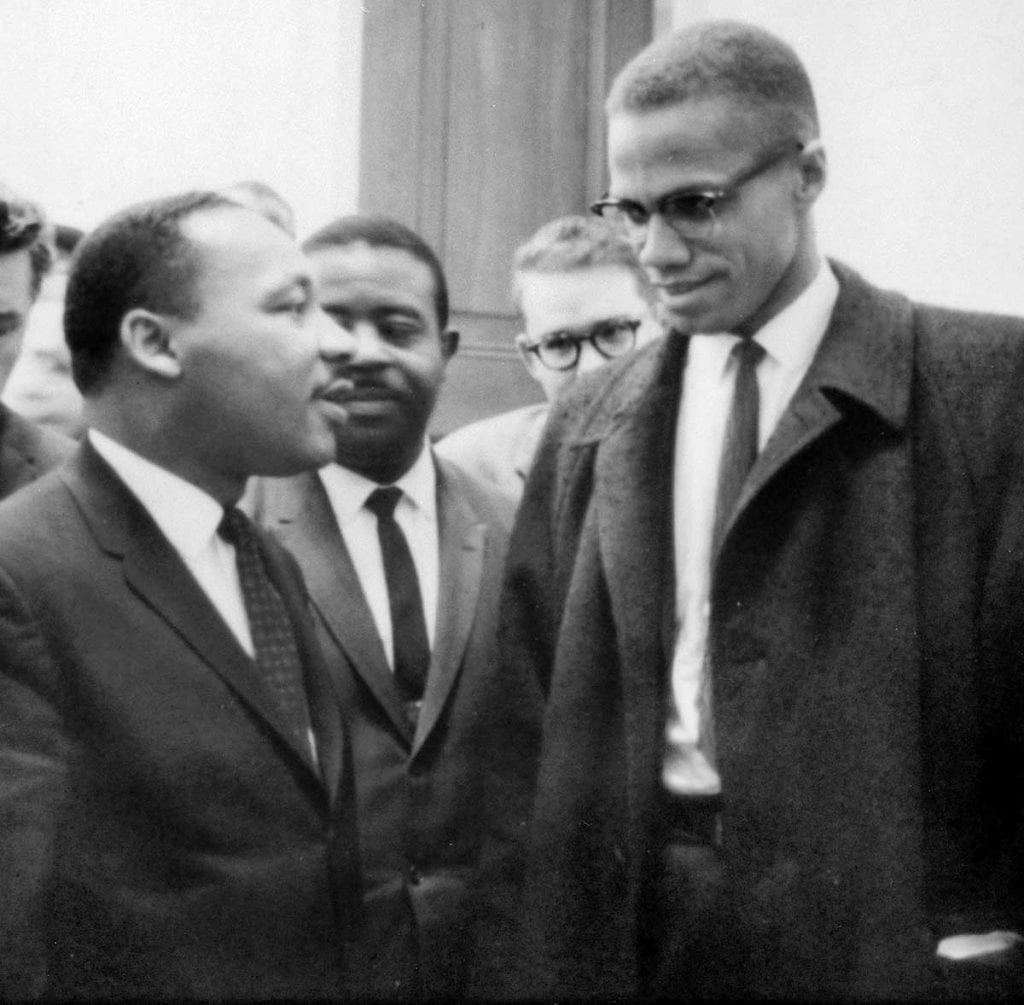 Shabazz described the special bond between Coretta Scott King and Dr. Betty Shabazz that carries on in their children, referring to Coretta Scott King as "Aunt Coretta."
It was King's second time speaking to the Providence College community. Both times, she was asked how PC could realize her father's vision of a "beloved community." She offered her father's metaphor of "the great world house" built of diverse cultures and experiences in which all live. Quoting her father, King said, "Somehow we must learn how to live together as brothers and sisters, or else we will perish as fools."
Drawing from her Islamic faith, Shabazz offered a similar message, "If we believe in the oneness of God, we can believe in the oneness of man. A renewal of our human spirit is indispensably crucial to igniting an international movement."
By their very presence, King and Shabazz reminded the audience that their fathers' courageous careers and violent deaths occurred not even a lifetime ago. Asked when they feel closest to their fathers, they answered in carrying on their work and repeating their words.
"I don't know how to explain this to anybody, but there are times when I feel like I was there when all of this was happening. When I start speaking his words, it transports me. Those are the moments when I feel like I'm tapping into his spirit," said King.
"Dr. King's words still ring true. The arc of the moral universe is long, but it bends toward justice," said Shabazz.
"And we help to bend that arc," said King.
More Providence College news
Previous MLK Convocations