February 17, 2019
Dominicans' residence hall chaplaincy hits home with students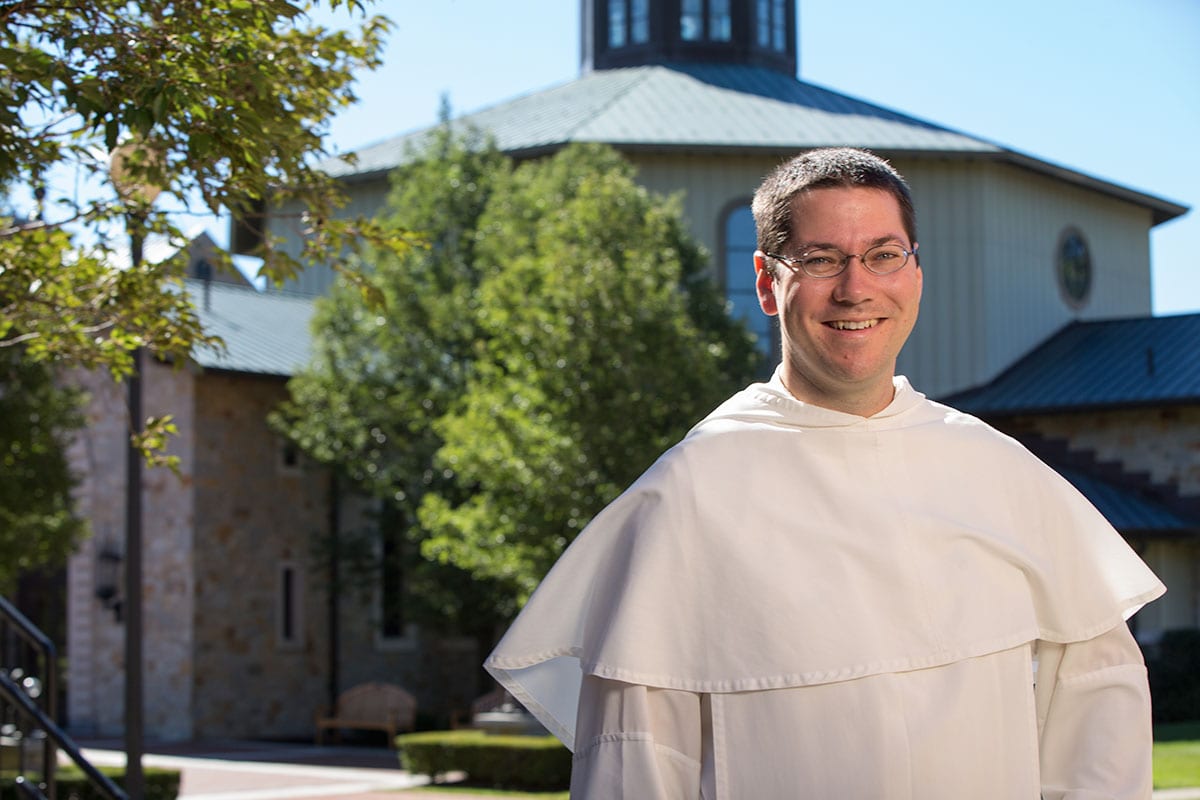 By Charles C. Joyce
There's a decidedly Dominican presence in all the College's residence halls this academic year, to the satisfaction of students and in particular, resident assistants.
Following discussions that began with the Office of Residence Life in 2017, the Office of the Chaplain assigned chaplains to serve all the residential halls on campus at the start of the 2018-19 academic year. Eleven Dominican friars are ministering to student-residents in the 14 halls, with one Dominican each staffing the west (three buildings) and east (two buildings) apartment complexes. Only three Dominicans actually live in residence halls, with the rest residing in the Priory of St. Thomas Aquinas. Nearly 3,100 students live on campus.
College Chaplain Rev. Peter Martyr Yungwirth, O.P. said the intent is for the Dominican community to better serve the spiritual and personal needs of students and to work more closely with residence life in achieving that goal. In particular, the chaplains want to build rapport with and support for hall RAs, he said, noting that oftentimes when students are struggling, one of the first people they turn to is their floor RA.
"We wanted to provide another resource. If someone is connected with an individual Dominican, it will help them," said Father Peter Martyr.
Jana L. Valentine, director of residence life, said it's apparent the Dominican presence in residence halls is making a significant difference.
"This initiative has been instrumental with incorporating the mission of the College into the day-to-day life in each residence hall. The chaplains have truly contributed to the residence hall communities, from facilitating room blessings and meeting with the RAs to connecting with residents and assisting in difficult situations," said Valentine.
Father Peter Martyr said the program is "still unfolding," and while the chaplain's office "doesn't have all the answers yet," the hope is that the residence hall ministry will become a highly regarded fixture at the College. Chaplains have enjoyed getting to know and helping the RAs, and feedback from students has been positive, he added.
"I've had conversations I wouldn't have had unless I set up office hours," said Father Peter Martyr, who is the chaplain at Aquinas Hall, where women and men who are sophomores live.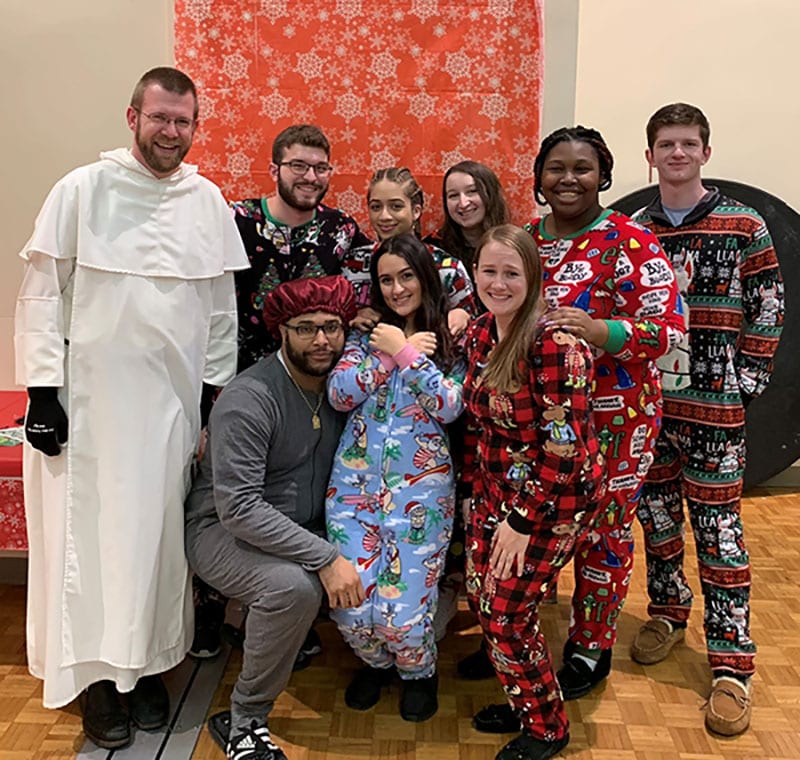 Many of the other Dominicans also offer specific office hours, but there are no formal guidelines for the chaplains.
At Aquinas Hall, Father Peter Martyr held office hours on Wednesdays during the fall semester and attended weekly RA staff meetings, listening and offering thoughts and suggestions. During office hours, he sat in a high-traffic spot on the first floor. Students who live in the hall were aware of his schedule, and many would stop by and say hello when he was not already meeting with a student, said Colleen DaCosta '19 (Acushnet, Mass.), a third-year RA who is in her second year as a head RA.
"It's amazing having Father Peter Martyr there and being a part of the staff dynamic," said DaCosta, noting he helps the RA staff with event and program planning. "This is something I wished we had when I was a sophomore. It gives it a little more special feel here.
"It's been awesome," she continued. "Father is such an amazing person. He is so engaged and proactive. He takes the role very seriously." The chaplain and the RA staff have been discussing programming for the spring semester, including the possibility of a hall Mass and an event involving the story, life, and theology of St. Thomas Aquinas.
Next door at McVinney Hall, the tallest building on campus and the home to approximately 300 first-year women, Rev. Isaac Morales, O.P. found similarities in his chaplaincy ministry. In his first year at PC as an assistant professor of theology, he immediately sprang to action as hall chaplain, greeting and introducing himself to students and parents on move-in day in August.
During the fall semester, Father Isaac blessed individual rooms, attended RA staff meetings, and held weekly office hours on Thursday afternoons. Some students stopped by just for small talk while others had specific concerns and needs, including wanting him to hear their confessions.
"My residents seemed excited and grateful," said Father Isaac. "The idea is for them to be aware of our presence and to be visible to them."
The presence and pastoral care of the Dominican hall chaplains made a significant — and sharply different — impact in the fall semester, said two other RAs. Estarlyn Hiraldo '21 (Lawrence, Mass.), a first-year RA, found Assistant College Chaplain Rev. Bonaventure Chapman, O.P., the chaplain at St. Joseph Hall, to be extremely sensitive and helpful to him and others when a male student on his floor died suddenly in October.
"It was very traumatic. Father Bonaventure made the difference. He supported us (the RA staff and other student residents) all the way through," said Hiraldo. Father Bonaventure made himself available to meet or speak with him at any time and would text or call him to check on his well-being.
Father Bonaventure was a steady, inspiring presence to other residents of the mostly sophomore, all-male hall, said Hiraldo. While second-year students may not be as needy as those new to college, he said students came to Father Bonaventure during his office hours on Monday nights and found him engaging, open-minded, and friendly.
Kelli Jenney '19 (Ossining, N.Y.), who is in her third year as an RA and who is the head RA at Meagher Hall, said from her experience, having a hall chaplain is helping students connect more with their faith. Meagher, which has first-year and sophomore woman residents, is served by Rev. Michael Weibley, O.P., associate College chaplain.
"Lots of times, students will go to Mass and that's it. It's special to know there is somebody there who's there to help you with your faith," said Jenney.
Jenney said she saw more students from Meagher attending Mass in St. Dominic Chapel and talking about their spiritual lives than she witnessed at other residence halls in the past. That's attributable to the warmth and frequent outreach Father Michael exhibits, she said. In addition to blessing the hall and individual rooms early in the academic year, he held office hours every Thursday in the fall, sitting at the security desk and offering smiles to every resident who passed by him. He used a hall office when students wanted to go to confession or otherwise speak with him.
Father Michael also communicated with staff and students in other ways, said Jenney. Every few weeks, he checked in by email and frequently reminded residents and staff of campus events and programs he felt might benefit them. He also kept in touch with residence hall staff, including Jenney, and attended RA staff meetings, in an effort to get to know all the staff.
"He's just a welcoming smile for a lot of our residents," said Jenney. "They'll stop by and say things like, 'I took your advice.' He'll ask them about their papers, and if they seem stressed out by studies or exams, he likes to say, 'Jesus still loves you, no matter what.'
"People have come to know him and like him there. He makes people feel so comfortable," she said.