December 21, 2017
Doris Burke '87, '92G, & '05Hon. in the news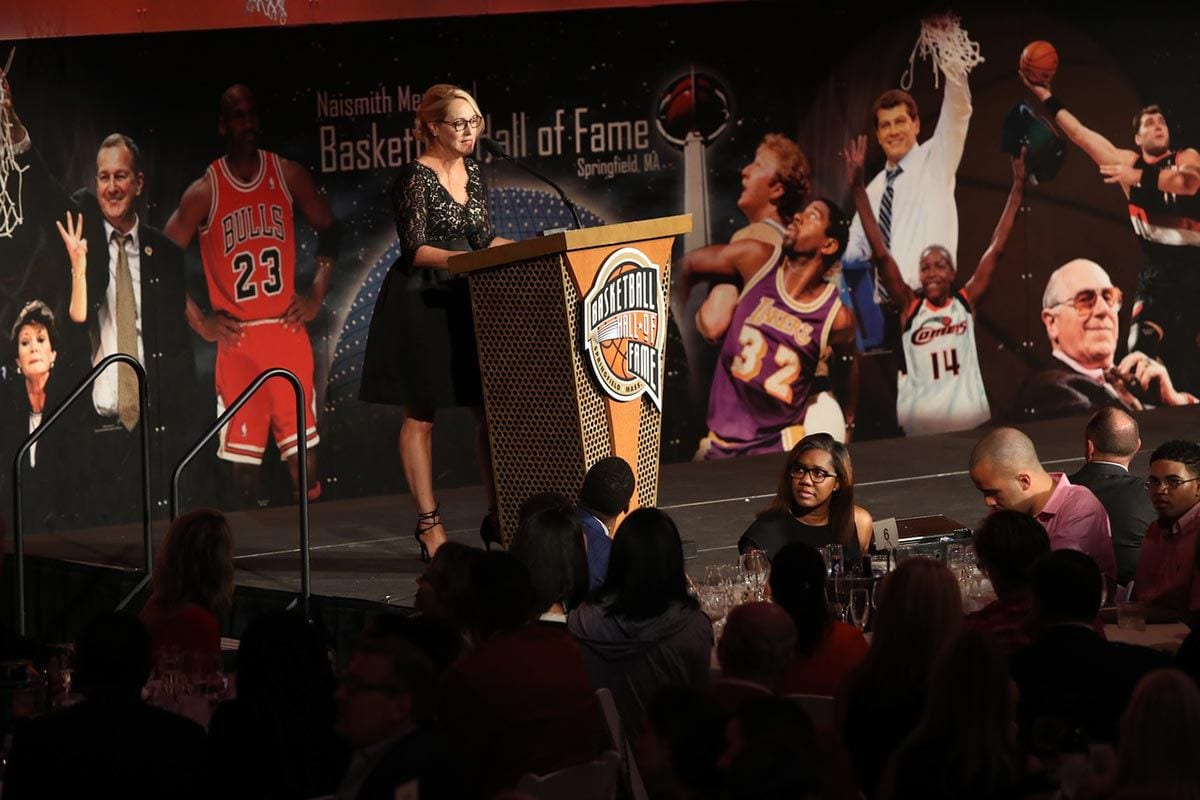 The achievements and accolades just keep coming for Doris Burke '87, '92G, & '05Hon.
In 2020, Burke became the first woman to call the conference finals and NBA Finals for ESPN Radio. She is the first woman to call the finals on any broadcast platform — radio or television.
In February 2018, the Naismith Memorial Basketball Hall of Fame announced that Burke would receive the 2018 Curt Gowdy Media Award. Watch a retrospective of her ESPN career.
In September 2018, Burke was named a regular NBA game analyst by ESPN — the first woman to do so full time at the national level.
In June 2017, she was recognized as a Woman of the Year by Women in Sports & Events (WISE), and in October of that year, she received the Joe Lapchick Character Award.
A visit to Providence College
Burke, a former Providence College basketball player and assistant women's basketball coach, described her basketball life in an address during Alumni & Family Weekend on Feb. 11, 2017. Read her story and watch a video of the event.
Read more about Burke's accomplishments:
Q&A with Doris Burke on Life Inside the NBA Bubble" in The New Yorker, Sept. 30, 2020
"Doris Burke will make history calling the NBA Finals. How the N.J. native became basketball's best announcer" in nj.com, Sept. 20, 2020
"In Praise of Doris Burke, Basketball's Best TV Analyst" in the New Yorker, June 13, 2019
"NBA Analyst Doris Burke Is Blazing a Trail in Sportscasting" in Time, Nov. 15, 2018
"Doris Burke Has Game" in the New York Times' Business Day section, April 28, 2018
Doris Burke named one of the most powerful women in U.S. sports by Forbes Magazine, 2018
"Doris Burke Wants More Women in Sports Media" in the New York Times Magazine, Dec. 20, 2017
"For Doris Burke, Having Game Is All That Matters" in Sports Illustrated, Dec. 18, 2017
"Doris Burke's Expertise Is Finally Paying Off" in The Atlantic, Oct. 31, 2017
"Doris Burke Is Finally Doing The NBA Analysis She Deserves" on Deadspin, Oct. 19, 2017
Providence College podcast with Doris Burke '87, '92G, & '05 Hon.