November 19, 2019
Dr. Edward E. Andrews '01 makes history as alumnus in winning PC's top faculty teaching award
By Vicki-Ann Downing
Dr. Edward E. Andrews '01, associate professor of history, is the recipient of the 2018-19 Joseph R. Accinno Faculty Teaching Award, the College's highest teaching honor. It is presented each year to the faculty member who exhibits excellence in teaching, passion and enthusiasm for learning, and genuine concern for students' academic and personal growth.
Andrews is the first PC undergraduate alumnus to receive the award in its 17-year history. (His colleague, Dr. Margaret M. Manchester '83G, associate professor of history, who has a graduate degree from the College, won the Accinno Award in 2006-07.) He brings to the classroom the perspective of a former student. During his time on campus, courses in PC's signature academic program, the Development of Western Civilization, were taught in the Feinstein Academic Center and Moore Hall, in-person course registration took place in Harkins Hall, and students waited in line to check their email at Accinno Hall. '
"The buildings, facilities, and technology on campus today are incredible," Andrews said.
Andrews joined the PC faculty in 2010 after earning a master's degree in history from American University and a Ph.D. in early American history from the University of New Hampshire. For him, PC has been a great place to teach and to learn about teaching.
"I'm inspired by my colleagues," Andrews said. "I borrow a lot from what they do. Our faculty in history are fantastic scholars and researchers, but even better teachers. We have a lot of amazing teachers here at PC. It's inspiring to be teaching with them and also learning from them."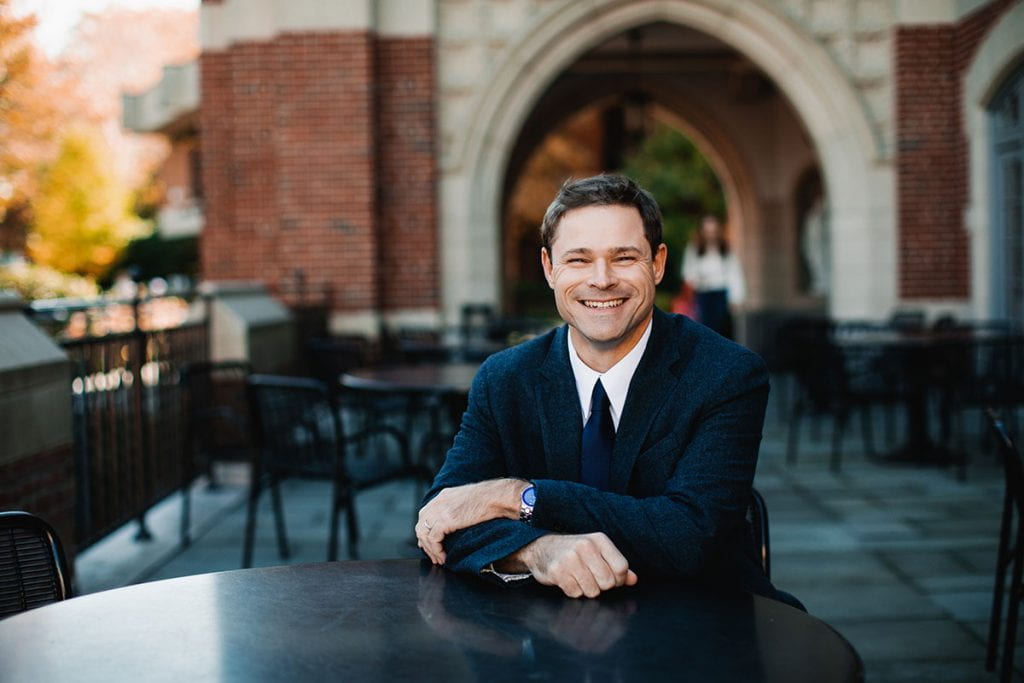 Andrews grew up in Laconia, N.H. In high school, history was his least favorite subject. He remembers it being taught as a dry recitation of dates. He came to PC as an undeclared major in the Liberal Arts Honors Program with an interest in studying philosophy or political science. He knew the College's academic reputation because his uncle, Dr. Stephen W. Schultz '62, was a mathematics professor at PC for many years.
Andrews took his first PC history course to fulfill a social science requirement. In the classroom he encountered "the loud, enthusiastic, brash" Dr. James H. McGovern '68G, associate professor of humanities in history, who taught the subject "exactly opposite from the way I learned in high school."
"To him, history was messy, contentious, and subject to interpretation," Andrews said. "He hated Thomas Jefferson — I didn't know that was an option! But most important for me was his passion."
From McGovern, Andrews learned a love of history and the importance of bringing enthusiasm to an academic discipline — something he tries to model in every class he teaches.
"It starts with an excitement for the material and a willingness to share that," Andrews said. "I try to get students to look at it with fresh eyes. I try to ignite a passion, a curiosity, a love of learning that they may not know they have."
In a presentation during the fall 2019 semester in the Center for Teaching Excellence, "Teaching from Learning: How Acting Like a Student Can Improve Our Classrooms," Andrews described two facets to teaching. One is looking at the classroom from the perspective of a student. The other is learning from colleagues. At PC, it's easy for him to observe others, because courses in the Development of Western Civilization Program are taught by faculty teams from English, history, philosophy, and theology, and other academic disciplines.
"When it's not your turn to teach, you're in the back of the class watching someone else teach," Andrews said. "That has been transformative for me. Seeing other people practice their craft has shaped me as a teacher."
Among the many who inspire him are the professors who also taught him: Dr. Stephen J. Lynch, professor of English and a "master of humor and rapport;" Dr. Raymond L. Sickinger '71, professor of history and of public and community service studies, for the organization and structure of his lessons; and Dr. Vance G. Morgan, professor of philosophy, for his ability to simplify complex concepts and "make philosophy palatable."
Andrews' students appreciate his willingness to engage them outside the classroom.
Hugh Kilcommons '17 & '19G studied history with Andrews for six years, earning bachelor's and master's degrees, and worked as a graduate assistant in the Department of History and Classics. He now teaches history to seventh-graders at Success Academy Charter Schools in Brooklyn, N.Y.
"Dr. Andrews is a Friars' Friar," Kilcommons said. "He is welcoming, wise, and witty. He not only helped make me a better historian but a better person. He is an intellectual, yet personable and grounded. He can easily recount René Descartes and cite the Coen brothers. He is equally at home in the Ruane Center for the Humanities and the Dunkin' Donuts Center."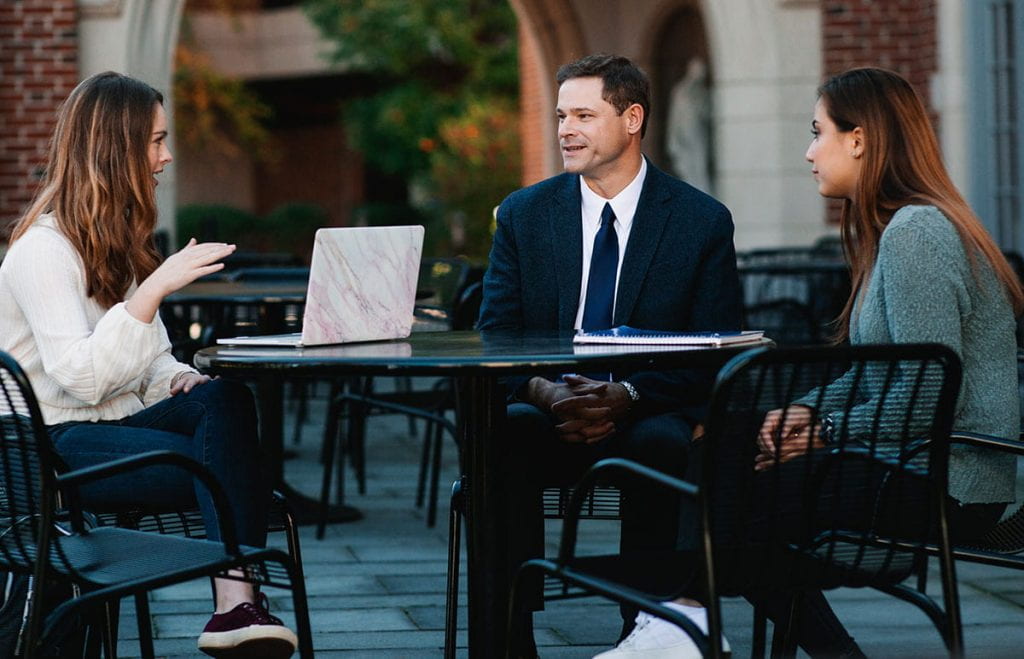 Patrick Shea '22 (Atlanta, Ga.), a history and political science major, said Andrews was the professor in his honors seminar during his first year at PC.
"His lectures are engaging, funny, easy to follow, and really interesting," Shea said. "I feel confident coming to Dr. Andrews with questions about class and about life at PC, and that's the main reason that he is one of my favorites. He genuinely cares about students, and I think that's invaluable to a college student transitioning into adulthood."
Andrews was the academic adviser for Erica Beatey '19, a history major who minored in theology and film. She now is a missionary at Damascus Catholic Mission Campus in Centerburg, Ohio.
"Dr. Andrews not only encouraged me to pursue an ambitious course load, but he also made sure that I was well equipped to carry it out," Beatey said. "His ability to teach what may otherwise be 'stale' material and turn it into something exciting and relevant is unmatched.
"Dr. Andrews sees each student as a person first and an academic second. He is a man of his word who will be sure to help you when needed, but also remembers to push you when necessary. His presence carries an authority in the room but also sets everyone at ease. It's a gift that not many master."
While devoted to his teaching, Andrews also is committed to research. He is a historian of early America with an emphasis on the cultural interactions in the British Atlantic world. His dissertation in graduate school inspired his first book, Native Apostles: Black and Indian Missionaries in the British Atlantic World (Harvard University Press, 2013).
Andrews was awarded a $6,000 grant from the National Endowment for the Humanities for research during the summer of 2013 at the University of Cambridge in England. His article, "Tranquebar: Charting the Protestant International in the British Atlantic and Beyond," was published in the prestigious academic journal William & Mary Quarterly.
Andrews now is working on his second book, a biography of Newport Gardner, an enslaved person in Newport, R.I., who purchased his freedom after winning a lottery. Gardner became a community organizer and activist, a musician and church leader. Andrews presented a lecture about Gardner at the Redwood Library and Athenaeum in Newport in March 2019. The city was a major port in the slave trade and Andrews interned there for several summers.
In February, C-SPAN came to campus to film one of Andrews' lectures about early English missions in North America. This semester, he is teaching Development of Western Civilization to first-year students with Dr. James F. Keating, associate professor of theology, and Dr. Patrick J. Macfarlane, assistant professor of philosophy. He also is chair of the Department of History and Classics.
Andrews is married to a PC alum, Mary (Von Euw) Andrews '02, a high school history teacher in Massachusetts. They have two children, ages 8 and 6, who he hopes will be Friars one day.
"History majors learn the importance of being able to think deeply, to put information in an appropriate context, and to derive meaning from it," Andrews said.
"The study of history not only teaches us how we came to be, but also helps us develop tools that are necessary as humans and citizens in this modern world. In an age of technology, students of history cultivate the ability to write, to analyze, to interpret, and ultimately to seek the truth, which is at the heart of what we all do at PC."
nominate a professor for the accinno award