September 10, 2019
Dr. Francis 'Pat' MacKay: chemistry professor, administrator, champion of diversity
By Vicki-Ann Downing
Dr. Francis P. MacKay, known to his friends and colleagues as "Pat," a retired associate professor of chemistry who was a teacher and administrator at Providence College for more than 50 years, died Monday, Sept. 9, 2019, following an illness. He was the husband of Jacqueline F. Kiernan MacKay, director of the Parent Program at the College.
"Francis (Pat) MacKay was an outstanding faculty leader, deeply committed to the education of our students, and the inspiration behind the creation of the Martin Luther King Scholarship Program," said Dr. Hugh F. Lena, provost and senior vice president for academic affairs.
"He brought his leadership skills to the Faculty Senate presidency and as vice president for academic administration, but the heart of his work was teaching principles of chemistry to students," Lena said. "I will never forget the day he had his students out on the lawn beside Albertus Magnus Hall acting out the movements of molecules."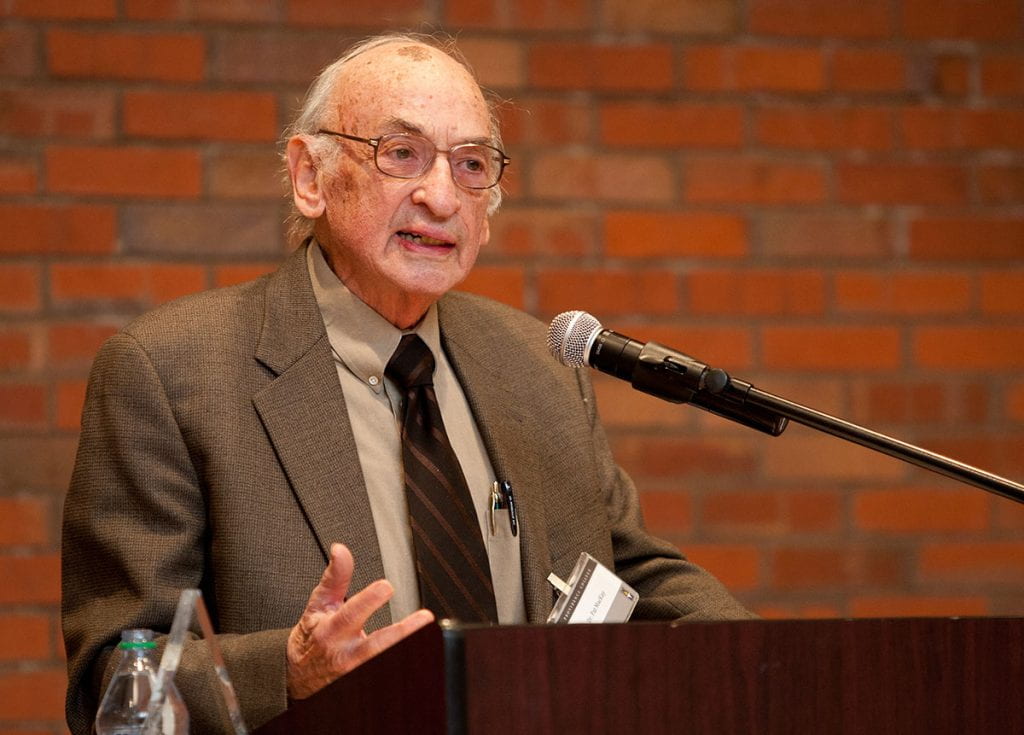 Dr. MacKay was a renowned champion of diversity and inclusivity at the College. When Rev. Dr. Martin Luther King, Jr. was assassinated in 1968, Dr. MacKay partnered with two faculty colleagues — Dr. Mark N. Rerick, professor of chemistry, and Dr. René M. Fortin '55, professor of English — to establish a scholarship fund to make it possible for black students to attend PC.
The professors asked faculty members to voluntarily contribute one half of 1 percent of their annual salary by payroll deduction to establish the fund, and no one who was asked refused, Dr. MacKay recalled. When the group had enough commitments to fund four scholarships, they asked the College administration to match the amount.

The College responded by establishing the Rev. Dr. Martin Luther King, Jr. Scholarship Program and named Rev. Robert A. Morris, O.P. '46 & '82Hon. as the first director. The program has awarded more than 700 scholarships. In January 2018, on the 50th anniversary of the program, Dr. MacKay was honored with the College's first MLK Vision Award, also given posthumously to Dr. Rerick, Dr. Fortin, and Father Morris.
"I don't know how many programs were started by contributions from faculty, but that's the way ours started," Dr. MacKay said. "It has persisted and it has blossomed, and that is gratifying to see."
The award was presented during the College's first MLK Convocation, which featured a keynote address by Dr. Bernice A. King, the youngest child of Rev. King and the executive officer of the Martin Luther King, Jr. Center for Nonviolent Social Change, based in Atlanta.
Dr. Wanda Ingram '75, senior associate dean of undergraduate students and first-year class dean, was an MLK scholar accepted to PC with the first class of undergraduate women in the fall of 1971. She met Dr. MacKay during the summer, when she attended a mandatory summer bridge program he implemented to help students of color adjust to college life.
Dr. MacKay became a friend and mentor, Ingram said. He kept in touch by writing letters when she was pursuing advanced degrees and when she began her career at the University of Massachusetts, Dartmouth. When Ingram was hired to work at PC in 1990, Dr. MacKay was vice president for academic administration.
"He was the real deal," Ingram said. "He didn't do anything because it was politically correct, he did it because it was the right thing to do. That's always been his philosophy. If you were going to bounce an idea off him, you didn't do it unless you were ready for a true and honest answer.
"Whenever he saw a need, or if he heard more than once, 'Somebody should do something about that,' he would look in the mirror and say, 'What can I do about it?'" Ingram said. "He was such a gentle person, very kind, with a lot of patience."
When Dr. MacKay celebrated his 90th birthday in July, Ingram made sure former MLK scholars and retired faculty members had his address to send him cards and well wishes.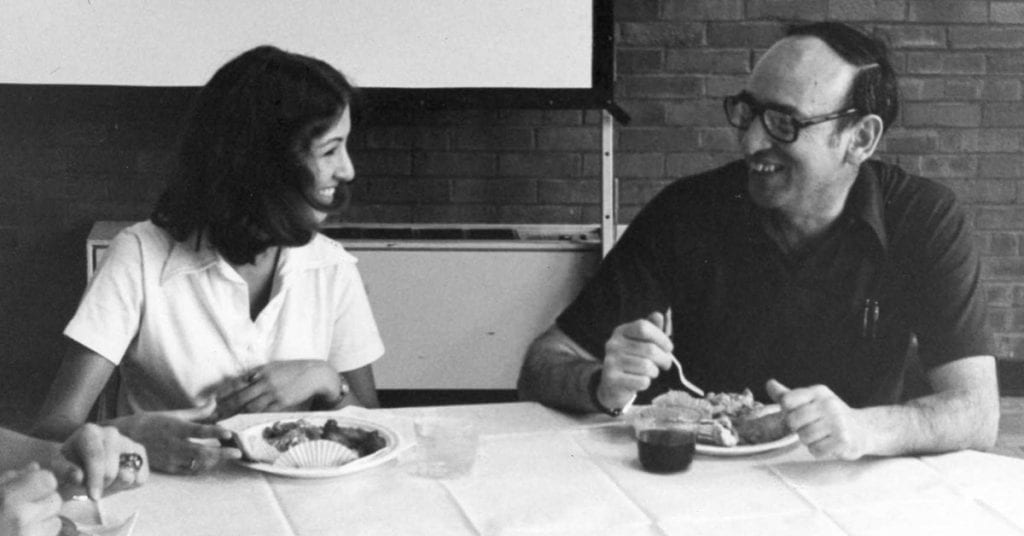 Dr. John J. Breen '81, professor of chemistry at PC, also was a student when he first met Dr. MacKay.
"It is hard for me to think of my time as a PC student without thinking of Pat MacKay," Breen said. "He was my teacher for three semesters but more importantly he was my academic adviser. I suspect he was for many students at that time, because when I got to Penn State, his alma mater, for graduate school, there were four of us PC students in chemistry and one in biochemistry.
"Pat was the example of the student-focused faculty that I have always tried to be," Breen said. "He was always gracious, selfless, generous, and sincerely interested in his students. Pat was also an excellent citizen of the College, trying to make PC a better place, something I also have tried to emulate."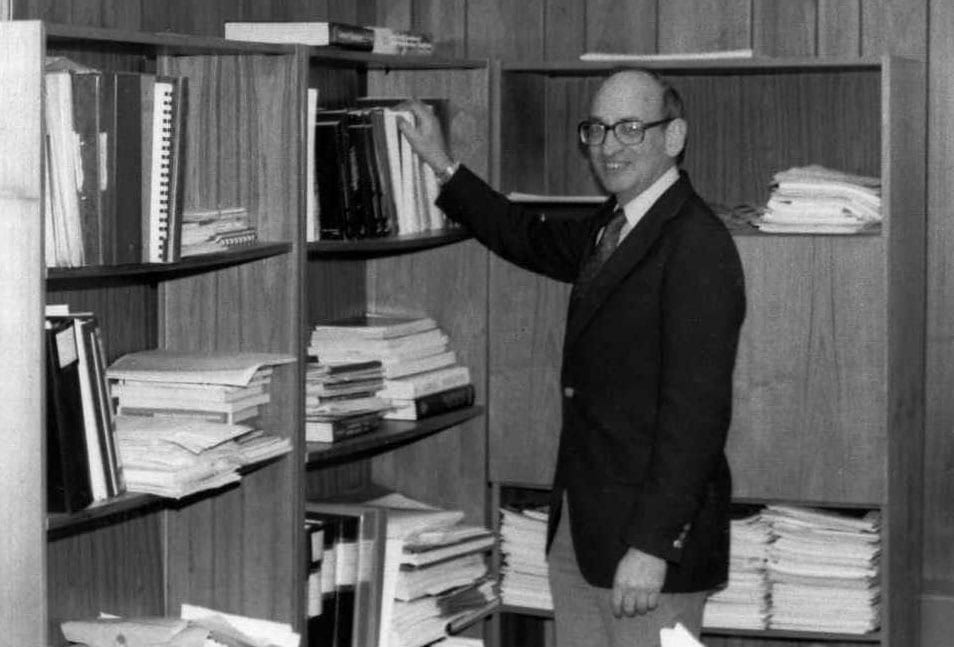 Dr. Mario R. DiNunzio '57, professor emeritus of history, was a long-time colleague of Dr. MacKay.
"I knew my friend, Pat MacKay, for decades as a teacher, counselor of generations of students, and academic vice president," DiNunzio said. "He always brought kindness, intelligence, and understanding to his work, never losing sight of the goal of bringing the College and its students to a higher level of excellence."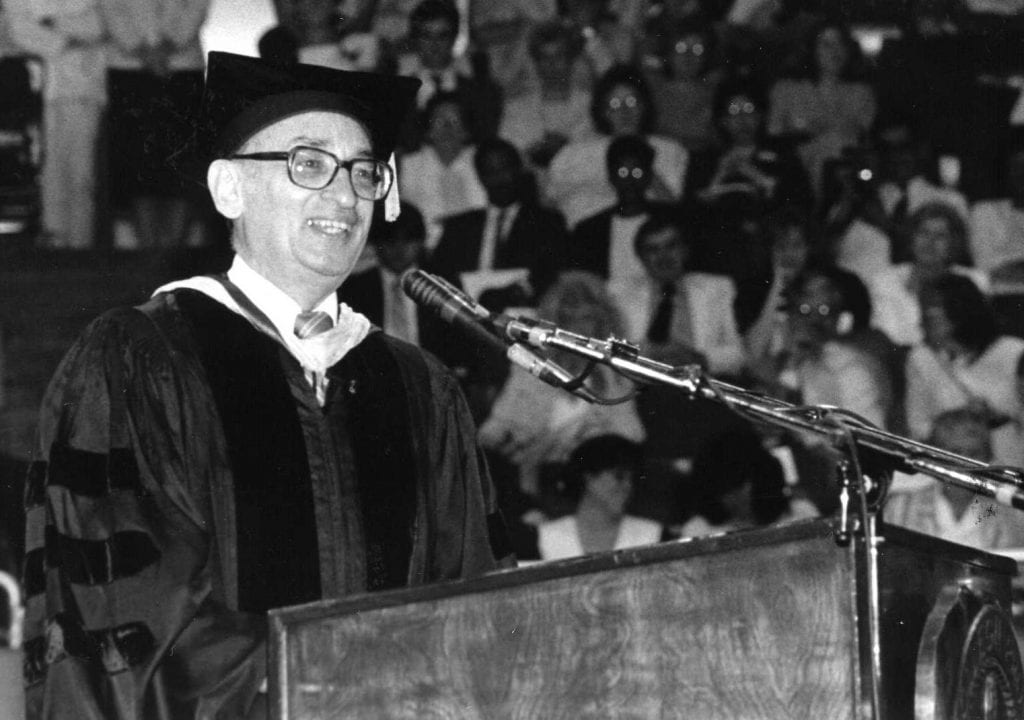 In 2005, Dr. MacKay and his wife pledged $50,000 to establish the Francis P. and Jacqueline K. MacKay Scholarship at PC for students of color studying elementary or secondary education. They said the pledge was part of their commitment to social justice and to their belief in the quality of education in America.
When St. Dominic Chapel was built in 2001, the MacKays donated the stained-glass window that depicts St. Martin de Porres, the Dominican saint who is the patron of interracial harmony.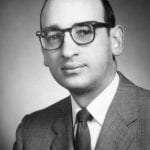 A native of Waterbury, Conn., Dr. MacKay worked at DuPont before joining the PC faculty in 1958 as an instructor in chemistry. He became assistant professor in 1959 and was promoted to associate professor in 1964. He was awarded a doctorate in chemistry from Pennsylvania State University in 1956, a master's degree from the College of the Holy Cross in 1952, and a bachelor's degree from the University of Notre Dame in 1951.
He served as chair of the chemistry department from 1972-74 and was acting chair in 1976. From 1985-1992, he was vice president for academic administration, during which time he established the position of dean of minority students, an office of multicultural affairs, and the Center for Teaching Excellence. He was president of the Faculty Senate from 1978-79 and from 1997-2000, chairing the Faculty Senate Curriculum Review Committee from 1980-81.
Even after his retirement in 2001, he continued to teach as a special lecturer in science for another eight years.
In 1988, PC's National Alumni Association honored Dr. MacKay with its Lay Faculty-Staff Leadership Award, declaring him a leader "through word and deed." Student Congress also presented him with its Rev. John McMahon Award that year, recognizing him for outstanding service to the student body.
In addition to his wife, Dr. MacKay is survived by seven nieces and nephews and several grandnieces and grandnephews.
A Mass of Christian Burial for Dr. MacKay will be celebrated on Saturday, Sept. 14, at St. Mark Church, 9 Garden Court, Cranston, R.I. Visiting hours will be on Friday, Sept. 13, from 4-7 p.m. at the Tucker-Quinn Funeral Home, 643 Putnam Pike, Route 44, Greenville, R.I.
Donations in his memory may be made to the Dr. Francis P. MacKay Memorial Fund, Providence College, Office of Institutional Advancement, 1 Cunningham Square, Providence, RI 02918.
Read Dr. MacKay's online obituary.