July 16, 2019
Dr. Stephen Mecca's work in Africa wins contract from Catholic Relief Services
By Vicki-Ann Downing
Catholic Relief Services has recognized the work of the late Providence College physics professor Dr. Stephen J. Mecca '64, '66, & '19Hon. by awarding his nonprofit organization $150,000 to train workers in Ethiopia to build the microflush toilet he developed with his students.
The Global Sustainable Aid Project, a nonprofit founded by Dr. Mecca in 2010, will use the two-year contract to train workers in toilet construction, said Dr. Terence McGoldrick, associate professor of theology at PC, associate director of the College's Ethics in Business Education Program, and president of the GSAP board.
"This is a big win for all those who worked on developing, testing, promoting, and improving the technology, but especially for Dr. Mecca," McGoldrick said. "I think he'd be thrilled."
Dr. Mecca, who taught at PC for almost 50 years, died of complications from pancreatic cancer in August 2018. Two months later, Thomas Hollywood, a representative from Catholic Relief Services familiar with Dr. Mecca's work, contacted GSAP about the project in Ethiopia. Catholic Relief Services is in the midst of a five-year, $100 million contract in Africa through the USAID Food for Peace program, which includes sanitation and hygiene initiatives.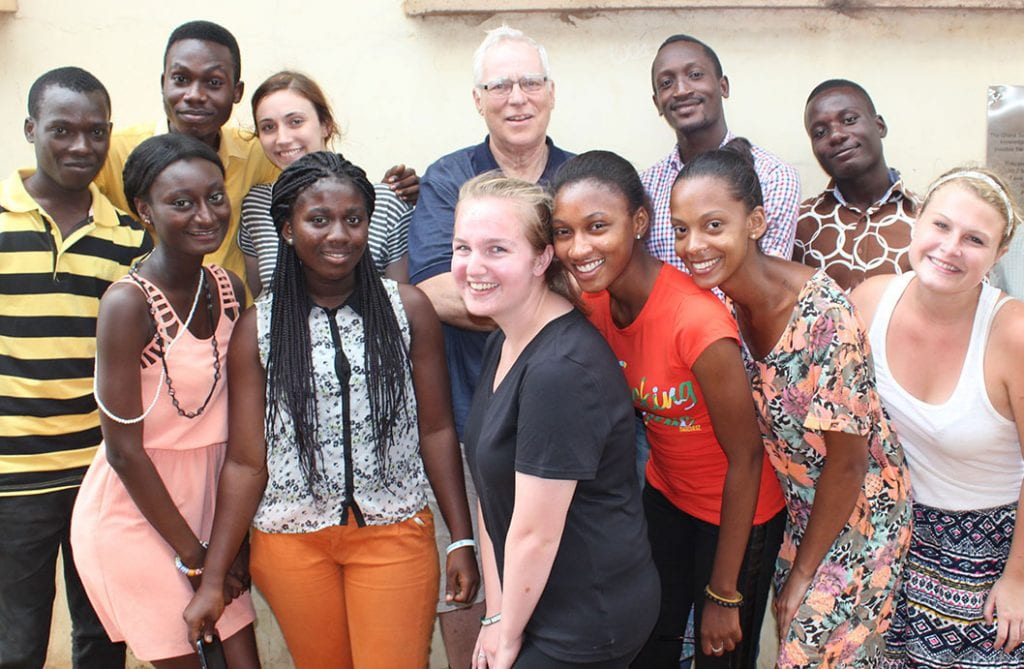 The toilet designed by Dr. Mecca can be built with locally sourced materials. It features a microflush valve invented by Dr. Mecca with one of his students, Colin MacDonagh '10, and a mechanical engineer in Ghana. The toilet flushes with water diverted from a sink after hand washing. All waste is collected in a sealed chamber and then composted as fertilizer. Because the toilet is odorless, it can be installed indoors as well as outdoors.
McGoldrick said Catholic Relief Services selected the microflush toilet because of its proven technology. In 2017, the government of Ghana chose the GSAP design for its major sanitation and water project financed by the World Bank. In 2014, Jason Knutson, an MIT student pursuing a master's degree in civil and mechanical engineering, studied seven toilet systems in Ghana that use on-site waste treatment and concluded that Dr. Mecca's design was the most affordable and best performing.
"The locally sourced microflush toilet is recommended for middle- and low-income families and small aid projects," the study concluded.
Catholic Relief Services also was impressed by GSAP's record of training and certifying hundreds of toilet makers in 20 countries over the past seven years, mainly through Rotary Club grants and private donations, McGoldrick said.
"We could show them a toilet that's seven years old" and still in use, McGoldrick said. "We've learned that it's not just about getting people trained in how to make toilets. There's a lot of followup involved to a successful project — business development, sales and marketing, support with microloans, and technical advice. Good partners are essential to success."
McGoldrick and Dr. Comfort Ateh, associate professor of education, have continued Dr. Mecca's mission of bringing a group of PC students to Ghana each spring to work on sanitation, health, education, and technology projects. In May, they were accompanied by six PC students who received Gallo Global Health Fellowships, a gift from Robert C. Gallo, M.D. '59 & '74Hon.
The students worked with the Ministry of Health to screen residents for AIDS and to visit those with HIV to see whether they were taking medication. They also worked on an education portal created by Dr. Mecca and visited schools to help with student assessments. The students taught a women's cooperative how to build a water filter using slow-sand filtration that was developed in Dr. Mecca's lab. Testing for that project continued after his death with help from his colleagues in the engineering-physics-systems department.
Following the Ghana trip, McGoldrick used a faculty grant from the College to travel to Kenya, where he visited a group of Maasai women who have developed a successful business building the microflush toilets. They began with a $1,500 seed loan and now have $10,000 in the bank, McGoldrick said. GSAP also has a contract with the Sameruto foundation to build 6,000 microflush toilets in Kenya over two years.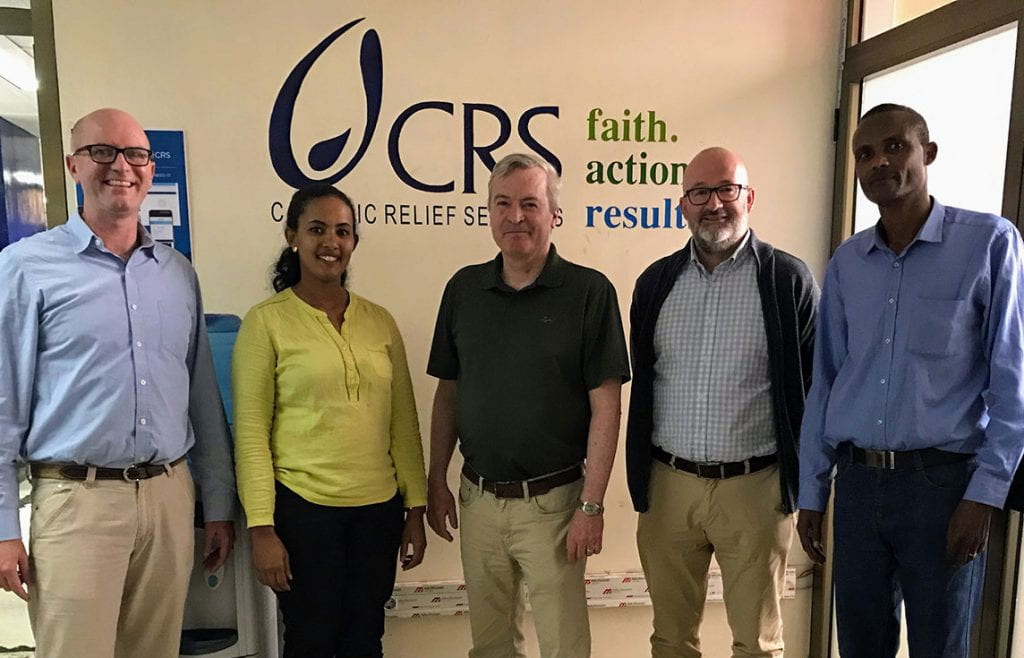 McGoldrick then met a Catholic Relief Services team in Addis Ababa, Ethiopia, to discuss the toilet project there. GSAP workers are in the country now to assess how to begin training workers. Catholic Relief Services hopes there also will be opportunities for PC students and faculty to assist with studies on the toilets' impact on health, the economy, food security, youth, and women, McGoldrick said.
Dr. Mecca's involvement in Ghana began in 2006 after a visit by his granddaughter, Hannah Davis, who established the Ghana Literacy Project to encourage women in their education. Dr. Mecca supported her work and also expanded its scope, adding projects in sanitation, health, and technology. He invited students from all academic disciplines to join him in his S-Lab at PC to work on solutions to those problems.
His toilet technology has been recognized before. In 2011, he won a $100,00 challenge grant from the Bill & Melinda Gates Foundation to field test the toilets and then was awarded a $1 million grant to install them in Ghana.
PC recognized Dr. Mecca's contributions to the College and the world by awarding him an honorary doctor of science degree posthumously in May.
"Steve was a systems thinker," said McGoldrick. "His innovation with the S-Lab, a lab for students in all disciplines, was to see how developing world problems, like sanitation, are not simply science problems. He saw that they are systematic and multi-dimensional. He came to believe strongly that any success must consider the social, religious, ethical, economic, educational, and cultural aspects at play. Our challenge is to figure out how to continue that legacy."