May 14, 2020
Dylan Black '20, mathematics major, awarded Fulbright to teach in Czech Republic
By Vicki-Ann Downing
Life is a puzzle, according to Dylan Black '20. Every piece has a purpose. The opportunity to teach English next year in the Czech Republic through the Fulbright Program, the flagship international program of the U.S. government, will be a major piece in his story.

Black, a mathematics major and economics minor, is one of three Providence College seniors awarded English Teaching Assistantships this spring by the Fulbright Program. Jack Murphy '20, a social work and Spanish double major, will teach English in Paraguay. Nicole Gottlieb '20, an elementary and special education major, was selected for a Fulbright to Indonesia but will instead teach at an international school in Uganda.

"The Fulbright is an opportunity for me to combine all my passions," said Black, from Mohegan Lake, N.Y., in upper Westchester County. "I can go abroad, teach, and be challenged at a level I've never been to before, learning from students and guiding them. I couldn't pass it up. I know the students I work with will teach me more than I will ever teach them."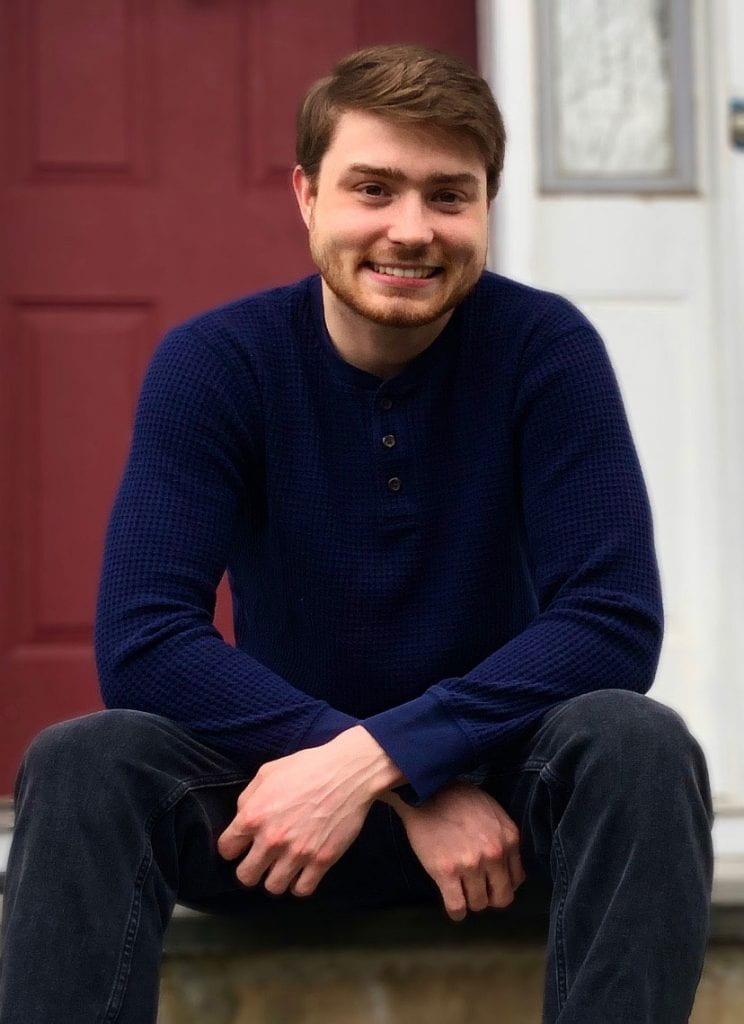 Black, a member of the Liberal Arts Honors Program, pursued varied interests at PC. He was a mathematics tutor in the Office of Academic Services, an elected member of Student Congress, played trumpet in Pep Band, hosted a radio show on WDOM, and participated in and led Connections retreats for new students through Campus Ministry.

His adviser, Dr. C. Joanna Su, professor of mathematics, met him on his first day of college and taught him in six classes over the next four years. In two of them, he was required to conduct original research, record discoveries, and present at conferences, she said.

"I noticed Dylan's ability and potential in mathematics because of his constant precise and accurate work in calculus," Su said. "One day I wrote a note on his quiz: 'Dylan, you should consider being a mathematics major.' Dylan still has that quiz. Here he is, four years later, graduating with a mathematics degree and a perfect 4.0 major GPA."

Black was interested in the Fulbright because he is considering a career in teaching — possibly earning a Ph.D. in economics or mathematics and becoming a professor. In addition to his work as a mathematics tutor, he was awarded a fellowship last summer to work with middle school students in Providence through Generation Teach.

"Math is such a great major," Black said. "It opens you up to endless possibilities. But then it's a matter of what to specifically do with it. I wanted to try teaching. I'm not sure it's my path, but I fell in love with it through the fellowship."

Generation Teach offers high school and undergraduate college students experience teaching in an enrichment program to help middle school students retain their academic skills during the summer. Black helped seventh graders with math. Almost all were students of color. He is white. He wasn't surprised that the students looked at him with skepticism.

"I knew the only way to engage these students was to make them feel a part of the lesson," Black wrote in his Fulbright application. "So, when one student, after many classes together, asked me to be a mime for the entire lesson, I obliged. I only used body language, facial expressions, and hand signals to teach the relationship between ratios, fractions, and percentages. To my amazement, students were completely invested; they came up to the board in droves, excited to play along and motivated to learn."

Through the College's Tutoring Center, Black was paid to tutor fellow students in math up to eight hours a week. The subject is required for biology and pre-med majors and in business and economics classes, so there was plenty of work, he said.

"Being able to work with students on their own level and create plans for their academic success was one of the most fulfilling things I did at PC," Black said. "I see people around campus that I tutored two years ago and it's so fun to say hello. It's like we're family."

The familiar joys of senior year ended abruptly for all members of the Class of 2020. For Black, it happened in New York City. He was in a hotel with PC's Pep Band on Thursday afternoon, March 12, waiting to cross the street to Madison Square Garden to play during the men's basketball game in the first round of the BIG EAST Tournament.

About an hour before the Friars' game time, the Pep Band director, Jeff Hoyer, called members to the lobby and broke the news that the tournament had been canceled during halftime of the St. John's-Creighton game due to concerns about the COVID-19 virus. Everyone was going home.

"I knew it was going to happen," Black said. "I had been following the events with the NBA the night before, and all the other college tournaments had already been canceled. We knew we were never going to play again this year. So the seniors got the band together to play 'When the Saints Go Marching In,' one final time."

One last run for us here in the #bigapple #GoFriars pic.twitter.com/ratE2OA7Xk

— Providence Pep Band (@PCPepBand) March 12, 2020
Black decided to apply for the Fulbright to the Czech Republic after research and discussion with Dr. Darra D. Mulderry, director of national and international fellowships in PC's Center for Engaged Learning. He was drawn to Europe because of his Development of Western Civilization courses.

"When I read about the Czech Republic, I immediately felt at home," Black said. "The country has a strong national pride and purpose based on its history, struggles with Nazi Germany, the Velvet Revolution, and its cultural practices. They've also had a strong attraction to jazz music for five decades."

Black is a jazz musician who played the trumpet through high school. With the Pep Band, he also traveled to Chicago to cheer on the women's basketball team in the BIG EAST Tournament, and to Buffalo, N.Y., to play during the men's hockey team game in the NCAA Frozen Four.

Music is a language that transcends barriers, Black said. As part of his Fulbright experience, he hopes to play in a jazz ensemble.

"To walk into a country where you don't know anyone and have that musical commonality with the citizens makes me feel I could connect with them," Black said.

Su said Black is a natural leader. He was elected to Student Congress during his first two years at PC and was a member of the Academics Committee junior year.

"Because of his superior precision and clear perspective on social justice and inequality, I have always thought that Dylan should pursue a career as an educator, physician, lawyer, or politician," Su said. "He has a strong sense of morality and is driven to make things right. He has a solid foundation of virtue and the guts to make the tough decisions and do the right thing. Moreover, he thinks about others before he thinks of himself. The world needs more people like him."

Black's arrival in the Czech Republic will be delayed by the pandemic. All Fulbright ETAs will begin in January 2021 at the earliest, Mulderry said. This marks the second consecutive year that three students from PC were offered Fulbrights. Another two were alternates. The College was named a top producing institution of Fulbright students for the 2019-2020 academic year.

"Dylan is one of the most academically high-achieving students in the class of 2020," Mulderry said. "And in addition to his intellectual gifts, it's wonderful to know that he will bring to his encounters in Czech society his musical ability and puzzle-playfulness — and the dedication to ongoing learning and service at the core of PC's mission."
Please consider a gift to The Fund for Providence College to make it possible for all students to continue to experience the value of a PC education.
support emergency student need