October 18, 2023
Rounding third and coming home: Earl Smith Jr. '92 is president of the National Alumni Association
By John Chatfield '19
As the first Black president of the National Alumni Association, Earnest "Earl" Smith Jr. '92 hopes to use his platform to open new doors and encourage all Friars, especially Friars of color, to keep the spirit of community alive after crossing the commencement stage.

Hosting regional events, coordinating service activities, and fostering community ties are just a few functions of the NAA — an increasingly diverse organization that offers year-round opportunities to connect and engage with the college. Smith began his one-year term as president on July 1, 2023.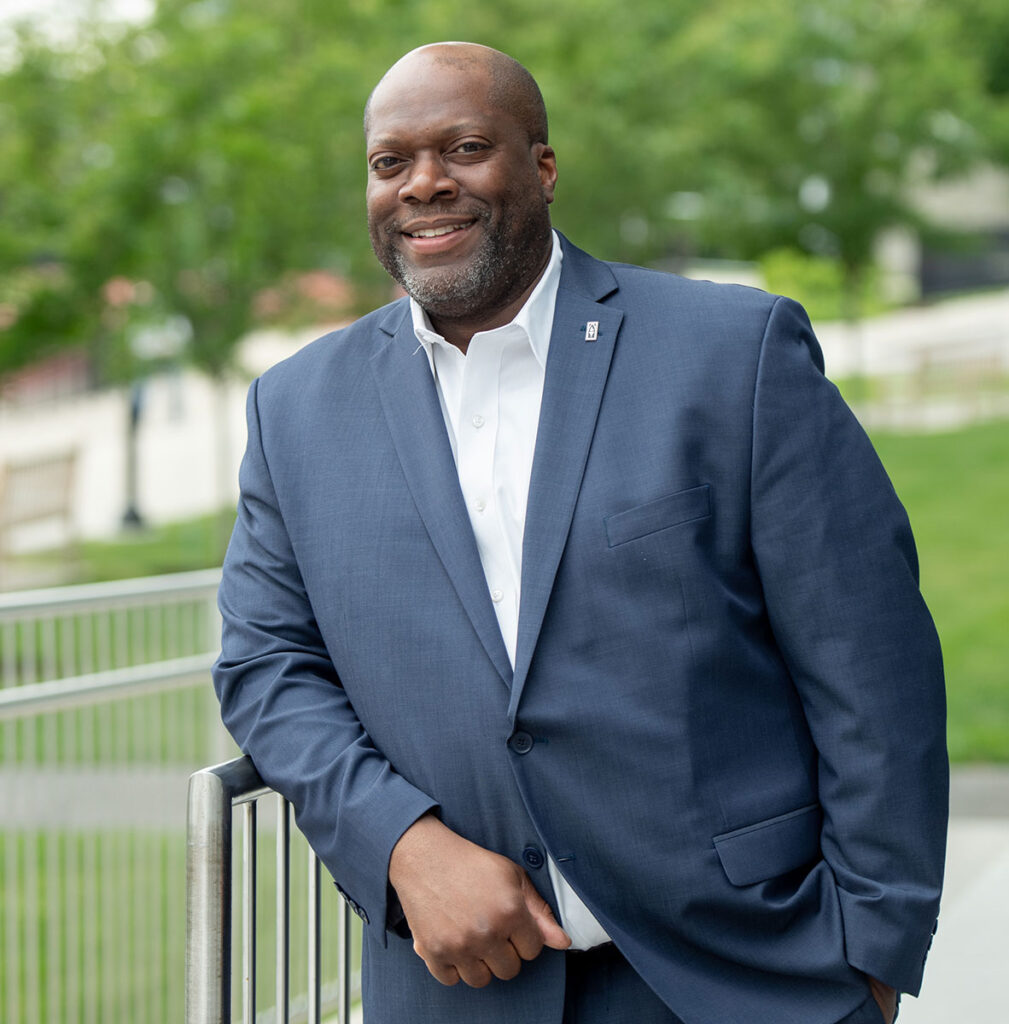 Born and raised in Elizabeth, New Jersey, the youngest of five siblings, Smith is a "proud product of public schools" who learned his formative values at home. His mother was an educator and teacher's aide who encouraged strong academics. His father was a mechanical engineer who instilled a love of sports, introducing him to baseball and supporting his athletic pursuits. Both parents passed down their Southern Baptist faith, which Smith cites as "foundational" in his early years. In high school, he spent days in the classroom and evenings on the baseball diamond.

In the fall of 1987, opportunity came knocking. With the teachers union on strike and classes suspended, Smith's high school coach gathered his players for a weekend prospect camp. On Saturday, the team ran throwing and catching drills. On Sunday, they scrimmaged, watched by college coaches and NCAA Division I recruiters.

"I knew that I wanted to go to college, and I wanted to earn my spot on a Division I baseball team" Smith said.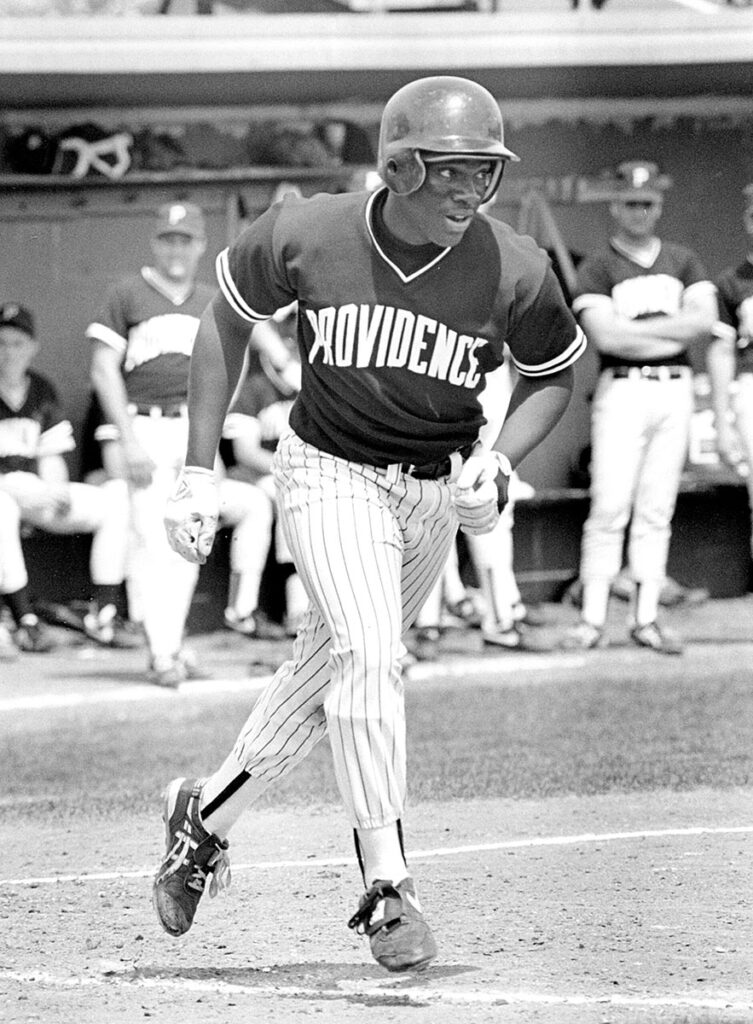 He only needed one at-bat to make it a reality.
When he stepped up to the plate, he noticed his father on the sidelines, talking to a man in a black and white jacket labelled with a "P." Smith remembers everything about the play that followed, from the break of the pitch to the crack of the bat. After sending a line drive deep into the outfield, rounding the bases, and finally coming home, he was called over by his father and asked to shake the man's hand.

Paul "Kosty" Kostacopoulos '87 was Smith's introduction to PC. Then an assistant coach for the Friars, Kostacopoulos retired this year after more than 17 years as head of the Navy baseball program. He had been talking to Smith's father about life as a student-athlete and how a small school in Rhode Island could offer both high-level athletic programs and a top-notch education. He mentioned the Martin Luther King Jr. Scholarship Program, created to help students of color ease the cost of tuition. His first exchange with Kostacopoulos cemented Smith's decision to apply.

"I didn't find Providence College," he said. "Providence College came and found me."

Smith arrived at PC wanting to explore the humanities and capitalize on his strengths.

"I guess I've always had the gift of gab," he said, laughing. "My first-grade teacher said that as long as I could talk, I could energize the world. So I wanted to do something with that."

Fascinated with the hot-button political discourse of the 1970s and '80s, and following in the footsteps of his eldest sister, he decided to major in political science. His Baptist upbringing inspired a minor in religious studies. He thoroughly enjoyed the Development of Western Civilization Program and names his Civ professors, including Rev. Thomas Fallon, O.P. '41, Rene Fortin, Ph.D. '55, and Raymond Sickinger, Ph.D. '71, among those who made an immediate impact.

Friendships and faculty connections were meaningful and abundant. Political science professors Richard Alsfeld, Ph.D. '61, Mark Hyde, Ph.D., and Neil Romans, Ph.D., were instrumental in his academic journey. He looked forward to Monday meetings with Robert Hamlin, Ed.D. '79G, head of the MLK Scholarship Program, whom he considered a mentor and "second dad." He worked closely with administrators like Wilesse Comissiong, dean of minority student affairs, and faculty members like sociology professor Eric Hirsch, Ph.D., to help create inroads for students of color.

At a time of increasing diversity and racial dialogue on campus, Smith was an active voice in the conversation. He joined the African American Society, Students Organized Against Racism, and the Board of Minority Student Affairs, where he oversaw the effort to change the group's name from "minority" to "multicultural." As a student leader, he organized cultural awareness meetings and advocated for better representation of the Black experience in the core curriculum.

"Our main message was, 'Teach to your audience.' We had so many students of color who just wanted classes to reflect our history and tell our story — to make some room for us," he said.

Smith's involvement laid the framework for inclusive causes at PC, a legacy that continues.
And of course, there was baseball. Hendricken Field was the stage for some of Smith's fondest undergraduate memories, and he remains close friends with teammates today.
"They were some of my best supporters," Smith recalled. "They came to my meetings in Moore and '64 Hall, they supported my political and social activities on campus. We still text all the time."

In 1992, he was named team co-captain alongside Don Martone '92G, and with Friar legends like Lou Merloni '93 and Jim Foster '93, he capped his Division I career with a championship title, defeating Connecticut in the 1992 BIG EAST men's baseball tournament.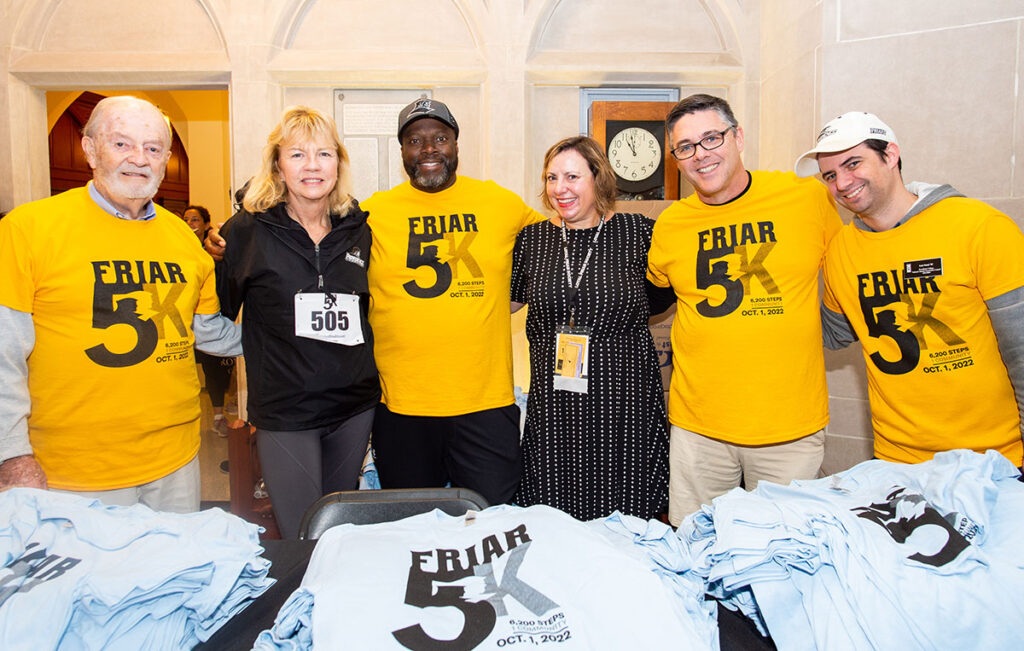 His senior year ended on a high note in more ways than one, with Earl befriending his future wife, Noreen Kelly '93. After introducing himself in an Aquinas Hall elevator and bonding over Rev. Bernard Langton, O.P.'s general ethics class, Smith asked her to see Boomerang, starring Eddie Murphy, the following summer. They married in 1996. Noreen has taught early childhood education for more than 30 years.
After graduation, Smith returned to New Jersey to begin his career as a legal analyst in the finance and banking industry. He is now a compliance officer for Bank of America, managing risk and regulatory affairs.

"We're kind of like referees," Smith said. "We protect the firm from itself and make sure that our brokers are giving clients quality investment information. Plus, it's cool to be in the know."

Even from his home in Livingston, New Jersey, Smith remained connected to PC. In 2017, classmate Kate (Hennedy) Kennedy '92 invited him to be a class representative. He went to work immediately, helping plan affinity programs for alumni of color at signature events like Reunion and Homecoming. He was elected vice president in 2022 and assumed the presidency from Jenn MacCallum O'Meara '93 this year.
He looks forward to meeting members of the alumni network — some 58,000 strong — at events and invites them to visit their alma mater whenever they get the chance.

"We're at our best when we let people of all groups know that you have a home here, you're welcome here, and you have a part to play. And you'll be so proud of how far we've come."
The National Alumni Association is committed to ensuring that the Friar Family connection stays strong after graduation. Learn more about the different ways the National Alumni Association keeps alumni, near and far, engaged with PC and with one another.
More from the Fall 2023 magazine