July 13, 2021
Emily Sisson '14 returns to Providence College to train for Tokyo Olympics
By Brendan McGair '03
She's a world-class athlete who could have traveled anywhere in the world to train for the Tokyo Summer Olympics.
But Emily Sisson '14 chose Providence College, adding credence to the saying, "Forever a Friar."
With a month-plus window between her record-setting performance at the U.S. Olympic Track & Field Trials and the Olympic finals version of the women's 10,000-meter run, Sisson felt only one place would suffice as the ideal training ground. She returned to the campus where she earned a boatload of recognition.
It's proof that Friartown remains dear to her heart.
"I feel this is the perfect spot to train," said Sisson, standing on the surface of the Ray Treacy Track and Field after concluding a workout on Saturday morning, July 10. "This actually feels like home to me."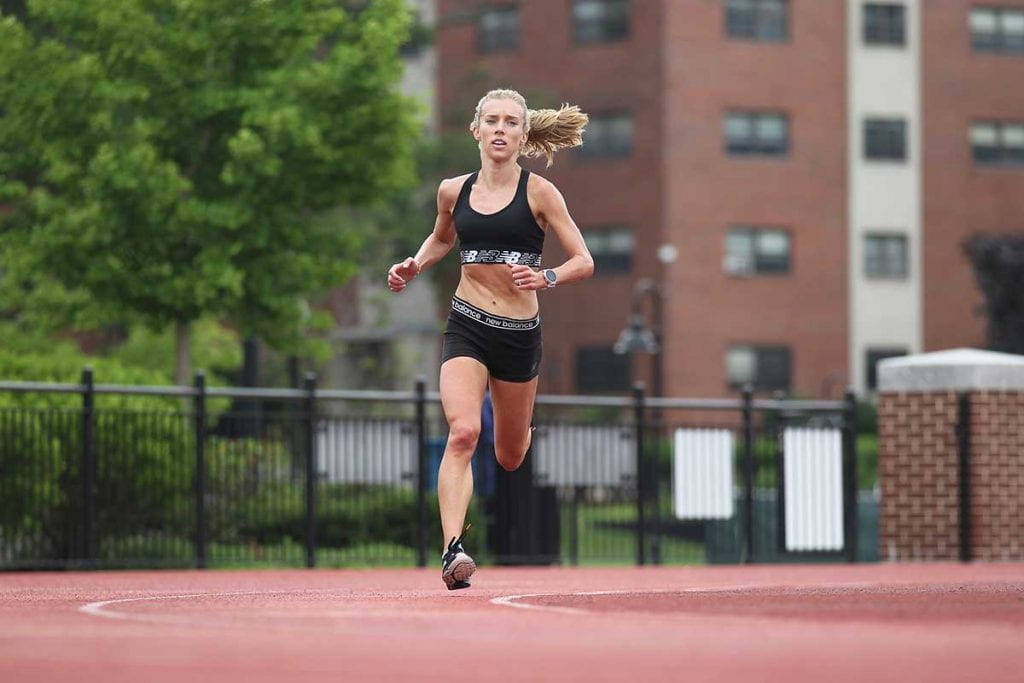 An additional advantage was the opportunity to train under Ray Treacy '82, director of cross country and track operations at PC and the Friars' highly successful head coach, who knows something about sending runners to the Olympics, having coached 11 previous Olympic athletes.
Sisson felt that the comforts of a familiar voice providing instruction as she circled a track she knew well would place in her a proper frame of mind before she crossed the Pacific for the biggest race of her life on Saturday, Aug. 7.
And while she calls Phoenix home now, many believe the summertime humidity in Providence closely resembles the conditions that await her in Tokyo.
Sisson described overwhelming support from the Friar community following her near wire-to-wire victory in the 10,000 of the Olympic Trials on June 26. In a 25-lap race, she took command at the five-lap mark and was never seriously challenged en route to posting a winning time of 31 minutes, 3.82 seconds.
How dominant was Sisson in Eugene, Ore.? The next closest U.S. runner crossed nearly 16 seconds behind her. Sisson also broke the trials record that had stood for 17 years.
Now 29, Sisson credits Treacy for helping her devise a race plan that would allow her to flourish at the trials and still have plenty in the tank for what awaits her in a few short weeks.
"Don't run scared. Run in the front but with confidence and a bit of poise. Coach Treacy prepared me for that," said Sisson. "He'll give me words of encouragement when I need it. It's nice having your coach around. I'm glad he's here for the last few workouts."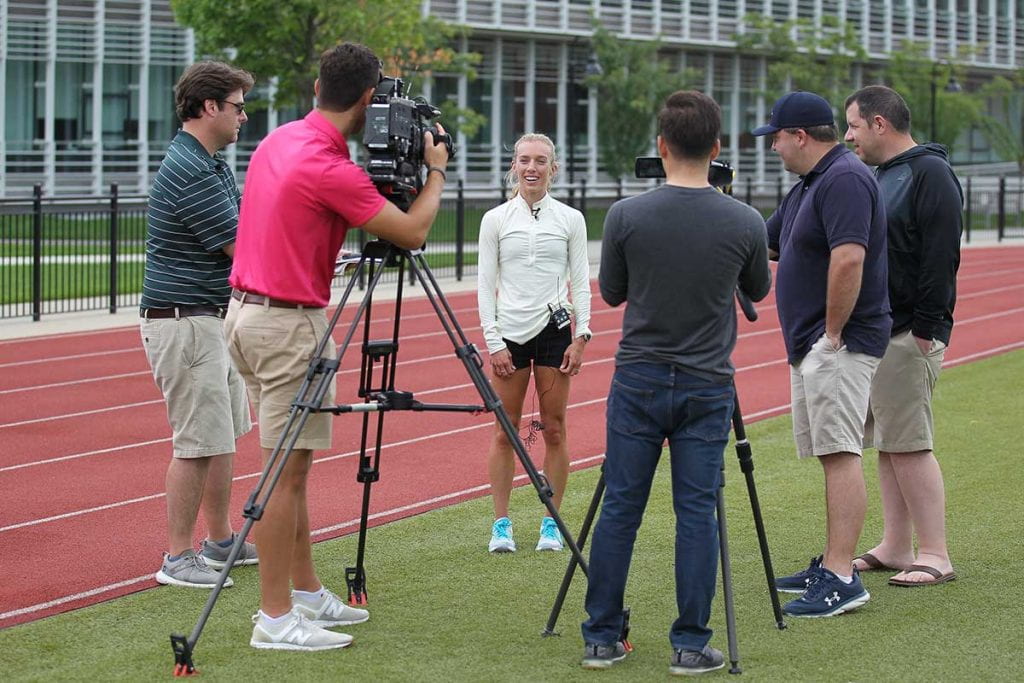 Sisson's phone and social media accounts became beehives of activity once the news got out that she had qualified for the Summer Games. Naturally, a good amount of the congratulations came from her extended Friar family.
"So many former Friars reached out to me on Instagram saying 'Go Friars!' and telling me they watched the race," said Sisson.
A native of Wisconsin, Sisson still has friends and family in Providence. She felt plenty of in-person support returning to the city where she forged her reputation as a standout collegiate runner.
"It's a nice reminder and puts into perspective how much support I have around here. They're there for me no matter what," said Sisson.
Running at an elite level has enabled Sisson to compete on the brightest stage in her sport — an opportunity that comes around once every four years. Regardless of the race location, she knows she can always count on the full backing of a support system whose school colors are black and white.
"She still represents Providence College every time she competes," said Treacy. "She considers herself a Friar."
Emily Sisson '14 podcast from 2017
More Providence College news
More about Coach Ray Treacy '82