February 22, 2017
ESPN analyst Doris Burke '87 describes 'A Basketball Life' at Alumni & Family Weekend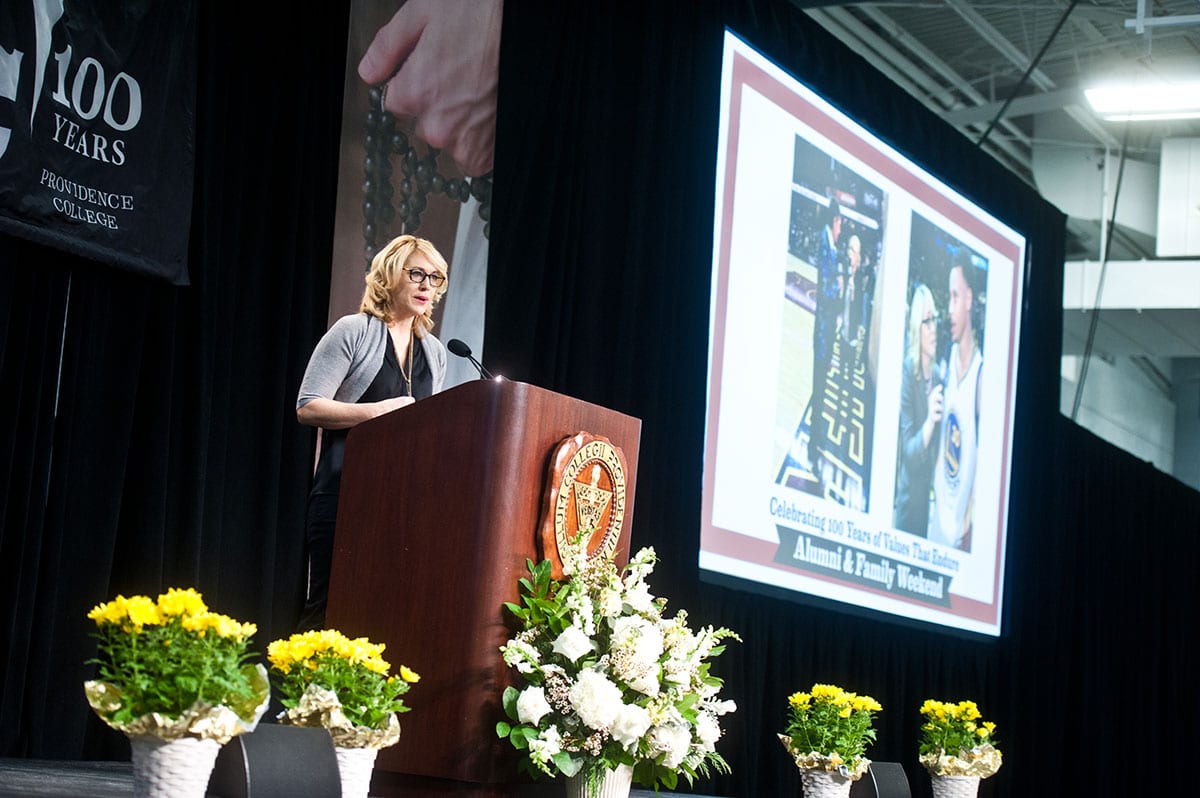 By Vicki-Ann Downing
As an analyst for ESPN, Doris Burke '87, '92G, & '05Hon. crisscrosses the country, attending NBA and college basketball games, interviewing coaches and players.
It's a long way from Providence College, where she was a shy undergraduate with "bad skin, bad hair, bad clothes," concerned mostly with improving her jump shot as a point guard on the women's team.
"The idea, if you knew how painfully shy I was as a student here, that I would do what I do for a living, it does blow the mind," said Burke, who presented the welcome address at Alumni & Family Weekend, Feb. 10-12, 2017, before alumni, students, and their families in the Peterson Recreation Center. Yet, she added, "I can trace a direct line back from where I stand today to Providence College and the education I had here."
More than 1,000 members of the College community took part in Alumni & Family Weekend events, which included the unveiling of a new centennial exhibit in Harkins Hall, academic presentations, ice skating in downtown Providence, and a men's basketball game at the Dunkin' Donuts Center, followed by a PC 100 Bash in the Rhode Island Convention Center.
In introducing Burke, College President Rev. Brian J. Shanley, O.P. '80 called her the "smartest and best analyst" of basketball, adding, "If I'm flipping channels and Doris is doing a game, I stop and I watch, because I always learn something."
"Doris is your quintessential, scrappy, working-class Irish girl from Jersey who made herself and willed herself into an amazing basketball player," said Father Shanley.
He noted that Burke became a "cult figure" in November when the rapper Drake appeared at a Toronto Raptors game wearing a T-shirt with her image that proclaimed her as his "Woman Crush Every Day." In response, the College created T-shirts describing Drake as the "Friar Crush Every Day," and gave them away to the first 100 people to attend her talk.
"There aren't many basketball analysts that have singers and college presidents in their fan clubs," said Father Shanley.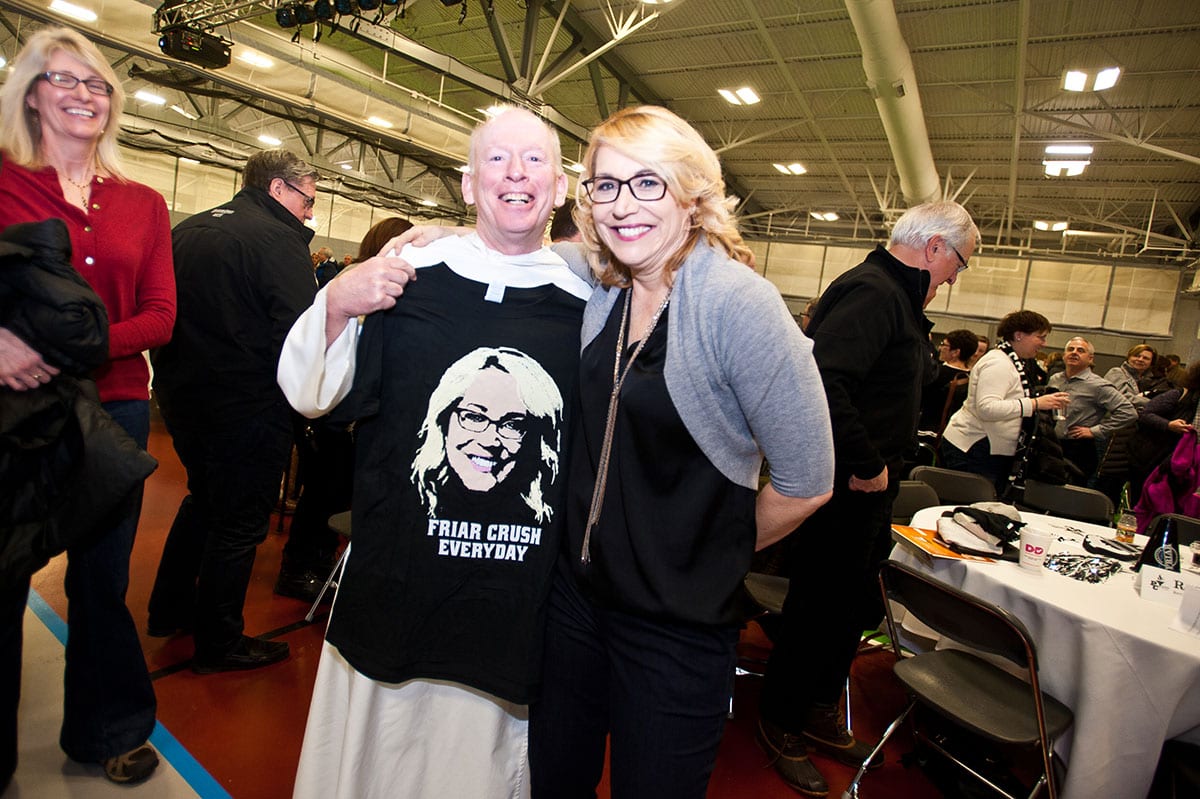 In her work at ESPN, Burke said, she is outnumbered by graduates of some of the best journalism programs in the country, including Syracuse University, Ithaca College, and the University of Missouri. She doesn't have a communications background, but "what I do have is a Providence College education," she said.
"Our students can think," Burke said. "That's probably the greatest thing I took from Providence College, my ability to think quickly."
She drew on that skill in her first NBA assignment. She was scheduled to work as a sideline reporter, with Doc Rivers as the analyst and Mike Breen as the play-by-play commentator. But when Breen was unexpectedly delayed, Burke was called upon to conduct a pre-game interview with Phil Jackson, then the coach of the Los Angeles Lakers.
Jackson, a former NBA player who coached 11 championship teams, settled into a chair before her, an intimidating presence, and said, "Now Doris, what exactly qualifies you to be standing here asking me questions?"
"My heart is pounding, I start to sweat," said Burke. "But I didn't panic. Again, you have to be able to think on your feet in my business. I looked him dead in the eye. I said, 'Coach Jackson, I played the game, I coached the game. I'm not sure either is a prerequisite for the questions I'm about to ask you, but I have several. Are you ready?' He said, 'Yes, I am.' From that day forward, he and I have never had an issue."
At PC, Burke majored in social work and health service administration. She played four years for the Friars, earning All-American honors, and was inducted into the PC Athletics Hall of Fame. Her jersey was retired by the Department of Athletics at Alumni & Family Weekend.
Her introduction to broadcasting came when women's basketball games began airing on radio and she was invited to take part.
"For any students who are here, and who might be stressing about major, or course of study, or where to go with your life, I'm a big believer in divine Providence," Burke said.
When she invited the audience to ask her questions, a student asked for advice about how to begin a sports broadcasting career.
"I don't think you need to go to a communications school to be successful," Burke said. What you do need, she said, are two important skills: "You have to have the ability to read a lot — the capacity to read difficult things and to be challenged. And, you have to be able to write well. So, if I were you, I might study English or philosophy. If you can do those two things, I promise you, you can do the job I do. And the other thing is, get behind a microphone or in front of a camera as fast as you can. No job is too small. Start somewhere."
Burke was asked to describe 1987, that "magical year" of basketball, when the men's team, coached by Rick Pitino, with Billy Donovan '87 as point guard, went to the NCAA Final Four. Burke, point guard for the women's team, injured her knee in her final game in Texas, but that didn't stop her from traveling to New Orleans for the NCAA Tournament.
"I wanted so badly to be a part of what was such a special journey that I scrounged up the money to get on the PC charter," said Burke. "I'm on crutches on Bourbon Street, trying to be part of that Final Four. I'll never forget it."
PC was a smaller school then, but remains a family, she said.
"I consider myself a Friar once, now, and always."
photos from alumni & family weekend