September 10, 2019
Eternally remembered
Now and always, God sustains our hope … Our work for peace is never done.

INSCRIPTION ON 9-11 MEMORIAL PLAQUE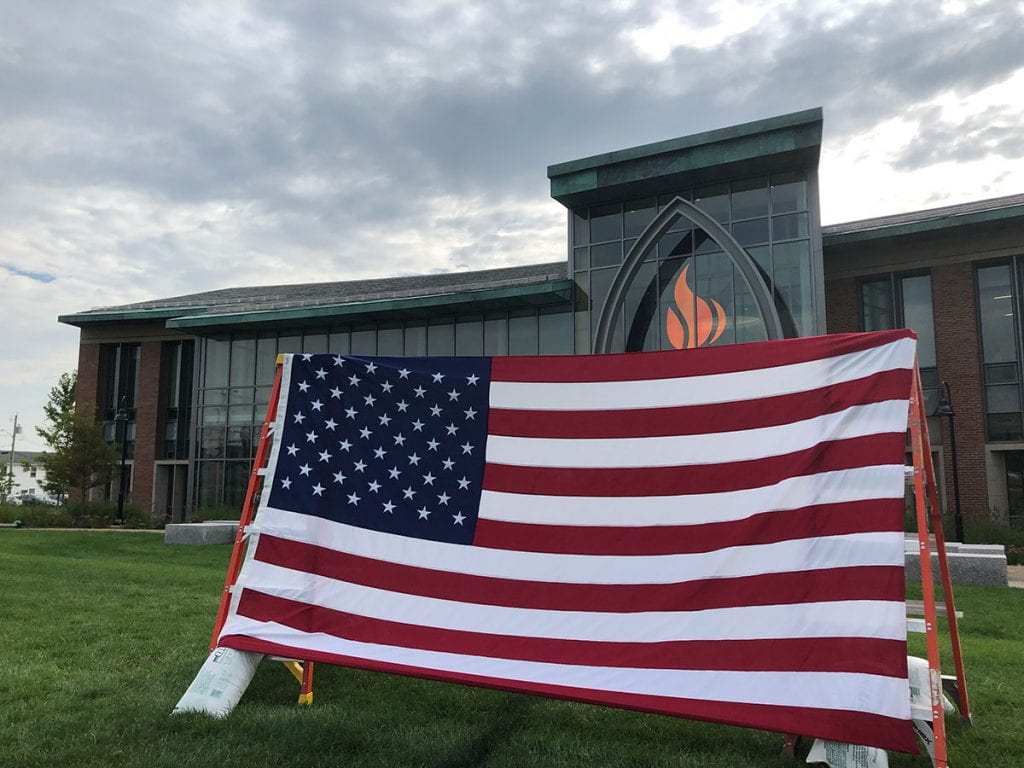 The following members of the Providence College community, victims of the terrorist attacks on Sept. 11, 2001, are memorialized in a plaque on the War Memorial Grotto.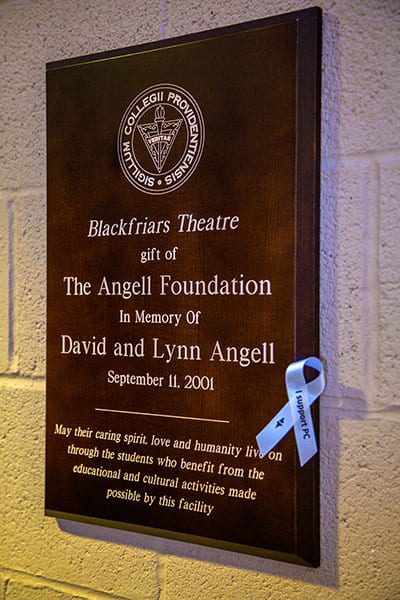 • David L. Angell '69 & '94Hon. and Lynn Angell
David was a highly respected, Emmy Award-winning executive producer and writer of sitcoms, including Frasier, Cheers, and Wings. Longtime PC benefactors, the Angells established the David and Lynn Angell Scholarship Fund in 1993. The Angell Foundation, which they established in 1996, continues their legacy of philanthropy. The foundation donated funds for construction of the Angell Blackfriars Theatre in the Smith Center for the Arts, and it supports the Friar Foundation Program, a summer bridge program designed to ease the transition to college for about 30 students each year. The Angells were returning to California on American Airlines Flight 11 from Boston, which struck the north tower of the World Trade Center.
• Gertrude M. Alagero '86
"Trudi" was a senior vice president for Marsh Private Client Services, a division of Marsh & McClennan, located in the north tower of the World Trade Center. She was engaged with a wedding planned for January 2002. She was the beloved sister of Stephen Alagero '75, Charles Alagero '78, and Paul Alagero '81. The Trudi Alagero '86 Memorial Scholarship was established in her honor.
• Michael J. Berkeley '85
A successful Wall Street executive, Michael was senior vice president/partner of Utendahl Capital. He had recently founded his own brokerage firm with 79th-floor offices in the north tower of the World Trade Center. A varsity basketball player for two years at PC, he lived life with zest. He was married with two young sons.
• Joseph A. Corbett '95
Joseph was a securities trader at Cantor Fitzgerald, located in the north tower of the World Trade Center. Married for just over a year at the time of his death, he was recognized for his core values and particularly, his devotion to family.
• Linda M. George '96
A buyer for TJX Companies, Linda loved sports and played rugby for the Friars. The women's rugby club alumni established an MVP award in her memory, given to a junior who is an outstanding student-athlete, promotes team unity, and is a role model for younger teammates. Linda was a passenger on American Airlines Flight 11, on her way to a buying trip in Los Angeles, when the plane struck the north tower of the World Trade Center. She was engaged to be married in October 2001.
• Lynn C. Goodchild and Shawn M. Nassaney, students in the MBA program, were best friends united in love. They met while students at Bryant University. Lynn was a plan administrator for Putnam Investments. Shawn was a sales team leader for APC corporate headquarters. They were passengers on United Airlines Flight 175, bound for Los Angeles for a vacation trip to Hawaii, when the plane struck the south tower of the World Trade Center.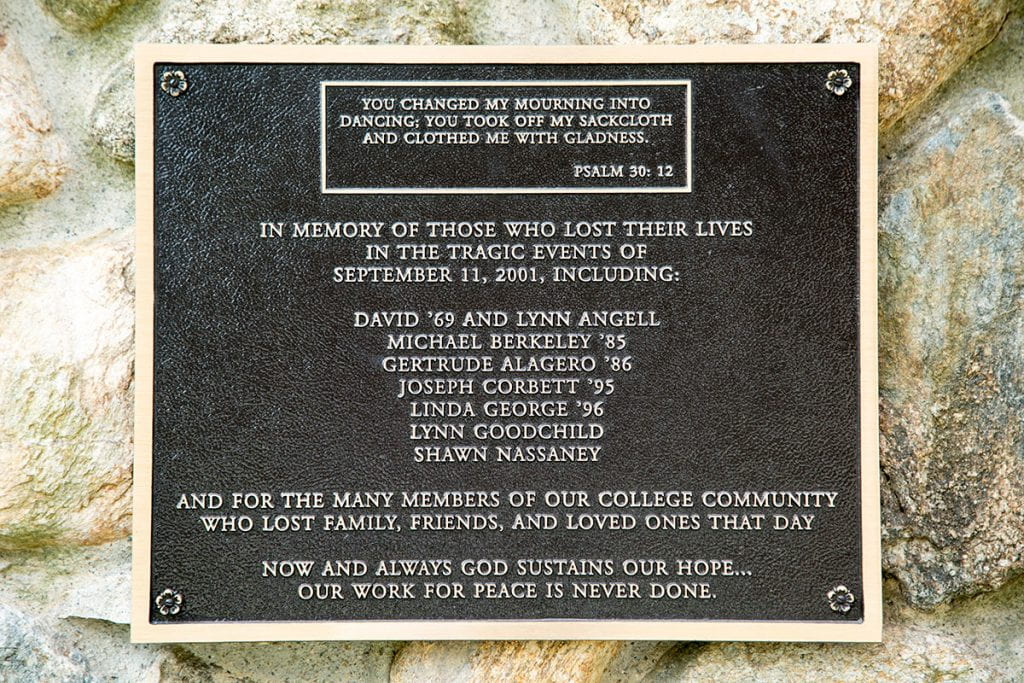 Video of the 10th anniversary commemoration
Scholarship honors Matthew C. Sellitto, nephew of William Haemmerle, III '90
By Vicki-Ann Downing
In 2011, Providence College observed the 10th anniversary of Sept. 11, 2001, with A Week of Prayer and Remembrance that included a Mass, the dedication of a plaque in memory of six alumni and two MBA students, and a lecture by College President Rev. Brian J. Shanley, O.P. '80.
The observation caught the attention of Matthew and Loreen Sellitto of New Jersey, whose 23-year-old son, Matthew C. Sellitto, was killed in the terrorist attacks while working for Cantor Fitzgerald on the 105th floor of the World Trade Center. He wasn't a PC alumnus but was the cousin of William H. Haemmerle, III '90.
"I thought Providence, with the 10th anniversary, did a stellar job in walking students through what happened that day, including the background on terrorism, and how our country became involved in the Middle East," said Loreen Sellitto. "It was more than just a candlelight service."
As a result, in 2012, The Matthew C. Sellitto Foundation donated $50,000 to endow a scholarship at Providence College. Preference is given to students in financial need from urban environments in New York or New Jersey. Each scholarship is awarded for four years provided the student remains in good academic standing.
Haemmerle, the foundation's treasurer and an investment banker in midtown Manhattan, described his cousin as "a champion of the underdog."
"He was always interested in helping those less fortunate than him, and he had sympathy for anyone who felt like they didn't fit in," Haemmerle said.
Matthew Sellitto joined Cantor Fitzgerald in March 2001 as a trainee in the interest rate derivative group. On September 10, 2001, he began a new job arranging medium-term interest rate swaps.
On his second day on the new job, his father drove him to catch the 5:15 a.m. train to New York City. Just a few hours later, Matthew telephoned home.
"He said, 'This doesn't look good. Tell everyone I love them,' and the line went dead," said Haemmerle.
Haemmerle spent the next days going from hospital to hospital in search of information about his cousin.
"The sad thing was seeing the reaction of everyone else, the people he worked with at Cantor Fitzgerald," said Haemmerle.
The Matthew C. Sellitto Foundation has raised more than $750,000 through donations and an annual golf tournament. It has awarded scholarships to deserving students and provided financial assistance for the teacher training program of the 9/11 Memorial and Tribute Center. It also endowed a scholarship at Matthew Sellitto's high school, Seton Hall Preparatory School in West Orange, N.J.
As the 10th anniversary of 9/11 neared, the foundation decided to endow scholarships at individual colleges as well, Haemmerle said.
Haemmerle championed the idea of a scholarship at PC. The foundation reached out to Maureen Donaghey '86, senior major gifts officer in the Office of Institutional Advancement. The College responded with an impressive proposal about how it would award and grow the funds to benefit students and continue Matthew Sellitto's legacy, and the legacies of all who died that day, Loreen Sellitto said.
"Our goal was to make sure our mission and our guidelines were respected," she said. "We wanted to select an institution we trusted would be able to determine that for itself. Everyone involved did a stellar job in presenting Providence College in the best light — everyone."
PC was one of two colleges chosen by the foundation. The other was Wesley College, the alma mater of Matthew T. Sellitto, Loreen's husband and Matthew's dad.
Matthew and Loreen Sellitto are members of the Family Steering Committee of the 9/11 Families United to Bankrupt Terrorism. They are family sponsors of the Justice Against Sponsors of Terrorism Act, which will be introduced by U.S. Rep. Peter King (R-N.Y.) and U.S. Sen. Charles Schumer (D-N.Y.). They have attended pretrial hearings of terrorism suspects at Guantanamo Bay and 9/11 Commission hearings in Washington.
"It's something that both my husband and I need to do as Americans," Loreen Sellitto said. "I did lose a child, and that is no different than any other mother, but I am a part of history, and I do take that seriously."