December 14, 2016
Ex-Major Leaguer advises student-athletes to build relationships, brand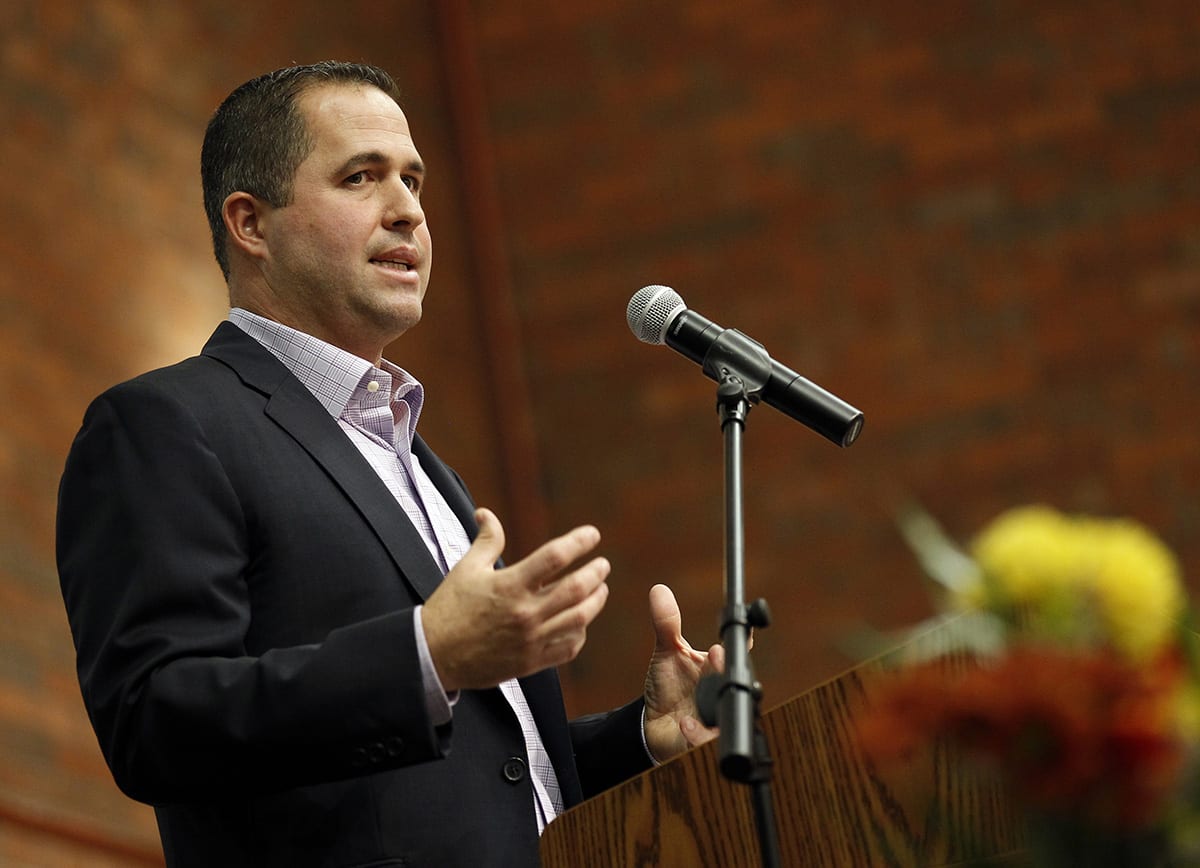 By JOHN LARSON
As a former 16-year Major League Baseball (MLB) infielder and now a coordinator with the Cleveland Indians organization, John McDonald '10SCE knows a thing or two about sustaining a successful professional career.
McDonald recently shared his hard-won wisdom with nearly 100 Providence College student-athletes who attended Student-Athlete Career Night in Slavin Center '64 Hall.
Held every two years, Student-Athlete Career Night gives student-athletes from the junior and senior classes a chance to network with and gain valuable advice from more than 40 professionals and life coaches from various career fields. Professions represented included sports administration, marketing, education, finance, insurance, information technology, medicine, sales, and law. Twenty-eight of this year's career night participants were alumni.
Coordinated by the Department of Athletics, the Center for Career Education and Professional Development, and the Office of Academic Services, Student-Athlete Career Night was made possible through the support of athletics benefactors Yvette Boisclair '84 and Mark Mandell, who have sponsored the event since its inception in 2008. Boisclair and Mandell are attorneys with Mandell Schwartz & Boisclair, Ltd, in Providence.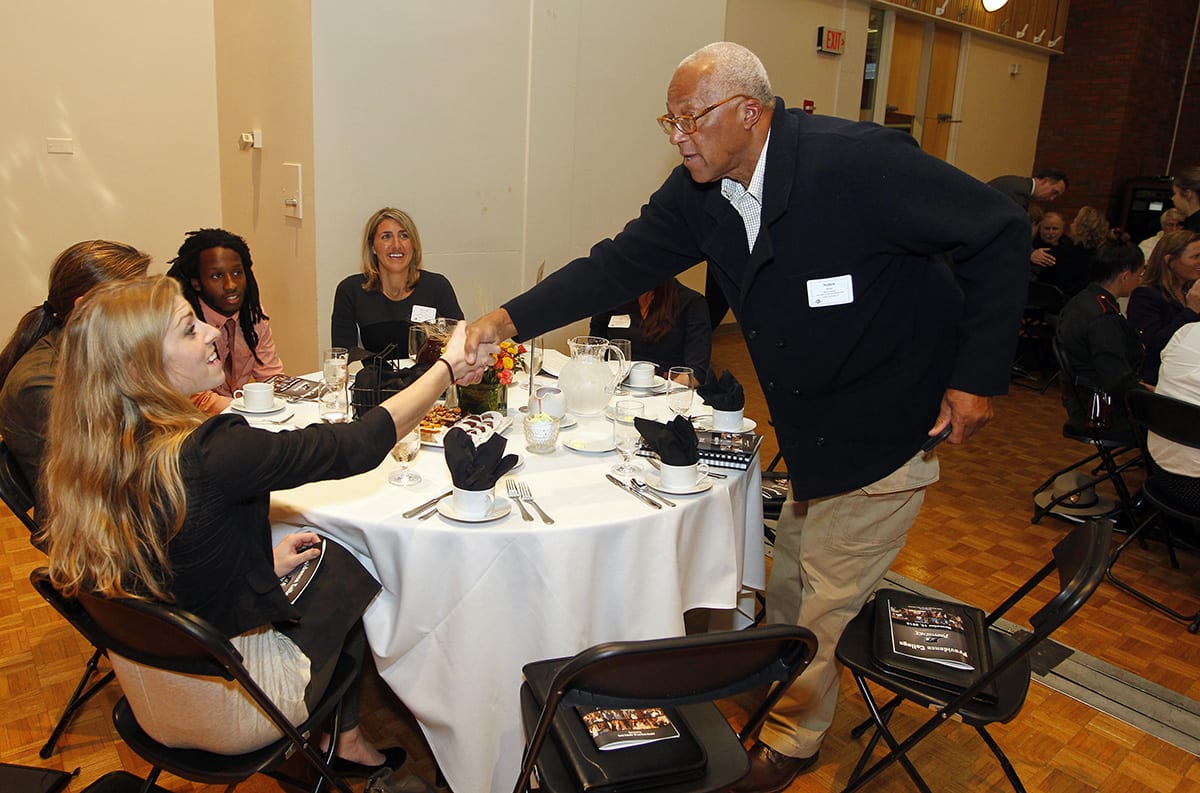 The evening commenced with Robert G. Driscoll, Jr., associate vice president for athletics and athletics director, welcoming the student-athletes and guests and conveying how the consistent support of Boisclair and Mandell has paved the way for countless student-athletes to begin their career journeys.
"Friar student-athletes spend four years playing a sport that they love. When they graduate, we want them to find a career that they are equally passionate about. Ultimately, it's about pursuing a life of meaning, and that has always been the ethos of Providence College," said Driscoll.
Mandell told the student-athletes that this was their night to build their futures.
"Our goal is to make sure every student-athlete who comes to PC lands a job. This night is about the fellowship and establishing relationships that could make a difference," he said.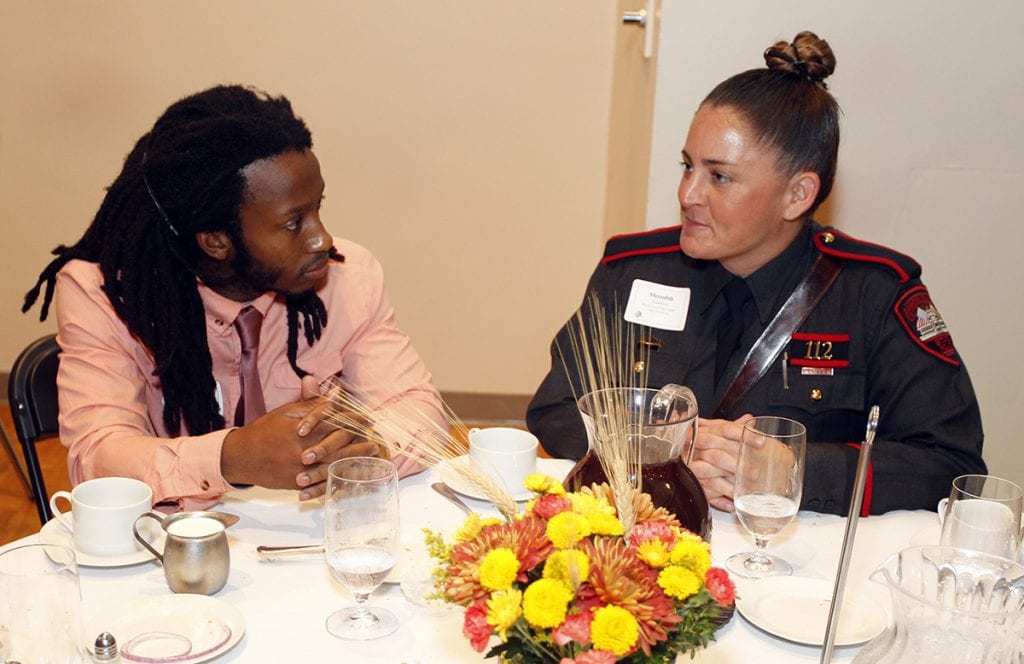 Mandell challenged the student-athletes to focus on the important things in life — those which will positively impact others. Lastly, he stressed the need to maintain a strong work/life balance.
"Enjoy the beauty in life," said Mandell. "It goes by way too quickly. The only thing you can control in your life is to live it with integrity. Strive for consciousness and understanding of what's going on around you. No matter where you go in your life, don't ever forget to give back."
Know your audience
Introduced by Driscoll as "the greatest baseball player in PC history," keynote speaker McDonald captivated those assembled with remarks peppered with keen observations and life lessons from his baseball career — lessons that could also be applied by those about to embark on careers of their own.
McDonald, a Second-Team All-BIG EAST Conference shortstop who played at PC in 1995 and 1996, was a 12th-round draft pick by the Cleveland Indians in 1996. He left college early to pursue pro baseball. After seven years in the Majors, he began taking online courses at PC in 2006 and earned his degree in liberal studies from the School of Continuing Education in 2010 — all while continuing to play professionally. He retired from baseball in 2014 as a member of the Los Angeles Angels of Anaheim, one year after earning a World Series ring with the Boston Red Sox.
"As great as winning a World Series was, nothing matched the joy of receiving my PC diploma," said McDonald, a defensive specialist who posted a .974 career fielding percentage in 16 MLB seasons. "The confidence I have gained from having my college degree is unbelievable."
McDonald also spoke about the importance of forging solid relationships and building a personal brand. Employed by eight teams during his baseball career, he noted that the relationships and reputation he built were the catalysts for him being attractive to different franchises.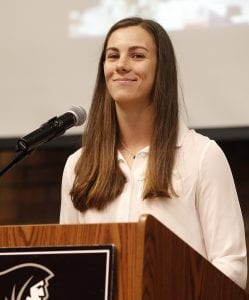 "Always know who your audience is," said McDonald, who is married to Maura Cignetti-McDonald '99. "You want to be perceived in a positive way. I owe a great deal of my career to the relationships I built with players, coaches, and general managers along the way. They liked my playing ability, but they also liked that I asked lots of questions and was a good listener.
"Always try to think outside of yourself. The ability to think fast and give clear, thoughtful answers will be attractive to any employer. Show them why they're better off having you than not."
The speaking portion of the program concluded with Kristyn Shea '17 (Piscataway, N.J.), a member of the women's soccer team, who spoke on behalf of the student-athletes. Shea thanked the professionals who volunteered their time to help Friar student-athletes get a leg up on the next phase of their lives.
"We're all grateful for your commitment to our future success," said Shea. "Hopefully, tonight will be the start of it."
"I thought the night was amazing," said softball pitcher Taylor Huntly '17 (Las Vegas, Nev.). "I can't thank Mark Mandell and his wife, Yvette Boisclair, enough for the opportunity to meet industry professionals who want to invest in PC student-athletes. John McDonald gave an inspiring talk on authentic relationships, which are at the heart of Friar athletics. I feel fortunate knowing there are people in the real world that believe in us, on and off the field."
PC trustee Maureen Corcoran '79, a retired State Street executive vice president who was attending the Student-Athlete Career Night as a first-time participant, said she enjoyed helping the student-athletes prepare for the next chapter in their lives.
"The student-athletes work very hard to represent PC in the best possible way and contribute significantly to the strength of our brand," said Corcoran. "They deserve the benefit of our guidance and mentoring. I have so much respect for what they do and how they balance all the demands on their time."
Another alumnus who has volunteered at several of the career nights, Ken Begasse '96, the founder and CEO of the New York City-based Concentric Health Experience, echoed Corcoran's thoughts.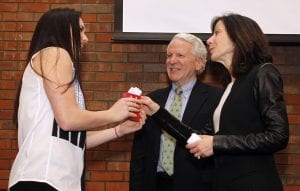 "I've been involved in mentoring student-athletes for the past five years," said Begasse. "The reach Providence College can have on an individual far exceeds the boundaries of the classroom. Providence College has a transformative impact on everyone who attends it. It shapes minds, character, and ability. It's our responsibility as alumni to ensure all future Friars have a hand in contributing positively to our society."
Hockey player and finance major Alex Cromwell '18 (McKinney, Texas), who attended the program, has aspirations to play hockey professionally. But, he also has a strong interest in staying in athletics and possibly pursuing a job in athletic administration or working in the front office for a professional sports team. Cromwell regarded the Student-Athlete Career Night as a great opportunity to sit down and meet some successful people with deep roots in the College community.
"As student-athletes, we sometimes focus so much on academics and athletics that we forget that we need to prepare for life after college," said Cromwell. "This event helps us develop connections with people who can offer guidance and opportunities after graduation. Four of the mentors I had dinner with offered to speak with me after the hockey season was over about potential opportunities. It's great that these resources are available to us."