August 15, 2017
From start to finish, an artistic collaboration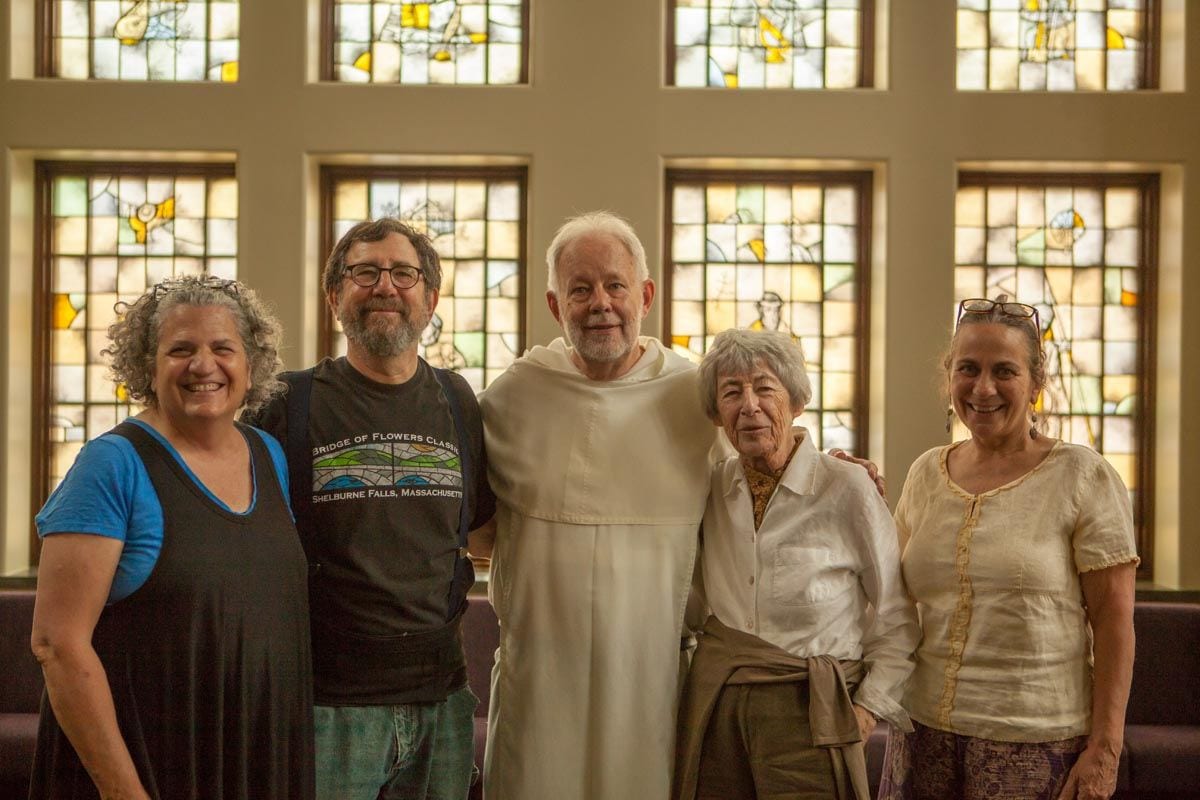 By Vicki-Ann Downing
When stained-glass fabricator Mark Liebowitz visited the Ruane Center for the Humanities for the first time, the prospect of working in the Fiondella Great Room — as well as for master stained-glass artist Sylvia Nicolas '01Hon. — excited him.
"I saw that we were being asked to put stained glass in this huge window at the end of this large room," said Liebowitz. "It was such an opportunity, my mouth watered. It was a case of, 'Wow, we're going to get to do this project!'"
Liebowitz and his wife, Nancy Katz, are stained-glass designers and fabricators who own Nancy Katz/Wilmark Studios in Shelburne Falls, Mass. Liebowitz has been a stained-glass artist and fabricator for 40 years. Nicolas is a renowned sculptor, painter, and mosaicist who learned the art of stained glass from her father more than 50 years ago. Among many projects, she created 45 stained-glass windows for St. Dominic Chapel, which was dedicated in 2001.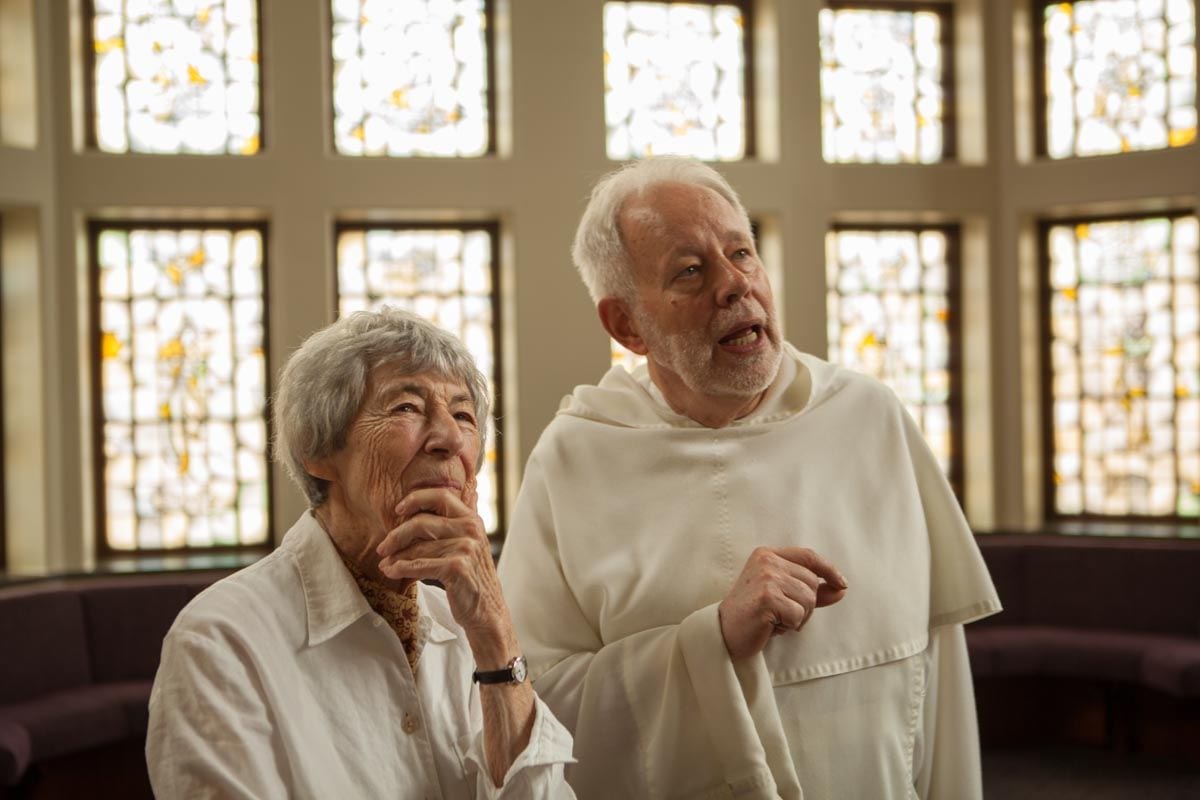 Rev. Kevin D. Robb, O.P. '71, associate treasurer at PC, was also vital to the project, Liebowitz said, making several trips to Nicolas' studio to see her work.
"He was incredibly supportive," said Liebowitz. "I also talked to him periodically and wrote to him. He would ask me if I was enjoying the project. He cared about how we felt about it. It was extraordinary, really."
During his first visit to the Ruane Center, Liebowitz measured the windows and noted where the decorative vertical and horizontal lines fell within them. The 18 larger windows, which depict historical figures, measure 26 inches wide by 56 inches tall. Six smaller windows, which feature academic disciplines, measure 26 inches wide and 28 inches tall.
Katz took the measurements back to the studio and used her computer to create proportionate scale drawings of the blank windows for Nicolas.
"For something done at this scale, it was important to have as much visual information as possible," said Liebowitz. "Sylvia was able to view the 18 figures on one large sheet of paper, in order to balance her composition. The amount of research she did for each figure was extraordinary."
Nicolas' sketches were submitted and approved by College President Rev. Brian J. Shanley, O.P. '80 on Aug. 1, 2015.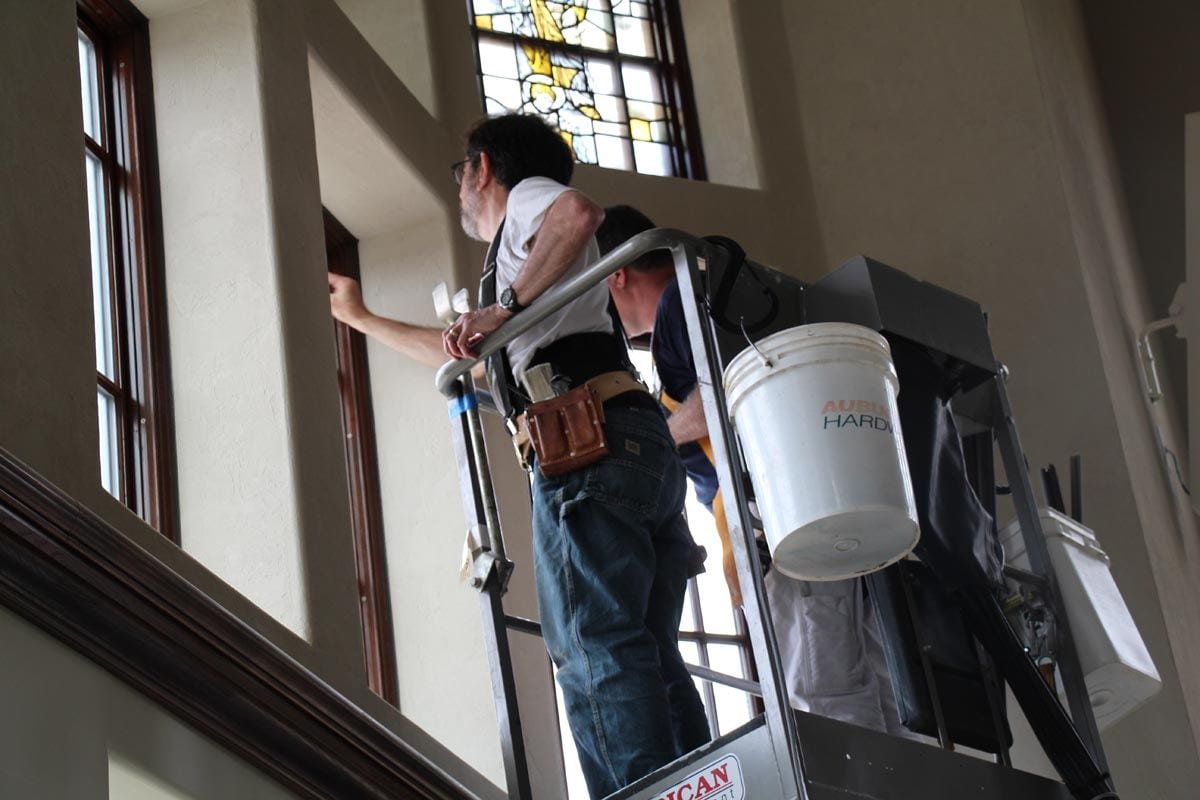 Back at her studio, Nicolas and her assistant, Susan Q. Brown, used an overhead projector to enlarge the sketches and create full-size renderings known as cartoons.
"The goal is to be able to draw the figures. Things can change subtly, or not," said Liebowitz. "She is establishing where the lead lines are going to be. Some lines follow the figures and others do not. There is a lot of art there. She's got to tell me where the lead lines are going to be to establish the shape of every single piece of glass."
Once the cartoons were completed, they were sent to Liebowitz, who calculated how much stained glass he would need. He ordered the glass, mouth-blown in Germany, from a supplier in New Jersey. It arrived in two-foot by three-foot sheets. There were 15 colors in all.
"Mouth-blown glass is the finest material available," Liebowitz said. "It creates the richest windows. It's got bubbles and imperfections. Colors lighten and darken a bit."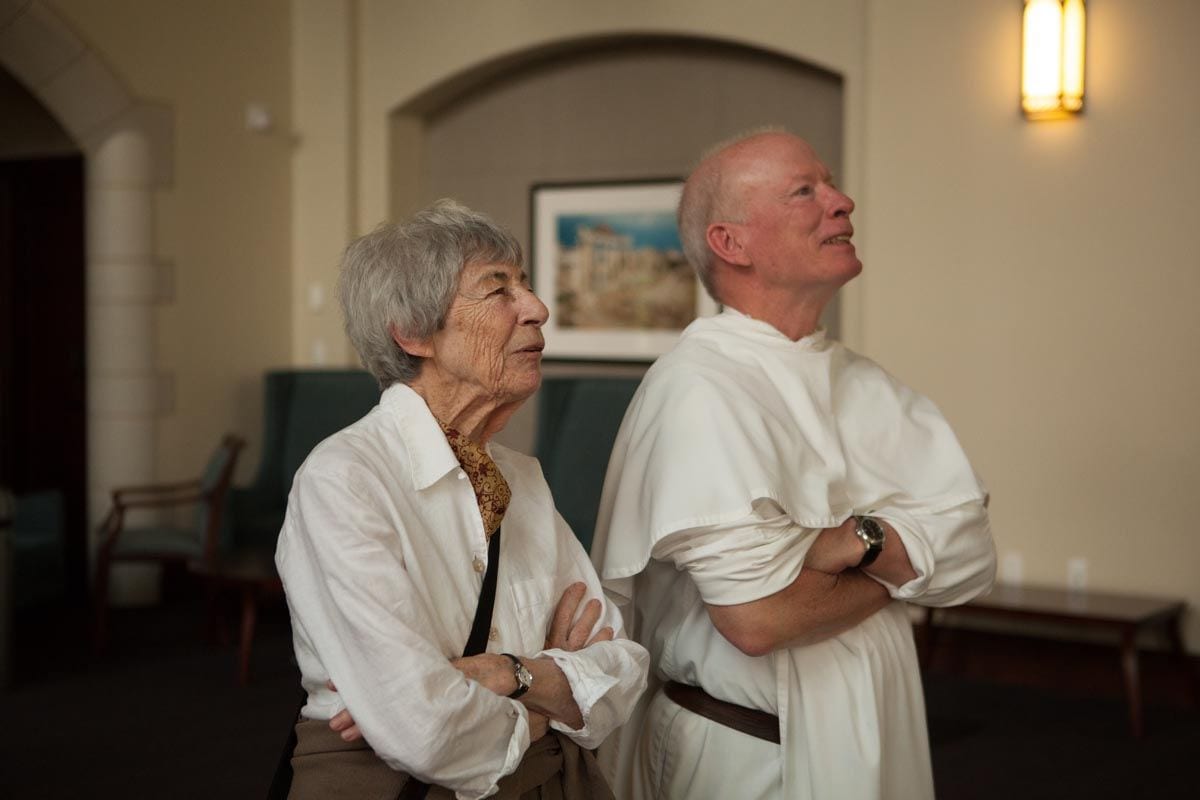 Liebowitz traced the lines in Nicolas' cartoons onto thick paper stock, which he then cut with three-bladed shears to create patterns for glass cutting. Each pattern was used once for each piece of glass in the windows. There were about 2,000 pieces of glass in all.
Once the glass was cut, it was arranged in order, packed in trays, and transported to Nicolas's studio to be painted.
In Nicolas's studio, Brown took a sheet of horizontal plate glass and put the stained-glass pieces like a solved puzzle, affixed by hot wax at the corners. Then it was placed vertically into an easel system in front of a large window of diffused light.
Nicolas was then able to paint directly on the glass. When she was finished, Brown carefully chipped off the wax, removed the painted glass, and repacked it in trays, so as to return it to Liebowitz's studio for firing.
Liebowitz placed the painted glass in a kiln and fired each piece to 1,200 degrees to make the paint permanent, fusing it to the glass. Katz applied the silver stain to the back of certain pieces that Nicolas wanted to give a golden look. The pieces then were fired a second time at a lower temperature. The fired glass was leaded up, assembled into complete windows, and puttied. When the putty set, the windows were cleaned one last time, loaded on an A-frame rack for safe travel, and transported to the College.
Most of the installation took place over a single day with the assistance of Mike Errazza and Pedro Feliciano, workers from Tavone Painting Company who helped to complete the Fiondella Great Room.
"They built that room, and they had done all the detail work," said Liebowitz. "We were really blessed with their presence. That was its own gift. They were very efficient. We also had their perspective on what it was like to transform and complete that space."
The Ruane Center for the Humanities opened in 2013. Gerald J. Sullivan '86, one of the building's architects, said he was delighted the College turned to Nicolas again to transform the Great Room with stained-glass art.
"My mind was put to great ease when I was told by Father Robb that Sylvia Nicolas had accepted the commission," said Sullivan. "I finally saw the project in situ and was thoroughly pleased — and the light still pours into the Great Room."