October 17, 2018
Faces of PC: Dan Byron '88SCE, desktop support specialist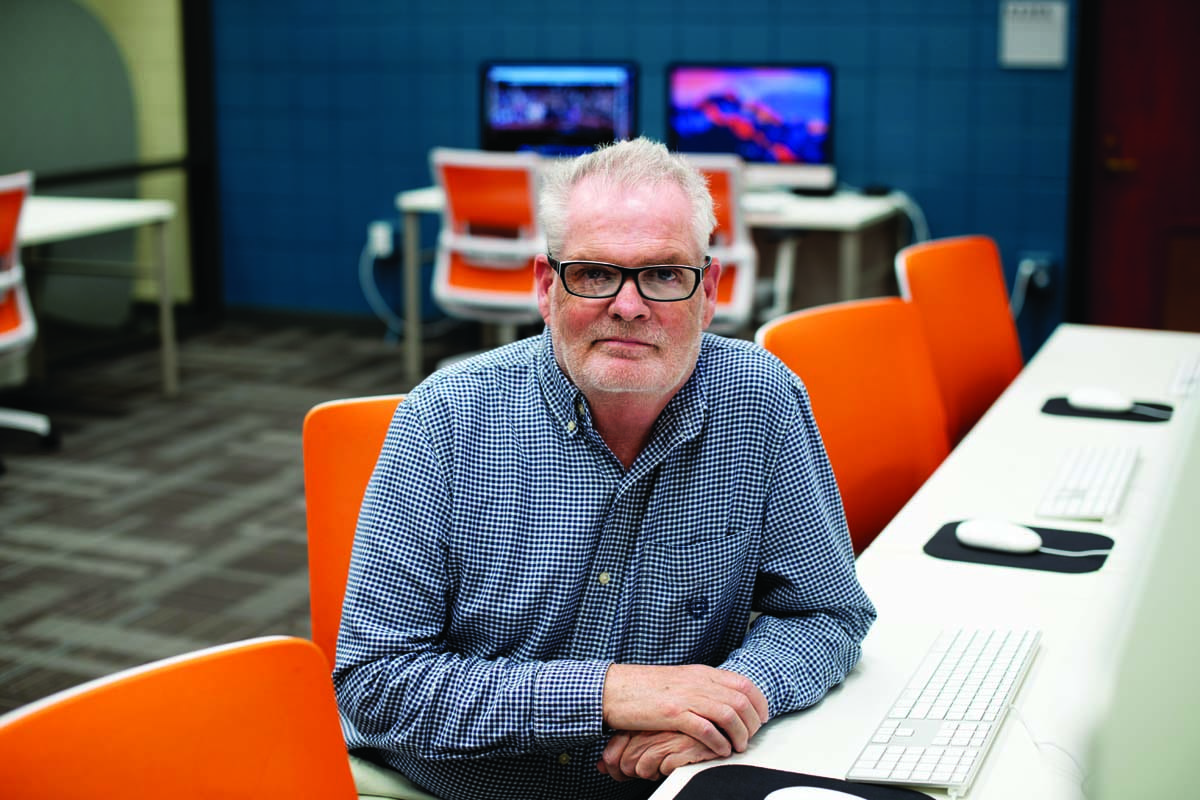 By Charles C. Joyce
Information technology has gone topsy-turvy in the 37 years Dan Byron '88SCE has been at Providence College. His work approach has not. For many faculty and staff, visits from the fun-loving desktop support specialist are a bonus: Not only does Byron solve their computer problem quickly and tactfully, he'll also pull them into conversations about their jobs, their lives, and, always, PC. He's a longtime men's basketball season ticket holder, holds a bachelor's degree in liberal studies from the School of Continuing Education, and is proud of family ties to PC: His daughter, Kay, is an SCE student, and his late father, Joseph L. Byron '40, retired as PC's vice president for business affairs in 1988.
For the record, Byron emphatically praises the administration for its support of information technology services and staffing, including student workers he's mentored over the years. He talks about how interesting he finds campus partners he's helped, like basketball coach Ed Cooley, professors from myriad disciplines, and staff at all levels. And, he expresses sensitivity toward their frustrations and understanding of technology.
"There are so many simple mistakes being made … somebody resets a printer or shuts off power, and suddenly, the computer isn't working. You can't make people feel badly," says Byron, who worked at the Physical Plant and the Power Plant for 12 years before joining the new Department of Computer Services (now Information Technology) in 1993.
But Byron isn't telling the whole story.
"He's really a good worker, but he does his job his own way," says his supervisor, golfing partner, and friend, Ed Morin '85, director of technical support services. Morin notes Byron has "built relationships that are hard to replace" and that go beyond academic units — such as with Dominicans in the campus priory, the Department of Athletics, the Office of Public Safety, and food services provider Sodexo.
"He has that intangible ability to relate to people," says Morin, adding that Byron's rapport has enhanced IT's reputation greatly. The department, and PC, also have benefitted from Byron's suggestion in 1993 that Computer Services hire student workers. As PC's focus on computers and lab space grew, he knew students could improve service while gaining skills and confidence. IT now has 65 student workers, who mostly operate out of the Help Desk. To many students, current and past, Byron has been a father figure, say peers.