April 14, 2021
Father Barranger welcomed to newly positioned role as alumni chaplain
By Ealish Brawley '14
Former Providence College Chaplain Rev. Joseph Barranger, O.P. has been appointed chaplain of the PC National Alumni Association. He returned to campus this spring from St. Thomas Aquinas University Parish in Charlottesville, Va., where he served as pastor and prior since 2014.
Appointed by College President Rev. Kenneth R. Sicard, O.P. '78, '82G, Father Barranger will lead an alumni chaplaincy staff that also comprises associate chaplains Rev. J. Stuart McPhail, O.P. '61 and Rev. James F. Quigley, O.P. '60. The College's previous alumni chaplain, Rev. John S. Peterson, O.P. '57, died in 2017.
With Father Barranger's appointment comes a renewed vision for the NAA chaplaincy ministry. In the past, alumni chaplains offered retreats, days of recollection, and Masses for regional clubs, as well as a prayer and consolation ministry for alumni upon request. The Office of Mission and Ministry and the Office of Institutional Advancement hope to expand upon these services and add others, such as faith formation and service opportunities, with a focus on younger alumni and their families.
"There is no one better suited for this work than Father Barranger," said Rev. James Cuddy, O.P. '98, vice president for mission and ministry.
Father Barranger served as College chaplain and as the first director of Campus Ministry from 1993-2000. He was instrumental in forming the student-based Campus Ministry program that is home to many of the College's social, service, and spiritual activities.
"When he reaches out to many young alums, it will not be an introduction but a renewal of an important and formative relationship they began as students," said Father Cuddy, who first met Father Barranger through the College's chaplaincy and Campus Ministry programs as a student.
"Our hope is to build an alumni community that is connected to the mission and ministry of Providence College," said Father Barranger, whose work in creating Campus Ministry had a similar goal. By reorganizing the College's spiritual activities and service opportunities under the umbrella of Campus Ministry, they were given "a Catholic and Dominican grounding and became Christian service rooted in the mission of the College."

"I kept in touch with many alumni over the years and will enjoy renewing those relationships as much as I can. I look forward to contacting other young alums, many of them I knew or perhaps they knew me, and putting a spark back in those relationships, too," said Father Barranger. He plans to spend much of his first year reaching out to alumni through regional clubs to learn how the chaplaincy can best serve them and their families.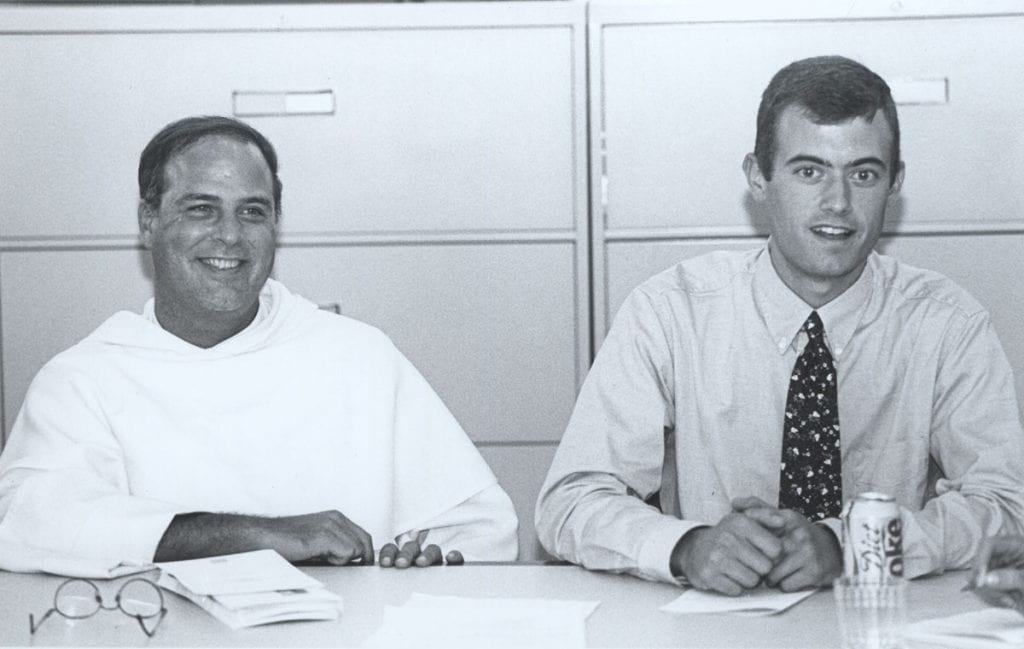 Father Barranger looks forward to the next academic year when he will introduce himself to the Class of 2022 as their alumni chaplain who will be available to them for their pastoral needs after they graduate. He hopes to provide support and continuity for new alumni as they envision and prepare for their life after PC, as well as when they transition into professional and family life.
"It's not uncommon for students who have practiced their faith throughout college to graduate and find that it is not so easy out in the world. They may struggle with how to identify as a Catholic, a Christian, someone who believes in God," Father Barranger said.
By making himself known to seniors before they graduate, Father Barranger hopes they will reach out to him in times of need. Through the NAA's network, graduates who have moved to a new area can ask for suggestions for parishes to join and seek introductions to other alumni in their new community.
Through this renewed ministry, the Office of Mission and Ministry hopes to provide spiritual support to all alumni.
"Providence College is a place where you can ask for and receive support in getting to know God, especially through the important questions that God has placed in our hearts and minds. Those questions don't cease to be asked and those moments don't stop once you graduate. We desire to provide those resources to the Friar family throughout their lives," said Father Cuddy.

"I am grateful to the College community and to the president for giving me this opportunity to serve as alumni chaplain. It feels like coming home," Father Barranger said.