June 26, 2017
Five decades of friendship inspire scholarship, estate gift to PC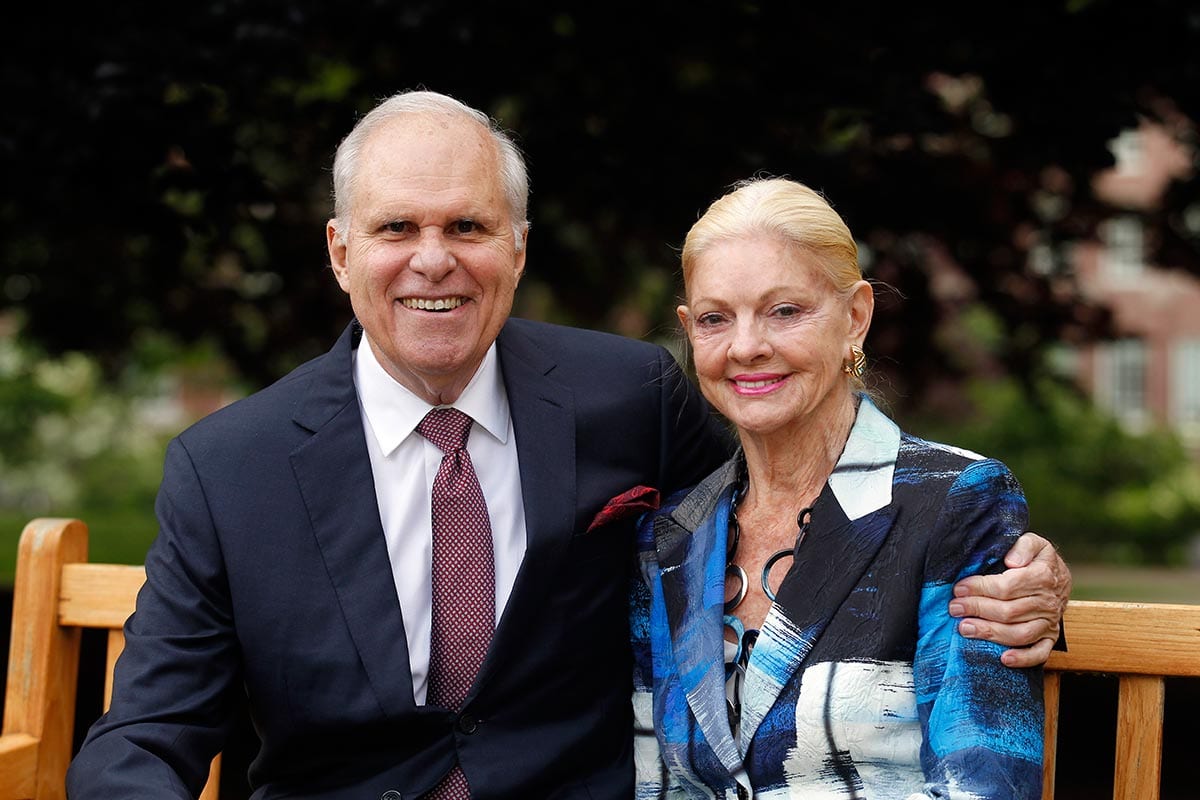 By Vicki-Ann Downing
The friendship between Ronald P. Stride '62 and his Friar classmates has endured for more than five decades even though Stride has spent most of his life in Singapore, 9,000 miles away.
Stride and his friends attended one another's weddings, sometimes in the role of best man. Whenever possible, they gather in the United States, including each summer in New England. This spring brought another opportunity to get together: Their 55th class reunion, held at PC in June. This year, Stride and his wife, Janet, had a surprise for them.
The Strides will leave $1 million to PC to establish the Ronald and Janet Stride Family Scholarship, a fully endowed scholarship fund. While they are living, they will contribute the cost of full tuition at PC annually for a student from Bishop Loughlin High School in Brooklyn, N.Y., which Stride attended, or from another New York borough.
Stride retired in 2000 as senior vice president and managing partner for Asia of Booz Allen Hamilton, a management consulting firm where he worked for more than 20 years, specializing in financial services. Since 2010, he has been chair of the board of supervisors for Afghanistan National Bank, a commercial bank headquartered in Kabul.
Stride also is chair of Food from the Heart, a Singapore-based charity that distributes food to the needy, and on the board of supervisors for OIA, an educational charity based in Jakarta, Indonesia. He is treasurer of the World Federation of Friends of Museums, a Belgium-based society of international organizations and individuals who support museums around the world.
When Stride returned to Providence for Reunion Weekend, he received the Personal Achievement Award from the National Alumni Association in recognition of his career and charitable accomplishments.
"Providence gave me a good education," said Stride. "I like the idea of a liberal arts education, which rounds out your knowledge and gives you a broader background and better appreciation for things in life — religious, educational, and cultural.
"But in addition to that, I became friendly at Providence with people who are lifelong friends, some of them very close friends for a long, long time."
One is Joe Zielinksi '62, who attended the reunion.
"I was not surprised by Ron and Janet's gift," said Zielinski, who lives in Old Saybrook, Conn. "Ron has always had a big heart — even bigger since marrying Janet. The surprise was the perpetual scholarship form their gift took. We're proud of Ron and Janet for this, especially for making their gift in this particular way."
Kenneth F. Roche '62, also of Old Saybrook, a chair of the Class of 1962 Reunion Committee, said the Strides have always kept in touch.
"We have visited Ron in New York and Chicago, and he has visited us in West Hartford and Old Saybrook a number of times," said Roche. "Ron and Jan are always thoughtful and fun. They have always been very generous. For several years, when Ron is in the United States, we've had a lobster fest at our house with classmates. We always toast the good times and friends at Providence College."
Stride grew up in New York City. A high school English teacher pointed him in the direction of PC, where he initially studied mathematics before changing his major to general studies.
"I wanted to go to college away from where I was brought up," said Stride. "I had wanderlust then and I still do."
During an annual visit to New York City a couple of years ago, the Strides decided to visit his high school. He had not been back since graduation.
"We learned about the high school and how it's changed, and we got in touch with someone in the development department about the possibility of providing some help," said Stride. "Then, about six months ago, my wife and I were talking about our estate and whether we could make it possible for students from Bishop Loughlin to go to Providence. We weren't sure if it was feasible, but we contacted the College to explain what we were thinking, and people were very supportive."
The Strides decided to make PC the recipient of an estate gift and to provide annual scholarships in the meantime.
"Both institutions are excited," Stride said. "The relationship had dropped away through the years. This could build it up again."