October 19, 2016
For love of the game: Olympic medalist Sara DeCosta-Hayes '00
By VICKI-ANN DOWNING
Sara DeCosta-Hayes '00 suffered the most serious injury of her career at the worst imaginable time — during her final tryout for the 1998 Olympics women's ice hockey team.
She was 20 years old and had just finished her first year at Providence College. She was playing goalie in a game in Lake Placid, N.Y., that was tied and went to a shootout, with each team taking turns sending a player to take a penalty shot. Sliding into a split to make a save, she felt pain. Her hamstring had torn completely from the bone, taking a chunk of bone with it.
She never left the net, and she never gave up a goal, either, though the shootout went 12 rounds. To stand again after every save, she had to reach down and use her hands to lift her leg.
She attended the selection ceremony on crutches — but she made the team.
Why didn't she say she was hurt?
"It was the dream I had my whole, entire life," she said. "It was the sacrifice you make at that level. For it to be right there in front of me … I wasn't going to give up."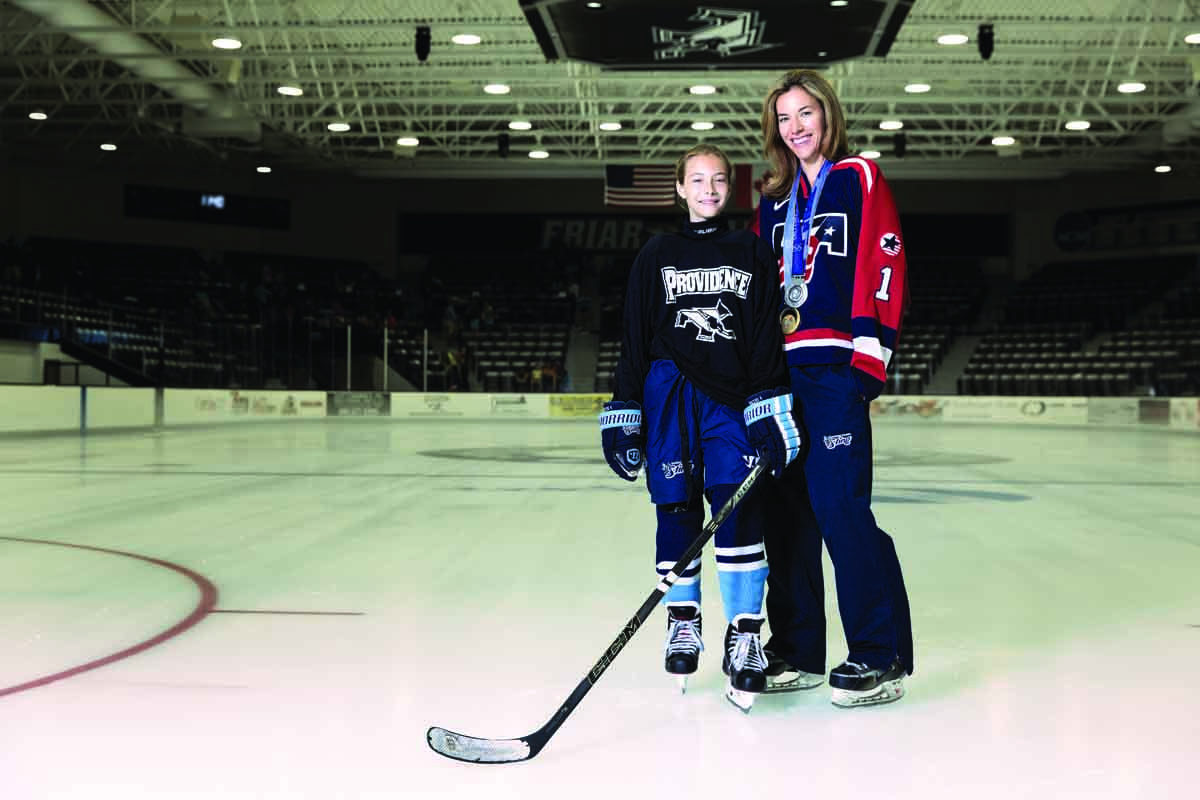 DeCosta-Hayes is one of the greatest goalies in PC history, having allowed just 177 goals with 2,324 saves in 85 games. She holds two Olympic medals — a gold from the 1998 Games in Nagano, Japan, where Olympic women's ice hockey debuted, and a silver from the 2002 Games in Salt Lake City, Utah. In 2009, with her Olympic teammate, Vicki Movsessian Lamoriello '94, she founded a statewide hockey league, the Rhode Island Sting, for girls ages 5 to 19.
And she isn't yet 40 years old.
DeCosta-Hayes loves hockey so much that she still plays forward once a week with her husband, Mark D. Hayes '91, in the "Old Men's Hockey League" at Lynch Arena in Pawtucket. She's loved it since she was 5 years old and joined a boys' team in the Warwick Junior Hockey Association. Players took turns being goalie. DeCosta-Hayes took her turn and never left.
"The guys were so protective of me," she said. "The first game, every time anybody would even look at me, they would react. They got so many penalties the coach had to call a meeting in the locker room and tell them I could take care of myself. It was like I had 20 brothers."
In 1996, she became the first girl to play in a high school hockey championship game in Rhode Island when her school, Toll Gate High School in Warwick, made it to the finals against the perennial champion, Mount Saint Charles Academy. Toll Gate lost the series, two games to one, but DeCosta-Hayes became the first goalie in 18 years to shut out Mount Saint Charles in a title series game.
Playing hockey for PC was the realization of a childhood dream for DeCosta-Hayes, whose parents brought her to Schneider Arena to watch games. One of her brothers, Matthew DeCosta '98, played hockey for the Friars, too.
"As far as women's hockey goes,
PC was it," said DeCosta-Hayes.
"Legends came out of here. It
definitely was a dream of mine. It worked out great."
DeCosta-Hayes finished her freshman year and took her sophomore year to train for the Olympics. Six countries competed in the debut of Olympic women's ice hockey in 1998 in Nagano — the U.S., Canada, Finland, Sweden, China, and Japan. DeCosta-Hayes had three wins, one of them a shutout, with a 1.59 goals-against average and a .875 save percentage, as she helped lead the U.S. to the gold medal.
She returned to PC and graduated on time with a degree in social science — with concentrations in sociology and psychology — by taking extra courses in the summer and every semester.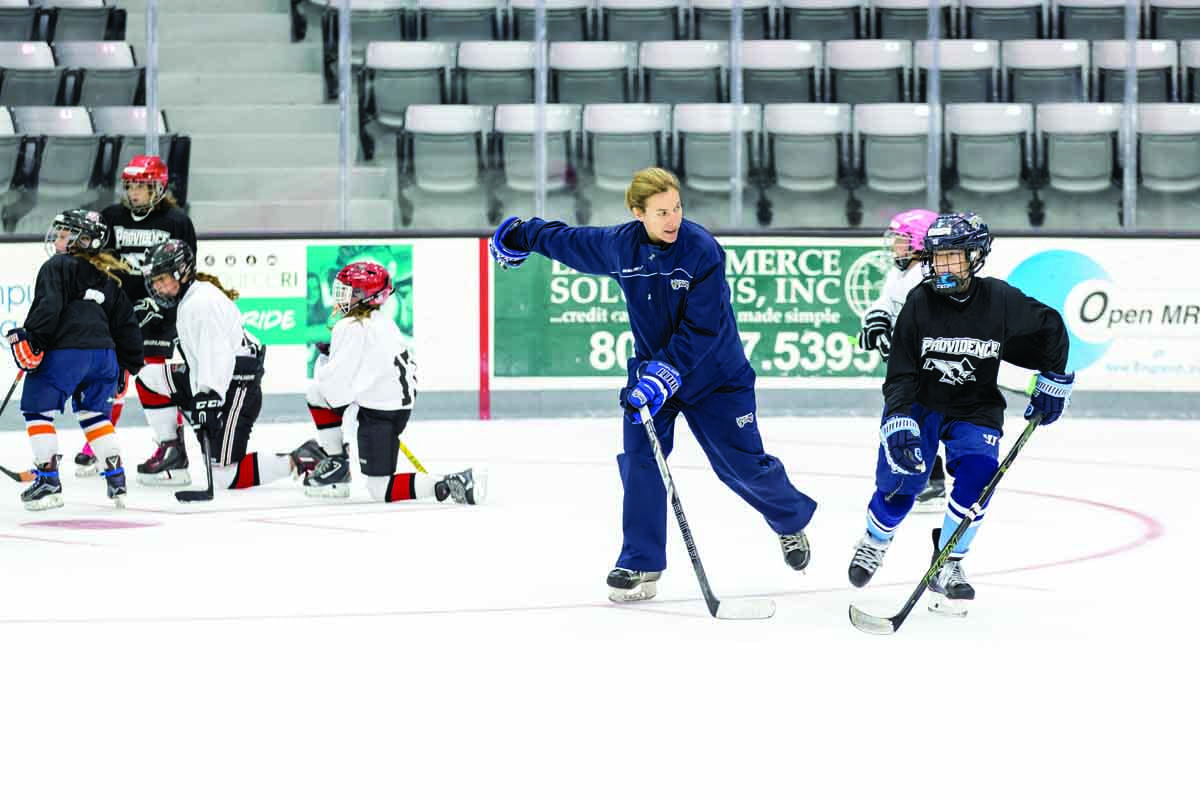 During her second Olympics in 2002, she made 26 saves in the team's 2-1 loss to Canada, as the U.S. won the silver medal.
"It was amazing, to have the opportunity to represent your country like that," said DeCosta-Hayes. "One of my first memories is watching the Olympics' opening ceremonies on TV with my parents. My parents were able to come to Japan. It seems like everybody came. Rhode Island is probably the best state you can be from for support."
DeCosta-Hayes' three children play hockey. Her husband coaches their 9-year-old twin sons, Cameron and Connor, in the Warwick league.
DeCosta-Hayes and Lamoriello founded the Rhode Island Sting in part because both have 11-year-old daughters, Kiley and Mary, who play. The Sting, based at Schneider Arena, competes in the New England Girls Hockey League.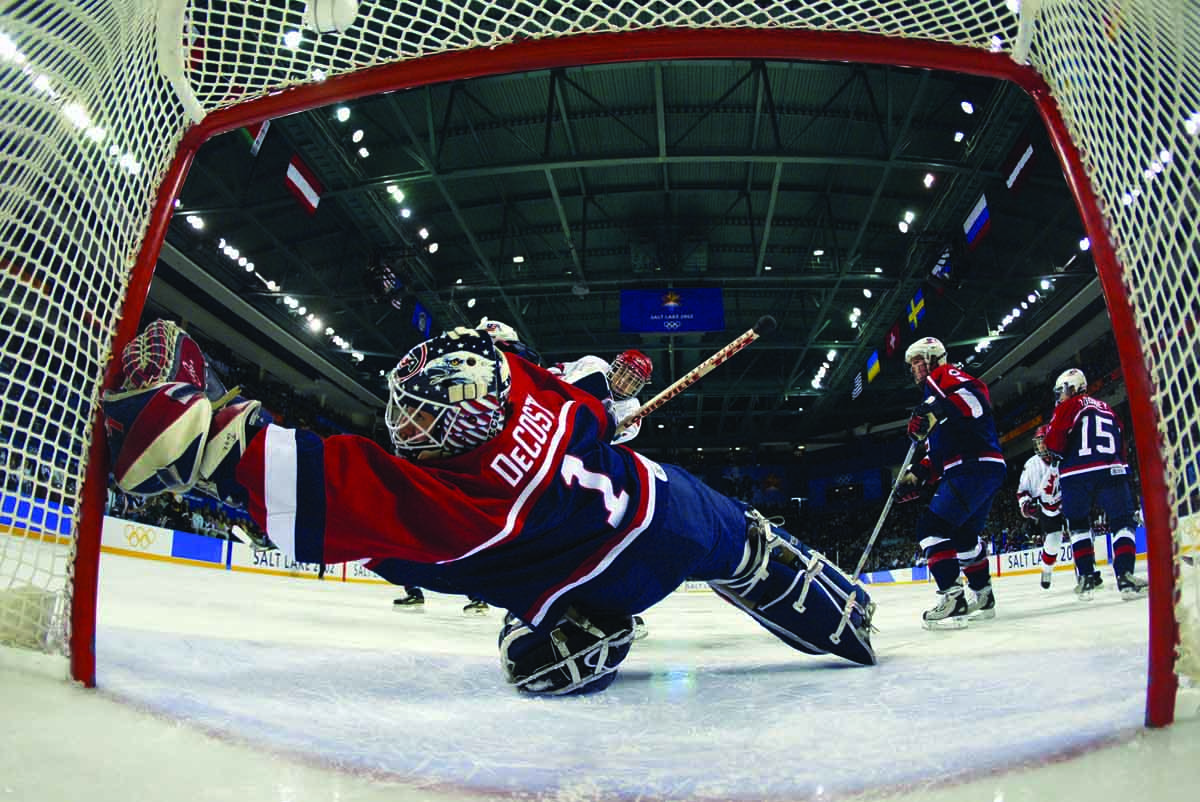 Bob Deraney, PC's women's ice hockey coach, said the Sting has helped make Schneider Arena a haven for women's hockey. DeCosta-Hayes and Lamoriello are "revered," he said.
Kim DeSousa of Cumberland, the mother of 12-year-old Sara  DeSousa, a Sting player, said DeCosta-Hayes is a mentor and role model.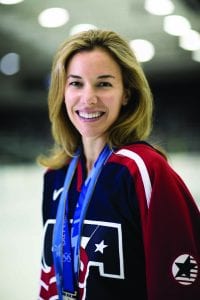 "She is everything you expect an Olympian would be," said DeSousa. "When you're doing well, she makes sure you know it. If someone is doing something not in the best interest of the team, she talks to them about it. When she's on the ice, you can feel her presence there."
"She has always loved the sport and understood the responsibility she has (as a two-time Olympian)," said Deraney. "She embraces being a role model and helping girls dream, and empowering them. She has the same competitiveness in coaching as in playing."
DeCosta-Hayes, who was a volunteer coach with Deraney in 2002-2003, said she loves to see girls gain confidence through their play.
She introduced her children to hockey at 5. Sometimes it took longer to get them dressed than they would spend on the ice, but "you don't want to force it," she said.
Last winter, she donned her Olympic gear, skated onto the frozen retention pond behind her house in Warwick, and let her boys and their friends take shots on her — for the fun of it.
"I hope my kids have an opportunity to play at a higher level," said DeCosta-Hayes. "Now it's about letting them have fun and develop a passion for it.
"I would love if they were a Friar."
This story originally appeared in the Fall 2016 issue of Providence College Magazine.