May 02, 2012
Freshmen get rare research experience in hands-on biology lab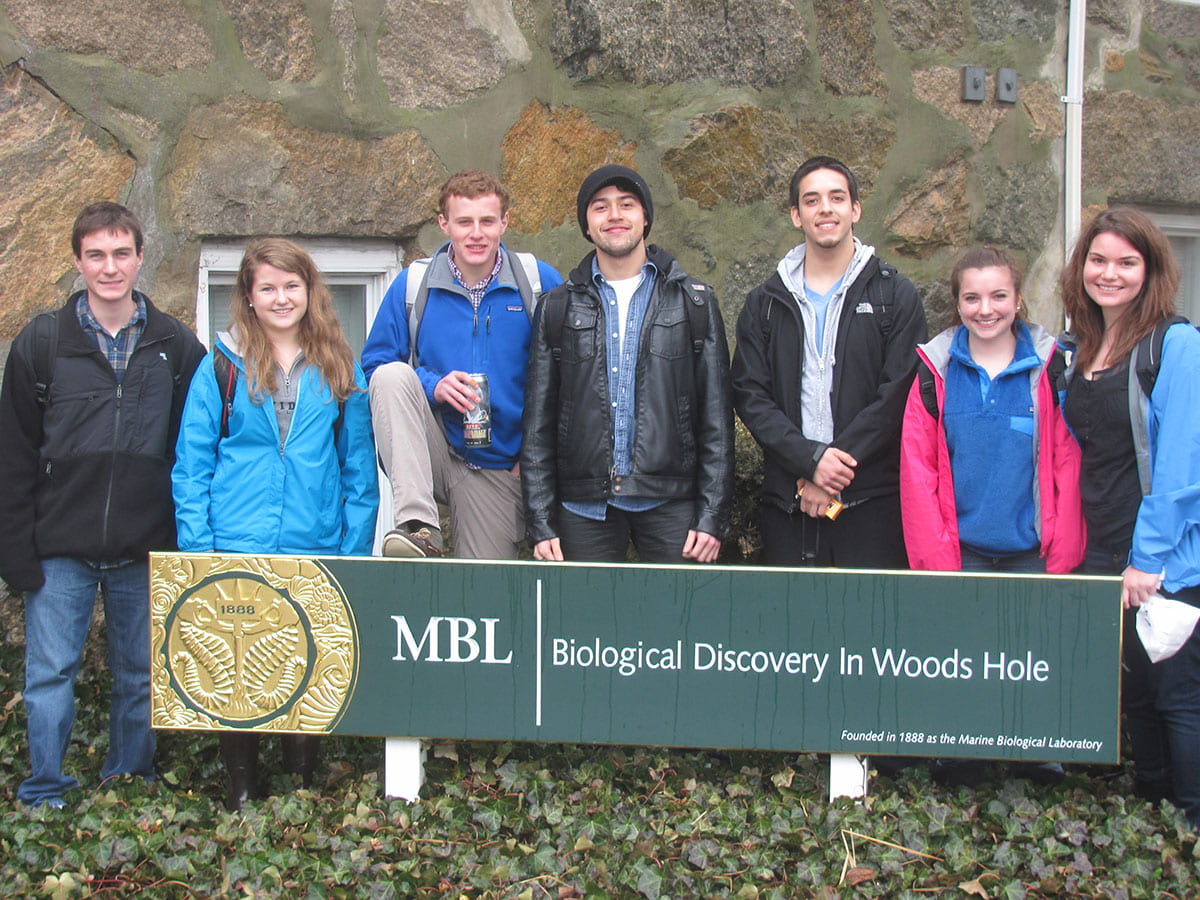 By Vicki-Ann Downing
On a rainy day last September, James O'Brien '15 (Fairfield, Conn.) knelt beside a flower bed outside Harkins Hall, scooped some dirt into a vial, and captured the virus that became "Job42."
O'Brien is a "phage hunter" — one of 16 freshmen at Providence College invited to take part in a new, alternative biology lab to collect, isolate, and annotate the DNA of phage — viruses that feed off bacteria and hold promise for the treatment of antibiotic-resistant diseases.
The results of the student research will be included in the GenBank, an annotated collection of DNA sequences maintained by the National Institutes of Health.
The full-year Phage Hunters course, taught by Rev. Nicanor Austriaco, O.P., associate professor of biology, and Dr. Kathleen A. Cornely, professor of chemistry, gave the 16 freshmen the opportunity to undertake hands-on research in a laboratory — an experience usually restricted to upperclassmen and graduate students.
The Phage Hunters, who reported their progress on their blog, said the class was the best part of their first year of college and, in some cases, made them reconsider their future plans.
"By far, Phage Hungers has been one of the highlights of my freshman year," said Alfredo Gonzalez '15 (Nixa, Mo.). "Just to get the experience to get into labs, work with teachers, do more hands-on stuff, has been wonderful, and has in a sense given me a better feel of what I'll be able to do in the field after I graduate."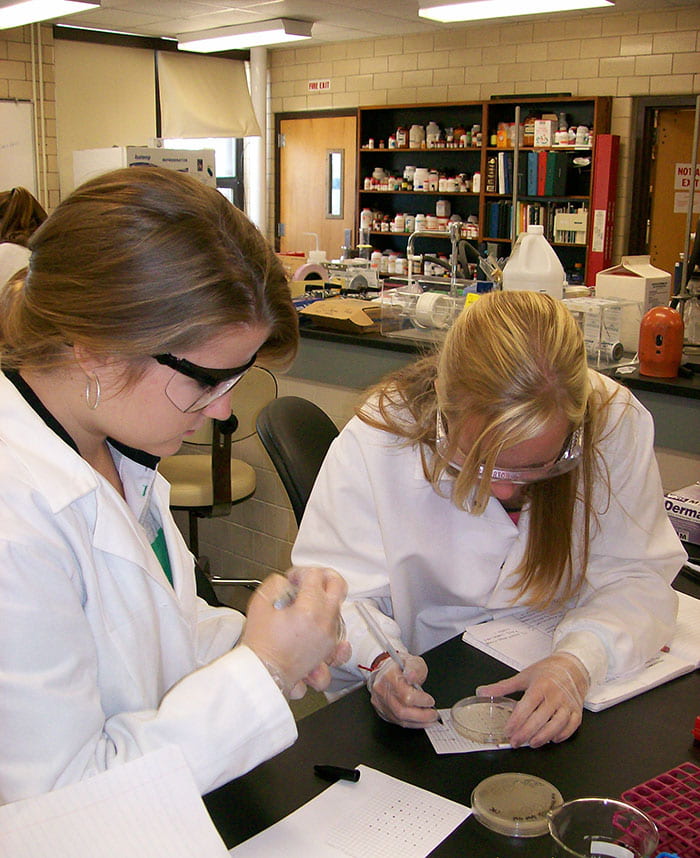 Taylor Hunt '15 (Millis, Mass.) said she was "die-hard (for) med school" when she arrived at PC, but now is considering a career in research.
"I wanted to be a doctor, and now that's just one option," Hunt said. "The other option would be to get my Ph.D. and do research. This semester, I started working in research under a different professor because I enjoyed it so much."
As a result of the course, Father Austriaco said, the students "are beginning to talk and think like biologists."
"This course, like no other, made them understand that science is not about textbooks," said Father Austriaco. "It is about designing experiments that no one has ever done before to answer questions that no one has ever asked before. One of the things I tell them is that they are now the world's experts on Job42 biology. They know more about this phage than any other scientists out there. And they are still freshmen!"
PC was able to offer Phage Hunters because of its membership in the Science Education Alliance, created four years ago by the Howard Hughes Medical Institute (HHMI) to enable undergraduate educators to present innovative courses and programs. Phage Hunters, also known as the National Genomics Research Initiative, is the SEA's first such program, and 40 colleges and universities nationwide have taken part.
Last summer, Father Austriaco, Cornely, and teaching assistant Benjamin Lichtenfels '13 (East Greenwich, R.I.) took a training course at HHMI's Janelia Farm Research Campus in Virginia, and students received emails inviting them to enroll in the class.
In September, their first task was to discover phage by digging soil samples from around campus. Phage is common in the environment. Because a small number can spread quickly among a population of bacteria, scientists believe phage could be useful in combating antibiotic-resistant bacteria, especially those that cause tuberculosis and leprosy.
After collecting the samples, students worked in teams in the laboratory to purify, characterize, and extract the DNA from their phages, which they also were able to name. By the eve of Thanksgiving break, each team had successfully isolated a phage, and DNA samples from three — Job42, Friar Preacher, and Black Magic — were sent to the University of Pittsburgh for sequencing.
During the second semester, students worked in a computer lab to analyze and annotate the sequenced DNA from Job42 using a computer program, DNA Master. They also used the Phamerator, a tool developed by a professor at James Madison University in Virginia that allowed them to compare the DNA sequence of Job42 with those of other phages.
"If you asked me a year ago if I saw myself using bioinformatics to annotate a novel mycobacterial phage genome, I probably would have lost you after the word 'bioinformatics,'" Ryan Frazier '15 (Basking Ridge, N.J.) wrote in the students' blog.
In March, seven phage hunters and Father Austriaco traveled to the Marine Biological Laboratory in Woods Hole, Mass., where Dr. Joseph DeGiorgis, assistant biology professor at PC, has a satellite lab. The students learned to "drive" an electron microscope and take pictures of phage.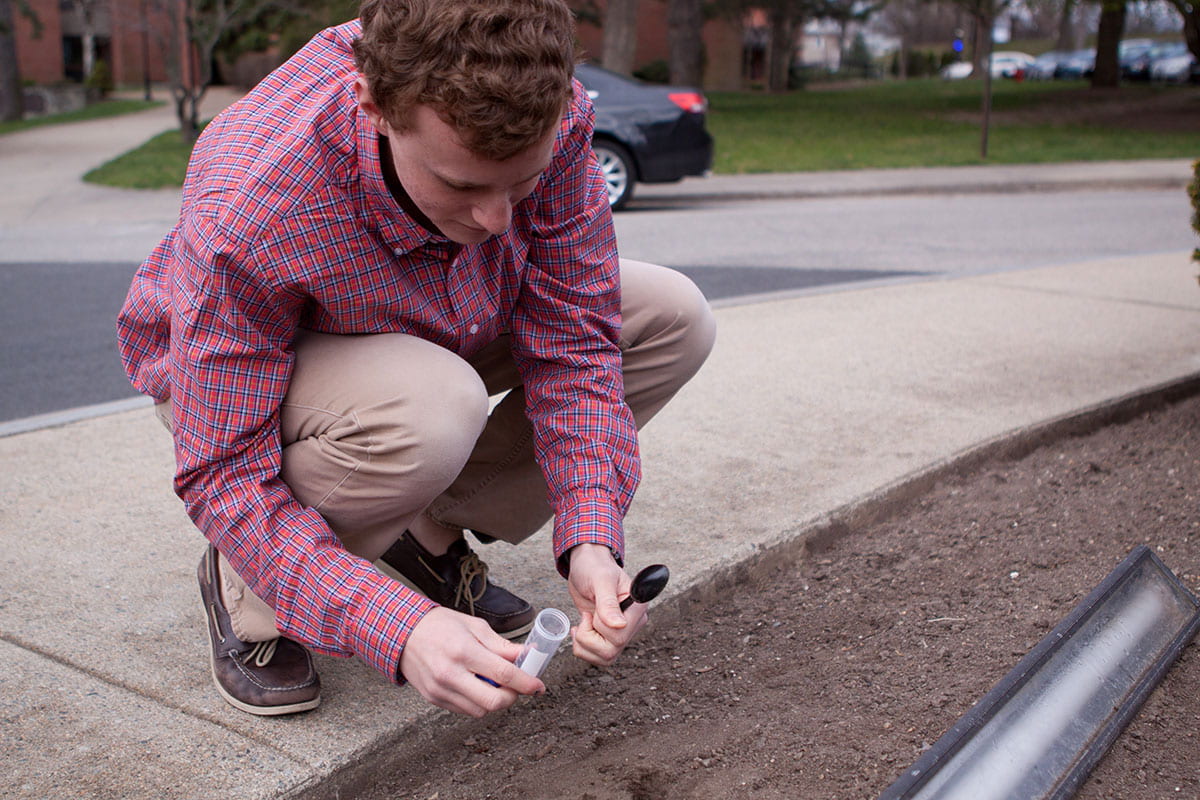 O'Brien, who scooped Job42 from the soil outside Harkins, also named the phage, inspired by the story of Job in the Old Testament. He found it "ironic" that the name matched his initials.
"First semester was really rough for me," O'Brien said. "In Job, God basically lets the devil just do his worst to him. Job has persistence and gets through it, and God restores Job at the end. I thought the fact that my phage was picked was a test that God was restoring the trials of first semester."
O'Brien said the best part of the course was "that two people who are probably the best in the faculty are so invested in us and willing to focus on us and forward our scientific interest at the school. I think that's something you don't see at bigger schools."
Hunt said that at times, Phage Hunters was a lot of work. Problems the students encountered, such as contamination eventually traced to an air vent, were frustrating. But it was a valuable experience.
"You just have to kind of run with it and realize you can't control everything, which is humbling," said Hunt. "If you want to be a scientist, it's good in showing you that science is 'not perfect' more often than it is 'perfect.' … Science is always exhilarating and rewarding at the end of the day, even if the end of the day is sometime early in the morning."
Cornely said she was impressed with the students' hard work and dedication.
"They were willing to come to lab and work extra time on Friday afternoons, weekends, and evenings," Cornely said. "The investigative nature of the course really gave the students an authentic experience of the research process. The students have also made personal connections with one another, which is so important for freshmen. The class feels like a big family."