February 10, 2020
Game On! – Matthew McGuane '20 and Zack Gandara '19 & '21G
If you walk through Slavin, you can't help but notice the glass room with rows of computers inside. Today we chat with Zach Gandara '19 & '21G and Matthew McGuane '20, two of the founders of the Providence College eSports club. Gandara and McGuane explain how a few friends around campus with nice laptops became an official college supported club sport. The eSports club is a welcoming organization with players of all levels playing and competing in different types of games from NBA 2K to Hearthstone and Fortnite.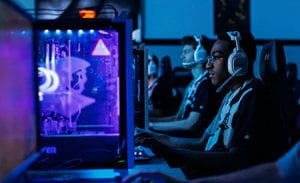 Friars eSports
Friars ESPORTS on twitch
Follow the Providence College Podcast on Apple Podcasts, Spotify, Soundcloud, Stitcher, Google Play,and YouTube. Visit Providence College on Facebook, Twitter, Instagram, YouTube, Snapchat, and LinkedIn.