November 04, 2019
Game on! New esports room allows students to compete in BIG EAST, other leagues
By Vicki-Ann Downing
Video games have come to college — and they're not confined to residence halls. A new room in Slavin Center is equipped with state-of-the-art technology — computer monitors, keyboards, headsets, and a speedy internet connection — so students can enjoy online gaming. And these Friars don't just play each other. PC's esports teams compete with colleges in the BIG EAST, ECAC, and other leagues, in games such as Fortnite, Hearthstone, and League of Legends — having fun while sharpening their skills in teamwork, communication, and problem-solving.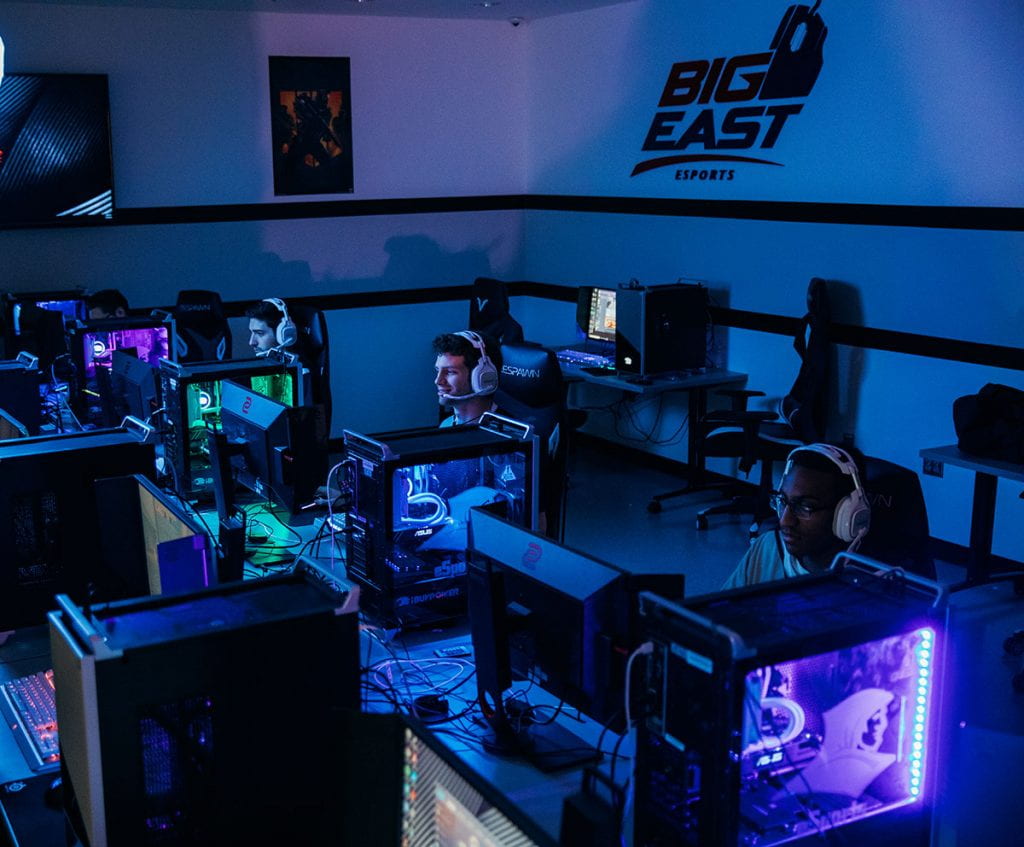 When the BIG EAST Conference announced a pilot esports tournament in March 2018, Providence College turned to in-house experts.
Andrew Manchester '11SCE, a network engineer in the Department of Information Technology, was once a semi-professional player in the game Call of Duty. Aaron Colaiacomo '16 & '18G, an instructional technologist in the Instructional Technology Development Program, once developed a training regimen and analytical software program for League of Legends players around the country.
Seven BIG EAST schools joined the invitational tournament. Manchester and Colaiacomo organized PC's participation. Students brought their own gaming computers and equipment to three seminar classrooms in the Ruane Center for the Humanities. The College provided pizza and drinks. Play was broadcast live on Twitch, the online streaming service. And PC's League of Legends team made it to the semifinal round before losing to DePaul.
The tournament proved that students were interested in esports — and that they needed a space of their own in which to play.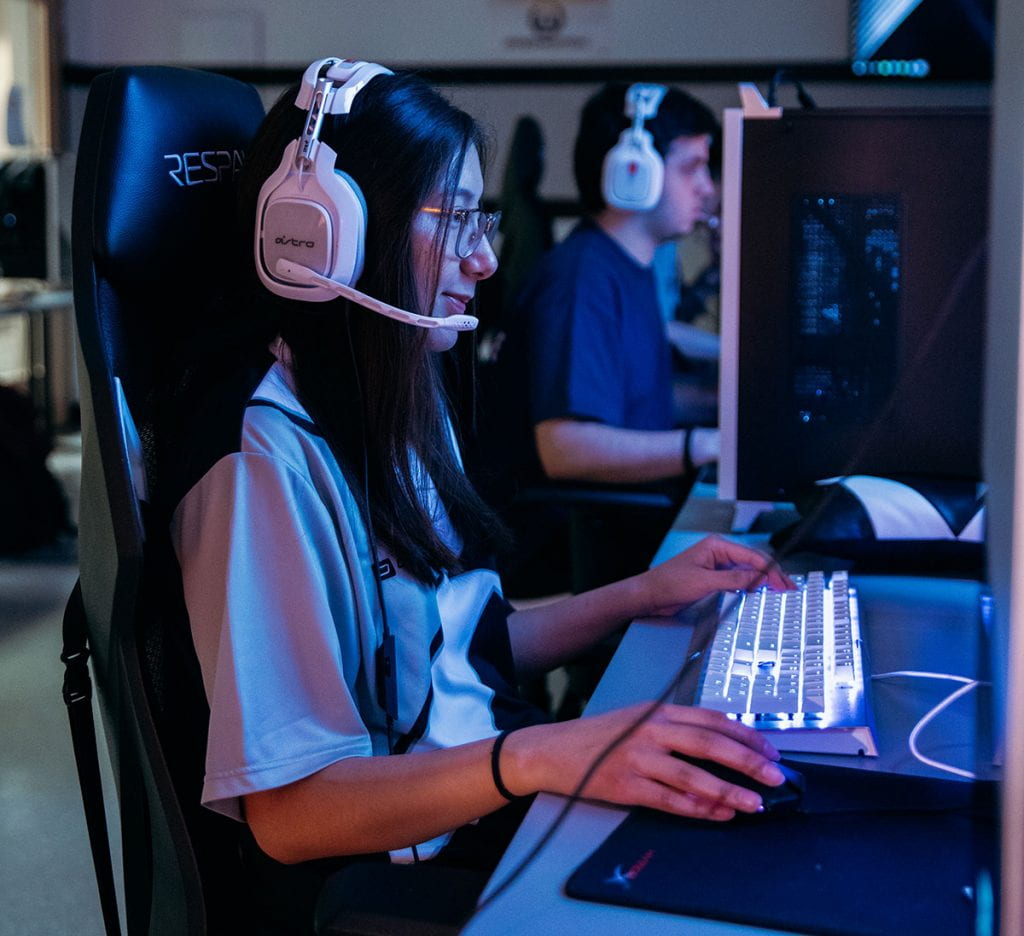 In February 2019, the College opened a state-of-the-art esports room in Slavin Center — a collaborative effort of Student Affairs, Information Technology, Physical Plant, and Athletics. The room has its own internet connection and 14 stations outfitted with iBuyPower computers, Zowie monitors, Razer keyboards and mice, and Respawn chairs. Future upgrades will include new lighting and branded sponsorships.
"We wanted to keep it within Slavin Center because of its proximity to students. It's central and visible and creates a buzz," Manchester said. "Everybody is impressed with the room. We put everything we could think of into it."
During the school year, after 5 p.m., every station is in use by students who are practicing, playing in leagues, or enjoying social time with friends. PC's teams compete in four leagues — BIG EAST, ECAC, Tespa, and AVGL, the American Video Game League — in about 15 games, including League of Legends, Fortnite, Hearthstone, Super Smash Bros., and Rocket League.
Most of the more than 150 students in the club play on their own, just for fun. Because clubs and organizations are open to all students, if someone wants to play a game, a league will be found for them.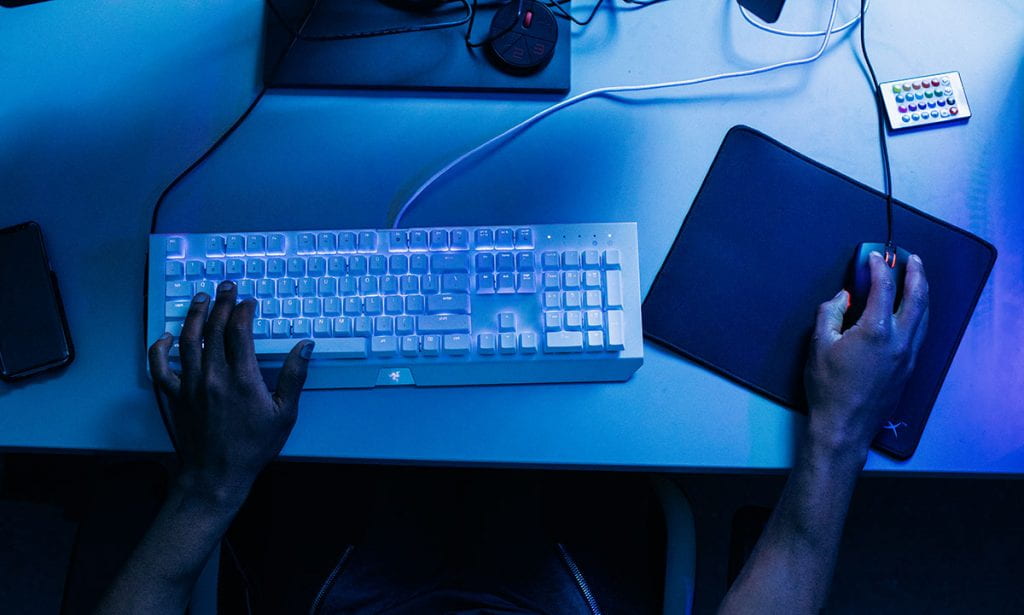 Esports is organized under Student Activities and Cultural Programming with assistance from the Division of Finance and Business. This year, it has its own graduate assistant, Zachary Gandara '19, a humanities major and film minor studying for a master's degree in education. Gandara coordinates team tryouts, selection of captains, practice schedules, and game times.
"We think this is a great co-curricular educational opportunity for our students," said John M. Sweeney, senior vice president for finance and business and CFO. "It's exciting that it is so student-driven. It's also attractive to students who aren't involved in other organized activities. The complexity of the games, and how students interact in them, is fascinating."
There are no plans at the moment to make esports a varsity program at PC. In April, after a year-long study, the NCAA voted not to govern collegiate esports, though the BIG EAST presidents voted to continue the pilot competition. This fall, Marquette University, which has had an esports club since 2015, became the first BIG EAST school to launch a varsity esports team under its athletics department.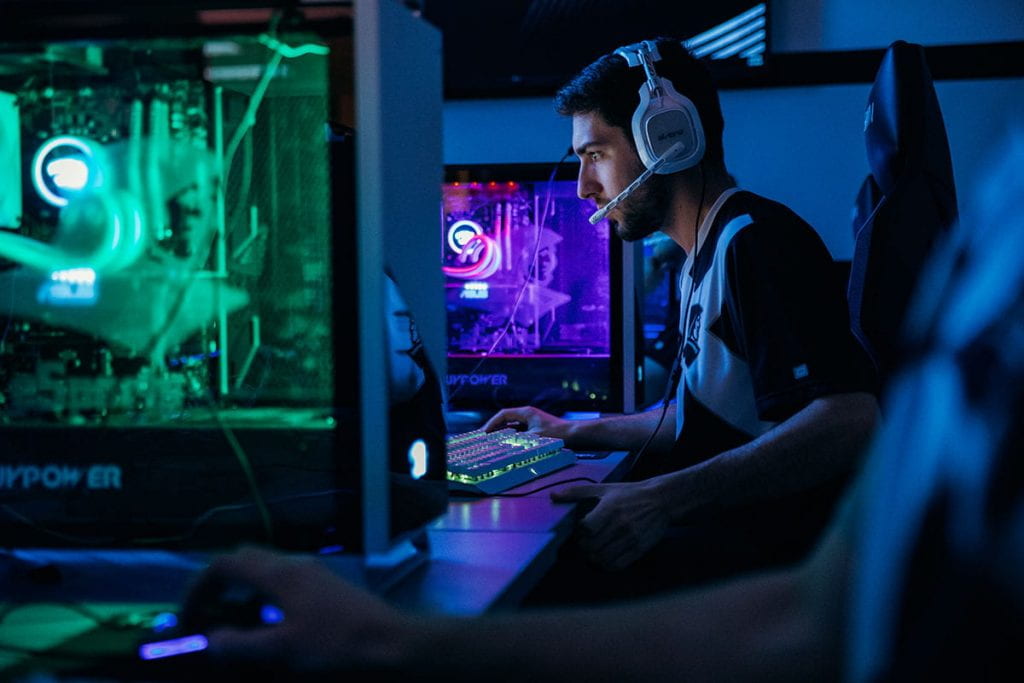 Nationally, more than 150 colleges have varsity teams and offer partial scholarships to players, according to the National Association of Collegiate Esports. Robert Morris University in Chicago was the first to offer scholarships to esports student-athletes in 2014. Two years later, the University of California Irvine built a 3,500-square-foot esports arena and now offers $6,000 scholarships to players, who are supported by coaches, managers, analysts, an exercise physiologist, a team psychologist, and a player support coordinator.
Even referring to video games as "sports" can be controversial, said Manchester. He prefers the term "competitive gaming." Those who play say competition requires teamwork, communication, information retention, problem-solving, and listening skills — and that video games are the sports of the future.
The demographic of those who watch traditional sports is aging. For baseball, the average age is 57. Soccer has the youngest demographic, at 40. But the average viewer for League of Legends is 31.
In November 2018, almost 100 million unique viewers watched the League of Legends World Championship broadcast online from South Korea — more than the 98 million viewers who watched the Super Bowl three months later.
During the summer, Kyle "Bugha" Giersdorf, a 16-year-old from Pennsylvania, won the Fortnite championship at Arthur Ashe Stadium in New York, taking home $3 million in prize money. By comparison, Novak Djokovic won $2.9 million at Wimbledon, Tiger Woods collected $2 million in the Masters, and Brooks Koepka received $1.9 million at the PGA.
Esports is big-time entertainment — and attractive to prospective students.
"I definitely would have thought the room was super cool as a high schooler, and judging by the reaction from the tour groups that walk by, incoming students do as well," Gandara said. "It's super popular."